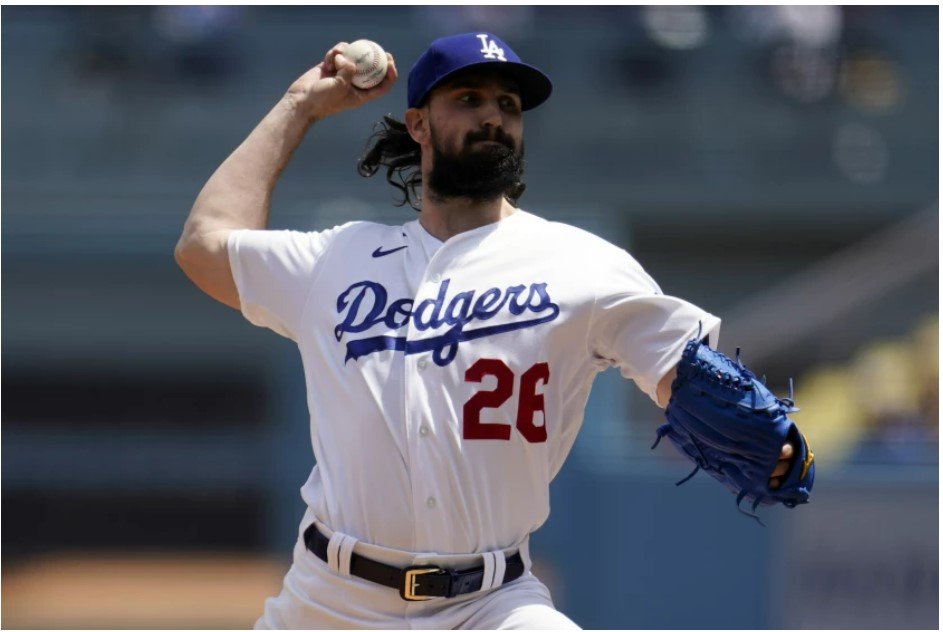 Please excuse the brevity of this post (or maybe some of you are applauding the brevity), but my son is back in the hospital, and we made the trek to Reno to see him and help with our granddaughter and daughter in law.  Just wanted to drop some brief observations.
Apparently coming back in the 5th down 2-0 qualifies as a comeback win.  Back-to-back comeback wins.  They were close on Thursday and Friday, but could not get that last hit in the 9th to drive in the comeback winning run.
Tony Gonsolin had one of those tremendous outings.  He threw 6 innings with 92 pitches (67 strikes).  That is nearly 73% strikes.  Three of the 6 innings he retired the DBacks in order.  92 pitches is just about 15 per inning that is a "normal" count.  I do not think Gonsolin is a 12 pitch per inning type pitcher, so 15 feels like dominant.
Gonsolin had only two walks to go with 7 Ks. He was very efficient for 6.0 innings.  It was a fantastic night for the RHP.  I still think his April 20 game against Atlanta was his best of the year.  Also 6.0 IP, but 1 hit, 3 BB, 3K, and 83 pitches.  However, this was a very close second.
Tony should not let the Christian Walker HR bother him.  Walker loves to bat against the Dodger at Dodger Stadium.  Going into the game tonight, he was batting .321/.377/.679/1.056 and now has 7 HRs at Dodger Stadium.  Walker is batting better at Dodger Stadium than any other stadium where he has at least 25 ABs.
David Peralta is also hitting Dodger pitching pretty hard this year.
Okay, Alek Thomas is fast.
Max Muncy gets two hits including his first bunt hit in three years.  Per Joe Davis, Doc was working with both Max and Belli on bunting.  Hopefully they can take periodic advantage.  Muncy picked the perfect AB for his bunt single.
CT3 follows the bunt single with an opposite field blast.
It was 20 months since the last time Caleb Ferguson has pitched in a MLB game.  He looked VERY rusty against his first batter he faced, David Peralta.  After the first pitch strike, his next four pitches were not close.  His first pitch to Geraldo Perdomo was not close, and then Barnes steps out and probably challenged him to throw strike.  Ferguson got Perdomo on strikes and with Perdomo catching his spikes and tumbling in front of the plate.
Two routine ground balls and Caleb's first inning in 20 months is in the books.  15 pitches/8 strikes.  Lets build from there.
A good rebound game for Daniel Hudson.  Can't really get that much more efficient than retiring the side in order with a K, and 10 pitches.  It was a good bounceback.  A Dave Roberts specialty.  Get them back out there.  He may not be the greatest strategist, but his players would run through a brick wall for him.
Craig Kimbrel got the save, but there were some anxious moments.  That fastball sit up perfect for Peralta.  But Craig got the last out and his
It was great to see the Dodgers get to Madison Bumgarner.  I doubt there is another pitcher that I love to see get beat as much as Bumgarner.  It makes no difference the uniform…DBacks or Giants, he is just a hateful pitcher that I love to see get beat.
The Dodgers have a scheduled split doubleheader for the first time in their history on Tuesday.  They will see LHP Tyler Gilbert against TBD, and then Zach Davies vs. Tyler Anderson.  TBD is getting a long look this year.
Tyler Gilbert is in the mold of a José Quintana and Ranger Suárez, two soft tossing LHP that have given the Dodgers fits.  For whatever reason, Zach Davies is a tough pitcher against the Dodgers.  In 59.1 IP, he has a 2.43 ERAS, and a 1.096 WHIP against the Dodgers.