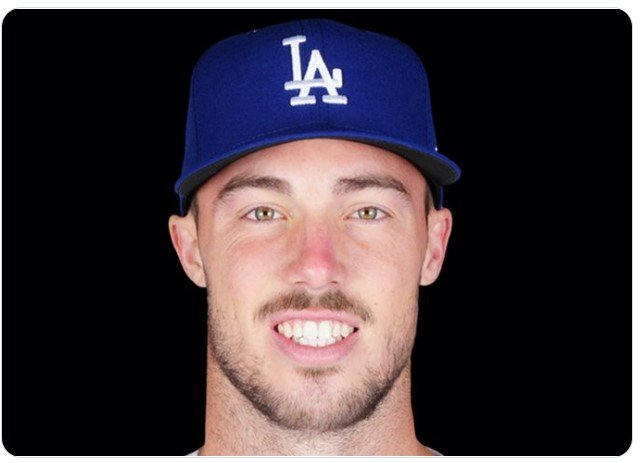 #Dodgers lineup for Michael Grove's big league debut pic.twitter.com/uMdgZYId2L

— Bill Plunkett (@billplunkettocr) May 15, 2022
The pitching was good to very good in the final game against the Phillies.  The clutch hitting was special.  From Mookie Betts, to Max Muncy, to Chris Taylor, Cody Bellinger, to Trea Turner, and especially to Gavin Lux.
The error by Lux was painful and the dejected look on his face and Michael Grove's face was telling.  Both players fought back and finished in stride.  Michael Grove will pitch again with the ML club this year, and will be much more confident and comfortable.  He still has much to learn, but the foundation has laid.
Let me give my observations of the game before I talk about Michael Grove.
Mookie is starting to warm up, but we have said this before.  Since April 26, Mookie has batted .317/.352/.603/.920.  That was over 15 games and 68 PA.  He has now hit a HR in back-to-back games, and 5 in the last 15.  He needs to warm up even more to put pressure on the pitchers when they face Freddie and Trea.
I am not confident that Max and Belli are out of their slumps.  Each had a critical hit in the game.  Max had a run scoring single.  Belli hit a 2-out triple in the 9th.  CT3 induced a critical 3-2 walk.  That brought up the aforementioned goat of the afternoon, Gavin Lux.  I have been a big supporter of Lux, but that does not preclude me from mentioning that I have seen some stress looks and sometimes desperation looks from Gavin both offensively and defensively.
With the count 2-1, CT3 took off on the pitch, and Gavin stroked a line drive double down the right field line that scored both Belli and CT3.  Walk off – Game over.  Lux went from goat to hero on that one swing.  Let's hope that the swag and confidence returns as it was in the beginning of the season.
Michael Grove's journey to this point appeared unimaginable this time last year.

Gavin Lux's redemption arc Sunday seemed unlikely after his costly error.

On the two men, who found a way to play critical roles in a wild Dodgers win: https://t.co/HyPPBVsL8s

— Fabian Ardaya (@FabianArdaya) May 16, 2022
First impressions of Michael Grove.  His fastball misses in the strike zone a little too much, but it does have good movement.  If he can keep the pitch up and rise out of the zone, he will have a very good fastball. He painted the corners at times.  But it did float out over the zone a bit too often.  His curve is going to be a good out pitch. I would like to see him throw the slider a bit more to see if it can get some deep late fade.
Yes, the error opened it up, but good pitchers need to be able to pitch with adversity.  Let's not forget that just before the ground ball that Lux booted, he walked a weak hitting Johan Comargo.  And then a ground rule double, and two hard hit line drive singles.  He did get Nick Castellanos for the second time in the inning.
You can see that the balls that were hit caught too much of the plate.  Two were low fastballs and once a slider.  His fastball was best when it was up, not down.  He will learn where his pitches have the best chance of success.  Jean Segura's single earlier in the inning was in the same location.
To his credit, Grove had an 8-pitch 3rd inning and retired the side in order.  Order restored.  Grove issued a one out walk to Garrett Stubbs in the 4th.  Stubbs stole 2nd and Rhys Hoskins flew out to Belli for the 2nd out.  But it was also Grove's 70th pitch, and that is the magic number for Dodger pitchers.  Doc came out to take the ball from him to congratulations from his teammates and a standing ovation.  It was a special moment.
Phil Bickford induced Alec Bohm to fly out to end the inning.
In the 5th, after a HBP, Bickford pitched to the minimum with the help of a DP.  Alex Vesia relieved Bickford in the 6th, but pitched far better than his last time out.  He did allow a double to Johan Camargo, but got out of the inning unscored on.
After a fantastic 2 inning outing the first game of the series, Yency Almonte was summoned to follow Vesia.  He issued 3 walks and a single, but thanks to a DP, no runs scored.  This is the concern about Almonte.  His "stuff" is terrific, but his control is questionable.  This is what has kept him off of a MLB roster.
Shane Greene returned to ML and pitched a quality 2.0 innings.  He did allow a couple of singles, but no runs.  Greene got the win with the Lux walkoff.
I think Michael Grove showed his mettle in this one.  He is a battler.  He will return to MiLB.   The question is, will it be OKC or Tulsa.  He will be back, and it will be meaningful game.  And while he has shown great growth, he still has plenty to learn from and grow. He needs to learn to pitch under adversity, as he may be pitching in relief when he returns, and he may enter with runners on base.   He has proven his value.  Congratulations to Michael Grove, the Star of the Day.
Here's a look at the pitch mix of Michael Grove in his first MLB inning of action.
96-97 Fastball
12-6 Curve Ball
Tight Slider with good depth#dodgers #michaelgrove pic.twitter.com/7fxsAFzzP0

— Dodgers Daily (@dodger_daily) May 15, 2022
First career strikeout for Michael Grove pic.twitter.com/PeCQsTumpP

— Blake Harris (@BlakeHHarris) May 15, 2022
Michael Grove's final line in his MLB debut. #AlwaysLA pic.twitter.com/1PUw1KiHYs

— Dodger Yard (@DodgerYard) May 15, 2022