OKC Dodgers 13 vs Round Rock Express (Texas) 14
On the Mound
The theme of the day for the Dodgers MiLB teams must have been to use six pitchers as the OKC Dodgers followed the pattern set earlier in the day by the Great Lakes Loons and Tulsa Drillers. The Dodgers sextet gave up sixteen hits and issued eight walks.
Andre Jackson started and exited the game with out in the bottom of the first inning but not before surrendering five earned runs. He was rescued by Daniel Zamora who recorded the two outs needed to escape the inning and stranded two of the three base runners he inherited.
However, more trouble followed as Beau Burrows also gave up five earned runs although he did pitch 5.1 innings. Yadier Alvarez in his one-third of an inning allowed a stranded runner to score and gave up an additional earned run. Even reliable Justin Hagenman added three earned runs to the total in his 1.2 innings pitched. Dakota Chalmers, in his first appearance of the season, recorded no outs and gave up the winning hit allowing two inherited runners to score. His chances of escaping the inning were limited by a fielding error by third baseman Miguel Vargas.
At the Plate
The Dodgers also had 16 hits and were awarded seven walks. However, they came up one run short. The hits were pretty much evenly distributed among six hitters: Zach McKinstry 2, Miguel Vargas 2, Ryan Noda 2, Eddy Alvarez 3, Andy Burns 3 and Tomás Telis 2. Both Burns and Alvarez had three runs batted in while Tomás Telis had two.
Player of the Game
Eddy Alvarez is on a tear. Along with his three hits and three runs batted in he scored four runs and came up short of the cycle by a double.
Eddy Alvarez had a huge night with 3 hits, 2 doubles, 5 total bases, and 2 RBIs. @eddyalvarez90 is 6 for his last 13, 9 for his last 19, and is hitting .290 with an OPS of .922. #dodgers #dodgersprospects #okcdodgers #eddyalvarez pic.twitter.com/Bp21863zJk

— Dodgers Daily (@dodger_daily) May 15, 2022
Tulsa Drillers 4 vs Frisco Rough Riders (Texas) 18
On the Mound
It never rains but what it pours it seems on some days in baseball. It was pouring Frisco hits on the Drillers pitching staff on Sunday. There were 17 of them along with six walks. Eight of those hits were home runs. Frisco third baseman Trey Hair had three of them.
Out of necessity the Drillers used six pitchers during the game with none able to go more than two innings All but one gave up at least one earned run. Jose Martinez in two innings gave up nine earned runs, personal favorite Austin Drury surrender one in his two innings while Jordan Leasure watched two more score in his two innings. Guillermo Zuniga ushered home four earned runs in 1.2 innings and Melvin Jimenez gave up two in two-thirds of an inning. Jose Adames got the final two outs and limited the earned run total by stranding two of three inherited runners.
At the Plate
While the Rough Riders were running roughshod over the Drillers, the Driller bats came up with only four hits. Michael Busch (11) and Ryan Ward (10) both had a solo home run.
Player of the Game
I expect Michael Busch will claim the award again with two runs on a hit and HBP and his 11th home run now placing him second in the league.
Bombs away for Michael Busch 💣💣 pic.twitter.com/ouD0Ph5kKf

— Tulsa Drillers (@TulsaDrillers) May 15, 2022
DODGER BASEBALL 05-15-2022 MiLB Summary
Great Lakes Loons 10 vs Lake County Captains (Cleveland) 9
On the Mound
This was one of those days that a pitching coach earns his keep or perhaps tries to hide in the clubhouse. The Loons pitching which had been on a pitching coach friendly path during the month of May had given up only 23 runs in 12 games. They had come away as winners in nine of those games.
Great Lakes did take the six-game series with the Lake County Captains 4-2 with a 10-9 win on Sunday.
Perhaps the news of the day for the Loons was that following Michael Grove's trip to Los Angeles, Gavin Stone was promoted from the Loons to the Drillers.
Back to Classic Park in Eastlake, Ohio. Through nine innings the Loons paraded six pitchers to the mound. Only one was able to provide a scoreless inning. They did strike out 13 and walk only three but just hit too many bats at the wrong time.
Nick Nastrini started and through 3.1 innings gave up five earned runs after having given up only one hit through his previous seven innings.
Julian Smith could not stand two inherited runners and gave up two earned runs of his own. Kyle Hurt, Robbie Peto and Ryan Sublette all pitched an inning and each gave up an earned run.
Jose Hernandez claimed his sixth save of the season with a clean ninth inning.
At the Plate
The Loons had 12 hits during the afternoon tilt with five of them for extra bases. Eddys Leonard continued his hot streak with a solo home run in the top of the first inning, followed it up with  a three-run home run in the third and an RBI single in the fourth.
Imanol Vargas drove home two runs in the fifth inning with a home run to right field and Jonny Deluca provided what turned out to be the winning run in top of the seventh inning with a force out to second base. It was that kind of a day.
Player of the Game
This was not as easy as it seems with Eddys Leonard driving in five runs. However, Imanol Vargas had his best game of the year with four hits, three runs and two runs batted in from the ninth spot in the batting order. He gets some preferential treatment on this one.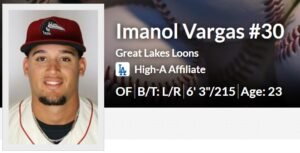 Stockton Ports (A's) 7 vs Rancho Cucamonga Quakes 4
On the Mound
Finally a relatively low scoring game. Maddux Bruns started and through three innings gave up an earned run on one hit and three walks. He also struck out three. He was followed by Ronan Kopp whose earlier dominance has been slipping a bit lately. Kopp allowed two earned runs on three hits while striking out three and walking just one. His walk rate, however, has been encouraging.
With the Quakes leading 4-2, Yamil Castillo came on to pitch in the top of the sixth inning and held the Ports at bay. In the top of the seventh inning Stockton broke lose with four runs on a pair of two-run home runs and taking a 7-4 lead. Castillo was relieved by Christian Suarez who retired the side. He returned for the eighth inning and pitched two clean innings with three strikeouts.
Ben Harris came on and pitched a clean ninth inning striking out two on 13 pitches, 10 of them strikes.
At the Plate
The Quakes had some earlier fireworks in the bottom of the first innings as Alex De Jesus (7) and Diego Cartaya hit back-to-back home runs to give Rancho Cucamonga a 2-0 lead.
They scored two more in the bottom of the second inning as Kenneth Betancourt homered driving in Yunior Garcia who singled.
Player of the Game
On a day like today where 23 pitchers were used in four Dodger MiLB games, it was rare to have a clean inning and Christian Suarez had two with the Quakes. He gets the nod over Alex De Jesus who had two hits including a home run. In eight appearances during the current campaign Suarez has pitched 11.2 innings and not given up a run. The 21-year-old left-hander has a WHIP of 0.86 while striking out 17 and walking five.
The Quakes give up four runs in the seventh inning and LHP Christian Suarez takes the mound.

Quakes trail 7-4 pic.twitter.com/f3mUGhdfXv

— Rancho Cucamonga Quakes (@RCQuakes) May 15, 2022