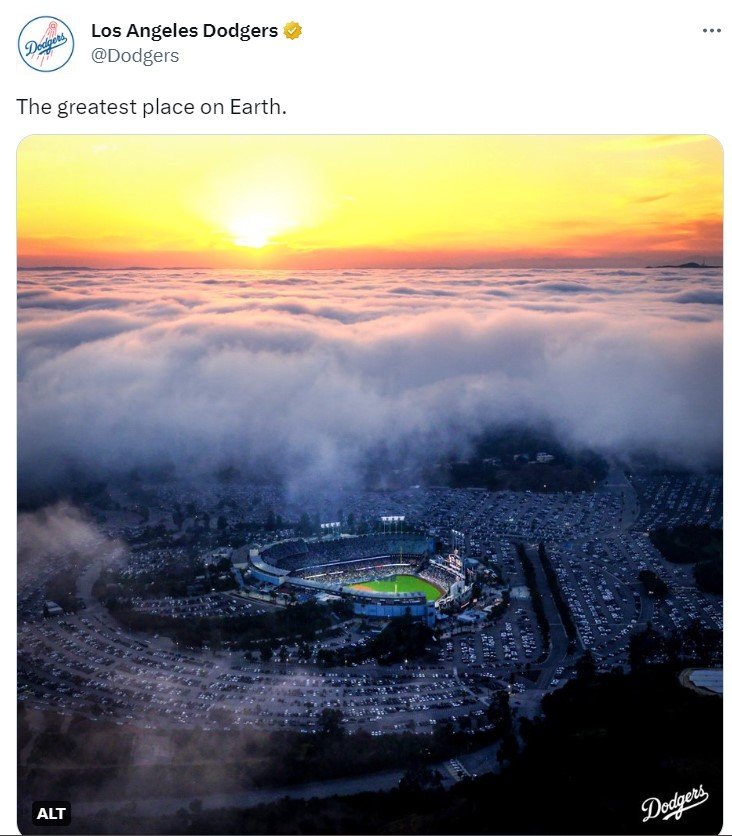 The 6 game homestand was supposed to be a tough test for the 2023 Dodgers.  Instead, the Dodgers swept the 6 games with a combined scored of 50-17.
Neither the Cardinals nor the Phillies were the trouble the Dodgers anticipated.
What happened to St. Louis?  They have the worst record in the NL.  Worse than Colorado.  They are last in the NL Central, 3.5 games behind Cincinnati for 4th.  Only KC and Oakland have worse records in MLB, and CWS has the same record.  And they sent out their best hitting OF, rookie Jordan Walker, so that they could get more ABs for Dylan Carlson, Tyler O'Neill, Alec Burleson, and Lars Nootbaar? Of course all 4 of those guys can play CF, and every team needs 4 CF.
I have done an autopsy on their season thus far, but I will not bore you with all the Cardinals details.  Suffice it to say, I wonder if Adam Wainwright is regretting not retiring with Albert Pujols and Yadi Molina. Instead he is starting May 6 for his 2023 debut.  I think St. Louis should be planning on 2024.  Bring up Jordan Walker and Matthew Liberatore.
Philadelphia's, like St. Louis', pitching has gone south…way south.
Right now, Arizona and Pittsburgh are superior teams to both St. Louis and Philadelphia.
But that did not diminish the spanking LAD put on both teams.
For the 6 games, the Dodgers outscored the Cardinals and Phillies 50-17.  The Dodgers batting line was .316/.415/.558/.973.  Did I mention that St. Louis' and Philadelphia's pitching has not been good this season?
The Dodgers had 65 hits, including 35 singles, 20 doubles, 1 triple, and 9 HR (115 total bases), and 30 XBH.
The drew 32 walks (13.3%), and made 55 strikeouts (22.8%). League rates are 8.8% walk rate and 22.9% strikeout rate.  For the season, the Dodgers rank 3rd most in strikeouts, lead MLB in walks by a healthy margin, and are tied for 2nd most in HR. This was a good 6 game series for the Dodger bats.
Below are tables of the Team and Individual Batting Metrics for the 6-Game Homestand.
We saw some subtle differences in the Dodgers approach.  Up to homestand the Dodgers just would not run.  Dave Roberts said the team was not built for stolen bases.  AF disagreed.
Prior to the homestand, LAD stole 11 bases and allowed 38 stolen bases.  Over those 26 games, LAD had a record of 13-13.  For the 6-game homestand, LAD stole 10 bases and allowed 3.  Who do you think won that discussion?  Coincidence?  One team getting hot at the right time?  Two teams going in the wrong direction at the same time?  We have heard often enough that teams just need to get to the playoffs and then get hot.  I think the same applies during the season.
It could also be that this was the first time I can remember where nobody was on the IL and nobody was on paternity leave.  The Dodgers are a different team with Will Smith in the #3 spot in the lineup.
Miguel Vargas was fantastic during the series.  He looked like the hitter he was in MiLB.  He was attacking rather than watching.  He led the team in XBF and RBI.  Maybe his thumb is better now.
James Outman is going to strike out…a lot.  He is also going to hit.  Doc just needs to keep throwing him and Vargas out there, no matter.  They will need to adjust to MLB pitching and they cannot do that in OKC.  I feel the same for Michael Busch, but he is not going to get regular enough ABs.  Of course he would rather get periodic PA at MLB than to go back to OKC.  But the Dodgers may feel he needs to go back down and work at 3B and to get more AB.  If Busch is not included in a package this deadline, he will be in the LAD lineup every day next year.
What turned CT3 around?  He too will strike out a bunch.  But when he does get hot (and he does), he can (and has) carried the team.
Badger and I will just have to disagree.  IMO (and the scorekeeper's), Austin Barnes' hit on Wednesday was a hit.  Nolan Arenado and Ke'Bryan Hayes get that ball, but Sosa reacted very slowly to it.  After the game, Nomar said that he has been there at that time of day, and a 3B can lose the ball in the seats. He did not say that was what happened to Sosa, but there was a reason he reacted so slowly. If you want to judge what you think should be hits vs the scorekeeper, peruse the xBA column in Statcast.
We later learned why it was Barnes instead of Thompson.  Apparently Trayce was ill for the last 2 games of the Phillies series.  I will not speculate as to what Trayce would have done. I am very comfortable saying Barnes had a critical 2 run single.  They all even out, or so they say.  So the next time one of the OF goes into the gap and robs Barnes of a hit, there will be the makeup.
They ran more, they struck out at a lesser rate.  They walked more than their seasonal average.  Their hit balls found their way to being hits more.  Their BABIP for the season is .283, which ranks #24.  They were much better than their average for the series.
The Dodgers RISP before the homestand was 47 for 182 or .258.  For the homestand, they were 23 for 73 or .315.  That is obviously not sustainable.  But the Dodgers are a different lineup with everyone available, and with the bottom of the order hitting.
The other component was pitching.  There were only 2 quality starts for LAD; Clayton Kershaw and Julio Urías.  That meant that the Dodgers needed to rely on their bullpen.  Their bullpen is rounding into shape.
If we were to eliminate Gavin Stone's outing, the starters ERA would be 2.79, and the starters WHIP would be .897.
Alex Vesia is now at OKC.  The Dodgers have added Wander Suero to the bullpen for San Diego as the 8th member of the pen.
My issue with Brusdar Graterol is that he has no strikeout pitch.  He can dominate, but for the ninth inning, you really want to limit contact as much as possible.  The 2 hits that Graterol gave up in the 9th on Wednesday were not hit hard at all, but he could not punch them out.  Evan Phillips was the least used reliever.  Yency Almonte for the first time this year had back to back excellent appearances.  The Dodgers two lefties (Caleb Ferguson and Victor Gonzalez) were fantastic over the series.
The bullpen is getting very close to being dominant again.  Bickford should not come in with runners on base.  He was not intended to, but Gonsolin could not shut the door in the 5th.
We learned that if the Dodgers do need another starting pitcher, they probably have one in Gavin Stone for now.  It is unclear as to when Michael Grove will be available, but Ryan Pepiot looks to be unavailable for a while.
What I learned is that this is a long season, and it will ebb and flow all season.  I do not believe the Dodgers will continue to hit as they did in the homestand, I do think they are quite capable of pitching to that level and better.
I do not know if the Dodgers can hold off San Diego or not.  They are more that capable.  And while I know I am biased, IMO the Padres, even with their payroll and superstars, are not as good as the Dodgers.  Machado and Company might hit LAD in the mouth this weekend, but that is one weekend in a long season.
05-05-2023 – MiLB Report Summary
El Paso Chihuahuas (San Diego) 7 – OKC Dodgers 4
 Bobby Miller was making his 2nd 2023 start, and this one did not go well at all.  In the 1st inning he issued a walk and  stolen base.  The runner eventually scored on a sac fly.
It was in the 2nd that ended the night for Miller.  Preston Tucker led off the inning with a single.  Tim Lopes followed with a 2-run HR.  For his 1.2 IP, Miller's line was 7 runs (3 earned), 5 hits, 2 walks, 2 strikeouts, 1 HR.  He threw 54 pitches/32 strikes.  El Paso put runners on the corners with back to back fielding errors.  One run would score on a strike em out/throw em out DP.  Miller walks Jose Iglesias on 4 pitches and gives up a run-scoring double, and his night was done
Justin Hagenman relieved Miller and gave up a run-scoring single before getting the final out of the inning.  For the 1.2 IP, Miller's line was 7 runs (3 earned), 5 hits, 2 walks, 2 strikeouts, 1 HR.  He threw 54 pitches/32 strikes.
OKC scored a run in the 2nd as well.  Patrick Mazeika single and moved to 2nd on a PB.  After Bradley Zimmer walked, Devin Mann hit another double (league leading 17th), and Mazeika scored.  With 2 outs, Yonny Hernandez walked to load the bases.  Luke Williams struck out to end the inning.
In the 4th, Drew Avans hit is 4th HR to narrow the score to 7-2.  In the 6th, Andy Pages walked and scored on a Imanol Vargas HR (5).
In the 7th, Yonny Hernandez and Luke Williams singled and both scored on a Ryan Ward double (8).
OKC got runners on 2nd and 3rd with 2 outs in the 8th, but could not get them home.
Justin Hagenman, Adam Kolarek, Mark Washington, and Tayler Scott pitched 5.0 scoreless innings with 1 hit, 2 walks, and 8 Ks.
Drew Avans – 3-5, 1 R, 1 RBI, HR (4)
Luke Williams – 2-5, 1 R
Ryan Ward – 1-4, 2 RBIs, double (8)
Tulsa Drillers 4 – San Antonio Missions (San Diego) 0 – 1st game
Emmet Sheehan was absolutely brilliant in his 5.0 IP.  He allowed a single in the 1st.  He got into a little trouble in the 2nd with a 1-ot single and double, putting runners on 2nd and 3rd.  He got the next two batters to pop up and strike out to leave the runners stranded.
Sheehan then set the next 9 batters down in order, 5 on Ks.
Offensively, José Ramos homered (6) in the 2nd.  In the 5th, Eddys Leonard walked stole 2nd and moved to 3rd on a F-7.  Eddys scored on a Jonny DeLuca single for a 2-0 lead.  In the 6th, Andy Pages walked and scored on a Imanol Vargas HR (5).
Back on the mound, Ryan Sublette and Jordan Leasure pitched a scoreless inning each.
The Drillers got only 4 hits themselves, with no Tulsa batter getting more than 1 hit.  Imanol Vargas and José Ramos each hit a HR.
Emmet Sheehan's ERA is down to 2.59 (24.1 IP)
Tulsa Drillers 2 – San Antonio Missions (San Diego) 1 – 2nd game 
Landon Knack started Game 2 and tried to match Sheehan.  Knack got into the 6th pitching a 1 hit shutout.  He allowed a single and one out run-scoring double before John Rooney relieved Knack.  He gave up a single to the first batter he faced, but SS Bryson Brigman threw the runner out at home, keeping the score knotted a 1-1.
Carson Taylor homered (1) for a 1-0 lead in the 5th.
In the 6th, Jonny DeLuca doubled (7), and scored on an Andy Pages double (9).
John Rooney retired the side in order in the 7th to complete the game for a 2-1 victory.
Landon Knack's ERA is at 1.50 (24.0 IP).
Quad Cities River Bandits (KC) 7 – Great Lakes Loons 0
Offensively for Great Lakes, this was not much of a game.  The Loons got one Yimi Garcia single in the 3rd inning, and that was the Loons only hit. The Loons did draw 4 walks in addition to their lone single.  The Loons got a runner to 2nd base just twice during the game.
Orlando Ortiz-Mayr was matching the Quad Cities pitcher pitch for pitch for 5 innings.  He allowed 0 runs on 1 hit and 1 BB, while striking out 5.  4 relievers combined to surrender 7 runs on 6 hits and 6 walks.  None of the 4 pitchers were effective.
Time to turn the page on this one.
Lake Elsinore Storm (San Diego) 12 – Rancho Cucamonga Quakes 5
The LAD winning streak wasn't the only consecutive win streak to go down. The Storm absolutely destroyed the Quakes to end their 10-game streak.
19 year old LHP Luis Valdez pitched the first three innings for RC.  In the first, he got the first two outs and then issued a BB and double for a 1-0 lead for the Storm.  Valdez got through the next two innings without any further damage.
The Storm scored 1 in the 4th, 4 in the 5th, and 6 in the 6th to take a 12-0 lead.  They did with only 1 XBH, a double, that brought home 1 run.  Darlin Pinales (1.1 IP) gave up 5 runs, Kelvin Ramirez (0.2 IP), allowed 5 runs, and Livan Reinoso (0.2 IP) allowed the final run.  Sauryn Lao made his 2023 debut and completed 2.1 scoreless innings with 1 hit – no walks or strikeouts.
RC ended the shutout in the 6th.  2 walks, and a Dayton Dooney single scored Rayne Doncon.  Cameron Decker tripled (1) home 2 more.  Chris Newell's 2-out single brought home the 4th run of the inning.
Dayton Dooney singled home an unearned run in the 8th.  RC loaded the bases in the 9th, but was unable to push any across the plate.
The Quakes managed 6 hits.
Dayton Dooney – 2-4, 1 run, 2 RBIs
Cameron Decker – 1-4, 1 run, 2 RBIs, triple (1)
Chris Newell – 1-3, 2 BB
The Quakes have a DH on Saturday.  They will be sending their two best arms to bump…Payton Martin (Game 1) and Maddux Bruns (Game 2)