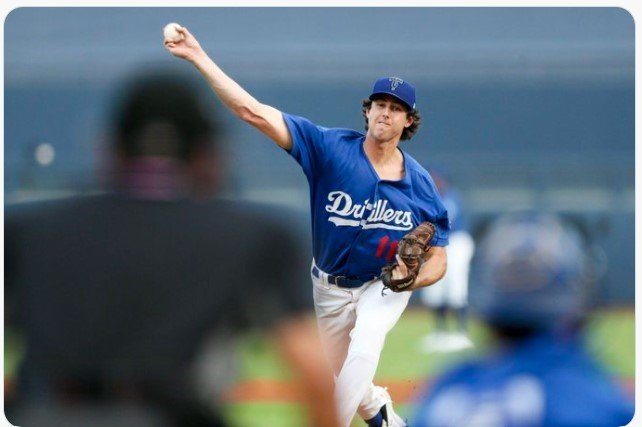 OKC Dodgers 3 – El Paso Chihuahuas (San Diego) 2 
The Dodgers were down 2-1 in the 8th when they scored 2 for the eventual 3-2 win.  Yonny Hernandez led off the 8th with a single.  Hunter Feduccia followed with the big blow, a 2-run HR (5).
Matt Andriese started and offered up a solo HR in the 2nd inning.  This would be the only hit and run off Andriese in 3.1 IP.
In the top of the 4th, Steven Duggar led off with a single.  He came around to score on a one-out double by Jahmai Jones to know the game at 1 apiece.
Bryan Hudson relieved Andriese with 1 out in the 4th and the bases empty.  He got the final two outs in the inning without any runners.
Brayan Hudson pitched a scoreless 5th.  In the 6th Tyler Cyr relieved Hudson.  He gave up a Brandon Dixon HR (6) for the El Paso lead, before the Hunter Feduccia 2 run HR in the 8th.
Justin Bruihl (2.0 IP, 1 hit, 1 K) and Nick Robertson closed out the game for OKC.  Robertson threw 1.0 perfect inning for this 3rd save.
Steven Duggar – 2-4, 1 R
Justin Yurchak – 2-4
Hunter Feduccia – 1-4, 2 RBI, HR (5)
Devin Mann – League leading 18th
Tulsa Drillers 9 – San Antonio Missions (San Diego) 2 
Nick Frasso started and completed 4.2 scoreless innings. He allowed three hits but did not walk anyone.  He did register 6 Ks.  His ERA is now down to 1.01.
In a 14 hit attack, the Driller bats jumped out on top quickly with 3 in the 1st and 4 in the 2nd.  In the 1st, Jorbit Vivas and Andy Pages singled with one out.  Imanol Vargas walked to load the bases.  On an Eddys Leonard single the pitcher reached but not only threw late to 1B but made an errant throw to allow all three runners to score.
In the 2nd, Brandon Lewis led off with a single and moved to 2nd on a WP. Carson Taylor singled Lewis to 3rd.  Jonny DeLuca doubled (8) to bring home Lewis and Taylor moving up to 3B.  Vivas got his 2nd hit of the night, scoring Taylor with DeLuca taking 3B.  After Vivas got caught attempting to steal 2B, Andy Pages slugged his 3rd HR.
Neither team scored nor threatened to score in the next three innings.  In the 6th, Vivas and Pages drew walks.  After a force out, the Missions pitcher picked off Ramos on first and Vivas scored from 3rd.
Lael Lockhart, who had replaced Frasso in the 5th, pitched a scoreless 6th, but ran into trouble in the 7th.  Lockhart walked the 2nd batter, and after he got two outs, he allowed a single and 2-run double.
The Drillers got one back in their half of the 7th on an Eddys Leonard double and 2 ground outs.
Braydon Fisher came in to relieve to pitch a scoreless 8th.  Ben Harris pitched with traffic in the 9th but retired the side without a run, and the Drillers got the win.
Andy Pages – 3-4, 1 BB, 2 R, 2 RBI, HR (3)
Carson Taylor – 3-4, 1 R
Jorbit Vivas – 2-4, 1BB, 2 R, 1 RBI
Jonny DeLuca – 2-5, 1 R, 1 RBI, double (8)
Eddys Leonard – 2-4, 1 R, 1 RBI, double (4)
Nick Frasso – 4.2 IP, 0 runs, 3 hits, 0 BB, 6 K
Great Lakes Loons 7 – Quad Cities River Bandits (KC) 6
Great Lakes had a 10 inning walk off in this one.  The Ronan Kopp/Robbie Peto piggyback continued.  They were both hit fairly hard,  Kopp went the 1st three innings and gave up a solo run in each of the 2nd, 3rd innings.  He surrendered a HR in the 2nd and walk, WP, single scored a run in the 3rd. 2 runs, 2 hits, 3 BB, and 5 K before giving way to Peto.
Peto was rouged up for 4 runs on 9 hits (including a pair of solo HRs) in his 3 innings.  In the 7th, after a HR, single, single, and double, Peto was done for the day.  Antonio Knowles relieved Peto and quickly restored order.
Meanwhile, in the 1st inning, Austin Gauthier continued his remarkable ability to get on base with a BB.  Dalton Rushing singled.  Taylor Young had a 2-out run scoring single.  Dalton Rushing scored the second run on a pickoff throwing error.
The Loons scored a pair of additional runs.  Jake Vogel single and moved to 3rd on a double by Chris Alleyne.  Gauthier hit  a sac fly to score Vogel and Alleyne moved up to 3rd.  Alleyne scored on a WP.
Down 6-4, the Loons turned a HBP and three singles to score the tying runs.
Antonio Knowles and Aldry Acosta pitched shutout baseball through the 10th.
With Dalton Rushing starting out at 2B, on the second pitch Yeiner Fernandez delivered the walk off single to score Rushing.
Yeiner Fernandez – 2-5, 2 RBI
Taylor Young – 2-4, 2 RBI
Austin Gauthier – 1-2, 2 BB, 1 R, 1 RBI
Dalton Rushing – 1-5, 3 R
Chris Alleyne – 1-3, 2 BB, 1 R
Rancho Cucamonga Quakes 10 – Lake Elsinore Storm (San Diego) 0 – 1st Game
Three Quake pitchers combined on a 5 hit shutout.  Payton Martin who is quickly getting noticed and may be breaking into some of those Top 30 LAD prospect lists soon.  He does not turn 19 until May 19.  In his 5th game (4th start), Martin has pitched 14.0 innings.  He has allowed 1 run for a sparkling ERA of 0.64. 10 hits, 8 BB, and 13 K.
22 year old Jared Karros followed with 3.2 scoreless innings.  He allowed 3 hits, 0 walks, and registered 3 K.  Jonathan Edwards struck out the side in the 7th to finish off the first game of the DH.
Nick Biddison hit a 2-run HR (3) in the 1st inning for all the runs they would need.  However, the Quakes scored 8 more runs.  2 walks, 3 singles, and a triple scored 5 in the 4th.  2 singles and a triple scored 2 more in the 5th.  The Quakes scored their 10th run in the 6th on a double and single.
Jose Izarra – 2-3, 1 R, 2 RBI, HBP, Triple (1)
Nick Biddison – 2-2, 2 BB, 3 R, 2 RBI. HR (3)
Jesus Galiz – 2-4. 1 R, 1 RBI
Rayne Doncon – 2-4, 1 R
Juan Alonso – 1-4, 2 RBI, Triple (1)
Rancho Cucamonga Quakes 4 – Lake Elsinore Storm (San Diego) 3 – 2nd Game
Maddux Bruns followed Payton Martin's excellent start with one of his own.  He finished 3.2 IP before he night was done.  He pitched 3 scoreless innings to start the game, but ran into a little wildness in the 4th.  He allowed a BB and run scoring double with one out in the 4th.  After a strikeout, Bruns walked the next batter.  Chris Campos relieved Bruns, and walked the first batter he faced before he got the third out of the inning on a called strike 3.
The Quakes took the lead in the top of the 4th on a Thayron Liranzo 2-run HR (5).
In the 5th, Lake Elsinore tied the score on a walk, pitcher throwing error, and 2-out run scoring single.
Thayron Liranzo hit his 2nd 2-run HR (6) in the 6th.
Jeisson Cabrera came in to relieve Campos in the 7th.  2 singles and a HBP loaded the bases with 1 out.  On a ground ball force out, 1 run scored to move the Storm within 1.  Cabrera struck out Graham Pauley to end the game.
Thayron Liranzo – 2-3, 2 runs, 4 RBI, 2 HR (6)