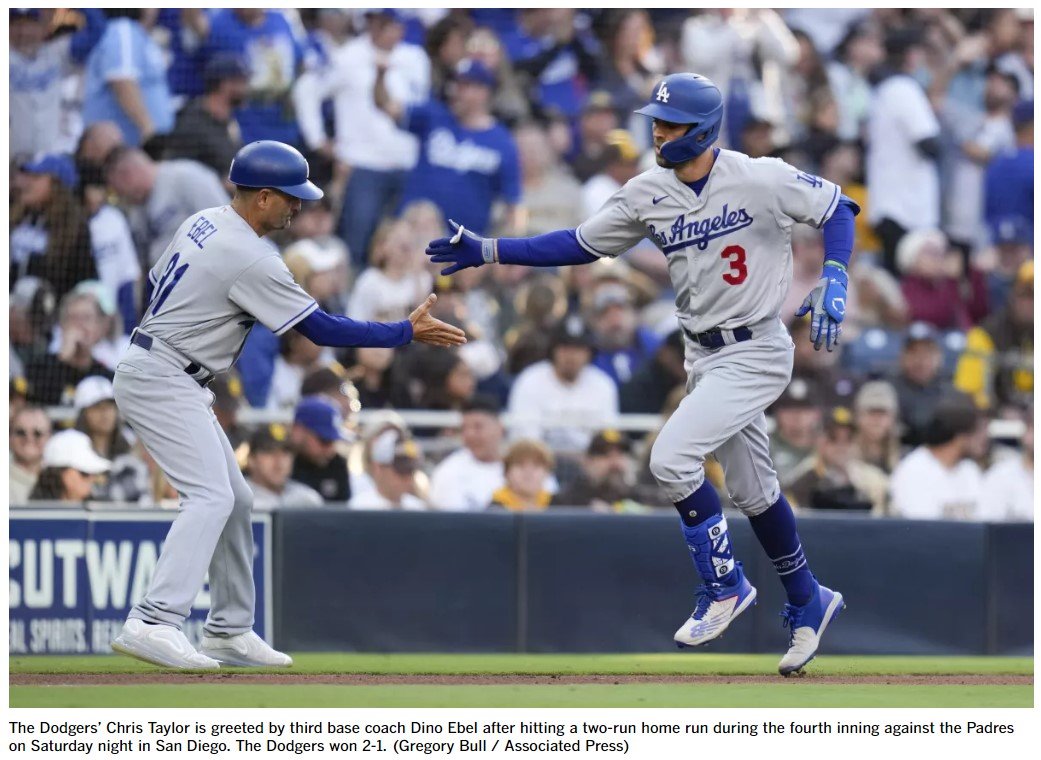 Lo and behold, the Dodgers finally beat a team with a winning record.  LHSP Blake Snell who has been struggling big time this season, came in with a 5.28 ERA.  But the LAD bats made Snell look like a viable CY candidate.  In 6.0 IP, Snell gave up just 1 hit…a 2-run HR by CT3.  He did let 3 walks, 2 to Will Smith and 1 to Max Muncy.
Chris Taylor knows what wRC+ is pic.twitter.com/5l4iYGZRtW

— Blake Harris (@BlakeHHarris) May 7, 2023
Dustin May was just electric Saturday.  He had yet another potential viral pitch. He struck out Brett Sullivan on a swing and miss slider, on a ball that ended up hitting Sullivan in the knee.  May just has a way of making a batter look foolish, especially Padres batters.  Right Manny Machado?
Dustin May just got a dude to swing at a pitch that hit him pic.twitter.com/aDVpSRub2i

— Blake Harris (@BlakeHHarris) May 7, 2023
Caleb Ferguson entered in the 7th for Dustin, and walked Jake Cronenworth with 1 out. He got the next two batters without incident. Ferguson is almost automatic thus far this year.  He has not been scored on in 10 consecutive outings, and 13 out of 14.  His ERA is now at 1.35, and his WHIP is 0.90.
In the 8th, Brusdar Graterol did not fool the first two batters he faced.  Sullivan singled on the 1st pitch thrown that LF Trayce Thompson misplayed allowing Sullivan to take 2nd.  He had Fernando Tatis, Jr. 1-2 but left a slider out over the plate that Tatis banged down the 3B line for a double.  Tatis is just too good of a hitter to leave a pitch with that much plate.  He moved to 3rd on a 5-3 ground out by Machado.  With the infield playing in, Juan Soto hit a ground ball right to Miguel Vargas and Tatis decided to stay at 3B, and Soto was retired at 1st.  Brusdar got Xander Bogaerts on a come-backer to end the threat.
In the 9th, in a save situation, Evan Phillips got Matt Carpenter looking at strike 3 that Carpenter blew up at.  The pitch review showed it was a strike, and that Carpenter had nothing to get upset about, except maybe himself for not going after it.  Jake Cronenworth walked for the 3rd time to match LAD's Will Smith.   Evan came back to strike out Ha-Seong Kim and Trent Grisham to get his 4th save.
The Dodgers have now beat 3 LHP in a row.  However, two of them was more a result of great Dodger starting pitching.  Clayton Kershaw beat Jordan Montgomery 1-0, and now Dustin May beat Blake Snell 2-1.
Julio Urías faces off against Joe Musgrove for the series win today.
Are AA Players Being Blocked by Organizational Depth?
With Miguel Vargas, James Outman, and Michael Busch on the current 26 man roster, IMO there are no other AAA player capable of becoming a regular for a contending team.  Sure Yonny Hernandez and Luke Williams could become MLB reserves and Hunter Feduccia could become a backup catcher.
IMO, the remaining position players are at best AAAA players or more likely Organizational Depth.
Bradley Zimmer (OF) – 30 – OPS .627
Patrick Mazeika (C) – 29 – OPS .726
Steven Duggar (OF) – 29 – OPS .709
Ben DeLuzio (OF) – 28 – OPS .439
Bryson Brigman (INF) – 28 – OPS .573
Drew Avans (OF) – 27 – OPS .755
Devin Mann (INF) – 26 – OPS .730
Jahmai Jones (INF) – OPS .809
Ryan Ward (OF) – OPS .755
That is not as apparent as the starting pitching depth at OKC.  OKC has 2 legit prospect starting pitchers: Gavin Stone (24) and Bobby Miller (24).  The other OKC SP are AAAA or Organizational Depth:
Matt Andriese – 31 – 28.1 IP, 6.99 ERA, 1.66 WHIP, 7 BB, 24 K
Robbie Erlin – 32 – 23.0 IP, 6.83 ERA, 1.66 WHIP, 12 BB, 26 K
Dylan Covey – 31 – 23.0 IP, 4.30 ERA, 1.43 WHIP, 12 BB, 22 K
William Cuevas – 32 – 18.0 IP, 4.50 ERA, 1.11 WHIP, 5 BB, 16 K
I am getting used to how the Dodgers under AF build their AAA team.  I would not normally have any REAL issues as long as there were not players at AA who could use a bump in competition. I am not sure that is the case this year.
The Tulsa Drillers starting pitching is loaded.  There are multiple AA starters who might benefit from a step up to AAA.  Below are the Tulsa starting pitchers thus far.  While none of the pitchers are on the 40 man roster, the first five are all ranked in the top 20 prospects.  They are all of an age they should be pushed if they are considered legitimate MLB starting pitchers.
Landon Knack – 25 – 6 GS, 24.0 IP, 1.50 ERA, 0.88 WHIP, 6 BB, 26 K (#19 Prospect)
Nick Frasso – 24 – 6 GS, 26.2 IP, 1.01 ERA, 0.90 WHIP, 36 K, 5 BB, (#10 Prospect)
Emmet Sheehan – 23 – 5 GS, 24.1 IP, 2.59 ERA, 0.82 WHIP, 8 BB, 43 K (#14 Prospect)
River Ryan – 24 – 4 GS, 16.1 IP, 1.65 ERA, 1.16 WHIP, 7 BB, 19 K (#13 Prospect)
Nick Nastrini – 23 – 3 GS, 12.0 IP, 2.25 ERA, 0.92 WHIP, 4 BB, 11 K (#9 Prospect)
Kyle Hurt – 25 – 2 GS, 12.2 IP, 0.00 ERA, 0.79 WHIP, 4 BB, 21 K
Nastrini got a late start, and River Ryan's starts were more as an opener.  Hurt is probably more of a reliever, but OKC could use another reliever with a strikeout pitch.  Wouldn't it be interesting to see any or all of Knack, Frasso, and Sheehan get moved to AAA?
There are also a plethora of Tulsa position players who are probably being blocked by OKC players.  Six AA position players are included on the top 22 prospects, while five of those are on the 40 man roster.
Outfielders:
Andy Pages (22) – 40 man – (#6) – .274/.434/.488/.922, 26 K, 21 BB
Jonny DeLuca (24) – 40 man – (#21) – 296/.389/.622/1.011, 21 K, 9BB
José Ramos (22) – #22 – .253/.359/.494/.853, 26 K,10 BB
Infielders:
Jorbit Vivas (22) – 40 man – (#18) – .347/.448/.611/1.059, 17 K, 13 BB
Eddys Leonard (22) – 40 man – (#17) – .198/.303/.279/.582, 22 K, 11 BB
Catchers
Diego Cartaya (21) – 40 man – (#1)
Ramos is the only player eligible to be on the 40 man who is not.
All three of the OF are RH hitting.  Maybe Pages and DeLuca should get a chance at AAA.  Is Ben DeLuzio really a better choice?  Aren't Duggar and Zimmer basically the same player?  Maybe they both are not needed to block a younger prospect.
Vivas is having a great start to the season.  Younger players have been brought up directly from AA.  I would certainly not advocate that.  But if he is still hitting thru May, perhaps a AAA promotion would not be out of line.
Diego Cartaya may be the #1 prospect, but he is struggling out the gate at AA.
Batting line – In 70 PA, .190/.257/.333/.590 – 22 K, 4BB, 2 HR and 3 double.
Cartaya is not yet ready for AAA.  He has only caught 14 games, 119.2 innings.  I have not seen enough of his catching this season to make any comment.
Depending as to where the Dodgers sit at the All Star Break, some of the above players/pitchers could be used in a significant trade at the August 1 deadline.  CWS could have a couple of players that the Dodgers might be able to put together a package for…RHP Lucas Giolito and SS Tim Anderson.