2023 is a season of change. Not only for the Dodgers, but also their fans. New rules, new players, and a different kind of team than we have become accustomed to.
A smattering of kids among the grizzled veterans and some familiar faces in unfamiliar uniforms. At least for the most part, we do not have to face those former friends who are now foes.
Cody Bellinger got the better of his former team and his Cubs took three of the seven contests with the Dodgers. His teammate, Edwin Rios, did not fare as well.
We have seen the Giants and their five former Dodgers a few times and we will see them some more. But JT, Kike, Kenley, Martin, Verdugo and the Sox will only see the Dodgers in August in a three game series in Boston.
As the year goes on, we will no doubt see more changes in the roster. Some players will be either traded or released. I would surmise that Trayce Thompson is a prime candidate for release. He has not come close to resembling the player he was last season.
Peralta has a much longer leash. Heyward has looked pretty good lately, and as long as he produces like he is now, he will be here all year.
The kids have performed well so far, and will be given every opportunity to continue their growth as major leaguers. Some of the kids in the minors might get calls later on. Busch will probably head back to AAA when Martinez is well.
My main concern is consistency and the pitching staff getting more from the starters, and a little less heart pounding relief from the bullpen. Vesia looked really bad in his first outing at AAA. Luckily, Gonzalez has looked like the guy we first saw in 2020.
If the front four, Urias, May, Kersh and Gonsolin, can keep the ship afloat, maybe they can find that elusive #5 guy. Thor so far, has not been the answer. One reason he has been passed over in this series and might not start again until they return from this road trip.
He is supposedly working on some mechanical issues. So if he cannot fix what is wrong, I expect change by the deadline or before.
What they really need, and soon, is a hitter who can mash left-handed pitching. They beat Snell last night and that is only their second win against a lefty starter. I think and hope when JD comes back, that should change.
Otherwise a trade for a lefty mashing outfielder could be in the works. The only way that doesn't happen is if Thompson suddenly discovers the magic, or JD goes berserk and they do not have a need.
AF is pretty smart when it comes to making moves to improve the team. At least it seems that way and he is not afraid to unload some prospects.
But  to me the main need is at SS. They just are not getting much production from the position. Rojas looks like what he was signed to be, a backup.
Me, I move Mookie there. He loves playing SS and he is pretty good at it. It loosens up the logjam in the outfield, and makes the infield a lot more offensive minded.
But we will just have to wait and see what the team has in mind. Right now, they are sitting where they usually sit, in first place in the west. But there is a lot less of a gap between them and the Padres and D-Backs than we fans would like.
I for one, do not see a blockbuster trade on the horizon, but I have been wrong many times before.
05-07-2023 – MiLB Summary Report
(by Jeff Dominique)
El Paso Chihuahuas (San Diego) 11 – OKC Dodgers 7
OKC jumped out to a 4-0 lead in the first.  Two BB preceded 2 K.  A Ryan Ward single scored one run.  The big blow was a Devin Mann 3-run HR.  All that was before Robbie Erlin hit the mound. In 3.1 IP, all Erlin did was allow 9 runs on 11 hits and 2 walks, with 3 K.  Erlin gave up a pair of 2-run HRs and a solo HR.
OKC scored one in the 3rd on a single, a pair of walks, and a ground out.
In the 5th, OKC scored a pair.  Jahmai Jones singled and Ryan Ward drew a BB.  Devin Mann drilled his league leading 19th double.  Jones scored but Ward was thrown out at the plate.  Patrick Mazeika singled home Mann.
Mark Washington relieved Erlin and got a double play to end the 4th.  In the 5th Washington walked the first batter, and a double to the second batter put runners on 2nd and 3rd.  A pair of sac flies scored two more for El Paso.
All the runs were scored in the first five innings.  Andre Jackson pitched two scoreless innings with a pair of Ks.  Alex Vesia followed with a perfect inning.  He faced the first three batters in the lineup and struck all 3 out on 14 pitches.
Ryan Ward – 3-4, 1 BB, 2 R, 1 RBI
Devin Mann – 2-3, 1 BB, 2 R, 4 RBI, double (19), HR (1)
Robbie Erlin exemplifies what I wrote about on Sunday. As long as he remains on the OKC roster, at least one AA pitcher is blocked.  Why wouldn't Landon Knack be a better option for the OKC rotation.  I liked Robbie Erlin, but IMO his professional baseball career should be in the rear view mirror.  AF what are you going to do?
San Antonio Missions (San Diego) 5 – Tulsa Drillers 4
The Drillers scored 1st on an Eddys Leonard HR (2) in the 2nd.  Kyle Hurt continued his dominance over the first 3 innings, but that dominance ran out in the 4th.  With one out, he gave up a pair of singles and then a 3-run HR.  Jack Little was summoned in to get out of the inning.  After the 2nd out, Little issued a BB and 2 singles followed to load the bases.  He then issued a run scoring BB and was then relieved by Alec Gamboa.  Gamboa walked the first batter he faced to force in the 5th run of the inning.  That was it for the Missions.
In the bottom of the 4th, José Ramos hit his 7th HR of the season.
In the 6th, Jorbit Vivas reached on an error.  Andy Pages doubled Vivas home.  Ramos singled Pages to 3rd. Pages would eventually come home on a Kody Hoese sac fly.
José Ramos – 2-4, 1 R, 1 RBI, HR (7)
Eddys Leonard – 2-4, 1 R, 1 RBI, HR (2)
Andy Pages – 1-4, 1 R, 1 RBI, double (10)
Great Lakes Loons 9 – Quad Cities River Bandits (KC) 6
The Great Lakes Loons supplied a 14-hit performance out lasting the Quad Cities River Bandits.  Great Lakes has sole possession of first in the Midwest League East Division and have won 10 of their last 12 games.
Yeiner Fernandez had the first four-hit game by a Loon this season. The 20-year-old drove home four runs, including a sixth-inning two-run homer.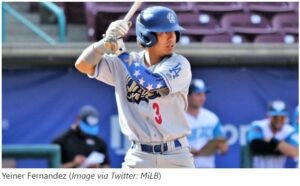 The first three Loons reached base. Austin Gauthier singled and moved to 3rd on a Dalton Rushing double (5).  Gauthier scores on a Yeiner Fernandez single.
Ben Casparius the starter for the Loons rebounded tremendously well after allowing a leadoff homer to Jack Pineda. The right-hander retired the next eight in a row.
Pineda's second at-bat, he sliced a double and was brought across by Javier Vaz. Casparius struck out four through the first two and then struck out five through the next three. Despite allowing runners to reach scoring position in the fourth and fifth innings, a ninth strikeout finished the fifth. Casparius now has the most strikeouts in a game for a Loons starter with nine.
Entering the sixth, Great Lakes led 4-2 after a scoreless half-inning from Michael Hobbs.  The Loons would put together five runs in a four-hit inning. Dalton Rushing walked for the third time of the day and was brought across by Yeiner Fernandez's two-run shot. A Taylor Young single was next, followed by an Ismael Alcantara infield single to short that was thrown into foul territory, and Young hustling would score. Alcantara and Jake Vogel were later plated by a Yunior Garcia two-run double.
The River Bandits didn't roll over, producing four runs in the top of the seventh. Stringing together four singles and two walks against Juan Morillo, who recorded just one out. Jack Dreyer retired the five batters he faced in total, including the final two of the seventh, to strand two runners in scoring position. The game was 9-6 Loons after seven.
Jake Pilarski commanded the ninth and completed his ninth save, extending his minor league baseball lead. The right-hander has permitted just one run through 12.2 innings in 12 appearances.
Austin Gauthier – 3-5, 3 R, 1 RBI. Now batting .429 with a 1.140 OPS
Dalton Rushing – 1-2, 3 BB, 1 R
Yeiner Fernandez – 4-5, 4 RBI, 1 R. Now batting .321 with a OPS of .868.
Taylor Young – 2-5, 1 R, 1 RBI
Yimi Garcia – 1-3, 1 BB, 1R, 2 RBI
Ben Casparius – ERA at 2.86., WHIP 1.02
Lake Elsinore Storm (San Diego) 10 – Rancho Cucamonga Quakes 9
Albert Fabian's three-run homer in the last of the ninth capped an unthinkable comeback on Sunday evening, as the Storm scored seven times in the last of the ninth to defeat the Quakes in walk-off fashion.
Leading 5-3 in the ninth, Rancho tallied four times to take a commanding 9-3 lead.
Madison Jeffrey struggled in the last of the ninth though, as he gave up three hits and two walks while recording just one out. Lucas Wepf came out of the pen and walked the first batter he faced, before getting Rosman Verdugo on a sac fly to center field. Needing just one more out to take five of six in the series, the Quakes came up empty, as Fabian took a Wepf pitch over the fence in right field to end the game.
Nick Biddison – 2-5, 1 R, 1 RBI
Jesus Galiz – 2-4, 1 RBI
Dayton Dooney – 3-5, 1 R
Peter Heubeck – 4.0 IP, 1 R, 2 H, 2 BB, 5 K