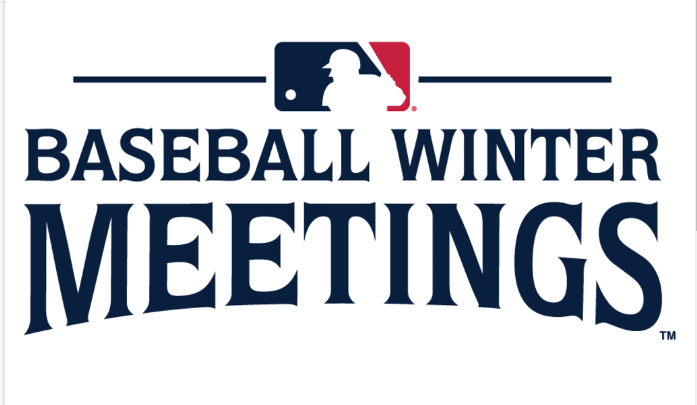 We are now less than a week away from the Winter Meetings. They will be held in San Diego, beginning Sunday, December 4, and concluding Wednesday, December 7.  The Dodgers rumors have been stoked by every conceivable publication.  They have been mentioned as a landing spot with every top tiered and mid-tiered FA.  They have been reported as a serious suitor for Aaron Judge, only to be shot down by Judge on a well below market offer.   At least AF/BG can say they attempted to sign Judge, and tell everyone it was a serious offer.  Same with Jacob deGrom, Justin Verlander, Carlos Correa, Xander Bogaerts, Trea Turner, and now Carlos Rodón.
Of course the Dodgers are going to do their due diligence and kick every tire on all of the top FA.  But now that the euphoria of being able to secure a $1B annual payroll has passed, reality is seemingly being reported as to what Stan Kasten and Andrew Friedman have actually hinted at with wanting to stay under the CBT threshold.
The CBT threshold is  $233MM.  Currently the Dodgers are sitting at $184,786,666.  That includes Clayton Kershaw but not Trevor Bauer.  I used the arbitration salaries as calculated by Baseball Economist, Matt Swartz (https://twitter.com/matt_swa), and published by MLBTradeRumors.  They are currently $48,213,334 under the threshold.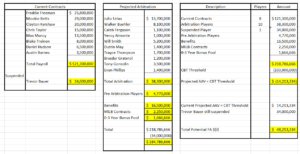 The Dodgers can spend it all on Justin Verlander – $40MM.  I will say again, if the Dodgers do decide to go over the CBT threshold, JV will be the reason.  The Dodgers and JV are due to meet today.  2 years at $80MM with a vesting option for a 3rd year?
Kodai Senga (5/$75) and Andrew Benintendi (4/$54MM) – $28.5MM AAV???
Someone I did think AF/BG might have been on – Mike Clevinger – signed with ChiSox for 1 year at $12MM.
Pitchers projected to sign for 1 or 2 years, and less than $15MM AAV, is where I see the Dodgers shopping (other than Verlander).  Projections by MLBTR.
Jose Quintana – 2 year, $24MM
Zach Eflin – 2 years, $22MM
Michael Wacha – 2 years, $16MM
Corey Kluber – 1 year, $12MM
Johnny Cueto – 1 year, $10MM
Drew Rucinski – 2 year, $9MM (In KBO 2022)
Or the pitcher bargain bin:
Matthew Boyd
Alex Reyes
Michael Lorenzen
Michael Pineda
Chris Archer
Trevor Williams
Kyle Gibson
Wade Miley
Drew Smyly
Often times it takes one big FA to sign to start a domino effect.  Many of the FA's agents like to have Scott Boras set the market, and then gauge where their clients fit in that market.  Sometimes Boras will set the market early, as he did in 2019 at the Winter Meetings.  The top 3 FA were all Boras clients, and all 3 signed (agreed to terms) at the Winter Meetings.
Gerrit Cole – December 10, 2019
Anthony Rendon – December 11, 2019
Stephen Strasburg – December 9, 2019
Jacob deGrom and Justin Verlander are in a market by themselves.  However, Carlos Rodón is the top pitcher on the market not in that exclusive duo group, and is represented by Boras.  Agents for pitchers like Chris Bassitt, Taijuan Walker, Sean Manaea, and Jameson Taillon may want to see what Rodón signs for.
I suspect we can see more pitchers like Mike Clevinger sign as they are totally independent of those pitcher's market.
At the same time, why would Trea Turner sign to set the market, when his agent knows that Boras will push for $300MM for Correa and $200MM for Bogaerts. I think Dansby Swanson is far enough removed from the uber mega market, that he could set his own market.  Then again, why not see what the top 3 do, and extrapolate where he thinks he should be in comparison.
While the market for the 4 elite SS may be stalled until the first one of them fall, the secondary and tertiary tiers will not need to wait.  Teams looking to find a SS/2B not at the elite level, will find possible players like:
José Iglesias
Elvis Andrus
Andrelton Simmons
Jonathan Villar
Didi Gregorius
Aledmys Díaz
Brandon Drury (2B/3B)
Jean Segura (2B)
Adam Frazier (2B)
Players like these should have their markets identified any time from now up to Spring Training.  Their agents will try to finalize something in person with team executives in San Diego at the Meetings.
The last two "normal" Winter Meetings were 2018-2019 and 2019-2020.  For the 2018-2019 Top FA (Per MLBTR), 8 signed before the Winter Meetings, 0 signed at the Winter Meetings, and 17 more signed after the Winter Meetings and before January 3, 2019.
For 2019-2020, the FA signings were early and often:
Before Winter Meetings – 14, including 2 QO accepted
During Winter Meetings – 9
After Winter Meetings and Before January 1 – 12
In January – 14
Thus all 50 FA signed by January 31, except Yasiel Puig.
For 2022-2023, 9 top 50 MLBTR free agents have signed (including 2 QO accepted), and 1 honorable mention (Joely Rodriguez).  There has been more FA rumors than trade, so maybe (?) the Winter Meetings will be more 2019 than 2018.
Of course the trade rumors will be running rampant. Sometimes trades are plentiful during the meetings, sometimes not so much.  I think there will be a whole host of Dodger related rumors.  Pitching, OF, SS, 2B…But deals???
I know Badger may differ with me, but I am certain that there will be players/pitchers that will be traded this Winter that will surprise us.  In the past, we have seen:
Max Scherzer from Arizona to Detroit (12/08/09) – at Winter Meetings
Yu Darvish from Chicago to San Diego (12/29/20)
Gerrit Cole from Pittsburgh to Houston (01/13/18)
Blake Snell from Tampa Bay to San Diego (12/29/20)
Chris Sale from ChiSox to BoSox (12/06/16) – at Winter Meetings
Giancarlo Stanton from Miami to NYY (12/11/17) – at Winter Meetings
Andrelton Simmons from Atlanta to LAA (11/12/15) – Before Winter Meetings
Jason Heyward from Atlanta to St. Louis (11/17/14) – Before Winter Meetings
Christian Yelich from Miami to Milwaukee (01/25/18)
Paul Goldschmidt from Arizona to St. Louis (12/05/18) – Before Winter Meetings
Marcell Ozuna from Miami to St. Louis (12/14/17) – at Winter Meetings
Francisco Lindor from Cleveland to NYM (01/07/21)
Nolan Arenado from Colorado to St. Louis (02/21/21)
And of course…Mookie Betts from Boston to LAD (02/10/20)
While not all of the trades identified above consummated before or during the Winter Meetings, those that were not, could have germinated from the meetings.
I am certain that the Dodgers will check in (and check in hard) for game changers like Amed Rosario, Shane Bieber, Corbin Burnes, Brandon Woodruff, Willy Adames, David Fletcher, Pablo Lopez, Bryan Reynolds, Ian Happ, and others.  Maybe none of them will be moved this Winter, and maybe multiples will be.  The Dodgers have an abundance of prospect capital that they cannot possibly take full advantage of, so why not package some of it for a current ML big name, or a top position of need player prospect (say CF or SS)?
This is the week that rumors begin to ruminate and percolate.  I do not think the Dodgers management believes they have to do a lot to contend in 2023, so they will not feel "desperate" to sign a particular free agent, or make a specific trade.  If some FA falls into their laps, like Freddie Freeman did last year, the Dodgers will pounce.  Or if the Dodgers can get away with highway robbery like they did with Betts, they will make that trade.
Either the LAD prospects are over-hyped and are nothing more than surplus depth, or they are stars in the making. If the Dodgers believe in the hype, then the Dodgers will have multiple rookies on their opening day roster.  If other teams believe in the hype, then some of those can be packaged in a trade for that difference maker.  However, it takes two (sometimes three) to finalize a trade.
The other problem is, with the increase in the number of playoff teams, most of the teams, including some previous bottom feeding teams (Baltimore, Seattle, LAA, Texas), now believe they can make the playoffs, and will hold on to their primary lineup of players/rotation until the deadline.  Minnesota, Cleveland, Chicago White Sox, Milwaukee, and Toronto continue to live on the periphery, but are still believers. Some contenders have payroll concerns (Cleveland and Milwaukee). Others believe they are close and still want to hold onto their key young players for a while longer (KC, Detroit, Minnesota, Chicago Cubs, Arizona, Miami) to see if they can develop into a cohesive team.
The playoffs have certainly changed the canvas for player movement.  The Dodgers will be going to the Winter Meetings with a lot of questions.  Maybe they will find answers externally, or maybe they believe the answers will come internally, with rookies and/or improved play.
You know the MLB network personalities will be fueling the rumors, so I do plan on watching the carnival.  The Rule 5 draft will be a week from Wednesday.  I do think the Dodgers could lose some players, but I do not expect them to draft anyone at the MLB part of the draft.  They will undoubtedly pick up a few MiLB Rule 5 draftees for organizational depth.