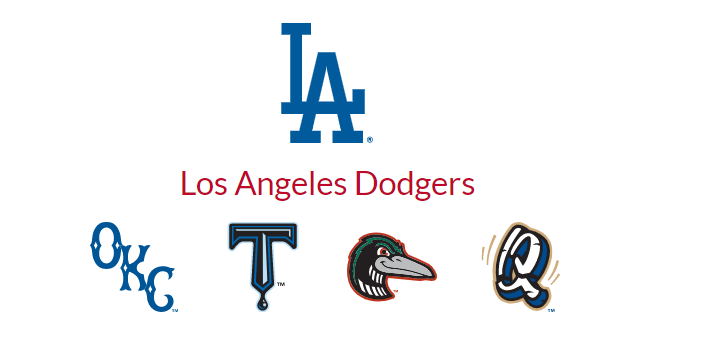 OKC Dodgers 5 vs El Paso Chihuahuas (Padres) 1
The Dodgers snapped a 3 game losing streak.  The Dodgers got some tremendous pitching in this game.  Yefry Ramirez started and pitched a solid 5.0 innings.  He surrendered a HR to Luis Campusano, and 1 other hit, 1 walk, and 2 Ks.  He was an oddity whereby a starting pitcher pitched enough innings to get the win.
Carson Fulmer relieved Ramirez and pitched a scoreless 2.0 innings.  He did not surrender a hit, but did allow 1 BB, and registered 2 Ks.
Yency Almonte finished up with 2.0 scoreless innings.  He did allow 2 hits, and generated 2 Ks.
In the meantime, the Dodgers got off to a quick start.  With one out, Miguel Vargas walked, Kevin Pillar walked, and Ryan Noda hit a 3 Run HR.
The Dodgers scored a single run in the 5th.  Eddy Alvarez singled, stole second, and scored on a Jake Lamb single.  The Dodgers scored their 5th and final run in the 8th.  Kevin Pillar walked and moved to 2nd on a Ryan Noda single.  Jason Martin singled home Pillar to end the scoring.
For the night, the Dodgers had 8 hits.  Eddy Alvarez had 3, Ryan Noda 2, Jake Lamb 2, and Jason Martin 1.  Noda's HR was the only XBH for OKC.
Amarillo Sod Poodles (Arizona) 3 vs Tulsa Drillers 4
I readily acknowledge that I am not a professional pitching coach or part of a professional development team, but it is hard for me to understand why the Dodger Affiliate pitchers are not pitching deeper.  Is Clayton Beeter a starter or a reliever. On April 9, Beeter threw 49 pitches/32 strikes.  Tonight, Beeter stretched out all the way to 51 pitches/33 strikes.  He was allowed to finish the 3rd inning this game, but was not going to start the 4th.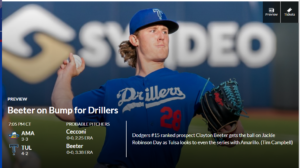 At the same time, a much more heralded pitcher Mike McGreevy (Peoria Chiefs – High A) started his second game.  In his first game he pitched 5.0 scoreless innings (79 pitches/54 strikes).  In tonight's start, he went 6.2 innings and got to 83 pitches/55 strikes in a 0-0 game.  In 11.2 IP the top RHSP in the Cardinals system (#2 overall), and has yet to yield a run in his two outings.
McGreevy is a pitcher out of UCSB who is being comped to a former Gaucho, Shane Bieber.  He was mocked by several hopeful LAD draft pundits to possibly drop to LA in 2021 (I was reeeeeaaaaly hoping), but he went #18 overall to St. Louis.  He is St. Louis' #8 prospect.  He is a valuable pitcher, and yet it does not appear that St. Louis is being too careful with him.  It will not be long before McGreevy gets to push to Springfield (AA). Tulsa plays Springfield next week, and three other times this year, including the last series of the season in September (9/13 to 9/18).  I would sure like to see McGreevy pitch against Tulsa this year.
Oh well, off the soap box and back to the games.
Clayton Beeter was touched for a run thanks to some shoddy defense in the 1st.  Beeter walked leadoff man, Corbin Carroll.  Carroll moved to 2nd on a WP.  With one out, Beeter struck out Andy Yerzy, but the third strike was dropped and the throw to 1B was dropped by Brandon Lewis for an error.  Carroll went to third on the play and scored on a sacrifice fly.
Tulsa tied the score in the home half of the 1st.  James Outman moved to 2nd on a 2-base fielding error by the LF, and scored on an Andy Pages single.
In the 2nd the Sod Poodles took the lead after Beeter allowed a HR to Jancarlos Cintron (1).
Beeter went 3.0 innings and Justin Hagenman relieved him.  Justin pitched a scoreless two innings. Nick Robertson relieved Hagenman in the 6th but surrendered a HR to Leandro Cedeno for a 3-1 lead.
Meanwhile Slade Cecconi was pitching a solid game only allowing the one unearned run in the 1st. He surrendered 2 hits, 1 BB, and 5 Ks. Former Dodger reliever Brett de Geus pitched 2 scoreless innings, allowing 1 hit, 1 BB, and 2 Ks.
Jeff Bain relieved de Geus in the 8th.  Devin Mann greeted Bain with a leadoff double.  With a walk and WP to James Outman, Mann moved to 3rd.  The Drillers got one run when Michael Busch got a Sac Fly.  And then Ryan Ward unloaded a 2-run HR, his 2nd of the season.  The Drillers took a 4-3 lead.  LHRP Austin Drury retired the side in order in the 9th to preserve his win.  The Drillers moved to 5-2.  They play a DH on Saturday, with John Rooney due to go in one of those games.
Great Lakes Loons 1 vs Peoria Chiefs (Cardinals) 2 – Game 1
On Friday the Loons played a double header with the Peoria Chiefs with the second game being a makeup game as a result of a postponed game earlier in the week. Great Lakes had split the first two games of the six-game set with the Chiefs.
Things to watch for included shortstop Eddys Leonard looking for his first hit after being held hitless in his first 15 at bats in 2022. Also 23-year-old right-hander Cole Percival was looking for an improved start in his second appearance of the season.
Right-hander Percival did get the start he had hoped for going four innings on two hits, no runs, three walks and three strikeouts.
He was followed by right-hander Ryan Sublette who also held the Chiefs scoreless on two hits and a walk while he struck out three in his 1.2 innings pitched.
Sublette gave way to left-hander Jacob Cantleberry who stranded an inherited runner in the sixth inning and over the next two innings gave up one hit while walking three and striking out two.
Through eight innings the Loons held the Chiefs scoreless while giving up only five hits. Meanwhile the offense ran into a buzz saw. Right-hander Michael McGreevy was spinning a gem for Peoria. He is the top rated RHP and second rated overall pitcher in the Cardinals system. This is his second great start with Peoria. On April 9, he pitched 5.0 innings, allowed 0 runs on 0 hits, 1 BB, and 5 strikeouts, 79 pitches/54 strikes. His line today included 6.2 innings pitched giving up but two hits, both by Leonel Valera, and four strikeouts.
The game was knotted at zero after the scheduled seven innings of a double header game and remained scoreless until the top of the ninth inning when shortstop Eddys Leonard drove in a run with his first hit of the season with a double down the left field line. The Chiefs retaliated in the bottom of the inning against right-hander Antonio Knowles when their ghost runner scored following a wild pitch and a sacrifice fly.
Left-hander John Beller finished up for Peoria with 3.1 innings pitched while giving up the Loons lone run on one hit while striking out four.
The Loons were unable to score in the top of the tenth inning off Beller while the Chiefs claimed the win with a run in their half of the inning. The run scored as Antonio Knowles was unable to record an out while walking two to push the ghost runner to third base and then bringing him home on a while pitch.
Great Lakes Loons 2 vs Peoria Chiefs (Cardinals) 5 – Game 2
The Loons tangled again with the Peoria Chiefs after being held to three hits in the first game of the twin bill. Once again their bats were in all the wrong places as they were again held to three hits in the second game. The two runs they managed to score came on an Edwin Mateo double in the second inning and a Zac Ching single in the top of the seventh inning.
On the mound right-hander Aldry Acosta made his first start since 2019 following 36 consecutive relief appearances. He escaped the first inning when a double play followed two base hits. Acosta left in the second inning with two on and two out. With the score tied 1-1 right-hander Michael Hobbs relieved Acosta but could not calm the Chiefs allowing two inherited runners to score on a walk and two singles.
Right-hander Kevin Malisheski pitched the next two innings. He gave up no hits but allowed an earned run in the fourth inning on two walks and two groundouts.
Right-hander Adolfo Ramirez finished up with two innings in which he allowed the Chiefs fifth run in the bottom of the sixth inning. He issued two walks followed by a single and a sacrifice fly.
Not a fun night for the Loons held to a total of six hits in 17 innings. Among the seven pitchers used in the double header they gave up only 11 hits with one double being the only extra base hit. Their evening was compounded by 17 walks and four wild pitches.
Saturday is another day with Loons right-hander Nick Nastrini making his second start of the season. Perhaps hot hitting outfielder Damon Keith will advance from the Quakes to help infuse some life into the Loons line up.
Inland Empire 66ers (LAA) 9 vs RC Quakes 4
For 7.0 innings, the pitchers were in control of this game.  The Quakes started Tommy Kahnle again.  He was not as dominant this game allowing 2 hits, but no runs.  He also had 2 Ks.  Kahnle was relieved by RHRP Ben Casparius and pitched a scoreless 3.0 innings.  LHRP Christian Suarez pitched a scoreless 6th.
The Quakes scored 1st with a single run in the 4th.  Alex De Jesus led off with a double.  Damon Keith singled De Jesus to 3rd with no outs. After a pop out and K, Yunior Garcia singled De Jesus home and a 1-0 lead.
Benony Robles entered to pitch the 6th for the Quakes.  A double by Edgar Quero (2) and a HR by Alexander Ramirez (1) put the 66ers in the lead.  The Quakes evened the score in the 6th when with 2 outs, Luis Rodriguez reached first on a fielding error, Yunior Garcia was HBP, and Julio Carrion singled Rodriguez home.
But then the roof caved in on the Quakes in the 8th.  With Robles still on the bump, the 66ers singled twice, double, HR, and walk, before an out was recorded and Robles was done.  He allowed 4 runs and left one inherited runner.  Robles was relieved by Joan Valdez who promptly unleashed a WP moving the runner to 2nd. Valdez finally recorded a K for the 1st out, but walked the next batter.  A single the scored the 5th run of the inning.  A fielding error and single scored two more, and the 66ers had a commanding 9-2 lead.
The Quakes inched closer thanks to an Alex De Jesus single and a Damon Keith HR (2).  Keith went 2-4 and his BA decreased to .577.
The Quakes had 9 hits in the game with De Jesus, Keith, Jose Ramos, and Yunior Garcia each garnering 2 hits apiece.