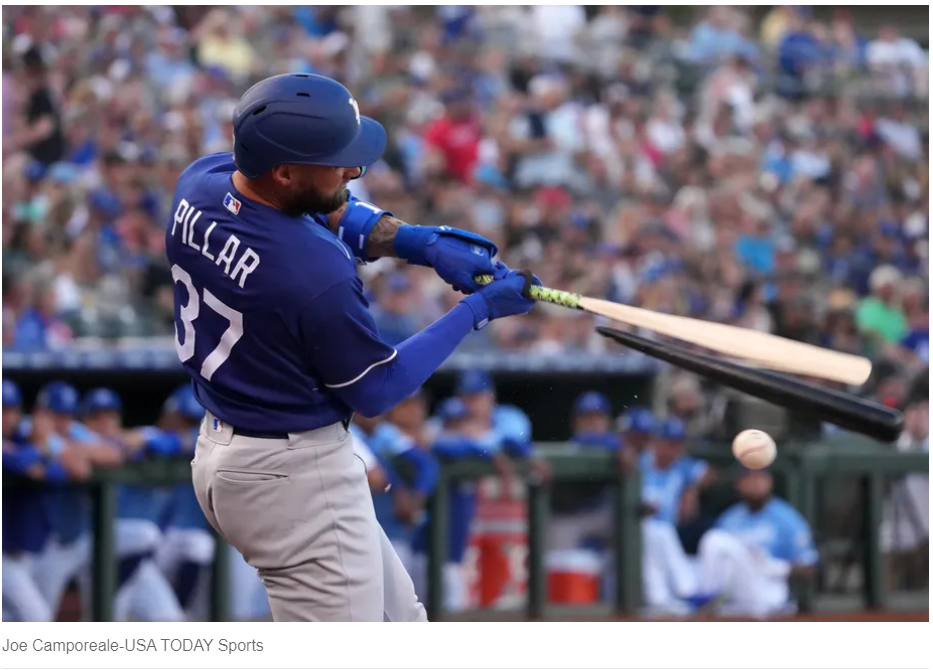 After the debacle in Phoenix, the four Dodger affiliates swept to victories.  It was a combination of timely hitting, and good pitching.  I would say good defense because there were no errors, but it is hard to know because the official scoring in MiLB sometimes is wanting.
We are trying to refine this section.  It is a lot of work, so we are trying to simplify it a bit.
Sugar Land Space Cowboys (Houston) 2 vs OKC Dodgers 6 
On the Mound
Beau Burrows was the OKC Dodger starting pitcher.  This was his longest outing, and best after his first start.  He surrendered a solo HR to Franklin Barreto (2) in the third.  He allowed a second solo HR to David Hensley (2).  In 5.1 IP, he allowed the two solo HRs, on 5 hits, 1 walk, with 7 Ks.
Carson Fulmer pitched two scoreless innings, allowing one hit.  He had two strikeouts.
Yency Almonte pitched the final 1.2 innings.  He also allowed 1 hit and struck out 2.  The trio of pitchers surrendered only 1 walk with 11 Ks.
At the Plate
The Dodgers grabbed control of this game in the third when after a HBP and BB, with 2 outs, Kevin Pillar launched his fourth HR.
The Dodgers put the game away in the 8th.  Jake Lamb led off with a single. Kevin Pillar bounced into a force out, replacing Lamb at 1B.  After Andy Burns walked, Jason Martin singled to score Pillar and sent Burns to 3rd.  After Jason Martin stole 2nd, Tony Wolters stroked a single scoring both Burns and Martin.
OKC had 7 hits, and three of them had two singles apiece: Jake Lamb, Jason Martin, and Tony Wolters.  The other hit was the 3-run HR by Pillar.
Player of the Game
Kevin Pillar set the tone for the game, and OKC took control.
Corpus Christie Hooks (Houston) 1 vs Tulsa Drillers 5
On the Mound
Gus Varland went a strong 5.0 scoreless and hitless innings. He threw 75 pitches (45 strikes). He did issue 4 walks, which added to the pitch count, as did his 7 Ks.
Alec Gamboa pitched a brilliant 3.0 innings.  He gave up one single but no other baserunners.  He got 5 Ks in those 3.0 innings.
Ahead 5-0, Tanner Dodson came to finish, hoping for a shutout.  However, he did allow a run in the 9th on 2 walks and a single.
This was a superbly pitched game.
At the Plate
The Drillers broke a 0-0 tie in the 6th with a Michael Busch HR (8).  The Drillers scored 2 in the 7th.  The first run was thanks to the other hot hitter, Jacob Amaya, and his 5th HR.  The Drillers used a single (Hunter Feduccia) and walk (Justin Yurchak) a ground ball DP, to put a runner on 3rd.  Hunter Feduccia scored on a James Outman single.
In the 8th, Ryan Ward led off with a walk.  He was moved to 3rd thanks to a ground rule double by Amaya.  Ward score a sac fly and Amaya scored on a Kody Hoese single.
Player of the Game
The hitting star was again Jacob Amaya with 2 hits and 6 total bases.  He has an OPS of 1.211 second only to Michael Busch's 1.214.  But the Player of the Game has to be Gus Varland.  5.0 scoreless no-hit innings was brilliant.  As a reminder, Varland was acquired along with Sheldon Neuse in the Adam Kolarek and Cody Thomas trade.
Great Lakes Loons 5 vs West Michigan Whitecaps (Detroit) 1
 On the Mound 
Six pitchers went to the hill, and none pitched more than 2.0 innings.  Nick Nastrini started and was pulled after 2.0 innings due to 53 pitches.  He allowed one hit and three walks to go with 4 Ks.
Antonio Knowles (2.0 IP), Julian Smith (2.0), Aldry Acosta (0.0), Cole Duensing (2.0), and Adam Scoggins (1.0) pitched 7.0 scoreless innings. Combined they allowed 3 hits and 3 walks to go with 8 Ks.  Knowles had 5 of those 8 Ks.
At the Plate
In the 2nd, Joe Vranesh and Kekai Rios walked and scored on an Edwin Mateo double (3).  Mateo scored on an Eddys Leonard single.  That gave the Loons a 3-1 lead after 2.  With Leonard appearing to be warming up, hopefully the Loons offense will also come alive.
2 walks and a Kekai Rios single in the 8th padded the lead to 4-1.
In the 9th, Jorbit Vivas doubled and rode home on a Zac Ching single to finish the scoring on the night.
Eddys Leonard had three hits for the Loons to pace the 9-hit attack.
Player of the Game
I acknowledge that the pitching was outstanding, but the Loons benefitted with Eddys Leonard heating up after a frigid start to the season.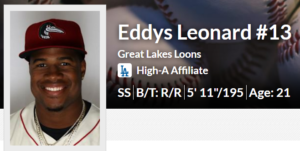 Visalia Rawhide (Arizona) 0 vs Rancho Cucamonga Quakes 8
On the Mound
This was an extraordinary pitching performance by the RC squad.  After Ben Casparius started, only allowing a single and a walk in his 3.0 IP, Tommy Kahnle came in to face one batter.  After the out was recorded, 21-year-old Dominican LHRP, Benony Robles followed for the next 4.2 innings.  He was superb in allowing one hit, no walks, and 6 Ks.
Madison Jeffrey finished off the night with a perfect inning including 2 Ks. Altogether, the foursome allowed 2 hits, and 1 walk to go with 14 Ks.
At the Plate
The Quakes got all the offense they needed with a Julio Carrion's 3-run HR in the 2nd.  The Quakes got another two in the third with a Yunior Garcia double, flyball moving Garcia to 3rd, a fielders choice and error put Austin Gauthier on 2nd.  Gauthier moved to 3rd on a WP, and scored on a ground ball.
A walk (Austin Gauthier) and two singles (Luis Yanel Diaz and Julio Carrion) scored a run in the 7th.
Jose Ramos completed the scoring in the 8th with a 2-run HR (4).
Luis Yanel Diaz and Julio Carrion both had a pair of hits, with Carrion driving in 3.
Player of the Game
It would be easy to select Julio Carrion, but this was a shutout.  Benony Robles pitched a spotless 4.2 innings to be selected Player of the Game.