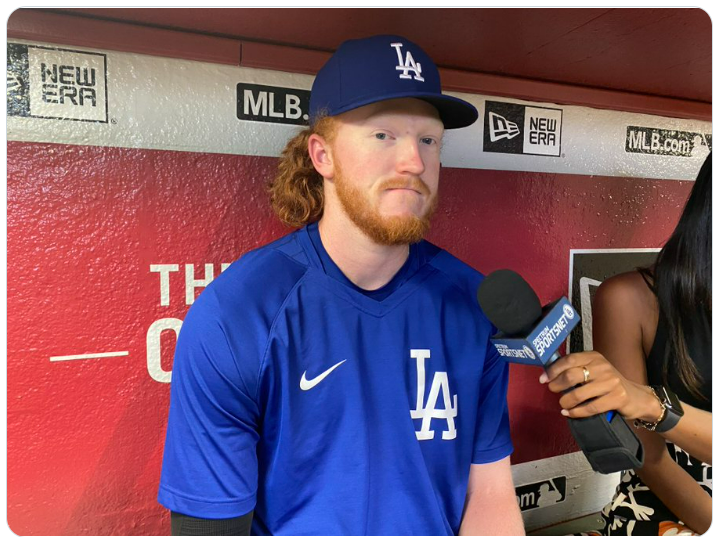 In light of the debacle in Phoenix, the Dodgers received some good news on Tuesday with respect to their injuries.
Relievers:
David Price is on the COVID-IL, and is at home.  He indicates that he is fatigued.  Doc says that he is day-to-day, and he will be back when he feels that he can contribute.  Thankfully no other LAD has come down with the virus, and we certainly wish David a speedy and full recovery.
Tommy Kahnle – Kahnle has had 6 appearances in his rehab from his TJ surgery; three in Rancho and three in OKC.  He is scheduled to go back to back days today and tomorrow.  He pitched to one batter tonight in RC, and got the out.  He should get the call again on Thursday, and that could bring his rehab to completion.  If all goes well, Kahnle will be with the ML club for the Giants series.
Blake Treinen – He is still in LA.  There is no indication as to what he has done in his absence, but Doc indicates that "shouldn't be too long" when Blake picks up a ball.  He also indicated that "hopefully he'll be back sooner than later."  Shoulder inflammations are tricky.  Will rest fix the problem, or is the injury deeper?
Victor Gonzalez – VGon threw a bullpen session at Chase Park, and threw fastball and sliders…basically his arsenal.  Doc mentioned that VGon is getting close to being sent out on a rehab assignment, but still no timetable.
Caleb Ferguson – As you might have guessed, this is the one that I have been waiting on.  Yes, he is a favorite of mine, but recovery from double TJ surgeries are not widely known.  Mike Clevinger is only the 43rd ML pitcher to have had double TJ surgeries.  That would make Caleb probably the 42nd.  Not a lot of experience to judge.  This is what Dr. Andrew Cosgarea, an orthopedic surgeon and professor at the Johns Hopkins University School of Medicine, said:
"On average, the typical TJ revision isn't as successful as the typical primary TJ…The first time you drill a hole in the bone it is fresh and clean, but if it happens again you already have a hole there and that hole is filled with scar tissue. … Scar tissue isn't as healthy as original tissue. It doesn't have the same blood supply; (it is) not as durable."
In reference to Clevinger, Dr. Cosgarea added…"He's got everything in his favor. He also knows how to work hard, he knows how to rehab. He's done it before. He's got everything going for him. It's still not a slam dunk."  Too much is unknown.
Cosgarea, who was a team physician for the Baltimore Orioles from 2000 to 2010 and is currently the head team physician for the Johns Hopkins University Department of Athletics.
Of the 40+ major league pitchers who have had two Tommy John surgeries, the majority did not pitch in the majors again after their second or fared poorly over a short period. But many of those pitchers were well into their 30s at the time of the second surgery.  So that bodes well not just for Clevinger, but for an even younger Caleb Ferguson (25).
Pitchers who have recovered from 2 TJ surgeries:
Nathan Eovaldi, Chris Capuano, Hung-Chih Kuo, Joakim Soria, and Daniel Hudson.  The last three are relievers. Kuo had his twice in MiLB and then had a productive 7-year ML career as a LAD reliever.
I think the Dodgers are being very cautious with Caleb Ferguson, and with good reason.  At 25, he could go on and have a very productive career as a late inning high leverage reliever.  He is currently projected to return in mid-May.  I am further guessing that the mid-May date is for a rehab start, and not a return to ML.
Danny Duffy – Duffy joined the team in Phoenix to continue his throwing program.  He is playing catch now.  There is no timetable for his return, but he is currently projected to be activated late June or early July.
Darien Núñez – This is a difficult time for the 29-year-old LHP, who was really looking to blossom this year.  He was diagnosed needing TJ surgery, was optioned, and released.  I am hoping that the Dodgers will offer him a MiLB contract next year.  He does have the fact that the organization is very heavy with RHP, and does not have a lot of LHP.  I am certainly pulling for the young man.  Every report I have seen indicates that he is an exceptional person.
Starter:
Andrew Heaney – Heaney tried to play catch April 20, but it did not go well, and he went on the IL.  Reportedly, he has not picked up a baseball since.  There is currently no timetable set for Andrew, but it sure is starting to smell like this could become a significant amount of downtime.
Dustin May – Save the best for last.  Dustin May joined the Dodgers in Phoenix and threw his 9th bullpen session.  Like the others it was a 25-pitch session, but this time was the first to include non-fastballs. He mixed in his cutter.  It was termed, "as good as we could have expected."  On April 29, Dustin will throw another bullpen session, and will include curves for the first time.  Per Dustin, he does not expect to face live BP until late May.  Doc said that May will build up to be a starter for late in the season.  His progress is scheduled for a late summer early fall return to ML.
"It was as good as we could have expected." Dave Roberts with @kirsten_watson on Dustin May's bullpen session and the progress he's making to get back with the #Dodgers. pic.twitter.com/pTtemE6mgH

— SportsNet LA (@SportsNetLA) April 27, 2022
One of the areas that I like to include on this site is where other blog sites report acts of kindness.  Two such acts are:
Mark Kertenian – Go Fund Me – There was a very good story on LA Dodger Talk by Mark Timmons on Mark Kertenian; see https://ladodgertalk.com/2022/04/20/mark-kertenian-needs-our-help-right-about-now/
I mentioned it here on that 04/20/22, but I have no problem with reposting the GoFundMe site for such a fine person: Share the Link: https://gofund.me/48fd8325
I communicated with Mark Timmons, and he advised that they have raised $120,700 of the needed $150,000.  I know there are people out there that read this but do not comment, so I hope some of you can not only open your hearts, but also your checkbooks.
The Dodgers had a Hoodie Night a little while ago. There was a post by a Pennsylvania mother on DodgersNation requesting if anyone going to the game could pick up a hoodie for her daughter, who is a huge Dodger fan.  See below the response:
https://www.dodgersnation.com/ezoimgfmt/i0.wp.com/www.dodgersnation.com/wp-content/uploads/2022/04/DodgerFan.png?resize=514%2C652&is-pending-load=1#038;ssl=1&ezimgfmt=rs:514×652/rscb1/ng:webp/ngcb1