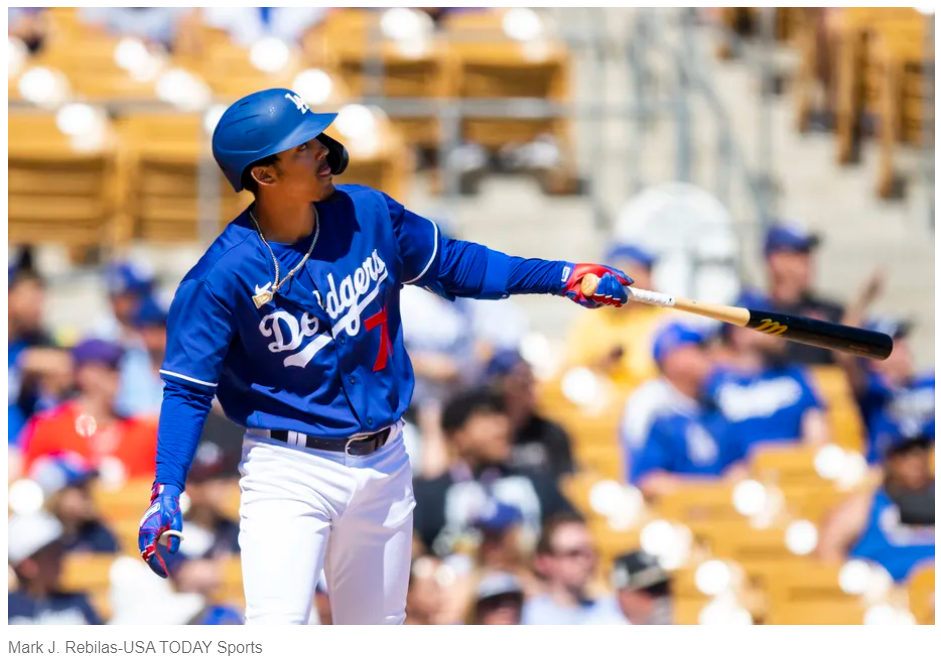 Sugar Land Space Cowboys (Houston) 8 vs OKC Dodgers 4 
On a night when Yadier Alvarez made his seasonal debut, the Dodgers got beat with poor pitching, poor offense (5 hits), and poor defense (4 errors).
On the Mound
Caleb Ferguson made his 1st rehab appearance, and after the leadoff hitter K'd, Caleb showed the rust.  The most important part of Caleb's debut will be how he feels tomorrow (today).  Ferguson gave up a triple walk and single.  He left two inherited runners on base for Jose Adames, who gave up a double and two walks to allow both inherited runners to score.
The scheduled starting pitcher, Yefry Ramirez, relieved in the 2nd.  In his 4.2 IP, he gave up 5 runs (3 earned) on 7 hits, 0 walks, with 4 Ks.  The next three Dodgers pitchers pitched a combined scoreless 3.1 innings.  Jon Duplantier continued his mastery.  This was his 7th game, and in 10 IP, he has allowed 1 run and 2 hits.  He needs to work on his control, as he has allowed 7 walks to go with 11Ks.
Marshall Kasowski pitched a scoreless 8th.  He was followed to the mound for Yadier Alvarez's 2022 debut.  He retired the side on 7 pitches.  The initial batter he faced single, but he was erased on a DP.  It sure will be nice to see what a motivated Yadi Alvarez might be able to do.
At the Plate
Down 6-0, the first Dodgers run scored in the 4th when Andy Burns reached base on a, moved to second on a Jason Martin single, and moved to 3rd on a ground out.  Burns then scored on a balk.  In the 5th, Miguel Vargas singled and raced home on a Kevin Pillar triple (3).
Down 8-2 in the 9th, Zach McKinstry walked and came home on a Miguel Vargas HR (3).
Player of the Game
Miguel Vargas reached base 4 times in 5 PA, with a single, HR, and 2 walks.  He scored twice, and had 2 RBIs.  Miguel has a stellar bat.
Corpus Christi Hooks (Houston) 9 vs Tulsa Drillers 4
The two teams were tied at 4-4 after 9 and went into extra innings.  The Hooks came to bat in the top of the 10th scored 5, and the game was effectively over.
On the Mound
Clayton Beeter was magnificent in this game.  He pitched 4.0 hitless and scoreless innings.  He did allow 2 BB, but matched that with 8 Ks. He only threw 55 pitches (35 strikes).
Jordan Leasure made his AA debut in relief of Beeter in the 5th, and deserved better.  Jordan is a big strikeout pitcher, and true to his form, he struck out the side in the 5th.  With a 2-0 lead, Leasure went back to the mound in the 6th.  After the first out, Leasure walked a batter and then gave up the Hooks 1st out of the night, a Joe Perez double put runners on 2nd and 3rd.
Leasure walked off the mound with a good AA debut, but left two inherited runners for Austin Drury to clean up.  Unfortunately both runners scored on a single and wild pitch, both runs charged to Leasure.
Aaron Ochsenbein entered in the 7th in a 2-2 tie.  As he has done all year, Ochsenbein will masterful.  He has yet to allow a baserunner in any of his 4 appearances.  He has 7 Ks in 4.0 IP.  As long as we are handing out suggestions for promotions, I would like to see Ochsenbein promoted to AAA.
Guillermo Zuniga started the 8th and allowed a walk to the leadoff hitter.  With 2 outs, Yainer Diaz hit his 1st HR of the year for the Hooks and a 4-2 lead.
After the Drillers tied the game in the 9th, Zach Plunkett returned to the mound in the 10th.  With the ghost runner on 2nd, Plunkett got a fly out, with the runner staying on 2nd.  He intentionally walked the next batter to set up the DP.  But this is what happened after that: Unintentional walk, single, HBP, single, single, passed ball, and single.  5 runs, before he got the 2nd out.
At the Plate
The Drillers broke a scoreless tie in the 4th.  The first run was a result of Jacob Amaya's 6th HR.  That is Amaya's 5th HR in his last 5 games. The 2nd run of the inning was scored on a single and 3 walks.
Down 4-2, James Outman led off the 9th with a walk.  After 2 Ks, Ryan Ward walked up to the plate, and on an 0-1 pitch, LH hitting OF jumped on a ball up and on the inside part of the plate for a 2-run game tying HR.  This was Ward's 7th HR and 15th RBI.
Player of the Game
It has to go to starting pitcher, Clayton Beeter, who I refer to as the other Clayton.
Great Lakes Loons 4 vs West Michigan Whitecaps (Detroit) 1
On the Mound
Another superbly pitched game for the Loons.  Lael Lockhart started and increased his workload to 4.0 IP.  He did allow his first run of the season on a Wenceel Perez HR (3).  He allowed 4 hits and issued 1 walk to go with 7 Ks.
Carlos Alejo followed Lockhart to the mound.  He pitched 1.0 inning and surrendered 1 hit and 1 BB, with 1 K.
Jacob Cantleberry was the third Loon pitcher, and he pitched 2.0 innings.  The 6th inning was a little iffy.  Jacob gave up 3 singles without a run, and struck out 3.  The 7th inning was a little more settled, as he only issued a walk.  He also had another K.
Braydon Fisher was back on the mound 2 days after his previous appearance.  This was his 3rd straight scoreless outing,, and his 3rd hold.
Jose Hernandez secured his 2nd save in two games.  It was his 4th consecutive scoreless outing.  In his last 3 games he has surrendered 1 hit and 0 BBs.  At 24, he could be shortly on the move to Tulsa, following Jordan Leasure.
At the Plate
The Loons were outhit by the Whitecaps 8 to 7.  But the Loons made the most out of their hits.  Down 2-1 in the 5th, Ismael Alcantara got to 1B on a dropped 3rd strike and a dropped throw by the 1B for the error.  Two outs later, Eddys Leonard slugged his first HR of the year for a 2-1 lead.
The next inning, the Loons took advantage of wildness and poor defense to score two additional runs in the 6th.  Jonny DeLuca led off with a walk, but was thrown out trying to get to 3rd on an Aldrich De Jongh single.  Zac Ching singled and Ismael Alcantara reached 1st on a fielding error to load the bases.  Back-to-back walks to Ryan January and Leonel Valera scored two runs.
Player of the Game
I have to go pitching again.  Lael Lockhart had another solid start and stretched out to 4.0 innings.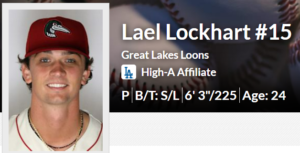 Visalia Rawhide (Arizona) 2 vs Rancho Cucamonga Quakes 5
The Quakes were down 2-0, but roared back with 5 unanswered runs for the victory.
On the Mound
Maddux Bruns, stretched to 2.2 innings for his longest outing of the season.  He only threw 36 pitches (25 strikes).  He allowed 1 run on 3 hits with no walks, and 6 Ks.  This was Bruns' 4th start, and his SO/W ratio is 18/2 in 8.1 IP.  Bruns seems to be answering some of those questions on his command/control.
In the second game of what was supposed to be to be his back-to-back games did not go well.  After Bruns recorded the first two outs in the inning, Tommy Kahnle came in to close out the 3rd.  Instead he gave up a double and a run-scoring single before getting the third out on a K.  The results are not important.  What is important is how will Kahnle feels on Friday.
The pitching after the 3rd was exceptional.  Robbie Peto was the first of two relievers needed to finish the game.  Peto threw 4.0 scoreless innings, 1 hit and 1 walk, with 4 Ks.  19-year-old LHP, Ronan Kopp followed Peto.  Kopp pitched 2.0 innings allowing a single baserunner (via a walk), and 3 Ks.
At the Plate
In the 6th, down 2-0, the Quakes loaded the bases with 2 singles and a walk, with 2 outs Luis Rodriguez singled to score two and tie the score.
Entering the bottom of the 8th with a 2-2 tie, Alex De Jesus leads off with a walk and steals 2B.  Jose Ramos singled home De Jesus for the go-ahead run.  After a WP and a walk to Damon Keith, runners were on 1st and 2nd with one out.  Luis Rodriguez delivered again with his third single on the night to score Ramos.  With 2 out, Austin Gauthier singles to score Keith and a 5-2 lead going into the 9th.  Kopp pitched a scoreless 9th to preserve his win.
The Quakes scored 5 runs on 8 hits, all singles.
Player of the Game
19-year-old Venezuelan LHH OF Luis Rodriguez is starting to look like the talent many thought.  He reached base all 4 of his PA, with 3 singles and a walk.  He had 3 RBIs.  He has not shown the power that may still be coming.  His BA is .310 with an OPS of .806.  With a .362 SLG, he must have an impressive OBP.  His OBP is an impressive .444.  I am looking forward to see if he can continue these metrics for his 1st year in full season A Ball.