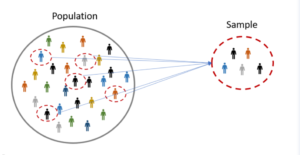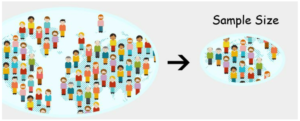 I'm honored that Jeff has asked me to contribute an article or two to his new blog.  It's a small sample size, but I have to say that so far, the content on this blog has been outstanding.  Of course, you would expect nothing less from AC and DC.
Here I am sitting on my recliner taking flights of fancy that imagining a 115 win season for the Dodgers.  But I also wonder, are the Mets and Giants truly the best teams in baseball.  Alas, teams have yet to play 20 games, so it is but a small sample size.  Right?  As a baseball fan I have had it ingrained in me that you shouldn't base your decisions, or hopes, on a small sample size.  You're probably aware of the fact that you shouldn't jump to conclusions based on a week or two's worth of data.  I wonder though, why do we apply that form of thinking more at the beginning of the season, as opposed to say in mid-July.  Truth is, over any given week different stuff is going to happen.  We just notice it more at the start of the season because it's the only thing that has happened yet.   ; if you look at any seven day stretch throughout the year, you'll find similarly odd results.  Owen Miller will not be the first hitter since Ted Williams to it over .400 for the year.  Eric Hosmer is not going to win the National League batting average title this year.  Nor will Joc Pederson be the homerun leader at the end of the season.  Yet here these folks are at, or near, the top of the statistical leader board.   They could have the same results over a 15-20 game span in August but, other than perhaps win a player of the week award, no one will pay these stats any mind.
The reality is, if Mike Trout were to have a 100 at-bats against the worst pitcher in the league, that pitcher may strike him out a time or two.  He may also hit into a few double plays.  Consider the Home Run Derby.  Even there, the best hitters don't hit every pitch on the screws and out of the park.  Baseball is a hard game, and you just simply can't hit doubles, triple, or homeruns on demand, even when the pitcher is trying to help you.
Jonah Pemstein, in a study for Fangraphs wrote:
"Small sample size" is a phrase often used throughout the baseball season when analysts and fans alike discuss player's statistics. Every fan, to some extent, has an idea of what a small sample size is, even if they don't know it by name: a player who goes 2-for-4 in a game is not a .500 hitter; a reliever who hasn't allowed a run by April 10 is not a zero-ERA pitcher. Knowing what small sample size means is easy. The question is, though, when do samples stop becoming small and start becoming useful and meaningful?
That's a question that I wish I could answer definitively.  How big does a sample size need to be before it stops being… small?
I know it's a small sample size, but I have to say that I enjoy seeing the Dodgers with a 12-5 record. Even though we're still in April, that's a very good start to a season.  But, who the heck are those pesky Giants sitting in first place?   Won't that team ever just go away and start playing to their mediocre talent level?  The Padres with 11 wins!  Come on we spanked them in their own yard.  And seriously, the Rockies have 10 wins?   Who have they been playing?  The Little Sisters of the Poor?  Rest assured, by mid-May everything will return to normal and the Dodgers will remain on top of the division at least 6 games in front of the second place team.  Unless of course, this is not a small sample size.
I know it's a small sample size, but I have to say that despite their being christened the greatest and most deep lineup of all time, the Dodgers, while good, have not quite shown themselves to be the 1927 Yankees. I'm not sure they are even the equal of the 1953 Dodgers or the 1976 Reds.  Certainly they have the potential.  However, there are still some evident red flags.  Max Muncy may be hurt, but he looks lost.  Mookie Betts has yet to find himself.  JT, as would be expected at his age, looks a tad slower.  Chris Taylor still strikes out a ton. 
I know it's a small sample size, but I have to say that I like the Freddie Freeman signing. I knew he was good, but I had not before realized how consistently and steady he performs so well offensively and defensively.   I initially envisioned him hitting third in the lineup, but it is hard to argue with Trea Turner leading the team in RBI and Betts leading the team in runs. 
I know it's a small sample size, but I have to say that I'm hesitantly encouraged by this years version of Cody Bellinger. He looks more relaxed, less fidgety, and he doesn't have that "I smoked three joints before the game" look about him.  Then again, he is leading the team in strikeouts and he doesn't walk much.  After winning the player of the week award, he seems to have gone into a little tailspin.   
I know it's a small sample size, but I have to say that I'm also encouraged by this years version of Gavin Lux. He still has plenty of room for growth, but he is hitting the ball hard, he has same amount of walks as strike outs and he's stolen a few bases.  And, he's still only 24 years old.  Definitely, he needs some work on his throws, but I believe that will come.    
I know it's a small sample size, but I have to say that despite the fact that Alex Verdugo has had a better start to his year than Mookie Betts, I still make that trade 100 times out of 100.
I know it's a small sample size, but I have to say that despite the fact that Kenley Jansen was a great reliever for the Dodgers for many years, and has had a nice start to this season, I feel less nervous about Craig Kimbrel coming into the game than I did with Jansen. Particularly over the past few years.  Jansen's nervousness with runners on base and his inability to hold runners or field his position well also made me nervous.  While it took me some time some time to get used to Kimbrel's pitching stance, I read somewhere that he doesn't do it for kicks.  Apparently the stance is the result of a pitching injury.  It became too painful for him to hold his arm behind his back in 2010, when he suffered from biceps tendinitis.  So, no more dying duck wing jokes from me. 
I know it's a small sample size, but I have to say that I'm optimistically cautious about the starting pitching staff. It's hard to argue with results so far, but doggone it, I demand perfection. 
Walker Buehler wasn't quite looking like an ace. It seemed like every inning he pitched was a stressful inning.  He was leaving a lot runners on base.   Going into Arizona he had a 1.468 WHIP which, if you didn't know, isn't good.  Then he goes out an pitches an absolute gem.  Complete game shutout.  Amazing!  I'll take that Buehler for the remainder of the year.
Clayton Kershaw looks healthy and is throwing much better than I expected.  Nevertheless, from my limited perspective, he often seems(I know that's not the case in reality) to be a pitch away from a big inning against or from going on the injury shelf (although aren't they all just a pitch away).  If Kershaw continues to hold up and pitch like this the entire year, his contract will be well earned. 
Julio Urias is pitching similarly to Buehler, decent, but not ace stuff yet. 
Andrew Heaney was lights out when he pitched but he can't help the team if he's on the injured list.   His tandem buddy, Tyler Anderson was a nice pick up.  He's a solid lefty, just not necessarily spectacular.  But then, do we always need spectacular?
Same is true for Tony Gonsolin, solid, but not particularly spectacular.  He throws far too many pitches.  Other than the one great game, it seems like he's just getting by.  The statistics will tell you otherwise, but have we had enough sample size to make any long term judgments? 

My opinion is that if the staff stays healthy, and the innings are managed well, they should produce good results for the remainder of the year.  That, however, is a mighty big IF. 

Should any of the pitching staff get injured, I'm not sure that any of our minor league prospects can step in and provide consistent quality immediately.  I like Ryan Pepiot and Andre Jackson, and they may very well provide some help this year, but they're not quite at the MacKenzie Gore and Hunter Greene level, and even those youngsters are having some time getting their footing in the majors.
I think that Bobby Miller (more on him later), Landon Knack (my personal favorite) and the other pitching prospects are at least a year or more away.
I know it's a small sample size, in that it is very early in the season, but I have to admit that the WAR statistic confuses me. Consider first, Clayton Kershaw: who is 3-0, surrendering only 5 earned runs, giving up only 10 hits in 17 innings, with no walks and 23 strikeouts.  He has given up 2 HR, has a 0.59 WHIP and a 2.65 ERA. His WAR is 0.4.  Next, let's look at Justin Verlander: he's 1-0, surrendering 4 earned runs, also giving up 10 hits in 17 innings, with 4 walks and 20 strikeouts.  He has given up 3 HR, has a 0.74 WHIP and a 1.89 ERA.  Very similar statistics, but Justin Verlander's WAR is 0.7.  You might also be surprised to learn that Tony Gonsolin is tied with Buehler and Heaney for the best WAR among pitchers on the Dodgers, coming in at 0.5.  There must be an understandable explanation for this, but it totally escapes me. 
I know it's a small sample size, but I don't mind listening to Jessica Mendoza. She has a lot of knowledge about the game, and she does her homework.  It's true that occasionally her laugh sounds like a sputtering 1956 Ford Truck.  Other than that, I enjoy her work.  I also don't mind listening to Eric Karros.  I find both superior to Orel Hershiser.  However, my preference would be to let Joe Davis call the game on his own.  By himself, I don't think he would have to concern himself with the nonsensical statements the color commentators sometimes make.  I suspect, however, that calling games on his own, might be a few years down the road for Davis.  It's also good to see Adrian Gonzalez on the pre and post game show.  He adds a nice counter balance to Jerry Hairston.  Kirsten Watson is also getting better.  However, I really was spoiled by Alanna Rizzo.  She was as good as it gets in my estimation.  On the super negative side, I hope the Dodgers never do another AppleTV broadcast of a Dodger game.  That was brutal!  Fingernails on a chalkboard, cringe worthy, awful.  After a couple of innings, I turned the game off and was ready to join my wife in watching reruns of Downton Abbey.  That folks is seriously bad. 
I know it's a small sample size, but I am encouraged by several of the prospects in our farm system. There are of course the obvious ones ranked in the top 30, but there are also some sleeper candidates that I'm following, who I believe will sneak up on every body this year.  Among them are Jordan Leasure, Damon Keith (a California Baptist University graduate, whom I intend to profile  in an upcoming article), Kyle Hurt, Antonio Knowles, Alec Gamboa, Lael Lockhart and Justin Hagenman to name a few. 
It's no longer a small sample size, but I have to say that MLB has handled the Trevor Bauer situation about as poorly as it can be handled. I suspect that there is much more at play than just the issues between Bauer and the unnamed woman.  This is purely my opinion, but it seems that MLB has not been particularly pleased with the Dodgers and their high spending ways.  Presently, the Dodgers are being punished well beyond what is warranted by having to carry a dead weight 34 million on their payroll, which comes with significant tax and draft penalties, for a player on administrative leave.  It may be, but I don't think it's coincidental, that MLB is taking so much time in rendering its decision.  Trevor Bauer, before the alleged incident, was one of the more polarizing MLB players.  He has been, unabashedly, outspoken about Rob Manfred's leadership and some of the decisions he has made.  If you think I'm grasping at straws, I invite you to hearken back to game 6 of the 2020 World Series when Justin Turner was removed in the 7th inning of the game because of an allegedly positive Covid test.  I don't believe that was a coinkydink either. It just so happened that JT was one of the more outspoken critics of Manfred over the Astros scandal.  Then again, maybe it is all coincidence.  I suspect that one of the more pressing reasons for the delay, is that the risk management lawyers for MLB are working overtime to protect themselves from the lawsuit that is sure to follow.  Bauer is one of the first players that was working to make himself into a brand.  He is still getting paid, but he had his eyes on a bigger piece of the pie.  Moreover, I can't imagine that MLB would want to have Fernando Tatis, Jr., Mike Clevinger and others testify under oath at a deposition about their involvement with the woman.  Opening that can of worms could have far reaching ramifications. 
I know it's a small sample size, but I promise that my articles will get better as the season roles on. I'm a bit rusty and I didn't have a full spring training.