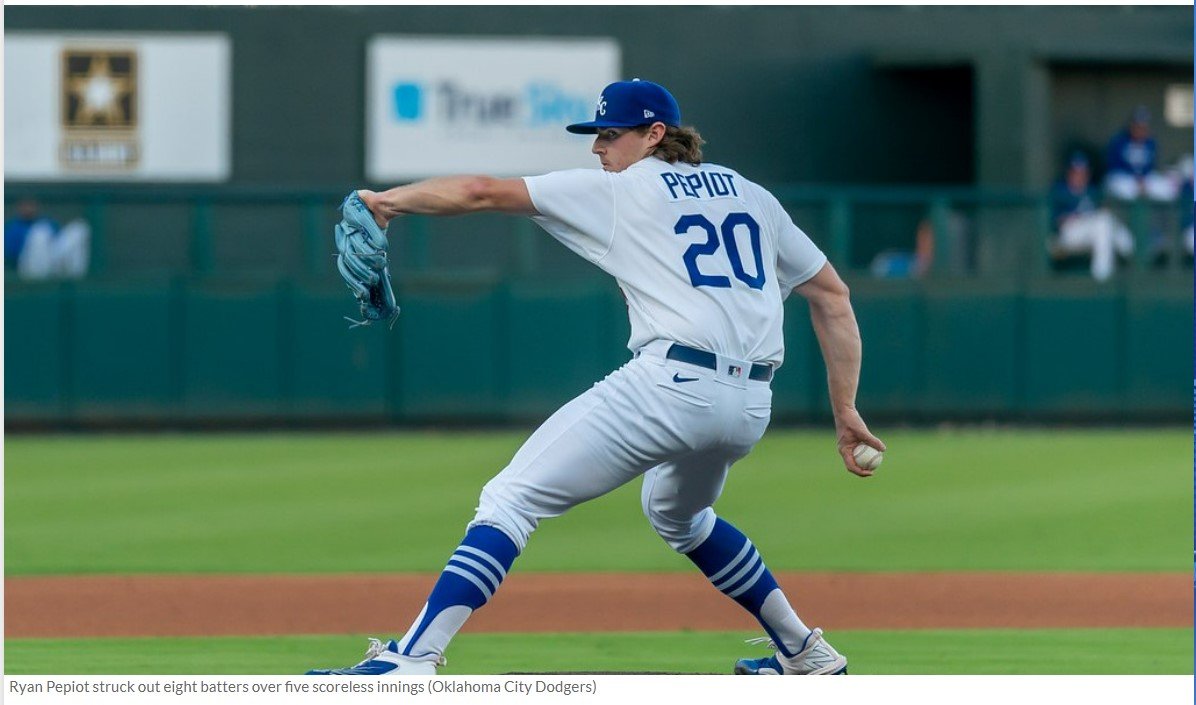 Sugar Land Space Cowboys (Houston) 2 vs OKC Dodgers 3 
On the Mound 
We finally have a MiLB starter go 6.0 innings.  Ryan Pepiot started and pitched an efficient 6.0 innings.  He threw 86 pitches/51 strikes.  Ryan gave up solo runs in the 5th and 6th inning.  In the 5th, he gave up an Alex de Goti HR (1).  In the 6th Franklin Barreto singled and scored on a Korey Lee double.  For the year, Pepiot's ERA skyrocketed to 1.66.
With a 3-2 lead, Justin Hagenman (1.2 IP) and Yency Almonte (1.1 IP) pitched the final 3.0 innings without allowing a baserunner.  Hagenman struck out 2, while Almonte punched out all four batters he faced and recorded his 2nd save.
At the Plate
The Dodgers scratched out 3 runs, thanks primarily to a 3rd inning Jake Lamb 2 run HR (4). 
The third run came home on a Drew Avans triple (3), and scored on a Zach McKinstry Sac Fly.
The Dodgers had 7 hits with Jake Lamb and Drew Avans recording 2 each.
Player of the Game
I am somewhat biased, but I have to go with the 6.0 IP by Ryan Pepiot.  For the year, Pepiot has started 5 games, and pitched 21.2 innings.  In those 21.2 IP, Pepiot has K'd 29 and walked 9, for a better than 3 to 1 K/BB ratio.  He has a 1.66 ERA and a 1.06 WHIP.
Tulsa Drillers 3 vs Corpus Christi Hooks (Houston) 0 
On the Mound
And yet another outstanding pitching performance by the Drillers.  John Rooney started and went 4.2 scoreless IP.  He gave up 1 hit, but walked 5 while striking out 7.  Mark Washington continued his superb 2022 campaign.  He pitched 1.1 innings allowing no baserunners and struck out all four batters he faced.
Nick Robertson pitched the 7th and 8th scoreless and hitless innings.  He issued 2 walks and punched out 3 Hooks.  Austin Drury closed out the 9th for his 1st save.
At the Plate
The Drillers scored all of their runs in a 3-run 5th.  Brandon Lewis reached 1B on a fielding error.  James Outman singled and moved Lewis to 3B.  Michael Busch walked to load the bases.  A very hot Ryan Ward singled in Lewis and Outman, and Busch moved to 3rd.  Busch scored the third run on a Wild Pitch.
Ryan Ward and Justin Yurchak each had a pair of hits, with Ward adding 2 RBIs.
Player of the Game 
I could easily select Ryan Ward, but for me, I am going to stay with pitching and select Mark Washington.  Washington has appeared in 7 games, and has allowed a run in only 1 game.  In his last three outings he has pitched 5.1 innings, allowed 0 runs, 0 hits, issued 3 BBs, and struck out 9.  Washington's record moved to 3-0.
Mark Washington struck out all four hitters he faced in a perfect relief outing for Tulsa, his ERA dropped to 1.42 pic.twitter.com/IXArnnuQb9

— Josh Thomas (@jokeylocomotive) April 30, 2022
Great Lakes Loons 3 vs West Michigan Whitecaps (Detroit) 2
Great Lakes won for the 4th consecutive game, all four against the Whitecaps.
On the Mound
I know it is repetitive, but the Loons got another outstanding pitching performance, especially from the starter, Gavin Stone.  Stone went 5.0 scoreless innings.  He allowed 2 hits and w walks to go with 7 Ks.
Julian Smith came in with a 2-0 lead and pitching for a hold.  Unfortunately, Smith was not as sharp on this night.  With 2 outs, Smith surrendered a walk, single, and 2 run double to tie the game.
Michael Hobbs relieved Smith in the 6th and got the final out.  Hobbs went back out in the 7th, and allowed a walk and nothing else.  Ryan Sublette entered in the 8th and followed with 2.0 scoreless innings for the save.
At the Plate
The Loons scored single runs in the 3rd, 6th, and 9th.  In the 3rd, three straight singles by Joe Vranesh, Eddys Leonard, and Jorbit Vivas to score the first run of the game.  The Loons stretched the lead to 2-0 in the 6th.  Ismael Alcantara singled and moved to 3rd on an error by the 1B.  Ryan January walked.  And on a ground ball forceout by Leonel Valera, Alcantara came home to score.
In the 7th, with the score now 2-2, Eddys Leonard homered (2) for the 2nd consecutive night for the go-ahead run that held up for the win.
Leonard, Vivas, and January each had 2 hits.  If Leonard and Vivas continue to heat up, the Loons could be dangerous.  Leonard has hit in 5 consecutive games and has increased his BA from .143 to .227 over that stretch.  Vivas has hit in three consecutive games, and 6 out of his last 7.  Over that 7 game stretch, Vivas' BA has increased from .125 to .190.
Player of the Game
23-year-old RHP, Gavin Stone, and his 5.0 scoreless 2-hit game.
Gavin Stone had another great outing for Great Lakes, tossing 5 scoreless innings, and lowering his ERA for the season to 1.93. After starting off slider-heavy, he got quite a few bad swings on FBs in non-FB counts. (The man pitched)

The line:

5.0 IP
2 hits
0 runs
2 BBs
7 Ks⬇️ pic.twitter.com/nYe0qlEJVA

— Josh Thomas (@jokeylocomotive) April 30, 2022
Visalia Rawhide (Arizona) 7 vs Rancho Cucamonga Quakes 9
On the Mound
Edgardo Henriquez started for the Dodgers and surrendered a solo HR (5) in the 1st to Jordan Lawler.  The Rawhide scored a second run in the 3rd on a single, a pickoff attempt throwing error, and two ground outs to retake the lead 2-1.
Carlos De Los Santos took the mound in the 4th and retired the 1st batter he faced.  Junior Franco then singled and stole second.  J.J. D'Orazio walked putting runners on 1st and 2nd.  Both runners advanced on a passed ball.  Franco scored on a WP.  After another one out free pass, Huei-Sheng Lin relieved De Los Santos.  Sheng-Ping Chen lined a single on the first pitch he saw, and D'Orazio scored.
The Rawhide score a solo run in the 6th on a double by Franco and an RBI single by D'Orazio.
With Lin still on the mound in the 7th, a walk to Jordan Lawlor and a 2-run HR (4) by Deyvison De Los Santos scores the final two runs for the Rawhide, and a 7-2 lead.
At the Plate
The Quakes tied the score at 1-1 in the bottom of the 2nd when Diego Cartaya doubled and came home on a Jake Vogel triple.  Down 4-1 in the 4th, walks to Luis Rodriguez and Luis Yanel Diaz, and a run scoring single by Kenneth Betancourt cut the lead to 4-2 after 4.
Down 7-2 in the bottom of the 7th, the Quakes start to claw back.  A walk to Yeiner Fernandez and a 2-run HR (5) by Jose Ramos cut the lead to 7-4.
After all three batters went down on Ks in the 8th, the Quakes came to bat in the 9th, looking for a walk off.  Kenneth Betancourt led off the 9th with a double.  Back to back singles by Yeiner Fernandez and Alex De Jesus scored a run, and the tying runs were on base with nobody out.  After two outs were recorded, Luis Rodriguez walked for the 3rd time in the game, and the bases were loaded. With the tying runs now in scoring position, Yunior Garcia hit the first pitch he saw for a ground force out, and the game was over.
Player of the Game
For the first game of the night, I could not select a pitcher.  Kenneth Betancourt and Jose Ramos each had a pair of hits, but Ramos gets the nod because of his 2 RBIs to Betancourt's 1.
#46 Jose Ramos hits a two-run homer to center field bringing in Yeiner Fernandez. pic.twitter.com/uUw6s6hquK

— Rancho Cucamonga Quakes (@RCQuakes) April 30, 2022