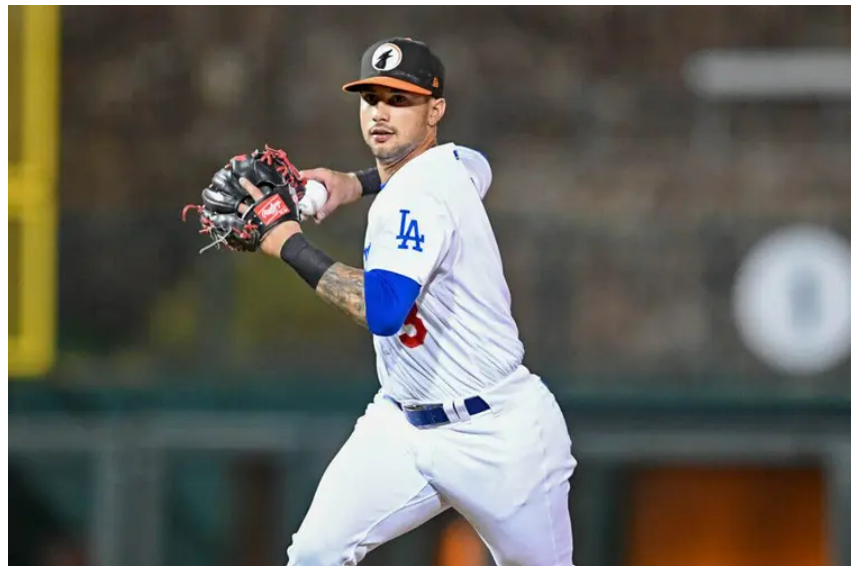 I get a little chuckle when a player that I have pushed in my writing gets ignored and later becomes a prospect to watch.  I admit that I have a tendency to closely follow those who are considered fringy.  Admittedly Harold takes an even lower prospect approach to follow.  We were both on Caleb Ferguson when nobody outside of his family knew who he was.  Why would anyone know about a 38th round draft pick who had TJ surgery after HS?  But we did.
Harold writes about many of the fringy prospects, but he attached to Zach McKinstry from the beginning.  Why would anyone care about a 33rd round draft pick?  But Harold did.
Ryan Pepiot was not an unknown, but I became enamored with him on draft day. Aaron Ochsenbein was not known at all, and he was a college senior that I began writing about.  I do not know why I grew such an affinity to Pepiot.  I just did.  With Ochsenbein, I have a soft spot for college seniors.  My son was a college senior All-American at the University of Nevada – Reno, and it took 26 rounds for him to get selected.
This year I am pulling for a pair of 5th year college seniors that were 2021 draft picks: Jordan Leasure and Lael Lockhart.  Leasure was just promoted to AA, the first of the 2021 draft picks to do so.  While Lockhart has become somewhat of surprise pitching star for the Loons this year.  He should find his way to Tulsa before too long.  But more about them later.
This post is about another young man that I have touted since he was the 11th round pick for LAD in 2017.  For the first three years in the AF era of the Rule 4 draft, the Dodgers have selected picks in rounds 8-10 that could and were signed for well below slot values.  That allowed them to have enough bonus dollars where they could draft a HS player in the 11th round and pay way overslot.  All of the top HS players are selected early, but there were those that had a lot of promise and might be swayed with 3rd – 5th round level signing bonus.
In 2015, the Dodgers selected a high school RHP from the San Diego area in the 11th round, Imani Abdullah.  He signed for $650K.  He is now out of baseball.
In 2016, that 11th round pick went to Pennsylvania HS RHP, A.J. Alexy.  Alexy signed for $600K.  Alexy is now in the Texas Rangers' organization at AAA.  He made his MLB debut with Texas in 2021.  Alexy was traded to Texas in the Yu Darvish acquisition.
But the subject of this post was the 11th round pick in 2017, Jacob Amaya.  I readily admit that I pull hard for LA area picks, and Amaya was even more special as he signed his letter of intent to play for Cal State Fullerton, one of my favorite schools.  The Dodgers were able to sign Amaya for $247,500, and he immediately became my favorite LAD affiliate non-pitcher player.
On September 3, 1998, Jacob Amaya was born in El Monte…less than 20 miles from Dodger Stadium.  Amaya spent his freshman and sophomore year at Northview HS in Covina.  For his junior year he transferred to South Hills HS in West Covina.  Two schools very close together with Northview north of the 10 and South Hills south of the 10.  Both schools were within 25 miles of Dodger Stadium.
At South Hills, Amaya was a star.  He led his team to a CIF Southern Section Championship Title.  He batted .385 with an OBP of .455, and an OPS of .947 as a junior.  That was more than enough for a player who was being tracked by college and MLB scouts as a freshman to seal the scholarship offer to the Titans and Cal St. Fullerton.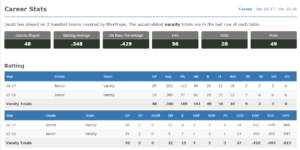 What was never in question was Jacob's glove.  Amaya was always gifted defensively at SS.  There was no question as to what position he would play at Fullerton.  But the Dodger scouts also noticed Amaya, and was able to sway him away from his commitment.
There was undoubtedly a little extra motivation for Jacob to sign with the Dodgers.  His grandfather, Frank Amaya, was also a SS who was signed by the Brooklyn Dodgers in 1955.  He started with the Great Falls Electric in the Pioneer League, a C level league. He played for four teams in the Dodgers organization from 1955-1958, all at the B and C level.  In 1959, he reached AAA in the Reds organization, and then moved on to the Mexican League.  Frank's career was over in 1959 as a 23-year-old.  Frank was primarily a SS, but he also played 2B and some OF.
For Jacob, being drafted by the Dodgers was somewhat of a dream come true.
"It was amazing when I got drafted by the Dodgers," Amaya said. "My grandpa was always watching the Dodgers games when I got home. To follow in his footsteps. Growing up it was always him and my dad, giving me knowledge about the game."
Unfortunately, Frank passed away in 2016, the year before Jacob would sign. But Jacob felt the pull of his grandfather once he was drafted, and used that as extra motivation.
"When he passed away, it set a fuel for me. I knew he wanted me to put on the jersey that he put on, and it was an honor."
Like almost every Little Leaguer, Jacob Amaya's dream was to play professional baseball.  To be able to play with your home town team, and the team your grandfather played for was an even bigger dream. So it really was not a difficult decision to choose the Dodgers over Cal St. Fullerton.  He signed July 6, 2017.
So off to the Arizona League (Rookie level) where he began his professional career with the AZL Dodgers.
"It was way different," said Amaya. "In high school, guys were throwing 85, here they were throwing in the 90's. Guys know how to spin it more, they locate way better, they throw way harder. It was a huge transition."
In 34 games, Amaya hit .254/.364/.356/.720.  He earned a promotion to Ogden Raptors (high Rookie League) for 2018.  In 32 games, his batting line in Ogden (yes a good hitter's league) was, .347/.465/.535/1.000.  That was good enough to get promoted to his first taste of A ball, when he was assigned to Great Lakes on August 1, 2018.
He was more than respectable in the Midwest League (not a hitter friendly league) where in 27 games Amaya batted .265/.390/.306/.696.
For 2018, Amaya was selected as a Pioneer League All Star.
In 2019, Amaya started again at Great Lakes, and in 103 games, showed a little more pop than the year before.  His line was .262/.381/.394/.760.  On August 7, 2019, Amaya was promoted to High A in Rancho Cucamonga (California League).
Amaya was 2.5 years younger than the average California League player, and produced .250/.307/.375/.682.
Amaya was invited as a non-roster invitee to 2020 Spring Training.  But we all remember that year.  Amaya was still invited to participate at the Alternate Instructional site at USC that summer.  But make no mistake, like all MiLB players, Jacob Amaya lost a year of development.  Would he have been assigned to Tulsa right away?  Would he be in AAA now?  We will never know.
For 2021, Amaya was also invited as a non-roster invitee to Spring Training.  He was then assigned to AA Tulsa.  But something was different.  Was it the year lost to the pandemic?  His swing had more of a launch angle approach, causing a lot more swing and miss ABs.  Was this dictated by the LAD development team.  We know that the Dodger organization loves launch angle, and does not care a whit about strikeouts.  Regardless, he had a very down year in Tulsa.
He was still more than 2 years younger than the average Texas League player, but in 113 games, his numbers were .216/.303/.343/.646.  But something else changed.  Up until 2021, Amaya was a good contact hitter, with little power, but very good plate discipline.
For 2017-2019, Amaya had 973 PA in 217 games, walked 140 times and struck out 174 times.  Amaya has had good plate discipline since his HS days, and that translated well in his first three years of professional baseball.  His K/PA ratio was 17.9%, while his BB/PA ratio was 14.4%.  His Strikeout to Walk ratio was 1.16.
Amaya acknowledges that he has been very disciplined:
"In high school, I wouldn't strike out that much," he said. "I started covering the plate pretty well. I was able to figure out what pitches they were throwing me, where they'd throw it. With different situations and men on base I would figure that out."

"I started crowding the plate, started getting off the plate. To try and have them pitch me in more, or back off the plate if they were pitching me in. When I was talking to hitting coaches they would tell me that I was doing a good job of covering the plate well."
In 2021, that plate discipline seemed to disappear.  Besides the meager slash line noted above, Amaya struck out 103 times while walking only 52 times.  He went from a 1.16/1 K/BB ratio to 2/1.  In 476 PA, Amaya's K rate was up to 21.6% and his walk rate was down to 10.9%.
Despite his poor 2021 numbers, Amaya was sent to the Arizona Fall League (AFL) where he performed exceptionally well.  In 19 games and 67 PA, Amaya batted .333/.463/.556/1.018.  His plate discipline also improved from Tulsa.  Amaya walked and struck out 13 times for a 19.4% rate.  Amaya had 3 doubles and 3 HRs in the AFL.
Amaya's AFL performance seemed to cement the Dodgers position of protecting Amaya for the Rule 5 draft.  When he was protected, I recall many fans were confused with his protection, because in their mind, Eddys Leonard and Jorbit Vivas, who were also protected, had negated the necessity of a glove only SS.  I had no problem with either Leonard or Vivas being protected, but I vehemently disagreed that Amaya should not have been.  When doing so, I was chastised and told by one fan that Amaya will never hit well enough to get out of AA.  I may have missed it, but I cannot recall others who were supportive of Amaya.  This is the problem with armchair GMs that have never seen Amaya play, do not follow MiLB, and only look at baseball-reference of MiLB stats to form conclusions.
Not so fast.  Last year while Amaya was struggling in AA, Leonard and Vivas excelled in a hitter's league in low A ball in Rancho Cucamonga.  Amaya is 2 years older than both Leonard and Vivas.  This year the tables have turned.  I know it is early, but in 15 games and 63 PA, Amaya has compiled a batting line of .340/.444/.811/1.256, with 6 HR, 1 triple, and 5 doubles.  More importantly, he now has more walks than strikeouts this year (10 to 9).  That is a BB/PA ratio of 15.9%, and a K/PA ratio of 14.3%.  At the same time back at Rancho, both Leonard and Vivas have gotten off to rough starts, although Leonard is showing signs of coming out of the season opening slump.
Amaya is currently #2 in the Texas League in OPS and SLG.  He is 7th in OBP, and 8th in BA.
Now those same fans who were dismissing Amaya as a prospect, are now on the bandwagon and talking about him as potential Trea Turner replacement in 2023.  It will turn again, as his start does not appear to be sustainable over a full year.  But that is what was said about Gavin Lux in 2019.  I am not predicting that Amaya will stay at his current production level, but I do believe that he will show that he is a legit SS prospect who needs to get promoted to AAA to see if the tick up in competition will have much impact.  It will also give LAD management time to form an opinion on the future of Jacob Amaya as a ML prospect.
While his offensive production could still be in doubt, there is no doubt about Amaya's defense.  He is considered the best defensive SS in the organization.  If his plate discipline and plate coverage continue to excel this year, then Amaya has to have earned at least a consideration for the ML SS position.  Jacob's ceiling is a regular SS at the ML level, but I believe his floor is as a ML infield utility player.
I have been and will continue to be in Amaya's corner, and I welcome all Johnny Come Lately's to the support base.
Tulsa has compiled some exceptional talent on the Drillers.  Michael Busch, Andy Pages, Ryan Ward, James Outman, Carson Taylor, Kody Hoese, and Brandon Lewis.  At the top of that list of prospects is #13, Jacob Amaya.
Baseball America Scouting Report
Jacob Amaya, SS, Dodgers – Friday was a good day for Amaya. He went 2-for-4 with a pair of hard-hit singles off of Rangers righthander Owen White and made numerous slick plays defensively at shortstop for Glendale in its 5-3 loss for Surprise. Shortly after the game, the Dodgers announced they were adding Amaya to their 40-man roster to protect him from the Rule 5 draft. Amaya has long been the best defensive shortstop in the Dodgers system but slumped badly to a .216/.303/.343 slash line at Double-A this year after he got out of his approach and began chasing power. He reined back in during the AFL and finished his time in the league batting .333 with a 1.018 OPS.
MLB Pipeline Scouting Report
Jacob Carlos Amaya (born September 3, 1998) is an American professional baseball Shortstop in the Los Angeles Dodgers organization.
Amaya was drafted by the Dodgers in the 11th round of the 2017 MLB Draft out of South Hills High School in West Covina, California. He made his debut with the Arizona League Dodgers in 2017, hitting .254 in 34 games. He split the 2018 season between the Ogden Raptors and Great Lakes Loons, hitting .311 in 59 games. He spent 103 games with the Loons in 2019 before a promotion to the Rancho Cucamonga Quakes for 21 games. Overall he hit .260. After missing the 2020 season due to the cancellation of minor league baseball because of the COVID-19 pandemic, he played in 113 games with the Tulsa Drillers in 2021, hitting .216. He was assigned to the Glendale Desert Dogs of the Arizona Fall League after the season and then added to the Dodgers 40-man roster.
Click on MLB Logo  for the Jacob Amaya video.