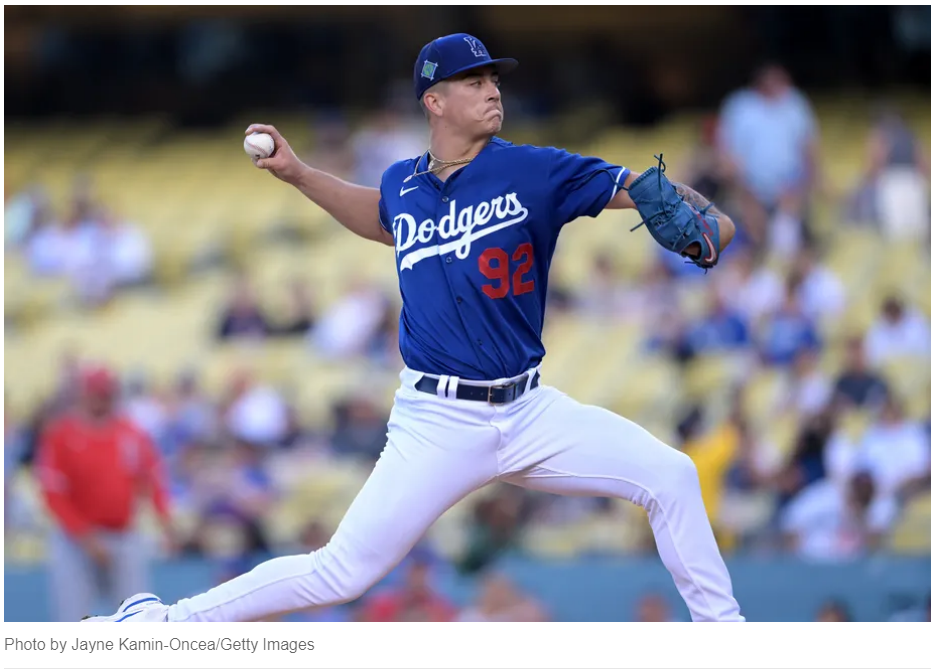 I apologize for the short reports tonight.  I usually try to write the recaps while watching the Dodger game, but tonight I was too immersed in the history making game.  I get a little break because Great Lakes was rained out.  So here goes.
Sugar Land Space Cowboys (Houston) 1 vs OKC Dodgers 7
The gray beards on the pitching staff pitched a brilliant game for the Dodgers.  32-year-old Mike Wright Jr. started.  Trouble started early for Wright as he walked the first two batters, got a force out, and then gave up a run scoring single.  Wright got out of the inning and got through 4.0 on 67 pitches (37 strikes).  He allowed the one run only with 2 hits and 4 walks, to go with 3 Ks.
31-year-old Robbie Erlin finished the final five innings.  He was fantastic not allowing a run on 2 hits, ZERO walks and 8 Ks.
The Dodgers took the lead for good in the second on a pair of walks and a pair of singles scores two and a 2-1.  The Dodgers scored a third run in the 5th on a single, HBP, and 2 walks.  They scored a pair of unearned runs in the 7th giving OKC a 5-1 lead.
OKC closed out the scoring in the 8th with the bats.  Miguel Vargas singles for the second time, and Jake Lamb followed with a 2-run blast.
Corpus Christi Hooks (Houston) 7 vs Tulsa Drillers 9
With Bobby Miller on the bump for the Drillers, James Outman got the Drillers the early lead with a HR over the CF wall.
Miller was perfect for 3 with 5 Ks.  He was mixing in some good breaking stuff with his 100 MPH+ fastballs.  However he threw 50 pitches to get through 3, and ran into a bit of a jamb in the 4th.  He issued a walk, stolen base, and single to score a run on 24 pitches, and he was done for the night.  Miller's line:  4.0 IP, 1 run, 1 hit, 1 BB, and 7 K.
Melvin Jimenez and Tanner Dodson were exceptionally wild in their two innings.  Aaron Ochsenbein came in with the bases load and nobody out, but only allowed one run to score on a sac fly.
Going into the bottom of 8, the Hooks are leading the Drillers 4-1, and they exploded for 4 to take a 5-1 lead.  Hunter Feduccia led off with a walk.  Kody Hoese singled that was followed by a Devin Mann run scoring double.  Jeren Kendall walked to load the bases.  After a K, Ryan Ward hit a sac fly.  Still down a run, with 2 on base, Andy Pages hits a 2 run double to take a 5-4 lead.  But that was short lived as Jordan Leasure put the first two batters on board via walks.  He strikes out the next two, and with 2 on and 2 out, Emmanuel Valdez hits a 3 run HR (4) putting the Hooks back on top.
The Drillers went quietly in the 9th after a leadoff walk.
Visalia Rawhide (Arizona) 5 vs Rancho Cucamonga Quakes 19
You might think that the bats unloaded in a 19-run game, but the Quakes managed only 10 hits.  Their run production was aided by 18 walks in 8 innings.  However it was a breakout game for Diego Cartaya.  Cartaya blasted 2 homeruns (4) a double (3) and 6 RBIs.
Cartaya was joined by his fellow countryman, Alex De Jesus, who had a 3 hit game including his 3rd HR and 3rd double and 3 RBIs.  A third Venezuelan, Luis Rodriguez, reaches base 5 times with a single and 4 walks.  Cartaya scored 4 times, while 4 other Quakes scored 3: De Jesus, Damon Keith, Rodriguez, and Luis Yanel Diaz.
A 4th Venezuelan, Kenneth Betancourt, came off the bench for a 2-run scoring double (3).
The third top Venezuelan from the 2018 international free agent class, Jerming Rosario started, but did not fare well.  In 1.1 inning, he surrendered 3 runs on 4 hits and 3 walks.
And yet another Venezuelan (4th from the 2018 class), Christian Suarez, relieved Rosario and stopped the bleeding with back-to-back Ks in the 2nd.  He pitched a total of 2.1 innings, allowing 2 hits and recording 5 Ks, with no free passes.
Jo Valdez pitched a wonderful 2.1 innings, surrendering 1 BB to go with 5 Ks.  Kelvin Bautista got roughed up for a pair of runs in his inning in relief.  Martin Santana finished the game with 3 Ks of his own.