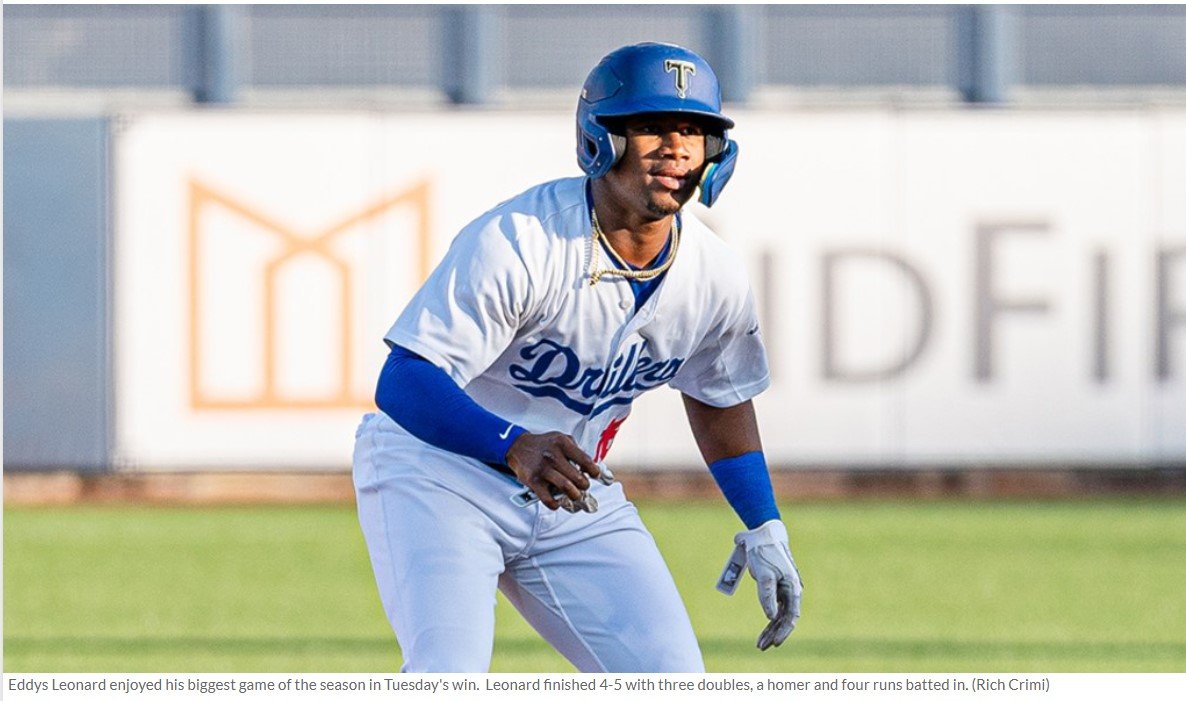 All four LAD affiliates won.
OKC Dodgers 5 – El Paso Chihuahuas (San Diego) 2
OKC was being no-hit thru 6.2 innings before Yonny Hernandez singled on a 2-0 pitch.  They were still being shutout into the 9th.  Luke Williams led off with a HR (3) to bring OKC to within 1.  Hunter Feduccia drew a walk, and Steven Duggar ran for him.  Jahmai Jones drew another BB.  Ryan Ward doubled (7) home both runners and OKC took the lead on their 3rd hit.  Ward moved to third on a ground out by Hernandez.  Bradley Zimmer walked and stole 2nd.  Devin Mann walked.  Drew Avans reached on an E-7 and Zimmer scored the 5th run.
Robbie Erlin pitched his best game of the season.  He completed 6 innings.  He allowed the 2 runs on 7 hits, 1 BB, and 4 K.  After the first two batters were retired, Erlin allowed a run in the 1st on a single, SB, and run-scoring single.  He allowed a lead off HR in the 2nd, and that was the end of the scoring.  He only allowed 2 runners on base in the same inning one time, in the 6th.
Taylor Scott, Wander Suero, and Nick Robertson pitched a scoreless final 3 innings.
Tulsa Drillers 11 – San Antonio Missions (San Diego) 1
Kyle Hurt and Alec Gamboa piggybacked the start with each pitcher throwing 3.0 innings.  Combined they allowed 2 base runners (single and HBP).  They combined for 7 K.
While Hurt and Gamboa were shutting down the Missions, the Drillers put up 8 runs through the first 5 innings.
In the first inning, Jonny DeLuca hit another lead off HR (7).  DeLuca's first-inning homer marked the fourth time this year that he has homered in Tulsa's first at-bat of a game.
Later in the first, Leonard made it a three-run inning when he doubled home two runs to give the Drillers a quick 3-0 lead.
The Drillers got an unearned run in the 2nd on a Jorbit Vivas sac fly.
José Ramos hit a solo HR (5) in the 3rd.
The Drillers flexed their muscles in the 5th.  Ramos was HBP, that was followed by aq HR (2) by Diego Cartaya.  Eddys Leonard then hit his 1st AA HR.
The Drillers scored 3 more in the 8th to move out to an 11-0 lead.
Carlo Reyes let the shutout get away in the 9th with 2 BB and a single.
Jonny DeLuca – 3-5, 2 runs, 1 RBI, double (5), HR (7)
Jorbit Vivas – 3-4, 2 runs, 1 RBI
Eddys Leonard – 4-5, 1 run, 4 RBIs, 3 doubles (3), HR (1)
Great Lakes Loons 7 – Quad Cities River Bandits (KC) 6
A back-and-forth game that featured five lead changes was decided in the bottom of the tenth. A Yunior Garcia single gave the Great Lakes Loons (13-9) a 7-6 win over the Quad Cities River Bandits (9-12) on an overcast Tuesday morning at Dow Diamond. The contest was the first since 2018 between both teams at Dow Diamond.
Great Lakes jumped out to an early lead. Austin Gauthier swung at the first pitch, plastering it off the left field wall. Dalton Rushing flared the first pitch he saw down the left-field line to make it. The Dodgers 2022 second-round pick has four hits in 10 attempts against left-handed pitchers.
Quad Cities' Noah Cameron closed out the first with a double play and then would strike out 11 batters over five innings. The most by a pitcher in a start this season in the Midwest League.
Ben Casparius, the starter for the Loons worked a scoreless first four innings. In the fifth, he got touched up for two home runs. Shervyen Newton and Jack Pineda went back-to-back, giving the River Bandits a 3-1 lead.
The sixth saw Quad Cities bullpen make their first appearance, four pitchers combined to walk six batters from the fifth to the tenth. Marlin Willis hit a batter and walked three, allowing Great Lakes to pull within one. The Loons tacked on the tying run from a bases-loaded base on balls from Taylor Young. Brandon Johnson ended the inning.
Austin Gauthier, who leads the team in hits, would add his first home run. A go-ahead solo blast to lead off the seventh. Jake Vogel walked and moved to third following a Dalton Rushing base knock. Vogel was plated after a 4-6-3 double play.
An error, balk, and walk helped the River Bandits to knot up the score. Cayden Wallace reached on a drop from Yunior Garcia at first base, Carter Jensen walked, and a balk moved the runners who scored on a single from River Town. Both runs were unearned for Christian Suarez.
Austin Gauthier – 3-4, 2 runs, 2 RBI, double (6), HR (2)
Dalton Rushing – 2-3, 1 run, 1 RBI
Yimi Garcia – 2-5, 1 run, 1 RBI
Rancho Cucamonga Quakes 2 – Lake Elsinore Storm (San Diego) 1
The most anticipated May series in franchise history got underway for the Rancho Cucamonga Quakes on Tuesday, with the Quakes extending their league-best winning streak to nine straight games, thanks to a 2-1 win over the red-hot Lake Elsinore Storm at home.
Rancho's win not only extended their own winning streak to nine straight, but they ended Lake Elsinore's eight-game winning streak in the process, moving Rancho into a first-place tie with the Storm at identical 16-6 records.
Chris Newell had two hits and drove in the game-winner with a sac fly in the seventh inning against Lake Elsinore reliever Dwayne Matos (1-1), as the Quakes took a 2-1 lead.
Peter Heubeck started and completed 3.1 scoreless innings.  He allowed 2 hits with 3 walks, and 3 Ks.  Christian Romero (2-0) was brilliant on the mound, as he got the win, allowing one run on two hits over four innings of work.