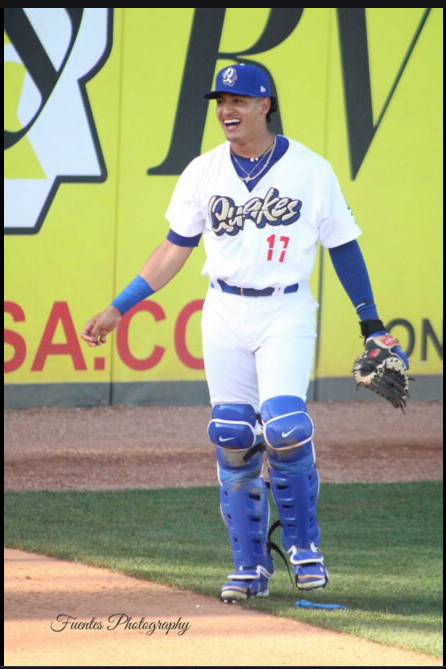 Well I did not get Bluto to volunteer to scout the MiLB teams (or at least one of them), so we are going to continue with the summary format.
A pair of rain outs and a pair of 5-4 games, both LAD affiliates as the victor.
Albuquerque Isotopes (Colorado) 5 vs OKC Dodgers 4
On the Mound
In a very rare morning game, The OKC Dodgers faced off against the Albuquerque Isotopes at home in OKC.  Beau Burrows started for OKC against the Isotopes' RHSP, Ryan Feltner.  This was his third start against OKC in Feltner's 6 starts.
Burrows set down the Isotopes in order in the 1st., but ran into a little trouble in the 2nd.  Thanks to an error, the Isotopes scored 2 unearned runs in the 2nd.
The Isotopes grew the lead to 5-0 with 3 more runs in the 4th.  Carlos Perez hit his 6th HR.  Coco Montes doubled and was driven home by a triple by Wynton Bernard.  Elehuris Montero singled Bernard home.
Three OKC relievers completely stifled the Albuquerque batters as they pitched 5.0 perfect innings with 6 Ks.  Marshall Kasowski 2.0 IP, Yency Almonte 2.0 IP, and Justin Hagenman 1.0 IP.  Hagenman has been spectacular since his promotion to AAA.  He has appeared in 4 games, 6.0 IP, 3 hits, 1 run (unearned), 1 HBP, 0 walks, and 6 Ks.
At the Plate
Feltner was perfect through 4.0 innings against OKC.  In the 5th Kevin Pillar got on board via fielding error.  Stefen Romero walked, and Jason Martin tripled both Pillar and Romero home.  Andy Burns drove Martin home with a single.
In the 6th, Miguel Vargas singled, moved to 2nd on a ground out, and scored on a Ryan Noda single.  But that is as close as OKC would come.
Jason Martin had 2 hits and 2 RBIs.
Player of the Game
In five innings, 3 relievers pitched 5.0 perfect innings. All three stood out, but Yency Almonte had 3 Ks, so he gets the nod.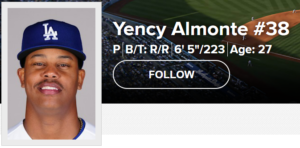 Tulsa Drillers vs Wichita Wind Surge (Twins) – Postponed 
Double header scheduled for Saturday.
The pitching matchup was going to be the Varland brothers facing each other.  Louie Varland for the Wind Surge and Gus Varland for the Drillers.  Gus is scheduled to pitch on Wednesday, but RHP Matt Canterino.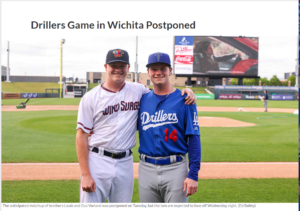 Beloit Sky Carp (Marlins) vs Great Lakes Loons – Postponed 
Double header for Thursday.
Rancho Cucamonga Quakes 5 vs Lake Elsinore Storm (San Diego) 4
In a sloppy game with 3 errors by each team, 8 of the 9 runs scored were ruled unearned.
On the Mound
Ben Casparius started for the Quakes and pitched 4 hitless and scoreless innings.  He issued 2 walks with 5 Ks.  Left the game in a scoreless 0-0 tie.
Benony Robles followed Casparius to the mound in the 5th.  With 2 outs, and Carlos Luis reaching on a fielding error, Robles seemed to lose it a bit.  With a runner on base, Robles hit the next batter and walked the bases full.  Robles balks the first run of the game in and moves the base runners into scoring position.  Both runners scored on a Justin Farmer single.  3 unearned runs for a 3-0 lead.
After the Quakes tied the score in the top of the 6th, the Storm struck back with one more to take a 4-3 lead.  Marcos Castanon doubled with 2 outs and scored on a single and error.
Ronan Kopp relieved Robles and pitched 2 scoreless innings allowing only a single and three strikeouts.
Ben Harris was summoned to finish it up, but hit the first batter he faced.  The runner was erased on a ground ball DP.  Harris surrendered a walk and single, but got the final out to preserve the win.
At the Plate
Down 3-0 in the 6th, Diego Cartaya led off for the Quakes with a HR (5).  Damon Keith followed with a single and moved to 2nd on a WP.  Luis Rodriguez doubled to score Keith, and scored himself on a Jake Vogel single.
In the 7th, the Quakes found themselves behind again; 4-3.  Julio Carrion led off with a BB.  On a Jose Ramos DP ball, Carrion was safe at 2nd on a dropped throw.  Diego Cartaya singled home Carrion for the tying run.
In the 9th, Cartaya reached base for the third time with a BB.  Cartaya scores on a batted ball into RF that was misplayed for an error.
Player of the Game
It took nearly a month into the season, but Diego Cartaya has come alive.  On April 29, Cartaya was struggling with a BA of .167.  In the last two games, Cartaya is 6-8 with 3 HRs, 6 runs, and 7 RBIs.  He is now batting .242.  Cartaya is an easy choice.