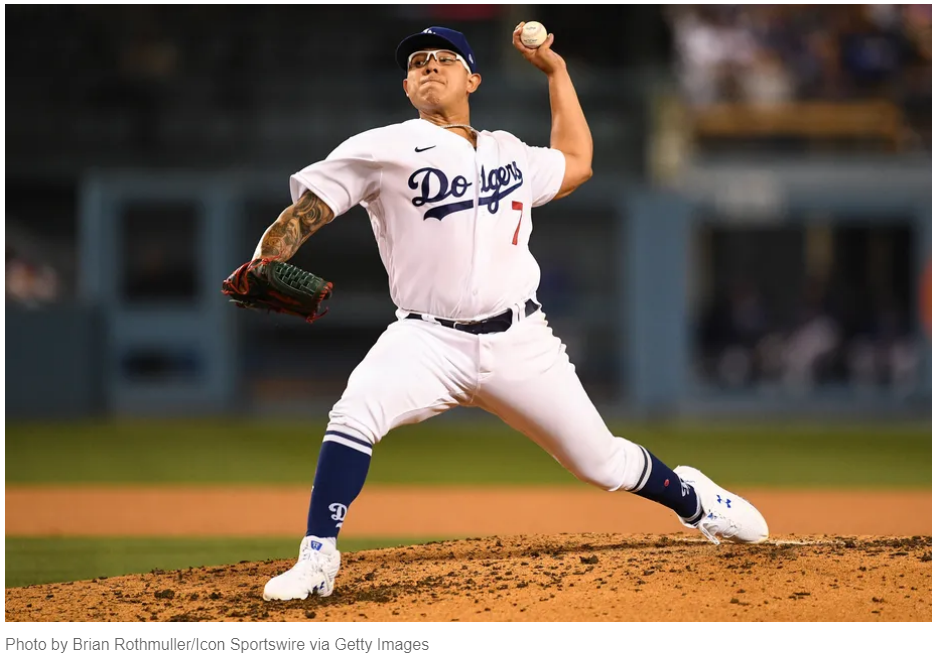 The first of 19 between these two storied franchises, figured to be a pitcher's duel between The Dodgers Julio Urias and the Giants Carlos Rodón.  A couple years back, Urias was nibbling at the plate, walking too many batters, and not pitching efficiently.  That seemed to change in the 2020 World Series run, and continued into a 20-win season in 2021.
The shortened ST seems to have had an impact on the Dodgers pitchers velocity this year.  Walker Buehler's is down, and he is leaning on his secondary pitches to get the outs he needs.  Urias' velo was also off on Tuesday.  After averaging in excess of 94 in 2021, Julio averaged 92.1 on his fastball.
But Julio was extremely efficient in 6.0 innings.  He threw 65 pitches in those 6.0 innings, and 52 for strikes.  Urias faced 21 batters, and he started 19 of them with a strike.  He seemed to be in command all 6.0 innings without allowing a lot of high exit velocity.
Curve – 43 pitches – 80.3 average MPH – 90.1 average exit velocity
4-Seamer Fastball – 42 pitches – 92.1 average MPH – 91.2 average exit velocity
Change – 8 pitches – 85.3 average MPH – 94.9 average exit velocity
Sinker – 2 pitches – 92.0 average MPH – 91.5 average exit velocity
Julio threw more curves than fastball and was throwing them for strikes.
In prior years, Julio had trouble at times getting out of the 1st.  In Tuesday's game, one of the hardest hit balls against Julio was on a change in the first inning.  With Austin Slater on 1st with a single, Mauricio Dubón jumped on a change and drove it into RF where GG Mookie Betts made a great catch to save a run.
MOOKIE! pic.twitter.com/22vBScg9ds

— SportsNet LA (@SportsNetLA) May 4, 2022
Carlos Rodón had a lapse of control in the second inning when he walked both Max Muncy and Cody Bellinger.  Cody showed great plate discipline and patience by not swinging at balls out of the zone, even though two of the strikes called on him were clearly balls.
With Chris Taylor at the plate, both runners moved up on a wild pitch.  On a 1-2 count, CT3 jumped on a 98 MPH 4 seamer and singled into CF scoring both Muncy and Belli.
Urias was cruising through 6.0 innings allowing only 4 hits, two to Austin Slater and 2 to Thairo Estrada.  But when the 7th inning started, Julio was done.  He didn't seem taxed, and I was hoping to get an explanation as to why he had come out with only 65 pitches thrown.  But at the time I was writing this, I had not yet heard one.  In his four previous starts, Urias threw 57 pitches, 65 pitches, 75 pitches, and 81 pitches.  He was increasing his pitch output each game…so why????
Brusdar Graterol followed Urias to the mound in the 7th.  Wilmer Flores hit an infield single and moved to 2nd on a JT throwing error.  The next batter, Brandon Crawford walked.  With runners on 1st and 2nd , Thairo Estrada hit a soft ground ball that all Bazooka could do was to get Estrada at 1st.  Flores and Crawford were in scoring position with one out, and PH left hand hitting OF Luis Gonzalez was called.
Dave Roberts matched that PH move with a move of his own, by bringing in LHRP, Alex Vesia.  Vesia got Gonzalez down to a 1-2 count, but he could not get the 3rd strike.  Gonzalez hit a sac fly, to cut the lead in half.  Vesia then struck out Luke Williams to end the 7th.
With Daniel Hudson taking the mound in the 8th, there was a little drama as former LAD OF, Joc Pederson, came to the plate.  Joc has been hot all year, and did hit a couple of hard hit foul balls before being struck out on a Hudson change.  Joc can hit any fastball, but he has real problems with offspeed.  Hudson got out of the inning untouched.
The new LAD personality plus, Hanser Alberto, led off the 8th with a double, moved to 3rd on a Mookie Betts single, and scored on a wild pitch.
2nd double of the year for Hanser Alberto. The Dodgers could use that insurance run!#dodgers #hanseralberto #mlb #baseball pic.twitter.com/H0QfLFRwl6

— Dodgers Daily (@dodger_daily) May 4, 2022
Hanser Alberto single handily bringing the party vibes back into the Dodgers Dugout

— Dodgers Nation (@DodgersNation) April 20, 2022
The bullpen gates opened in the 9th, and to G 'N R's Sweet Child 'O Mine, in came the Dodgers new closer, Craig Kimbrel.  Up until Tuesday, Kimbrel had thrown only 5.2 innings. He had converted 4 save opportunities into saves, so this was going to be a challenge.
Wilmer Flores walked on a 9 pitch AB.  Brandon Crawford worked the count to 3-2 and on the 6th pitch, he got Crawford swinging on a 94.1 MPH 4-seamer.  With 2 outs, Luis Gonzalez singled putting the tying runs on base.  On his 26th pitch, Kimbrel induced Luke Williams to ground into a 6-4 forceout to preserve the win.
The Dodgers have moved to 15-7 and only have the two NY teams with a better record.  They will have game #2 with SF on Wednesday, with Alex Wood taking the hill for the Giants, and Doc has not yet named his SP.
While two top teams in the NL West are matched together this week, the NL East is having a crucial series of their own…NYM vs Atlanta in a 4-game series.  Going into the series, the Mets had a 6.0 game lead.  The Braves won a game on Monday, but the Mets won a DH on Tuesday and are now 7 games up on the Braves.