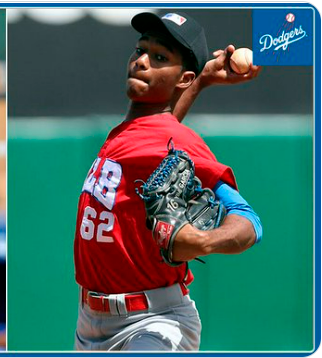 Albuquerque Isotopes (Colorado) 2 vs OKC Dodgers 9 
On the Mound                                                                    
Ryan Pepiot started and this was not a dominating effort.  Pepiot struggled in the 1st inning.  He walked and hit a batter, and they both scored on a double.  Pepiot grinded his way thru his 4.2 IP.  He reached his pitch limit (75), and even though he was one out a way of being in a position to win, he was pulled.  Justin Hagenman entered in the 5th with runners on 2nd and 3rd, and he left them there.  Hagenman pitched a scoreless two more innings.  One hit and 2 Ks.
Marshall Kasowski finished the game with 2.0 scoreless innings of his own.  He gave up 2 hits and a BB.  In his 2.0 innings, a pitcher known for his strikeouts, did not have any in this one.
At the Plate
Kevin Pillar had a great night.  He went 4-4 with a sac fly.  Two of his hits were solo HRs (7).
The first 5 batters had hits and scored three times in the 1st.  One of the Pillar HRs, and Miguel Vargas single and scored on a Stefen Romero double.  After a Zach McKinstry single, Romero scored on an Andy Burns single.  The Dodgers took the lead in the bottom of the 1st inning and continued to pound away.
Pillar hit his second HR leading off the 2nd inning.
OKC began to break it open in the 3rd with 2 more runs.  With one out, Jason Martin singled and moved to 3rd on an Omar Estevez double (4).  Martin scored on a Pillar SF.  Estevez scored on Miguel Vargas' double (4).
In the 5th, OKC scored an insurance run with back-to-back singles by Estevez and Pillar.  After a lineout and HBP, the bases were loaded for Zach McKinstry who singled home Estevez.
The Dodgers finished their scoring in the 6th.  Ryan Noda singled and came home on a Jason Martin triple (2).  Martin scored on an Estevez single.
In the OKC 17 hit attack, every OKC batter had at least one hit.   Pillar (4), Estevez (3), Vargas (2), McKinstry (2), and Martin (2) had multi-hit games.
Player of the Game
I have to go with the player with 4 hits, 2 HRs, and 3 RBIs…Kevin Pillar.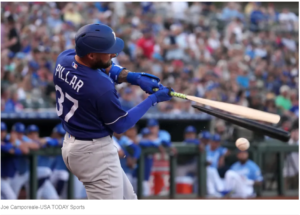 Tulsa Drillers 2 vs Wichita Wind Surge (Minnesota) 7 – Game 1
On the Mound
This was the game I have been waiting for almost a week.  The older brother, the Drillers Gus Varland, vs the younger brother, the Wind Surge's Louie Varland, squared off against each other.  The researchers could not find the last time a pair of brothers started against each other in a MiLB game.
This was all Louie Varland.  He went 5.0 innings and surrendered a 2-run HR to Michael Busch.  He scattered 4 hits, 2 BB, and 6 K.   He threw 82 pitches/51 strikes.  While older brother Gus was hit hard for 3.0 innings.  He gave up 6 runs on 8 hits, including 3 HRs, 1 BB, and 2 K.  He did not fool many all game.  Even the outs were loud.
Nick Robertson, Jordan Leasure, and Jose Martinez each pitched an inning.  Robertson gave up the 7th run.
Former D2 Concordia St. Paul RHP's Louie on the left & Gus on the right.

The Varland Family!!!!

Proof that Hard Work & believing in "The Process"
can pay off.

Keep Grinding Brothers!!!

Proud of You!!!!

CSPBB4L pic.twitter.com/hFjYUBlizo

— Mark "Lunch" McKenzie (@lunchmckenzie) May 4, 2022
At the Plate
The key hit was an opposite field HR by Michael Busch.  Busch followed a walk to Ryan January with a one out HR (9).
Justin Yurchak had 2 of the 5 hits.
Player of the Game
Michael Busch's big fly and both RBIs give him the Player of the Game.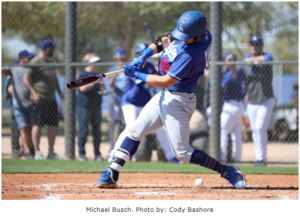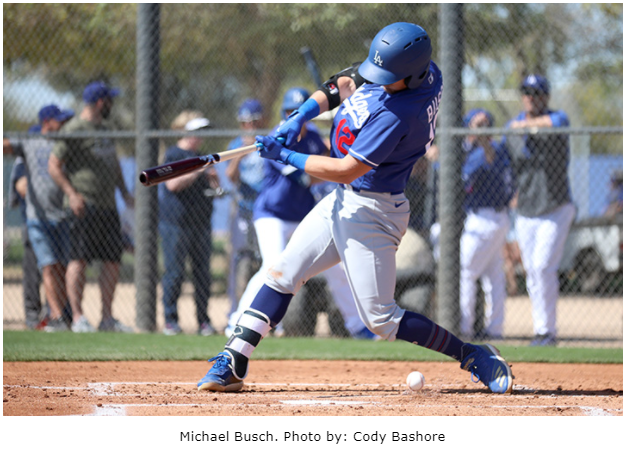 Michael Busch to the opposite field!

The third-ranked @Dodgers prospect launches his ninth HR of the year for the @TulsaDrillers. pic.twitter.com/yahJQx72xj

— MLB Pipeline (@MLBPipeline) May 6, 2022
Tulsa Drillers 0 vs Wichita Wind Surge (Minnesota) 10 – Game 2
On the Mound
Clayton Beeter pitched 4.0 innings.  His one bad pitch was to 1B Matt Wallner, who hit his sixth HR this year. He allowed a total of 3 hits, 2 BB, and registered 8 Ks in those 4.0 IP.
Alec Gamboa followed in the 5th, but ran into a streak of wildness.  In the 5th, Gamboa allowed a single, the first of 4 walks, and a double to score a run.  In the 6th, Gamboa walked the bases loaded without recording an out.  Tanner Dodson relieved Gamboa, and continued his string of poor outings.  He allowed 5 straight singles and all three of the inherited runners scored.  After a K, he gave up a HR, and he allowed 5 runs of his own in an 8-run inning.
At the Plate
The Drillers managed to scratch 4 hits in a shutout.  James Outman had the only extra base hit, double (7).
Player of the Game
Clayton Beeter pitched well enough to win.  Unfortunately, the offense did not do their part.
Clayton Beeter just keeps on putting together quality outings and piling up the Ks, after tonight's start he has 31 in just 15.2 innings, the line:

4.0 IP
3 hits
1 run (earned)
2 BBs
8 Ks⬇️ (7/8 swinging) pic.twitter.com/KPjiEy74GM

— Josh Thomas (@jokeylocomotive) May 7, 2022
Beloit Sky Carp (Marlins) 2 vs Great Lakes Loons 5
On the Mound
Cole Percival started for the Loons and pitched a very credible 5.0 innings.  He had one off inning (3rd) when a single, double (former LAD prospect, Marcus Chui), and walk loaded the bases.  One run scored on a DP.  Overall in his 5.0 IP he surrendered the one run on 4 hits, 2 BB, and 3K.
Adam Scoggins and Carlos Alejo each pitched a hitless and scoreless inning. Scoggins got 2 Ks and Alejo had 1.
Jacob Cantleberry finished the game.  He gave up a one out 9th inning HR.  That was the only run and only hit allowed.  He did issue 2 free passes and 2 K.
At the Plate
Leonel Valera was the offensive star.  With 2 out in the 6th, Ryan January singled and Valera hit a 2-run HR (4) to take the lead.
In the 8th, Eddys Leonard singled and Jorbit Vivas walked.  Leonel Valera singled to score Leonard (his 3rd RBI).  Ismael Alcantara singles to score Vivas, and Valera scored on a throwing error.
The Loons had a 10-hit attack.  Leonard and Valera both had two hits.  Leonard's BA continues to move north quickly.  He is now at .253.
Player of the Game
Leonel Valera with 2 hits, including his 4th HR, and 3 RBIs.  Once again the pitching was brilliant, but Valera was the star.
Leonel Valera hit his 4th homer for Great Lakes, 390' into the wind 💪 pic.twitter.com/skO4KHyaoj

— Josh Thomas (@jokeylocomotive) May 7, 2022
Rancho Cucamonga Quakes 4 vs Lake Elsinore Storm (San Diego) 0
On the Mound
This was one of the best pitched games of the MiLB season.  Three Quake pitchers threw a one-hit shutout at the Storm.  But the best of the three was 20-year-old (on May 8) RHP Jerming Rosario.  He was the third highly regarded IFA prospect signed in 2018 with Diego Cartaya and Alex De Jesus.  Rosario threw 5.0 hitless innings, 59 pitches/42 strikes.  He registered 6 Ks.  His only blemish was a 5th inning HBP.
Octavio Becerra continued with his excellent 2022 season with 2.0 IP.  The no-no was over with a 2 out double in the 7th.
Joan Valdez finished the game with only a walk in his two innings of work.
Tonight, Jerming Rosario had the best outing of his career for Rancho Cucamonga, tossing 5.0 no hit innings, with the lone baserunner coming via an HBP. It only took him 59 pitches to get the 15 outs, and he struck out 6⬇️ pic.twitter.com/XcGipyXxe1

— Josh Thomas (@jokeylocomotive) May 7, 2022
At the Plate
The Quakes had a 10-hit attack.  In the third the Quakes had all the runs they would need after a Yeiner Fernandez single was followed by an Alex De Jesus 2-run HR (4).
In the 5th, Damon Keith singled and moved to second on a throwing error.  Keith scored on an Austin Gauthier single.
In the 8th, freshly activated catcher Marco Hernandez singled.  He moved up on back-to-back walks to Yeiner Fernandez and Alex De Jesus.  Jose Ramos plated Hernandez on a ground ball force out.
Damon Keith is starting to heat up again with 3 hits.  His BA is back up to .388 and his OPS is now 1.156.  Keith had 2 doubles, and now has 9 doubles on the season.
Yeiner Fernandez and Alex De Jesus had two hits each.  De Jesus is looking more comfortable at the plate, and he looks poised to have a break out season.
Player of the Game
With the game of his professional career, Jerming Rosario, is clearly the player of this shutout win.
Jerming Rosario signed his contract with the Dodgers today. Rosario is the top ranked pitching prospects in the Dominican Republic this year. https://t.co/zJaurxTLUc pic.twitter.com/7gpbwkcpf6

— Ben Badler (@BenBadler) July 3, 2018
6'-1" Jerming Rosario gets about as deep of a bend with his drive leg as another 6'-1" former Dodger prospect – Josiah Gray pic.twitter.com/6Q8CX6DaUk

— Josh Thomas (@jokeylocomotive) November 10, 2021