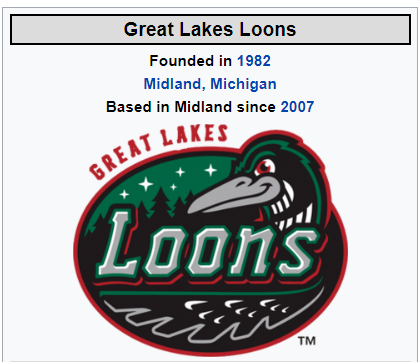 It has been said that the hardest jump in MiLB is from A+ to AA.  This is where many prospects leave only to become suspects.  Harold has more knowledge about the Loons over the years, as he has been following them for it seems like forever.  Thus, I have been following them more closely since 2016, but not nearly as close as Harold.
Team statistics (12 team league):
Offensively:
BA – .210 – 9th
OBP – .318 – 8th
SLG – .355 – 9th
OPS – .673 – 9th
HR – 19 – 5th
BB – 89 – 4th
K – 200 – 7th most
Pitching:
ERA – 3.76 – 3rd
WHIP – 1.54 – 11th
BAA – .230 – 9th
BB – 118 – most in league
K – 224 – 3rd
HR – 10 – least amount
That being said, the Great Lakes Loons are a difficult bunch to gauge.  They have two utility infielders as Top 10 LAD prospects and three pitching prospects at #13, #18, and #28.  The two utility infielders had such tremendous seasons as 20-year old's finishing up at Great Lakes, that they were protected from the Rule 5 draft and added to the LAD 40-man roster.
With respect to the three pitchers, there are certainly unanswered questions, but they all show promise.
Position Players (stats as of the end of May 1 games):
#8 Eddys Leonard – .230/.341/.392/.733 – 9BB/19K
#9 Jorbit Vivas – .171/.344/.243/.587 – 16BB/12K
Pitchers:
#13 Nick Nastrini – 8.2 IP, 4.15 ERA, 1.62 WHIP, .206 BAA, 7BB/17K
#18 Gavin Stone – 14.0 IP, 1.93 ERA, 1.29 WHIP, .246 BAA, 4BB/19K
#28 Hyun-il Choi – 3.0 IP, 6.00 ERA, 1.33 WHIP, .308 BAA, 0BB/4K
I am going to start with my favorite Loon – Gavin Stone (23).  Gavin was the 5th round pick in what could go down as one of the great drafts in LAD history.  It was small in number but huuuuuge in talent.  Bobby Miller, Landon Knack, and Clayton Beeter were the pitchers selected before Stone, but Stone has been just as terrific if not a little behind the others.
Subsequent to the May 1 stats, Gavin Stone pitched on Thursday and went 6.0 scoreless innings, 2 hits, 1 walk, 1 HBP, and 3 Ks.  His ERA is now down to 1.35.  Even in a pitcher's league, that ERA is impressive.  He now has 22 Ks in 20.0 IP.  Even though it is not a concern, it is a downturn from 2021 when he had 138 Ks in 91 IP.  He has been considered one of the better swing and miss pitchers in the organization.
Gavin is becoming a pitcher more this year.  He is working on his secondary pitches and throwing them for strikes.  He still has a very fine fastball that gets good rise (and late) and can be unhittable.  His change is becoming a strike out pitch.  It is not in the class of Ryan Pepiot's, but it is lethal.  I watched his slider on Thursday, and it good late break away from RH batters and dropped to the back foot of a LH batter.  His change looked like it was coming out of the same tunnel as his fastball, with considerable drop.
There is still a lot of reliever risk with Gavin, probably more due to his size than anything else.  But if he does continue to develop and master both of his secondary pitches, he could find himself at the back end of a rotation.  With Robbie Peto now on the Loons, can Gavin Stone find himself pushed to AA?
Baseball America Scouting Report: 
Scouting Report: Stone's fastball sat 90-92 mph in college but ticked up to 93-97 in his pro debut. His fastball plays up with run and ride from his low release point to make it an above-average pitch that gets swings and misses in the strike zone. Stone uses his fastball heavily, but his slider and changeup are also viable weapons. His mid-80s slider flashes average and he began incorporating a firm, 86-89 mph changeup as last year progressed and flashed a plus offering with split action and late dive.

The Future: Stone is undersized and has some effort to his delivery, but he has above-average control and holds his velocity through his starts.

The Future: Stone largely projects to be a multi-inning reliever. He still has some physical projection left and could potentially blossom into a back-end starter.
MLB Pipeline
Scouting grades: Fastball: 60 | Slider: 50 | Changeup: 55 | Control: 55 | Overall: 45 
Stone went from working with a 90-94 mph fastball as a college starter to averaging 94 mph and touching 98 in his first season as a pro, and his low release point creates induced vertical break that leaves hitters scuffling to get on top of his heater. He barely used a mid-80s changeup with some fade in college but now flashes a plus cambio with more velocity that drops off the table. He has scrapped his downer curveball to focus on a harder mid-80s slider/cutter and is working to add more sweep to help combat right-handers.

Stone aggressively attacks hitters with all three of his pitches and provides plenty of strikes. Though he's less physical than a typical starter, his efficiency and twitchy athleticism may help him remain in that role. Los Angeles also could try to expedite him to the big leagues as a multi-inning reliever.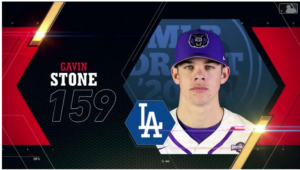 Nick Nastrini (22):
Nick was a highly sought RHP after three years coming out of Cathedral Catholic High School (San Diego, Calif.) … Ranked No. 27 in the 2018 Perfect Game USA Top High School Prospects in the state of California … Ranked No. 187 in the 2018 Perfect Game USA Top 500 High School Prospects … 2017 Perfect Game Rawlings Underclass Second Team All-American … Named to the Rawlings Top Prospect Team at the 2017 Perfect Game National Showcase … Played for the Milwaukee Brewers at the 2017 Area Code Games in Long Beach, Calif. …
Unfortunately he signed to pitch for UCLA, but I forgive him for that.  After all, his decided to pitch for John Savage was a better option than for any other program out west.
Nick has a four-pitch mix that is advanced even if inconsistent.  His fastball has good vertical rise with good spin rates at the top of the zone.  He gets a lot of swing and miss with this pitch.  His slider is his primary secondary offering.  His curve has good spin and a late downward break that could become a plus plus pitch.  He also has a developing change, but does not throw it as much.
He has He has always been challenged with control, but if the LAD crack development team can fix the inconsistencies, Nick could be the steal of the draft.  It has also been reported that Nick is challenged in the emotional department.  If he can control his emotions and listen to his instructors, Nick could be special.  I believe he will be, and I could see him on the express elevator to the top.
Baseball America Scouting Report:
Nastrini entered his junior year at UCLA considered a potential first-round pick, but he suffered the yips and walked 38 batters in 31.1 innings. The Dodgers still took a shot on his potent stuff and drafted him in the fourth round, signing him for an above-slot $497,500. Nastrini rediscovered his control as a pro and dominated in six starts at Low-A Rancho Cucamonga, then became the talk of instructional league with a sensational showing.

Scouting Report: Nastrini is a sturdy, physical righthander who flashes three plus or better pitches. His fastball sits 92-96 mph as a starter with high spin rates at the top of the strike zone. His short, tight 84-88 mph slider is a plus pitch that tunnels well off his fastball and his 78-82 mph, high-spin curveball with depth and sweep is another plus offering. His firm, 87-88 mph changeup with split action is developing. Nastrini's control is the wild card. He is a good athlete with a polished delivery and threw strikes in the past, but he presently has well below-average control and has some mental hurdles to overcome.

The Future: The Dodgers are optimistic Nastrini will find his way back and become a mid-rotation starter. His first big test will come at High-A Great Lakes in 2022.
MLB Pipeline: 
Scouting grades: Fastball: 65 | Curveball: 55 | Slider: 60 | Changeup: 55 | Control: 40 | Overall: 50 
Nastrini opened 2021 as one of the best college pitching prospects on the West Coast and a potential second- or third rounder, but his control evaporated, and he pitched his way out of UCLA's rotation after just five starts. The Dodgers scouted the local product enough to believe that his issues were correctable, and their confidence rose when he impressed in a pre-Draft workout for them and also struck out 24 in 13 scoreless innings with the summer Santa Barbara Foresters, whom he helped win the National Baseball Congress World Series in 2020. After they signed him in the fourth round for an over-slot $497,500, he dazzled with his stuff in his pro debut and during instructional league.

After sitting at 92-94 mph with his fastball at UCLA, Nastrini averaged 96 mph with outstanding carry and pitch characteristics in shorter stints as a pro. He also delivered high spin rates on both his upper-70s downer curveball and low-80s sweeping slider, which both show the potential to become plus offerings. He also can miss bats with a mid-80s changeup that dives at the plate, though he doesn't use it very often.

Nastrini piled up 30 strikeouts in 13 innings in Low-A but he also issued seven walks. He never had pinpoint control at UCLA, but he has a repeatable delivery, and the Dodgers think they can help him with some minor tweaks such as tempo and catcher targeting. If he develops average control and command while maintaining the arsenal he showed in his debut, he could pitch in the front half of a big-league rotation.
His ceiling is at #2/#3 rotation pitcher.  Probably more #3 with a contender like LAD.  For a college 4th round pick, that is an accomplishment.
Eddys Leonard (21) – Utility
There are three fairly replaceable utility players with the Loons.  I am going to highlight the one I believe has the best chance of success, Eddys Leonard.
Because of the debacle with the 2015-2016 International Free Agent class, the Dodgers were limited to a signing bonus of $300K.  Leonard was signed for $200K.  He lost all of 2020 because of the pandemic, but broke out big time in 2021.  He started slowly, with an average below .100 as late as 04-19.  He finally broke the Mendoza line on 04-27.  With a single on his first AB on Friday, he climbed to .250.  So he is starting to warm up.
He is a clearly a utility player (primarily infield). For the season, Leonard has played 4 positions:
2B (6 games), 3B (4 games), SS (11 games), and CF (2).  He has average power.  He is not nearly as gifted defensively as is Chris Taylor or Kike' Hernandez, but that is the role that he is being groomed for.
Baseball America Scouting Report:
Track Record: The Dodgers signed Leonard for $200,000 when he was 17, taking a shot on his raw athleticism and fast bat speed. Leonard moved slowly through the Rookie levels and missed the 2020 season due to the coronavirus pandemic, but he finally played his first full season in 2021 and had the biggest breakout of any player in the Dodgers system. He hit .296 with 22 home runs and 81 RBIs as he moved from Low-A to High-A and finished second in OPS (.929) among all prospects in the organization.

Scouting Report: Few hitters in the Dodgers system can match Leonard's bat speed. He has electric hands that get his barrel to the zone remarkably quickly, and the ball comes off fast and loud when he connects. Leonard has long crushed fastballs and began staying on righthanded sliders in 2021, which fueled his breakout. Leonard's bat speed gives him above-average raw power, and he began elevating to his pull-side this year to access it in games. He stays balanced through his swing and has few pitch types or locations that cause him to struggle. Leonard is still searching for a home defensively. He's an erratic infielder who is better at second base than shortstop and may have to move to center field. He's a fringy to below-average defender at every spot with average speed and arm strength.

The Future: Leonard's bat gives him a chance to be a multi-positional, everyday player. He'll see Double-A in 2022.
Scouting Grades: Hitting: 55. Power: 50. Speed: 50. Fielding: 40. Arm: 50.
MLB Pipeline
Scouting grades: Hit: 55 | Power: 50 | Run: 55 | Arm: 55 | Field: 50 | Overall: 50
Though they were limited to maximum $300,000 international bonuses in 2017-18 as a penalty for spending $96 million on that market two years earlier, the Dodgers still found several talented position prospects, including Andy Pages and Miguel Vargas (Cuba), Leonard (Dominican Republic) and Jorbit Vivas (Venezuela). Signed for $200,000, Leonard is the most versatile athlete among that group. He batted .297/.390/.539 with 22 homers as a 20-year-old getting his first extended taste of full-season ball in 2021, earning a spot on the 40-man roster.

Bigger and stronger than his listed 160 pounds, Leonard has quick hands and a whippy right-handed stroke that produce electric bat speed. While he can get a bit pull-conscious, he makes consistent hard contact and is showing at least 20-homer potential as he learns to drive the ball more consistently. He recognizes pitches well and manages the strike zone effectively.

Leonard possesses solid arm strength and similar speed that has translated more into defensive versatility than stolen bases at this point. He played primarily at shortstop last season but also had double-digit starts at second base, third base and center field. He needs to cut down on his youthful errors but projects as an average defender at shortstop, potentially plus at second and somewhere in between at third and center.
Jorbit Vivas – Utility Infielder 
Vivas is the classic bat to ball skill hitter.  This year he has more BB (16) than K (13).  For his brief career, he has 134 K (13%) and 101 BB (9.8%) in 1,028 PA.  Jorbit has played primarily 2B (15 games) and 3B (8 games).Although he is struggling thus far in 2022.
Joining Leonard and Vivas on the Loons is yet another utility infielder, Leonel Valera (22). Valera has played three positions:  2B (1 game), 3B (9 games), SS (13 games).  Offensively in 2022, he is in between Leonard and Vivas.
I think a fair question is, does the team really need three utility players all about the same age?
The Loons have a number of pitchers that were drafted in 2021, so their professional careers are just getting started:
Nick Nastrini
They also had three undrafted free agents that have made their way to High A:
Robbie Peto (now on Tulsa – as of May 6.)
This team will be fun to watch once the offense picks up and perhaps get some help from RC.  Their pitching has been stellar.