1/3 of the LAD Top 30 prospects (MLB Pipeline) are assigned to the AA affiliate, Tulsa Drillers.  10 of the 30.  7 position players and 3 pitchers.
#2 – Bobby Miller – RHSP – 23
#3 – Michael Busch – 2B – 24
#4 – Andy Pages – OF – 21
#15 – Clayton Beeter – RHP – 23
#17 – James Outman – OF – 24
#19 – Jacob Amaya – SS – 23
#23 – Michael Grove – RHP – 25
#24 – Kody Hoese – 3B – 24
#27 – Carson Taylor – C – 22
#30 – Justin Yurchak – 1B – 25
Today, the average age for the AA player is about 24 1/2.  That is ROUGHLY the average age, not exact.
By mid-season I do expect a couple of the above to drop from the list.  I will let you make that determination.
The statistics are as of May 1, after last Sunday's games.
First, team stats, in a 10-team league (Texas League).
Offense (2nd least number of ABs in League)
BA – .247 – 6th
OBP – .355 – 4th
SLG – .439 – 4th
OPS – .794 – 4th
Runs – 114 – 7th
HR – 32 – 1st
BB – 107 – 3rd
K – 188 – 6th most
Pitching:
ERA – 4.72 – 4th
WHIP – 1.30 – 1st
BAA – .229 – 3rd
BB – 84 – 8th least
K – 196 – 4th
Position Players:
#3 – Michael Busch – .286/.446/.671/1.117
#4 – Andy Pages – .263/.379/.425/.804
#17 – James Outman – .265/.367/.425/.885
#19 – Jacob Amaya – .305/.431/.729/1.160
#24 – Kody Hoese – .222/.258/.270/.528
#27 – Carson Taylor – .286/.400/.333/.733
#30 – Justin Yurchak – .234/.372/.297/.669
I just wrote a post on Jacob Amaya, so there is no need to delve into him any further:
https://ladodgerchronicles.com/a-case-for-jacob-amaya/
I want to concentrate on one position player and one pitcher for this go-around.  Because this is the affiliate with the most top prospects in the organization, I will highlight each of these at some point in May or early June.
Michael Busch #3 – 2B
Michael Busch is proving that he has the offensive skills to be a ML hitter.  Now will he be adequate at 2B defensively which is where his skill level best suits.  His work ethic is paying off as he is now considered an adequate 2B.  Does he have enough power for a IB or a LF?  He does not have the arm for 3B or RF.  His bat could profile into an All Star 2B.
Busch profiles with a favorable comp to current Dodger, Max Muncy.  Per MLB Pipeline:
His profile is similar to Dodgers All-Star Max Muncy, though Busch is a better pure hitter. He controls the strike zone while waiting for pitches to punish, employing a sweet left-handed swing and good balance at the plate to drive balls from gap to gap. He barrels balls with ease and draws plenty of walks, and his biggest needs are to be more aggressive early in the count when opportunities present themselves and to launch more balls in the air to get the most out of his plus raw power. 

Like Muncy, Busch fits best defensively at first base (his primary position in college at North Carolina) but can get the job done at second base. His stockiness belies his deceptive athleticism, and he has worked hard to improve his quickness and arm strength since turning pro. His speed and arm are still fringy, but he has impressed scouts inside and outside of the organization by his transformation into an adequate defender at second. 
MLB Pipeline ranks Busch as the #4 2B prospect.
Baseball America Scouting Report:
Scouting Report: Busch has some of the best hitting traits in the Dodgers system. He stays balanced in the box, is disciplined with his pitch selection and makes a lot of hard contact with a short, efficient swing. He drives the ball up through the middle of the field and has grown into above-average power with the ability to leave the park from left-center to right-center. Busch handles all types of pitches, but he's too passive at times and falls behind in counts. After Dodgers manager Dave Roberts challenged him to hit .300 during an August phone call, Busch got more aggressive and hit .346 the final month of the season. A first baseman in college, Busch has transitioned to second base and become an adequate defender who makes the routine plays. His range is limited and his below-average arm creates issues turning double plays, but he's playable with shifts. 
FanGraphs Scouting Report:
Busch's swing is simple but still athletic and explosive. His hands work with natural lift, but Busch keeps their path short and on time, and he can move the barrel all over the zone. He can get extended on pitches out away from him and drive them into the opposite field gap, and has the power to do damage that way, and he can move the bat head all over the strike zone. Busch is not a good defensive player. Scouts who have had an extended look at him think he could eventually be passable at second base, but definitely not good, much like Tommy La Stella. Busch played the keystone for an extended stretch on the Cape in 2018 but spent his career at North Carolina playing mostly first base and some corner outfield, and those are the two positions pro scouts think he'll move to if second doesn't work out.

But most importantly, Busch really hits, and is probably an everyday player even if he ends up mostly playing left field. He's a well-rounded offensive player and high-probability big league regular.
My observations of Busch (from MiLB TV) is that he has very quick hands, and can turn on an inside fastball.  He sees the ball well, and seems to hit the ball where it is pitched.  Perhaps a less talented Freddie Freeman with his ability to hit to all fields.  He does not overswing.  I have also noticed that he tends to be too patient; another Max Muncy trait.  Like Muncy he will walk a lot (leads the team in BB) getting his OBP up, but like Muncy he will strike out a lot.
While there were many that were exulting the plaudits of Kody Hoese, I was far more enamored with Busch.  While Hoese had a good 1st professional season, Busch was injured, and the praises engulfed Kody, Busch was an afterthought.  I remember one individual who wrote that Hoese would be the LAD 3B at the 2022 trade deadline, and for sure by the start of 2023.  Such is the analysis of fans who only look at the back of baseball cards to determine the ability of a prospect.  The prospect status of Michael Busch's continues to shine, while the luster has tarnished some for Kody Hoese.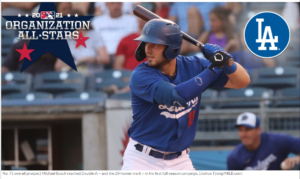 Pitchers:
#2 – Bobby Miller – 11.2 IP, 5.40 ERA, 1.11 WHIP, .239 BAA, 2/15 (BB/K)
#15 – Clayton Beeter – 11.2 IP, 3.86 ERA, 1.03 WHIP, .125 BAA, 7/23 (BB/K)
#23 – Michael Grove – 12.1 IP, 2.92 ERA, 0.89 WHIP, .188 BAA, 2/18 (BB/K)
The BB/K ratios are outstanding, especially for Miller and Grove.
Michael Grove is starting for Tulsa, but is not going more than 3.2 IP.  His pitch counts have been 41, 21, 45, and 57.  It was widely reported that Grove is being converted into a reliever.  By starting, it would appear that he is being groomed for that mid-reliever role.  Maybe an LAD comp could be Mitch White, both second round picks with injuries.  Probably destined more for relief than starting, but at the ML level.
#2 – Bobby Miller RHSP
I have seen Bobby Miller pitch three time; April 12, April 24, and April 30, with mixed results. What I observed (for whatever that is worth) is that the concerns about Bobby's command seem legit. Is he making progress? I have not spoken to the coaches to ascertain that answer. I can tell you that Miller was mixing in more offspeed pitches in his last outing, He has 100+MPH on his fastball, but I did not see much of a vertical rise, or as much as I was expecting.   AA hitters were getting around on it. But he has enough power to overwhelm most AA hitters.
April 12 – 58 pitches, 41 strikes
April 24 – 62 pitches, 39 strikes
April 30 – 72 pitches, 43 strikes
His fastball seems more like Brusdar Graterol's than Walker Buehler's 100+ last year. Fairly flat (again from the game's I saw). Walker's last year got a lot of late rise on his 4-seamer. I know the scouting reports say Bobby has one, but I did not see it much while watching him.  ML hitters can hit 100+ fastballs unless they get movement. From what I have read, that is why there is so much reliever risk to Miller. Can he go through the lineup with that fastball and not have the command with his secondary pitches more than once? In his April 30 game, his changeup was outstanding. His slider showed good late break. This is what the LAD staff are looking for.  More of this.  But in his April 24 game, he was hit pretty hard because he could not get his secondary to bite, and his fastball was flat and hittable. The results – 3.0 IP, 5 runs, 7 hits, 1 HR, 0 walks, 1 K.  Now they want to see consistency.
Per FanGraphs:
The site is reticent to state that Bobby Miller will be a starting pitcher in the longterm. 

"Miller clearly has the stuff and control to pitch in the big leagues, but there is too much reliever risk for him to rank with the arms on this list who have a much better chance to remain starters throughout their development." 

FanGraphs did however complement Miller's "power arsenal", but is concerned about his command of his entire pitch mix year-over-year.
MLB Pipeline does not rank Bobby as a Top Ten RHP prospect.  Pipeline Scouting Report:
Miller can sit at 97-98 mph for innings at a time and reach triple digits with his riding four-seam fastball and he also can mix in a heavy 93-96 mph two-seamer. Both his two-plane slider and fading, sinking changeup operate in the mid-80s and grade as well above-average pitches at their best. Los Angeles had him shelve his spike curveball early last season and he developed better shape and command when he brought back a low-80s bender with a more traditional grip later in the year.  

The Dodgers have helped Miller tone down his delivery and throw more strikes since turning pro. After averaging 3.6 walks per nine innings in three college seasons at Louisville, he cut that rate to 2.1 in his first year in the Minors. Hitters struggle to barrel his quality stuff, he's locating his pitches better than ever and he has a strong 6-foot-5 frame built to handle innings, so he has all of the ingredients to become a frontline starter. 
So why do bloggers want to write about him being a future Ace?  Because he struck out Shohei Ohtani with a 100+MPH fastball?  Bobby Miller will be a fine mid-rotation pitcher for a contender (like LAD).  But he is not going to get the Ace moniker.  Why do so many want to set the expectations up so high, only to be disappointed when a player does not climb to that level?  That is what happened with Gavin Lux, and I fear that is going to happen with Miguel Vargas and Bobby Miller.
FanGraphs gives Miller a 50 grade.  As defined that is a #4 starter with a 1.8 to 2.5 fWAR.  MLB Pipeline grades him as a 55, or slightly above average, or a #3 SP.  Now that seems more realistic than someone claiming him to be an Ace because of a strikeout of Shohei Ohtani.
Because I am more of a fan than a scout or scouting analyst, I see Miller's ceiling as a #2.  All that will be contingent on further development of his secondary pitches, change and slider.  But as I keep reading, the LAD pitching development team is second to none.  So I am optimistic.  His floor?  A very elite high leverage, late inning, lockdown reliever.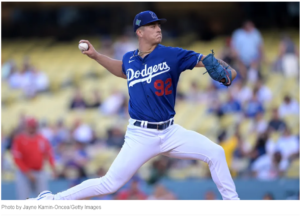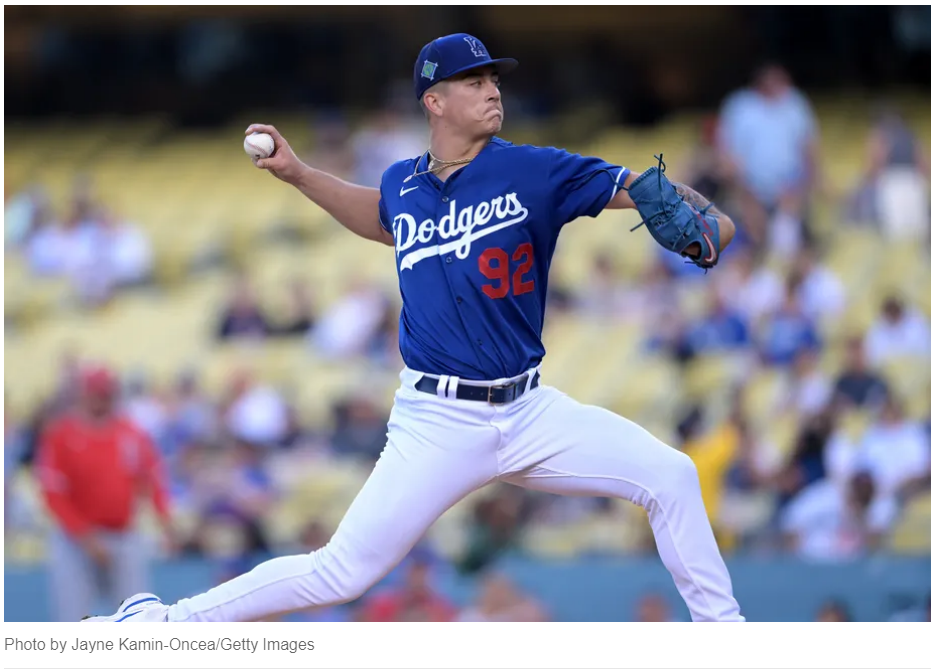 There are multiple players/pitchers at AAA that seem to be blocking the more advanced development of some AA players.  I am hopeful that a number of AA players/pitchers on the Tulsa roster can move 106 miles southwest on I 44 to OKC.  For starters:
Michael Busch
Bobby Miller
Jacob Amaya
James Outman
Clayton Beeter
Michael Grove
Aaron Ochsenbein (26) and Mark Washington (26) have nothing left to prove at AA.  I would like to see them at the AAA level.  They are certainly long shots, but two I am pulling for.
A number of the above are spending their 2nd year in Tulsa.  They are getting to the age that they need to be pushed to learn if they are truly prospects or simply suspects.