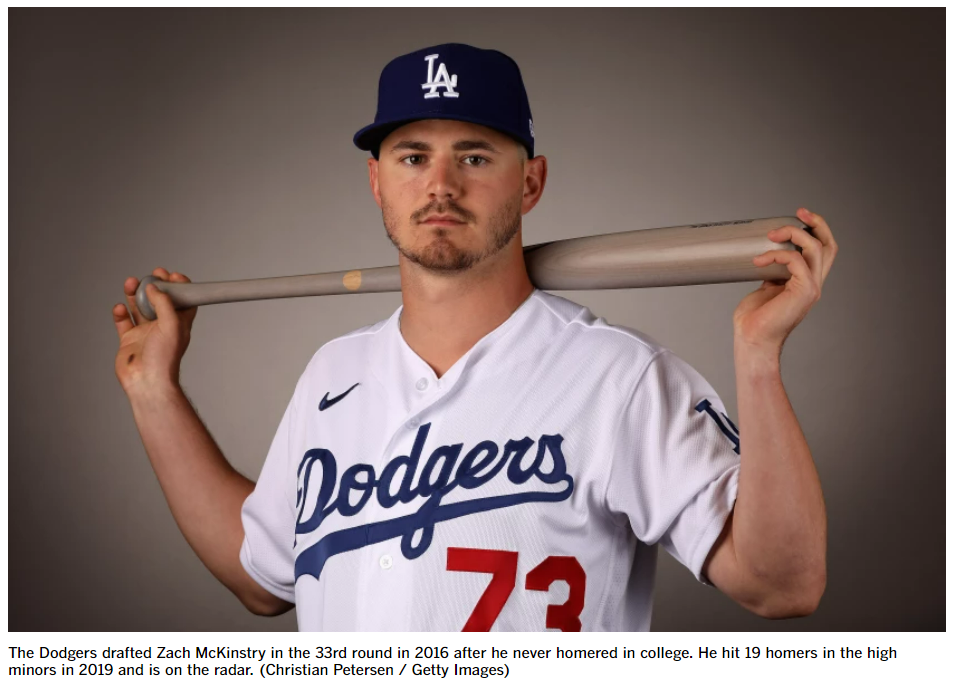 OKC Dodgers 7 vs Round Rock Express (Texas) 13 
On the Mound
Andre Jackson got off to a start in the season and on April 25 was recalled by LAD after three nice starts.  He was optioned on April 30 without appearing in a game.  Since that option, Andre has had two awful starts.  After allowing 4 runs (All earned) in 1.2 IP on May 5, he came back and allowed 6 runs (5 earned) tonight in 2.1 IP.  He surrendered 5 hits and 5 walks to allow for those 6 runs.
The relief help was not much better. Even the usual reliable Justin Hagenman suffered a very poor game.
At the Plate
In the 4th, the Dodgers put together a Kevin Pillar single, an Eddy Alvarez HBP, and a 2 out RBI single by Jason Martin to score the first run.
In the 5th, Drew Avans walked and Zach McKinstry singled. With one out, Jake Lamb singled to score Avans and move McKinstry to 3rd.  ZMac scored on a Kevin Pillar ground out.
In the 6th, the dodgers got as close as they were going to get while scoring 4 runs tightening the score to 10-7.  Jason Martin doubled and Tony Wolters walked.  With 2 outs, McKinstry singled home Martin, and Miguel Vargas slugged a 3-run HR.
Player of the Game
Kevin Pillar and Jason Martin had two hits apiece.  But Zach McKinstry had three hits and two runs, and is now batting .384 for the season is the consensus (okay consensus of 1) Player of the Game.
Zach McKinstry singled in his first at-bat tonight. He is now 8 for his last 16. If you could choose 1 guy in the org. for your kids to emulate, there is none better than this guy. I'm really rootin' for him to get past this AAAA fringy stage of his career. #dodgers pic.twitter.com/qeJOVpvcVp

— Dodgers Daily (@dodger_daily) May 11, 2022
Zach McKinstry is now 11 for his last 20!
When guys go down to AAA they have a couple choices.. 1) pout or…….2) do what Barnes and Lux and now McKinstry have done, and that is, find what makes them great again. Great job Zach! #dodgers @THEREAL_DV @realnedcolletti pic.twitter.com/NqdGSDL6u8

— Dodgers Daily (@dodger_daily) May 11, 2022
Frisco Roughriders (Texas) 6 vs Tulsa Drillers 8 
The Drillers were outhit 10 to 6, but they also got 11 walks that played into the Drillers scoring 8 runs.6 runs.
On the Mound
Jose Martinez started and completed 4.0 IP.  He allowed 3 runs on 3 hits with 1 walk and 6 Ks.  Nick Robertson did not have any better results in his 1.1 IP.  He allowed 1 run on 3 hits and one walk.
Tanner Dodson continues to struggle.  In his 1.1 IP he also surrendered three hits.  But with two walks, he allowed 2 runs.
Mark Washington came in with a runner on 2nd and 2 outs, and the score tightening at 8-6.  He induced a fly ball out to end the 7th. He pitched a scoreless 8th.
Guillermo Zuniga pitched a perfect 9th for the save.
At the Plate
Down 3-0, the Drillers sent 14 batters to the plate in the 5th, and 8 scored.  The first seven batters walked to force in 4 runs.  After a strikeout, Kody Hoese singled and the Drillers went station to station to score another run.  Hunter Feduccia walked for the second time of the inning, scoring run 6.  That was followed by a Jeren Kendall single scoring a 7th run, leaving the bases loaded.  Jacob Amaya hit a sac fly to finish the scoring.
The Drillers had 6 singles each by a different batter.  Jacob Amaya, Michael Busch, Andy Pages, and Hunter Feduccia each had 2 walks.
Player of the Game
Mark Washington continues his outstanding pitching.  He has relieved in 10 games and has been scored on in only one of those games.  He has allowed 2 runs in 17.0 IP.  In his last 6 games, he has allowed one hit in 10.0 IP.  He has been elite this season, and needs to be pushed to AAA.
Mark Washington just hurled another scoreless outing. His fastball, slider, and changeup mix were on point once again, and @mrako_polo hasn't given up a run since April 16. The @LehighBaseball grad has only given up 1 run in his 16 innings this year. #dodgers #markwashington pic.twitter.com/Y5NbmDspQm

— Dodgers Daily (@dodger_daily) May 11, 2022
Great Lakes Loons 4 vs Lake County Captains 1
On the Mound
Nick Nastrini started his 6th game this season.  He pitched 4.0 scoreless innings allowing only a second inning walk.  He has not been scored on in his last 8 innings.  His ERA is down to 2.30.  He had 7 Ks in his 4.0 innings of work.  He threw 56 pitches/35 strikes.  Nick is having a fantastic first full year in MiLB.
Robbie Peto relieved Nastrini and pitched his first 3.2 innings of A+ ball.  He did allow a HR, but that was the only run allowed.
Jose Hernandez finished the final 1.1 innings without a baserunner for his 5th save in 2022.
At the Plate
In the second, singles by Aldrich De Jongh and Kekai Rios put runners on 1st and 3rd.  A wild pitch brought home De Jongh.  And then it was solo HR's by Jonny DeLuca in the 6th (8) and in the 8th (9), and Kekai Rios's 1st in the 9th to seal the win.
Great Lakes now has a 16-12 record and firmly in 2nd place in the Midwest League East Division.  This was their 6th consecutive win and 11 out of 13.
Player of the Game
Nick Nastrini threw a gem, but Jonny DeLuca's 2 HRs, giving him 9 on the season gets the nod.  That ties him with Daytona's (Reds) Alex McGarry for the League lead.
Stockton Ports (A's) vs Rancho Cucamonga Quakes 2
On the Mound
Maddux Bruns started and continued to have a low max pitch count placed on him.  He pitched 2.2 innings allowing 2 hits with 3 walks, 1 HBP, and 5 Ks.  He threw 58 pitches/30 strikes.  Bruns still needs to work on his command.  He has a 1.92 WHIP in 12.0 IP.  He has his strikeout pitch going with 25, but it is the 15 hits and 8 BBs that need work.
Joan Valdez followed Bruns and pitched 1.2 innings.  He surrendered 2 hits and 2 walks and 1 run in the 5th to cut the Quakes lead in half.
Martin Santana, Kelvin Bautista, and Carlos De Los Santos finished the final 4.2 innings in scoreless fashion, with De Los Santos getting his first save.
At the Plate
The Quakes scored 2 runs in the 4th, and that was all they would need.  Austin Gauthier singled and Luis Yanel Diaz walked.  Both moved up on a passed ball and scored on a Marco Hernandez single.
Player of the Game
Marco Hernandez's two RBI single were the first RBIs of the season for Marco, and he is the Player of the Game.
Marco Hernandez hits his first RBI of the season, bringing in two runs.

The Quakes now lead 2-0 pic.twitter.com/F18Ehe09JI

— Rancho Cucamonga Quakes (@RCQuakes) May 10, 2022