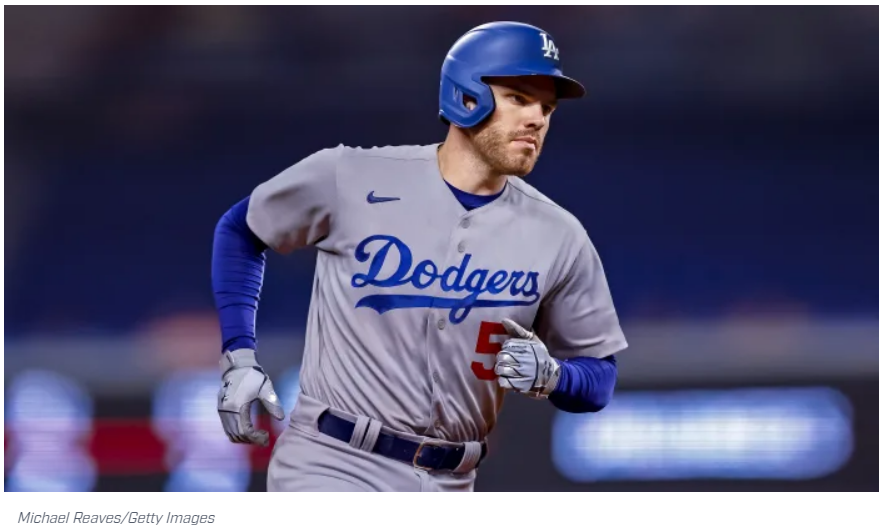 Monday night's games are going to happen.  The Dodgers had the Sunday night game.  Even though it is only a 1.5 hour flight from Chicago to Pittsburgh, they played 3 games in 2 days, with the third being a night game.  They were bound to be somewhat sluggish and lethargic.  The Dodgers usually have problems with LHP and usually have problems with breaking ball pitchers.  So on a night when the face a soft throwing breaking ball LHP that they usually have problems with…José Quintana, this was destined to be a dismal night for the hitters.  Quintana is the perfect antidote to pitch against the Dodgers.
The Dodgers got another solid start out of Julio Urías, even though he did not dominate like his last outing.  He battled all night, but a triple and HR from unexpected batters did him in.  I read a number of complaints that after pitching 6.0 scoreless innings and allowing 4 hits against SFG on May 3, he was pulled after throwing only 65 pitches.  But on Monday after 6.0 innings, allowing 1 run on 10 hits on 79 pitches, Julio was brought back out to start the 7th.  In reality he was brought out to face a 29-year-old just recalled journeyman LH hitting catcher, Michael Pérez, with a career .183 BA.  Phil Bickford was going to come in to face Ke'Bryan Hayes (R), Bryan Reynolds (S), and Michael Chavis (R).  The strategy was sound, but the results were not.  Second guessing is always 20-20.
The starting pitching was again a plus, but the relief pitching, and the offense was not up to par.  The relief pitching is always in an ever changing flux.  When Mitch White and David Price are eligible to return, we will see what the bullpen configuration will be without Blake Treinen and Victor González for most of the year (or possibly all for VGon).  I fully expect to see Caleb Ferguson remain in OKC until he works out the rustiness.  But the offense????
Well what is it?  Were the players overhyped as offensive behemoths?  Is it the baseball?  Is it hitting into bad luck?  Or are we fans just never happy, always looking for problems when they may not exist?  Maybe a little of all.
It is hard not to hype the lineup the Dodgers were expecting to deploy in 2022.  Three former MVPs (Mookie Betts, Freddie Freeman, and Cody Bellinger), although one has been struggling since 2019.  But still…was Mookie going to replicate the 2020 version of Mookie?  Was his hip fully healed?  Was Freddie going to be comfortable in his new surroundings, or would he try too hard to impress?  Yes, they are superstars, but they are also human beings looking for answers in a game where simple centimeters can change a .300 hitter into a .200 hitter.
Belli is just an enigma.  There are games where he looks like he is going to break out, like Sunday's 3 hit game, where he had 2 singles up the middle, and stayed within himself for the third.  And then there are the 4 strikeout games like Monday.  I am not convinced that Belli is anything more than a .220-.240 hitter with some HR power.
While Freddie seems to be as advertised.  His HR power may be down, but his doubles have increased.  He still has a .918 OPS and a .403 OBP.  Even though his HRs are down, his increase in doubles is keeping his SLG right about at his career level.
Mookie is starting to give notice that he is just about ready to break out in MVP fashion.  Since he was last beneath the Mendoza line on April 25, Mookie has batted .341/.375/.569/.949.  His .293 BABIP during that time is more resembling his 2020 season.  His BABIP before April 25 was .237.  If Mookie's last 12 games are any indication, we are going to be able to see a renaissance of the 2020 Mookie Betts.
Then there is the former batting champ, Trea Turner.  Joe Davis continues to comment that what seems to be missing from TT's game is the power numbers.  While that is true, he is striking out more this year than in the past.  In 2022, Trea is striking out 20.9% compared to 14.6% for all of last year.  It is still way too early to draw any conclusions.  Trea Turner is way too talented of a hitter to stay down.
IMHO, Justin Turner seems to be fighting a losing battle against Father Time.  I acknowledge that JT's power numbers are usually down in April/May, and pick up once the weather starts to warm.  But the hits and doubles have always been there.  I am not ready to sign off on JT's career until we see what he can do beginning in June, traditionally his best month.
Max Muncy is more of a concern in my mind.  His numbers have never been this far south except for 2020 when he never did break out.  He too is generally a slow starter, but never this slow.  All four of his metric slash lines are well below his career numbers.  Even when his SLG is down, his OBP has been supportive.  This year not so much.  Just like JT, with the team winning, it is way too early to make any decisions until we see what he can do for the months he usually heats up (May and June).  My biggest concern is that if he does not come around for May and June, what can we expect in July, August, and September, when he traditionally cools.  Especially in August and September with a below .800 OPS.
Will Smith is not a concern.  Just like the team, his power numbers are down.  His OBP is just about at the career level, thus with his SLG down, his OPS is going to be down.  Smith is also a summer hitter with June, July, and August OPS numbers north of .900; exceptional for a catcher.
Gavin Lux is starting over again this year.  He is far more relaxed and confident both at the plate and in the field.  I think his OPS would be north of .800 if the balls were the same as last year.  Lux has had a rash of warning track power flyouts, but he is not letting that hurt his development.  Just like with the others, when the weather warms, I think Gavin's SLG will increase to supplement his .358 OBP.  But Gavin is learning that he is not a power hitter, and will continue to rely on plate discipline and his speed to keep his OBP up.
Chris Taylor has always been a strikeout machine.  He swings hard and through a lot of pitches.  That is his offensive game.  He is struggling more right now than he has in a long time at the plate.  We will see how his knee fares over the next few days.
Over-hyped?  I don't think so.  Starting slowly?  That seems more accurate.  Many of the hitters are slow starters to begin with, and with the shortened ST it probably is going to show more in 2022.
The baseball has certainly cut into the perceived power of the Dodgers.  The Dodgers are a flyball team with the emphasis now clearly on launch angle with the hitting coaches.  The Dodgers currently rank #14 in HRs.  They have not been this low since before 2018.  2018 (2nd), 2019 (4th), 2020 (1st), 2021 (4th).  My goodness, Austin Barnes is tied with Freddie Freeman and Max Muncy for third in HRs for LAD with 3, with more than 75 less PA.  Mookie with 5 and Belli with are the only LAD hitters with more.  Yes, the balls have cut way back on the HR mark, but that is true throughout MLB.  I am projecting HRs will pick up for the Dodgers once the weather starts to warm up.
But while the HRs are down, the wins are not.  They are still at a .704 winning percentage (2nd best in ML to NYY) that translates into a 114-win season.  They have far and away the largest run differential of any team in MLB.  The Dodgers already have a +70, while the next closest team (NYY) has 49.  That is a 43% increase over NYY's.
I cannot say that with only a couple of exceptions, that the Dodgers are striking out more this year.  But those that are striking out in more frequency are doing so by quite a significant margin.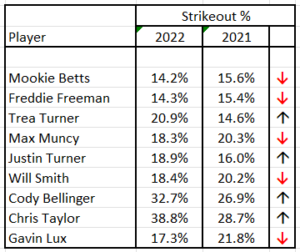 No, I think it is more that we Dodger fans are spoiled.  We cannot accept defeat at anytime without blaming the manager or a specific player.  Sometimes it just happens.  After seeing what José Quintana did, I do expect other teams to follow the lead.  The Dodgers will face a couple of LHP in Philadelphia with offspeed qualities in Cristopher Sánchez and Ranger Suárez.  Hopefully they will have learned something with their experience with Quintana.
What is scary for LAD opponents will be what happens when the two Turners, Max, Smith, and Mookie really start to hit.