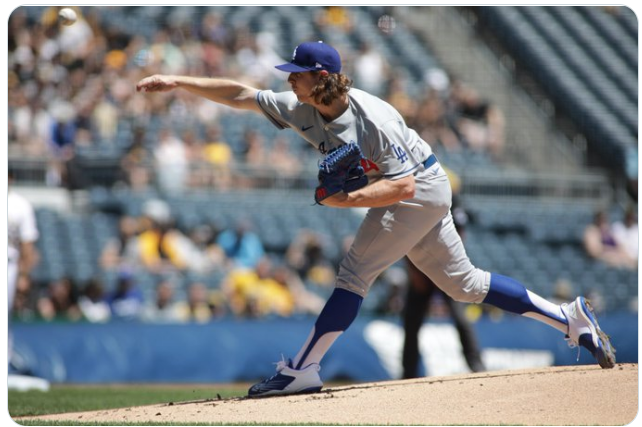 Some scouts put 80 grades on Pepiot's changeup, and his fastball & slider aren't fun to hit either. https://t.co/3xOsHALpBo https://t.co/kDGx3J9XKC

— Jim Callis (@jimcallisMLB) May 11, 2022
Anyone who has followed me at all knows that Ryan Pepiot has been my favorite pitcher prospect since he was drafted in 2019.  It was almost 4 years to the day that my previous favorite pitcher prospect made his MLB debut also in Pittsburgh; Caleb Ferguson (June 6, 2018).
Caleb Ferguson is from West Jefferson, Ohio which is 200 miles from Pittsburgh, and he grew up a Pirates fan.  Ryan Pepiot was born and raised in Indianapolis, which is 360 miles from Pittsburgh, but there are 2 MLB cities between Indiana and Pennsylvania; Cincinnati and Cleveland.  So I doubt that he grew up a Pirates fan, so that is where the similarities end.
In June 2018, Caleb went 1.2 IP and with his adrenaline skyrocketing, his command deserted him.  He hit the first batter he faced, Josh Harrison, on an 0-2 pitch.  An Austin Meadows infield single and Harrison was out trying to from 1st to 3rd.  He got the next two batters, and his first MLB IP was in the books.
But the second inning was a different story.  He hit the leadoff hitter for the second HBP.  After a David Freese swinging strikeout, he walked the bases full.  He got the pitcher looking for strike three, and he had a chance to get out of the inning without a run.  But Josh Harrison doubled home three, and after he walked Austin Meadows, Caleb's day was through.  Caleb threw 18 pitches in the first inning and 37 pitches in the second.
Daniel Hudson replaced Ferguson, gave up a run scoring single, and Caleb's first MLB pitching line was in the books.  1.2 IP, 2 hits, 4 runs (all earned), 3 BB, 2 HBP, and 3 K.  57 pitches/32 strikes.
Just about 4 years later in Pittsburgh, in Pepiot's first inning, he struck out his first batter, Ben Gamel, on one of his patented changeups.  A walk and a single later he gets out of the jamb.
It didn't take long for Ryan Pepiot's first career strikeout pic.twitter.com/ycIkyFwXBK

— Blake Harris (@BlakeHHarris) May 11, 2022
Like Ferguson, Pepiot loaded the bases on 2 walks and a HBP with 2 outs in his second inning.  But unlike Caleb surrendering a bases clearing double, Ryan got Bryan Reynolds to strikeout swinging, leaving the bases full.  Two more walks in the third, but just like the first two innings, the Bucs could not score, and Pepiot's day was done.
Here is a look at the Pitch Mix that #ryanpepiot has working today.
Get me over FB 95
Tailing FB 88
Glove side FB 95
Low Middle FB 95
Riding 4 seam 95
Change up with tumble and fade
Slider
He uses every shape, changes speeds, and uses all parts of the plate #dodgers pic.twitter.com/yeX9UGGCQy

— Dodgers Daily (@dodger_daily) May 11, 2022
Pepiot's MLB debut pitching line – 3.0 IP, 1 hit, 0 runs, 5 walks, 1 HBP, 3 strikeouts.  Ryan threw 21 pitches in the first, 27 in the second, and 29 in the third.  That is 77 pitches/41 strikes.
Ryan Pepiot shuts the Pirates down over three innings of work in his MLB debut. #AlwaysLA pic.twitter.com/wbWHLBWSLu

— Dodger Yard (@DodgerYard) May 11, 2022
When my wife came in to check on how Pepiot was doing, she looked at me and laughed remembering what I was like when I was listening or watching Andy play.  I admit there are those MiLB players that I get waaaaaayyyy tooooooo emotionally invested in.  My keyboard was getting a pounding as I was typing during the game.
I liked the point Dontrelle made about Ryan's changeup being too nasty that MLB batters will not chase.  Ryan gets MiLB batters to chase that pitch while MLB hitters recognize where the ball starts out low or outside and will not chase.  Big difference between MiLB hitters and MLB hitters with pitch recognition.  As Dontrelle said, Ryan has to start that pitch about thigh to knee high to MLB hitters to let it break out of the zone, not start out of the zone.  His change has MLB movement, but it needs better command.  Ryan will undoubtedly get the start in one of the doubleheader games against Arizona next Tuesday.  Maybe with a weekend with Mark Prior, Pepiot can fine tune his command.
I still believe that Pepiot has huge reliever risk (also like Caleb), until he can command and throw the slider enough to make it a reliable third pitch.  He has the ability.  He just needs to have the confidence to throw it to MLB hitters.  It does not have to be for strikes (although it helps).   Just a different look.
While Ryan's debut was a success.  The Dodger hitters floundered for the second time in three games.  Again with the exception of Edwin Rios.  If it were not for Rios, the Dodgers could very well have been shutout twice to Pittsburgh.  That is inexcusable.
Will Smith and Max Muncy both left 4 runners on base, but there is a huge difference.  In the 7th with the bases loaded, Smith went up looking to drive in runners.  He hit a rocket that SS David Castillo made a good play on.  Next batter was Max Muncy who is looking for walks.  He was looking for a walk with the bases full and watched an 86.6 MPH change go right down the middle for strike 3.  See the location for pitch 7 in the picture below.  It could not be more perfect.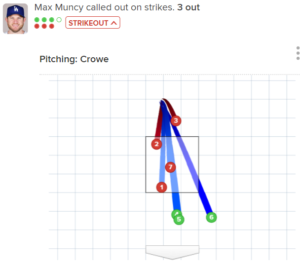 Now see where an 86.2 MPH change was located on Rios' bases clearing double.  See pitch 2 below.  Rios was hunting while Muncy was looking to walk.
And the result:
It is time for Edwin Rios to take Muncy's spot in the lineup.  In the Pittsburgh series, Muncy was 1-7 with 3 walks and 3 Ks.  He had 0 RBIs. On the other hand, Rios went 5-10 with no walks and 3 Ks.  He had 7 RBIs.  In 74 less PA, Rios has the same number of HRs and only 2 less RBIs.
Muncy – 113 PA, 3 HRs, 11 RBIs, 25 BB, 22 K, .138/.336/.299/.635
Rios – 34 PA, 3 HRs, 9 RBIs, 1 BB, 13 K, .303/.324/.606/.930
I acknowledge that Rios strikes out way too much, but he is looking to attack.  I would rather have my clean up hitter lead the league in RBIs than walks.
The Dodgers bullpen imploded again.  For the series, relievers pitched:
12 IP, 14 H, 9 runs, 4 HRs, 3 BB, 1 HBP, 7K.  That is against a Pirate offense that is hitting .238/.307/.371/.678.  That is not championship relief work.
And still another similarity to the Caleb Ferguson debut; Daniel Hudson was the losing pitcher in both games, with his record falling to 1-2 in both years.
But this was Ryan Pepiot's day.  He got the word Monday AM that he could be pitching on Wednesday.  Here was his interview with David Vassegh.
The debut of @ryanpepiot2 😤@THEREAL_DV catches up with #RyanPepiot just ahead of his debut. Listen in to our pre-game coverage starting at 8:30 AM here on @AM570LASports!

Listen: https://t.co/psbw6Y3ECn pic.twitter.com/b6ZpB4iuDm

— AM 570 LA Sports (@AM570LASports) May 11, 2022
Here is Pepiot at the airport with his wife and then the final drive into Pittsburgh.
What a moment for Ryan Pepiot. #ITFDBpic.twitter.com/dAYUYg6oPe

— Dodger Blue (@DodgerBlue1958) May 11, 2022
After the game, Doc had this to say:
"I thought he competed…he handled himself really well." Dave Roberts reflects on Ryan Pepiot's MLB debut against the Pirates. @kirsten_watson pic.twitter.com/C9RFKmj6XQ

— SportsNet LA (@SportsNetLA) May 11, 2022
He should get another start, and I hope that he will bring home a win in his Dodger Stadium debut against the Snakes.  To do that, he needs to have better command.  Not get over amped and over throw.  No offense to Dave Borkowski (OKC Pitching Coach), but he is going to get a weekend with Mark Prior and spend time watching and learning from Clayton Kershaw, Walker Buehler, and Julio Urias.  What an education to soak in.
It's Time! Ryan Pepiot is in Pittsburgh making his MLB debut for the #Dodgers. #ButlerWay pic.twitter.com/mfAS1XG4uh

— Butler Baseball (@ButlerUBaseball) May 11, 2022
Proud moment for a WHS Rocks Alum and his family. Ryan Pepiot making his MLB debut as the starting pitcher for the Dodgers vs Pittsburgh. ☘️💪 pic.twitter.com/dLZXHqDPzy

— Westfield Rocks Athletics (@rocksathletics) May 11, 2022
Congratulations Ryan, you got the first one out of the way.  Let's keep it going.