OKC Dodgers 13 vs Round Rock Express (Texas) 4 
On the Mound
Journeyman AAAA RHP Michael Wright Jr. started and pitched 4.0 innings.  He allowed 3 runs on 4 hits and 5 walks.  In the second he allowed a walk, double and two run scoring singles., cutting the lead to 3-2.  In the 3rd he gave up a Steele Walker HR (3).
Caleb Ferguson finally had a decent outing.  He pitched the 5th inning and allowed only a single before retiring the side.  Daniel Zamora threw 2.0 scoreless innings allowing one hit and 2 walks to go with 4 Ks.
Yadier Alvarez is still working his way back, but he is trying to grind thru.  He pitched the 8th allowing a run on 2 walks and a single.  I am still hopeful.
Carson Fulmer back with OKC pitched a scoreless 9th allowing a BB to go with one K.
At the Plate
OKC scored 13 runs on 13 hits.  They scored in the first three innings and two others.  4 of the 4 innings, multiple runs were scored.
Miguel Vargas opened the scoring by walking in the first.  Vargas stole 2nd and went to 3rd on a throwing error, and scores on a
Andy Burns just hit a ball very, very far.

Dodgers now lead, 3-0! pic.twitter.com/XVhstqhW6j

— Oklahoma City Dodgers (@okc_dodgers) May 12, 2022
OKC scored in their third consecutive innings when Vargas walks, and Jake Lamb hit a 2-run HR (7).  Later in the inning, Stefen Romero singled, moved to 3rd on a McKinstry double, and scored on an Andy Burns sac fly.
Lamb BAM!

Jake Lamb sends a two-run shot into the RR bullpen for his 7th homer of the season!

Andy Burns adds a sac fly, pushing the lead to 6-2 in the 3rd inning. pic.twitter.com/DOX1nTNGdd

— Oklahoma City Dodgers (@okc_dodgers) May 12, 2022
In the 6th, Andy Burns walked, and Tomás Telis singled.  Both runners scored on an Omar Estevez double.  Kevin Pillar followed with another 2-run HR (8).
Kevin Pillar went top shelf to get his team-leading 8th homer of the season!

It's the team's third two-run homer of the game, and the Dodgers lead, 10-3! pic.twitter.com/rBJ3slTAYc

— Oklahoma City Dodgers (@okc_dodgers) May 12, 2022
Finally in the 8th, Andy Burns was instrumental again as he singled, and scored on Jason Martin's triple.  Tomás Telis plated Martin on a sac fly.  The final run was scored after Omar Estevez's 2nd double of the game, and scoring on a Miguel Vargas single. 
Miguel Vargas, Andy Burns, Jason Martin, and Omar Estevez each had two hits.  Burns and Jake Lamb had 3 RBIs, while Burns also scored 3 runs.
Player of the Game
My heart tells me to give the Player of the Game to Caleb Ferguson, but Andy Burns is more deserving.
Frisco Roughriders (Texas) 2 vs. Tulsa Drillers 7 
On the Mound
What a difference a day makes.  Facing his brother last week, Gus Varland had a rough go.  Today, Gus Varland had a better outing but was still too wild. In the third, with the Drillers up 1-0, Varland surrendered a game tying HR.  With a single, 2 walks, and a WP, the go ahead run was scored.
Austin Drury (2.0 IP), Jose Adames (1.1 IP), and Jordan Leasure (2.0 IP) pitched a combined 5.1 scoreless and hitless innings.  Austin Drury issued a walk, with his 2 Ks, for the only baserunner in the final 5.1 innings.  Adames and Leasure both had 3 Ks.
At the Plate
In the first, the Drillers take the lead after a Michael Busch double and a James Outman single.  Down 2-1, with two outs in the 5th, Chris Betts (another catcher) and Jacob Amaya hit back-to-back doubles with Betts scoring the tying run.  Amaya scored the go-ahead run on an RBI single.
In the 6th, James Outman muscles out his 7th HR.
.@james_outman sends it flying for his seventh HR of the season!☄️ pic.twitter.com/rHjygUUoKK

— Tulsa Drillers (@TulsaDrillers) May 11, 2022
In the 7th, Chris Betts hit his 1st HR and Michael Busch powers out his 10th.
Keep 'em comin'- Michael Busch for 🔟! pic.twitter.com/XVMdY6dSQS

— Tulsa Drillers (@TulsaDrillers) May 11, 2022
In the 8th, the Drillers scored their final run on a Devin Mann BB, Kody Hoese single, and a Brandon Lewis RBI single.
Player of the Game
Michael Busch and James Outman each had 3 hits and 2 RBIs and are certainly worthy of the award.  However, I am going with recently activated (May 3) catcher Chris Betts and his 2 hits and 1st HR gets my vote.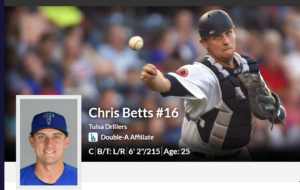 Great Lakes Loons 5 vs Lake County Captains (Cleveland) 2
On the Mound
Lael Lockhart started for the Loons, and pitched five respectable innings.  His only misfire was a 2 run HR to Jhonkensy Noel (7).  Only the HR was earned as the runner on base was safe on a fielding error.  Otherwise, Lockhart pitching line was 5.0 IP, 4 hits, 2 runs/1 earned, 1 BB, and 6k. He exited in a 2-2 tie.
Antonio Knowles, recently re-assigned Andrew Shaps, Ryan Sublette, and Michael Hobbs combined to pitch 4 scoreless innings to close out the win.  Although, each of the pitchers ran into traffic and pitched with stress each inning.  Michael Hobbs finished the 9th to earn his first save.
At the Plate
Edwin Mateo led off the third with his first HR of 2022.  This was the first score of the game.  In the fifth, Imanol Vargas tripled and scored on a Jonny DeLuca sac fly to tie the score.
The Loons broke it open in the 8th.  Leonel Valera reached on an error and moved to 2nd on an Edwin Mateo single.  Joe Vranesh singled to score Valera but was out trying to move to 2nd on the throw.  Vargas singled and Mateo scored.  Jonny DeLuca reached on an error with Vargas moving to 2nd.  Eddys Leonard doubled to score Vargas to conclude the scoring.
Player of the Game
I could have selected Lael Lockhart and not had any concern.  However, Edwin Mateo's three hits, including his first HR, and 2 runs scored gets nod.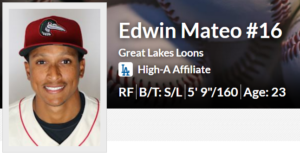 Stockton Ports (A's) 7 vs Rancho Cucamonga Quakes 6
The Quakes come back attempt falls a run short.
On the Mound
Edgardo Henriquez started and continued with his hot and cold performances.  He completed 2.2 IP giving up 4 runs (2 earned) on 6 hits and 1 walk.  He had 4 Ks.  Stockton broke out with 3 in the 1st on a double and moved to 3rd on a line drive out.  The first run scored on a wild pitch.  The inning continued with a single, stolen base, walk, 2 fielding errors and a passed ball.
Three singles scored the 4th run in the 3rd.  With 2 runners on and 2 outs, Jhan Zambrano entered the 3rd to relieve Henriquez.  Zambrano got the final out without any further runs being scored.
After the Quakes took the lead, in the 4th, Junior Perez hit a game tying HR in the 5th off of Zambrano.
Roque Gutierrez entered into the game with 2 outs in the 5th to get the final out.  He pitched a scoreless 6th, with no baserunners, and 1 K.
Ronan Kopp relieved Gutierrez in the 7th, striking out the side, while allowing a single.  However in the 8th, Kopp ran into trouble.  With two outs, Kopp gave up a single and a 2-run HR for the Ports final two runs.  After he allowed a triple, Ben Harris relieved Kopp to shut down any further damage.  Harris completed a scoreless 9th.
At the Plate
With one out, José Ramos singled and came home on Diego Cartaya's 7th HR.  In the third, the Quakes came within a run-on Damon Keith's 4th HR, a solo shot.
In the 4th, Yunior Garcia led off with a single and moved to 3rd on a Luis Yanel Diaz double.  Yeiner Fernandez singled to score Garcia with the tying run, and Diaz moving to 3rd.  Diaz scored the go-ahead run on a sac fly from Ramos.
In the home half of the 9th, Luis Rodriguez singled and moved to 2nd on a ground out.  With 2 outs, Rodriguez scored on an Austin Gauthier single, and he was stranded on 1st when the game ended.
Player of the Game
There really was no stand out performance, but I am naming 2B Yeiner Fernandez with 2 hits and one RBI as the Player of the Game.  Since Yeiner hit bottom on April 27 batting a middling .155, Fernandez has gone 12-31 since that date to raise his average to .236.