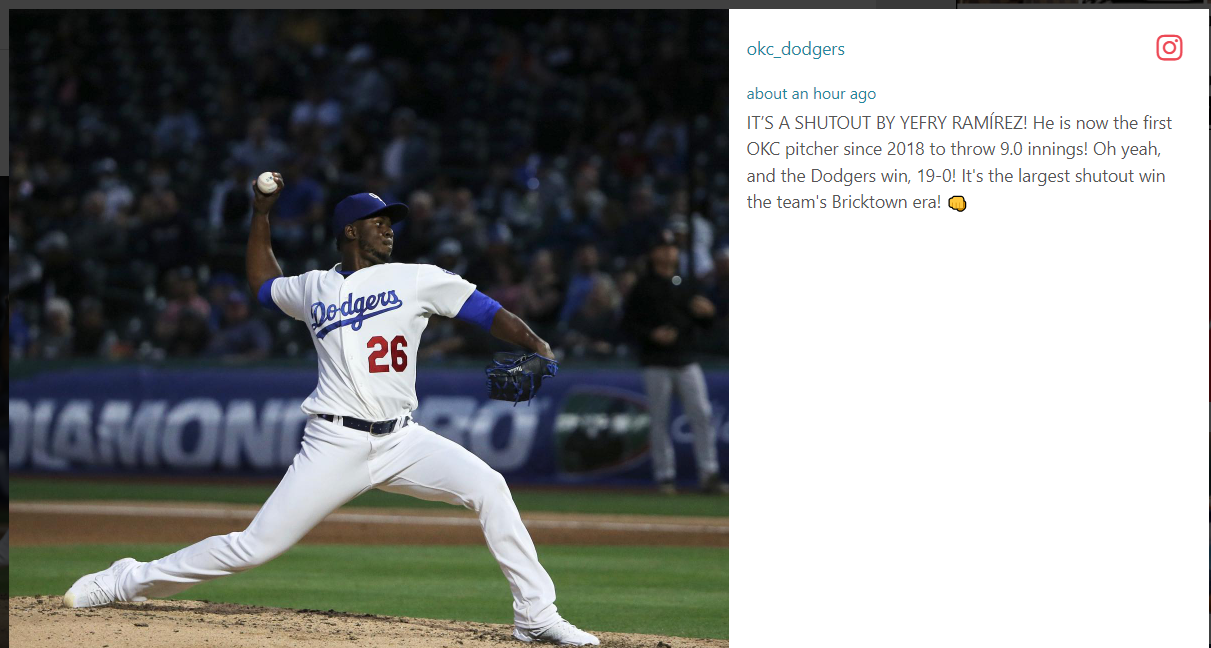 OKC Dodgers 19 vs Round Rock Express (Texas) 0 
ON THE MOUND
Well okay then.  6' 2", Santo Domingo, DR, RHSP Yefry Ramirez pitched a complete game 3-hit shutout.  It is the first OKC Dodger 9 inning complete game since 2018.  Yefry allowed a total of 4 baserunners, and three were eliminated by GIDP.  He never had a runner make 2B.  That was about as dominant of a pitching performance as I can remember.
It's only appropriate he took the final out for himself.

Congrats to Yefry Ramírez, who is the first OKC pitcher since 2018 to throw a nine-inning shutout! pic.twitter.com/YWIhUZf6BJ

— Oklahoma City Dodgers (@okc_dodgers) May 13, 2022
Congratulations to Yefry Ramirez, he tossed the first 9 inning complete game shutout anywhere in the minor leagues this season for the OKC Dodgers, and it's the first time he has done it in his career!

The line:

9.0 IP
3 hits
0 runs
1 BB
8 Ks + the final out⬇️ pic.twitter.com/Q5Xlryj2gA

— Josh Thomas (@jokeylocomotive) May 13, 2022
At the Plate
Perhaps the Dodgers 19 run, 19 hit attack might have taken the fight out of the Express.  It was 10-0 after 3, and 16-0 after 5.  The Dodgers jumped all over former LAD pitching prospect AJ Alexy.  8 runs on 9 hits and 3 walks in 2.2 IP.
The Dodgers had eight HRs:
Jake Lamb (8) – solo
Jason Martin (4) – 2-run
Kevin Pillar (9) – 3-run
Ryan Noda (6) – 2-run
Andy Burns (6) – solo
Eddy Alvarez (4) – 3-run
The Dodgers had five doubles:
Kevin Pillar (5)
Tony Wolters (3)
Ryan Noda (5)
Eddy Alvarez (2)
Jason Martin (8) 
Ryan Noda, Jason Martin, and Tony Wolters had 3 hits.  Eddy Alvarez had 4 RBIs, Miguel Vargas, Kevin Pillar, and Ryan Noda had 3 RBIs.
Player of the Game
Let me think about this one for a minute…Okay. By the narrowest of margins, the honor goes to Yefry Ramirez.
Frisco RoughRiders (Texas) 7 vs. Tulsa Drillers 9 
On the Mound 
Clayton Beeter started his 6th game for the Drillers, but this was not one of his better efforts.  In the 2nd inning, after a leadoff double, Beeter would walk three batters to score a run.  In the 3rd, another walk and single put runners on 1st and 2nd.  Trey Hair doubled home both runs.  3.0 IP, with 4 hits, 3 runs (all earned), 5 BB, and 4K.
Alec Gamboa followed Beeter in th4e 4th.  Gamboa set Frisco down in order in the 4th, and 5th, but the next two innings he pitched he had trouble.  In the 6th, 2 walks, 2 singles, and a sac fly produced two runs.  In the 7th, a Blaine Crim HR (6), bringing the score to 9-6.
The usually reliable Mark Washington came in to close it out.  He offered up a walk and run scoring double in the 8th, before retiring Frisco in order in the 9th for his 2nd save.
At the Plate
After the leadoff out in the first, the next 7 batters reached base and 5 scored.  Michael Busch hit a one out double, and James Outman followed with a BB.  Ryan Ward slugged a 2-run double.  Justin Yurchak walked and Hunter Feduccia powered up a 3-run HR to give the Drillers a 5-0 lead.  Brandon Lewis and Kody Hoese both singled, but were left on base.
A 3 run homer for @hunter_feduccia, his 4th HR of the season! pic.twitter.com/0TUgU9y4hz

— Tulsa Drillers (@TulsaDrillers) May 13, 2022
In the 4th, Tulsa got offensive again.  Michael Busch led off and was HBP.  James Outman then hit a 2-run HR (8).  Aft4er two outs, Hunter Feduccia, Brandon Lewis, and Kody Hoese hit back-to-back-to back singles to score one.  A wild pitch scored the 4th run of the inning and 9th and final run of the game for Tulsa.
An absolute comet of a 2 run homer sent out by @james_outman ☄️

Drillers lead 7-3 ⬇️ 4 pic.twitter.com/bAqN7OYfou

— Tulsa Drillers (@TulsaDrillers) May 13, 2022
Brandon Lewis and Kody Hoese each had 3 singles.
Player of the Game
It has not been a good season thus far for the two Tulsa 3B/DH players, so after both get three hits, I have to give it to both Brandon Lewis and Kody Hoese.
Great Lakes Loons 1 vs Lake County Captains (Cleveland) 2
On the Mound
Gavin Stone started and completed 5.0 efficient innings, throwing 61 pitches/46 strikes.  Unfortunately he allowed a walk and run scoring double in the 2nd to stake the Captains to a 1-0 lead. That was the only run he would allow with 3 hits, 1 BB, and 6 K.  Gavin Stone now has an ERA 1.44, and Braydon Fisher has an ERA of 0.93.
Braydon Fisher kept the Captains off the bases with 2 perfect innings and 4 Ks.  After the Loons tied it in the top of the 8th, Jacob Cantleberry came into relief in the bottom of the 8th.  Cantleberry allowed a walk and a two out double to give the Captains the 2-1 lead, and the eventual win.
Gavin Stone now has an ERA 1.44, and Braydon Fisher has an ERA of 0.93.
At the Plate
The Loons were kept off the board until the 8th when Eddys Leonard hit his 3rd HR of the season.  Leonard and Leonel Valera each had 2 hits, with Leonard hitting a double in addition to his HR.
Player of the Game
While Gavin Stone would be an admirable Player of the Game, I am going to name Eddys Leonard with that honor.  On April 26, Leonard was batting .176.  In the 14 games since that date, Leonard has gone 18-54 with 1 walk and 10 K, to raise his BA to .257 and his OPS to .790  His batting line over that period is .333/.345/.611/.956.
Eddys Leonard liftoff. Clears the bleachers in LF and it's tied 1-1 pic.twitter.com/AIbBhy58fZ

— Justin L. (BlueSky – jlbaseball.bsky.social) (@JL_Baseball) May 13, 2022
Stockton Ports (A's) 7 vs Rancho Cucamonga Quakes 16
On the Mound
Jerming Rosario started and pitched 2.1 innings.  He allowed 3 runs on 2 hits and 3 BB, 1 HBP, and 5K.  Yamil Castillo followed Rosario, inheriting 2 runners.  Both runners scored on a 3 run HR given up by Castillo.  That temporarily tied the game at 4-4.
Christian Suarez, Axel Acevedo, and Madison Jeffrey followed.  Combined they threw 4.0 innings, 2 hits, 3 runs, 4 walks, and 7 Ks.  None of the three were particularly effective.
At the Plate
The Quakes scored crooked numbers in 6 of the 8 innings.  The Quakes had 17 hits including 2 HRs from Jose Ramos (6) and Kenneth Betancourt (2), both 2-run HRs.  They also had 4 doubles from Austin Gauthier, Luis Yanel Diaz, Diego Cartaya, and Julio Carrion.
Jose Ramos had 4 hits and 1BB, 4 RBIs, and 2 runs scored.  Yeiner Fernandez had 3 singles and scored 3 runs.  Diego Cartaya, Austin Gauthier, Julio Carrion, and Kenneth Betancourt each had a pair of hits.
Player of the Game
Jose Ramos reached base 5 times with 4 hits and a walk.
Jose Ramos slams a two-run home run to right field.

Quakes lead 2-0
Top of 2nd next pic.twitter.com/ViCXnB43Kq

— Rancho Cucamonga Quakes (@RCQuakes) May 13, 2022
Jose Ramos over the head catch compared side by side to the over the shoulder catch of Willie Mays.#dodgers #joseramos #dodgerspropects #mlb #baseball #williemays pic.twitter.com/CycT1rLZ1T

— Dodgers Daily (@dodger_daily) May 10, 2022