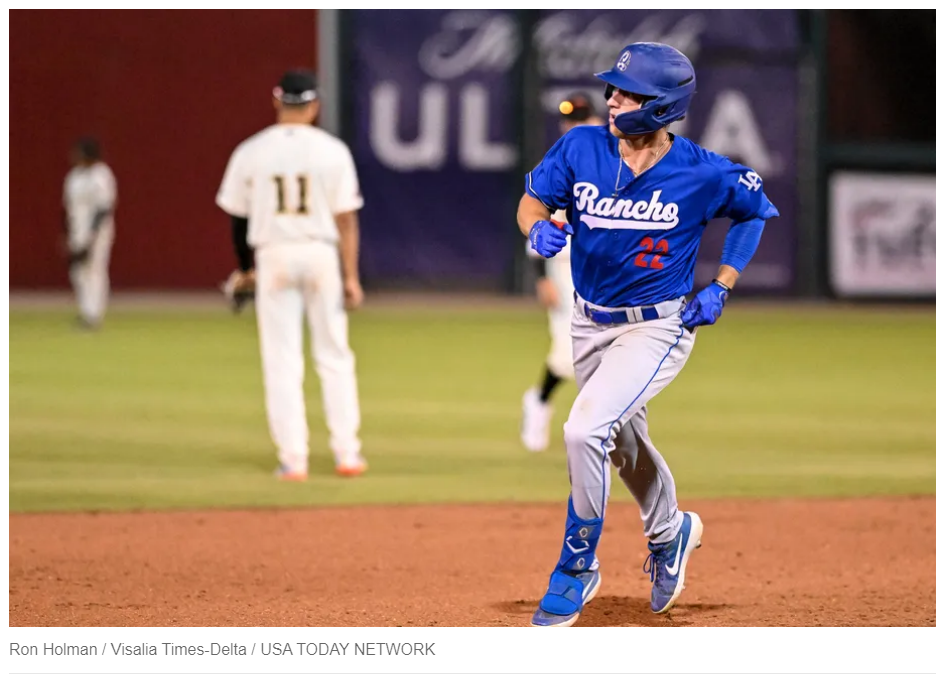 Damon Keith who has been selected as the MiLB Player of the Month for April has perhaps been the Dodgers hottest minor league hitter during the current season. That might come as a bit of a surprise as he was selected in the eighteenth round – 552nd overall – of the 2021 First-Year Player Draft by the Dodgers. He was the only position player signed by the Dodgers selected in that draft and one of only two actually drafted. Shortstop Michael Sirota was the other, but he chose not to sign.
🏆🏆🏆

Congratulations to Lancer alum Damon Keith on being named the California League Player of the Month in April with the @RCQuakes.

He led the league in OBP (.519), slugging (.672) and OPS (1.191) and was second in average (.391), hits (25) and runs (19). #LanceUp⚔️ pic.twitter.com/MIwbsreUCA

— California Baptist Baseball (@CBUbaseball) May 5, 2022
Keith was born in Oceanside, California and attended East Valley High School in Redlands which is about an hour drive east from Los Angeles. At East Valley he made his mark back is the spring of 2015 when he came within one strike of pitching a no-hitter. On an 0-2 pitch he gave up a single to lose his no-hit bid.
"It happens," Keith said. "Later on in the game like that, there's been a couple of times I've been there. It's just another hit. You gotta let it go and get the next guy."
East Valley High School has a bit of a reputation for producing MLB pitchers having turned out Tommy Hanson, Tyler Chatwood and Matt Andriese.
At the USA Baseball 17U Championships Keith was still a two-way player drawing strong reviews with this official scouting report
"Damon is a coachable player who worked hard on his skills during his time at the USA Baseball 17U Championships. At SS, Damon shows fluid footwork and is very agile moving to the ball. He gets into a low, athletic position and fields the ball with soft hands in front of his body. He shows a quick, clean exchange and gains momentum well on his throws which allows them to remain accurate and on-line to his target. At the plate, this RHH sets up in an open stance and takes a square stride to the ball. He is smooth getting into his load and finishes with a firm front side in his lower half. He takes a level swing with fast bat speed and great extension which leads to hard contact and gap to gap power. On the mound, Damon has a repeatable delivery with a long, loose arm action. He shows a three-pitch mix with his fastball topping out at 85mph. Breaking ball ranges from 71-74mph with late 11-5 break. Changeup sits from 72-74mph with good sinking action as he throws with fastball arm speed. Overall, Damon is a talented prospect who has the skill set to perform well both in the field and on the mound."
Following High School he registered at California Baptist University in Riverside, playing solely as a position player and then as an outfielder.
In 2020 at CBU he was named to a NCAA Top 200 prospect list by Perfect Game. He improved his draft stock in 2021 earning a Western Athletic Conference Player of the Year honors and the first NCAA Division I All-West Region award in program history from the American Baseball Coaches Association/Rawlings.
𝘈 𝘴𝘦𝘢𝘴𝘰𝘯 𝘶𝘯𝘭𝘪𝘬𝘦 𝘢𝘯𝘺 𝘰𝘵𝘩𝘦𝘳 👏

Congratulations to Damon Keith on being voted to the @ABCA1945 NCAA Division I All-West Region Second Team. #LanceUp⚔️ pic.twitter.com/vsx28FhAgN

— California Baptist Baseball (@CBUbaseball) June 16, 2021
💥 𝐃𝐀𝐌𝐎𝐍 𝐊𝐄𝐈𝐓𝐇 💥 #LanceUp⚔️ pic.twitter.com/cvs0HS1jXk

— California Baptist Baseball (@CBUbaseball) May 25, 2021
https://cbulancers.com/sports/baseball/roster/damon-keith/8292
As a junior in 2021 he played in all 56 team games posting a triple slash of .336/.434/.588 and an OPS of 1.004. He led the Western Atlantic Conference in home runs (13) and runs (57) this year, ranked second in hits (72) and slugging percentage, fourth in walks (35), fifth in runs batted in (44), sixth in batting average, seventh in stolen bases (12) and eighth in OBP. He was the only player in the conference to rank in the top-10 in all those offensive categories that year.
Now 22, the 6'3"/195 lb right-handed hitter had to wait a relatively long time to hear his name called during the 2021 MLB draft. However, he was pleased it was the Dodgers calling his name and being drafted by a team not far from his home town.
"I feel great about being drafted by the Dodgers," Keith said. (I'm) definitely in good hands for being developed to my full potential with them and they do an amazing job of that. And being close to home at the same time is also nice."
Keith began his professional career in 2021 with the ACL Dodgers and over 23 games and 69 at bats he slashed .333/.453/.551 with an OPS of 1.004 suggesting he was going to be a hitter.
As mentioned, with the Rancho Cucamonga Quakes to start the 2021 season, he was selected as the Player of the Month in the California League for April.  He  led the league in on-base percentage (.519), slugging percentage (.672) and OPS (1.191) and was second in average (.391), hits (25) and runs (19). He finished third in triples (two) and fourth in total bases (43).
Perhaps once thought to be a power over contact hitter, Keith has demonstrated he can put the ball in play. He has also shown good plate discipline during the current season with 15 walks compared to 20 strikeouts.
The Great Lakes Loons are definitely in need of some fire power at the plate. Perhaps Damon Keith will be on hand to provide some of that power in the not too distant future.
Low A Rancho Cucamonga outfielder, Damon Keith, is one of the hottest hitters in all of baseball. @dkeith_22 grad is hitting .388 with an OPS of 1.180. This Cal Baptist grad is the real deal. Take a look for yourself!#dodgers #dodgersprospects #damonkeith pic.twitter.com/UBlqt2p0nx

— Dodgers Daily (@dodger_daily) May 4, 2022
Vogel hit the game winning run yesterday for game two. Tonight, he scores off Keith's line drive single to left field. 👏🏽

#walkoffwin pic.twitter.com/CwwRT2xYnF

— Rancho Cucamonga Quakes (@RCQuakes) April 15, 2022