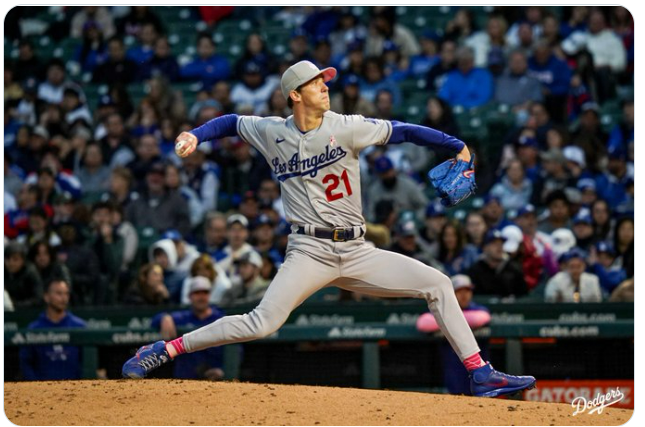 I am not convinced that the Dodgers can finish the season with their current rotation, but they sure look like they are very special right now.  Since the start of the Arizona series the starting pitching has been outrageously outstanding.  Over those last 11 games, only once has the starting pitcher failed to go 5.0 innings or more.  The starting pitching ERA is slightly over one run while WHIP is below 1.0, and the K/BB ratio is greater than 5.0.  That is not just good, but dominating.  Over that time, the team is 8-3.  Not bad, but not as good as one might expect with the starting pitching they have received.
The offense is now just starting to look like they might want to explode, and while the relief pitching has been good, it has not been elite.
Walker Buehler and Julio Urias are pitching as we expected from a solid 1-2 starting duo.  The far more heralded Clayton Kershaw is once again dominating.  For me, he is exceeding the expectations of a #3.
Currently only two LAD pitchers qualify for season leaders…Clayton Kershaw 30 IP and Walker Buehler and 36.2 IP.  Starting pitchers need 25 to qualify.  Urias has 24 and should qualify in his next outing.  I am not sure about Tony Gonsolin or Tyler Anderson.
Tyler Anderson is at 22.2, but probably will not pitch enough innings to make up the difference when he really is not expected to go more than 5.0 IP.  If he pitches every 5th day, he cannot catch up unless he has a couple of 7.0 IP games, which is not likely with this team.
For me, Tony Gonsolin is a reliever who is going as hard as he can for as long as he can.  In his five starts in 2022, he has gone 5.0 or more twice (5.0 and 6.0).  In 2021 it was 4; it 2020 it was 6, and in 2019 it was 3.  His September 2020 stretch was tantalizing with innings pitched, but it has never been repeated.
I see Tony Gonsolin as another Jeff Samardzija.  He is breezing then all of a sudden he suffers a rough inning.  It is not like one can see it coming, it just happens.  Why?  Loss of concentration?  Why not let Gonsolin become a Blake Treinen clone, someone needed for the highest leverage spot in the game.  I am sorry but Brusdar Graterol is not that guy…yet.  Daniel Hudson looks to be the RH 8th inning setup.  Gonsolin would be even more formidable than Blake as he can go 2.0+ innings if needed.
With the uncertainty building for Blake Treinen, the search for a starter and move of Gonsolin to late inning relief dominance seems a real option. But until there is a starter available, Gonsolin is going to need to fill that role.  And that is an enviable position to be in.  At the same time, just spit balling here, but as LAD progresses, Ryan Pepiot, and his hellacious changeup, can become that high leverage reliever if Blake does not make it all the way back.
Andrew Heaney is looking to start his throwing program again.  If he can make it back, I still think that Heaney and Tyler Anderson make a great piggyback starter.
While I do believe that a 4th top rotation starter will be a huge benefit come playoff time, the Dodgers are in no hurry to find that starter.  They will let that vaunted depth carry then through the grueling 162 game schedule.  But what we have learned, is that depth alone  is not always good enough to carry them in the playoffs.
Going into Sunday night's game, below is where the Dodger pitching ranks amongst all MLB teams.

Looking at where LAD ranks with strikeouts, it is clear that the pitchers are throwing strikes and pitching to soft contact.  Looking at the starter chart above, Dodgers starting pitchers have not had more than 7 Ks since Walker's shutout.
The pitching depth is pretty impressive when the Dodgers can drop down into AAA and select the contract of a pitcher who has not pitched in the ML since 2020.  I am not going to go out on a limb and say tat Robbie Erlin is going to be a difference maker.  But then again, maybe this can be a repeat of Phil Bickford 2021.
Dodgers To Select Robbie Erlin https://t.co/jA1yckG9CC pic.twitter.com/EByPfCISt9

— MLB Trade Rumors (@mlbtraderumors) May 7, 2022
Clayton Kershaw On Walker Buehler pic.twitter.com/qwidioCe3l

— Mad Choriyama (@MadChoriyama) May 9, 2022
It looks like that perhaps some of those emotionally invested in Gavin Lux's non-success might have a long season.  Gavin has the 2nd best BA and OBP behind only Freddie Freeman.  His OPS is number five, just south of a currently struggling CT3.  For those with more than 50 AB, Gavin has the least number of strikeouts.  He has yet to ground into a DP.  And his defense is getting to be a plus.  The DP on Yan Gomes he started in Saturday's Game 1 was pretty, and the pop fly catch into RF in Sunday's win was outstanding.  I know the ESPN announcers mentioned it, but it sure looks like Freddie Freeman has had a clear positive influence on Gavin.  Gavin's confidence is sky high.
The Dodgers need Gavin Lux to be the current version.