OKC Dodgers 6 vs Round Rock Express (Texas) 5
On the Mound
Another veteran journeyman AAAA pitcher, Sam Gaviglio started for OKC and pitched 4.0 innings.  He gave up 5 runs on 7 hits.  He also registered 5Ks.  Four of the hits were solo HRs.  Leody Tavaras (5), and old friend Zach Reks (1) hit HRs in the 1st.  With a 5-2 lead, Gaviglio gave up 2 more solo HRs in the 4th: Matt Carpenter (4) and Davis Wendzel (5).  Also in the 4th, a single, stolen base, and a game tying RBI single through four.
Four OKC relievers shut down the Express over the next five innings.  Caleb Ferguson was the first.  He is getting closer.  He is now down from every third day to every other game, and pitched a scoreless 5th.  He allowed a single and walk, but also got 2 Ks.
Justin Bruihl pitched 2.0 innings with 1 hit allowed.  Justin Hagenman pitched a perfect 8th inning with three Ks.  Carson Fulmer closed the game with a hitless/scoreless inning and got his first save.
At the Plate
Down 2-0, the Dodgers got one back on singles by Eddy Alvarez and Stefen Romero put runners on 1st and 3rd.  Alvarez scored on a Jason Martin sac fly.
The Dodgers opened up a 5-2 lead in the 4th.  Eddy Alvarez walked, Romero singled, and Jason Martin walked to load the bases.  Tomás Telis singled to score Alvarez.  Zach McKinstry walked to score Romero, and Miguel Vargas singled to score Martin and leave the bases loaded.  Jake Lamb hit into a DP but Telis scored the 4th run in the inning.
Going into the 9th all knotted at 5-5, the Dodgers get 3 walks a balk to get the go ahead run.
Player of the Game
I have to go with Eddy Alvarez who reached base 4 times with a hit and 3 walks, and scored twice.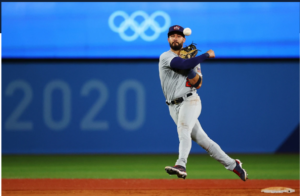 Eddy Alvarez (1) picture
Frisco RoughRiders (Texas) 8 vs Tulsa Drillers 6
On the Mound
Landon Knack and John Rooney both gave up 4 runs.  Combined they allowed 9 hits and 4 walks.  Rooney gave up 3 HRs which accounted for all four of his runs, and 1 for Knack.  After Rooney gave up a leadoff walk in the 9th, Melvin Jimenez retired the side with 2 Ks.  It was a forgettable night for both Knack and Rooney.
At the Plate
With 2 in the 1st and 1 in the 2nd, the Drillers jumped out to a 3-0 lead.  Jacob Amaya leads off with a single and moved to 3rd on a Michael Busch double.  James Outman knocked in two with a single.  Jacob Amaya hit his 8th HR in the 2ndHR in the 2nd for the 3-0 lead.
Down 8-3, Andy Pages hits a solo HR (3).
In the 8th, Kody Hoese singled and Devin Mann hit a 2-run jack, his 2nd of the year.  But that is as close as they got.
Ho-Hum.  Jacob Amaya and Michael Busch both had 2 more hits.  Amaya reached base a third time on a walk.  He now has 19 walks against only 14 Ks.  Ryan Ward and Kody Hoese also had 2 hits.  It looks like Hoese is starting to get comfortable, but he still has only 3 XBHits (all doubles).
Player of the Game
I know that it seems like Amaya and/or Busch can be named Player of the Game every game, but with 2 hits and a walk and a HR, it has to go to Jacob Amaya.
That's one lucky fan taking home a @JacobAmaya3 home run ball ⚾️

Drillers lead 3-0 ⬇️ 2 pic.twitter.com/yJp91C7DcC

— Tulsa Drillers (@TulsaDrillers) May 14, 2022
Lake County Captains (Cleveland) 4 vs Great Lakes Loons 3
On the Mound
Cole Percival started and pitched 4 innings.  He allowed a HR in the 4th and then another run scored on a fielding error, single and fielding error.  Percival left the game down 2-1.
Julian Smith followed Percival and pitched 2 clean innings with a K.  Cole Duensing walked the leadoff man and then wild pitched him to 2nd.  On a ground out, the runner moved to 3rd.  Ryan Sublette relieved Duensing and threw a WP to give the Captains the lead after 8.
The usually reliable Jose Hernandez entered the 9th with the score 3-3.  After one out, Jose walked Michael Amditis on 4 pitches.  Hernandez threw a WP to move the runner to 2nd.  After a K and a 2nd walk, Angel Martinez hit the walk off single.
At the Plate
The Loons scored single runs in 3 innings.  In the 4th Eddys Leonard led off with a double and scored on a Jorbit Vivas single.  In the 8th, Jonny DeLuca hit his 10th HR to temporarily tie the score.
Down 3-2 in the 9th, Kekai Rios led off with a walk.  He moved to second on a passed ball and scored on a fielding error.
Player of the Game
No one player stood out, but the only batter to generate 2 hits and an RBI was Jorbit Vivas.  Jorbit finally got his batting average to .200 for the first time this season.
Stockton Ports (A's) 10 vs Rancho Cucamonga Quakes 11 
On the Mound 
The Quakes sent 5 pitchers to the hill, but only Carlos De Los Santos was effective.  He pitched a perfect 9th with 2 Ks, and was rewarded with a win after Austin Gauthier hit a one out walk off HR, his first HR of the year.
At the Plate
Undrafted free agent, Austin Gauthier, had 4 hits including the walk off HR.  Luis Rodriguez had 2 hits including his 2nd HR, and 3 RBIs.  Luis Yanel Diaz, Jake Vogel, and Kenneth Betancourt each had 2 hits.  Diaz and Vogel each had a double.  Vogel now has his average up to .212.  For May, Jake is hitting .303/.343/.515/.858.
Alex De Jesus hit his 6th HR of the season.
Austin Gauthier with a walk off home run in the bottom of the ninth‼️

QUAKES WIN 11-10 🎉 pic.twitter.com/VbstpD37i2

— Rancho Cucamonga Quakes (@RCQuakes) May 14, 2022