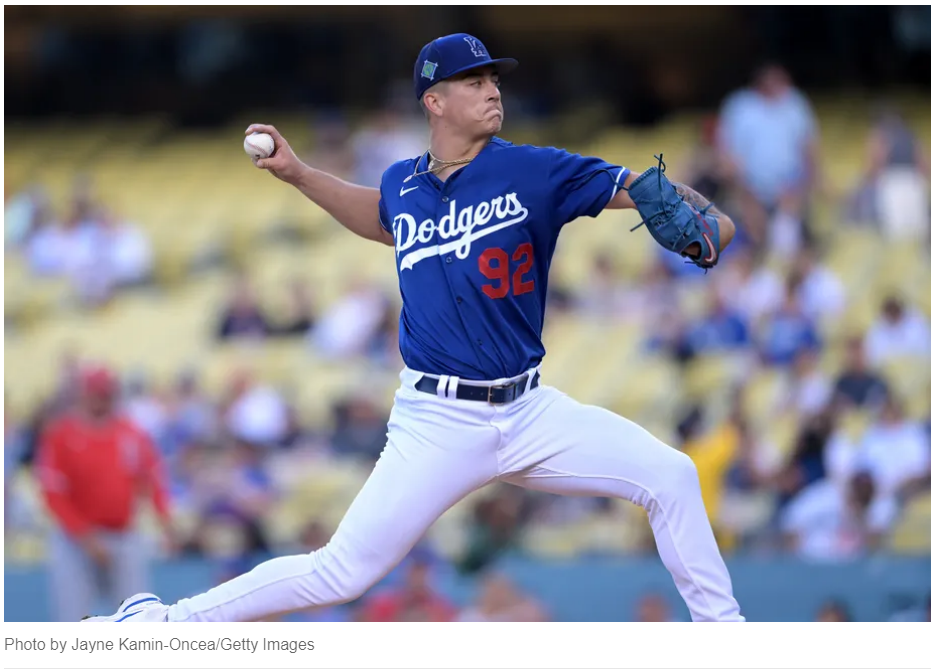 OKC Dodgers 5 vs Round Rock Express (Texas) 1
On the Mound
Robbie Erlin started as was allowed to go 3.0 IP.  The coaches let him throw 50 pitches before he was relieved by Jon Duplantier.  In the 3rd, Erlin issued a walk, a bunt single, and a run scoring line drive single.
Duplantier pitched 2 scoreless and hitless.  Duplantier was followed by Daniel Zamora (1.0) and Marshall Kasowski (1.2) who held the Express scoreless.  Carson Fulmer finished the final 1.1 scoreless innings and picked up his 2nd save.
At the Plate
The Dodgers struck fast in the first. Zach McKinstry singled and moved to 3rd on a Miguel Vargas single.  Kevin Pillar singled to score McKinstry, and Vargas moved to 3rd.  On a force out, Ryan Noda is safe at first and Vargas scores.  Noda steals 2nd and then comes home on a Eddy Alvarez double.
In the 6th, Pillar walked, Noda singled, and Pillar scored on an Eddy Alvarez single.
The Dodgers scored an insurance run in the 9th.  Tony Wolters singles and Drew Avans ran for him.  Avans scored 2nd and 3rd and eventually scored on a DP.
Eddy Alvarez had three hits including 2 doubles.  Miguel Vargas and Kevin Pillar had 2 hits each.
Player of the Game
I have to go for Eddy Alvarez in back to back games.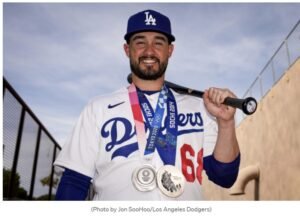 Tulsa Drillers 11 vs Frisco Rough Riders (Texas) 1
On the Mound
Tonight's top pitching matchup between Jack Leiter and Bobby Miller features these great Negro League jerseys. pic.twitter.com/1hISI1hjPA

— Kelsie Heneghan (@Kelsie_Heneghan) May 15, 2022
Tonight. 7:05 PM. Bobby Miller vs. Jack Leiter.

Don't miss it ➡️ https://t.co/OvHl5GE7X7 pic.twitter.com/BRKNKAVKeM

— Tulsa Drillers (@TulsaDrillers) May 14, 2022
Bobby Miller and Jack Leiter, two of the top prospects in MiLB faced off against each other.  Miller got the best of Leiter, as the Drillers pounded Leiter.  Bobby Miller had his best outing of the season.  He completed a season high 5.0 innings with 70 pitches, 47 strikes.  He was unscored on and allowed 3 singles and 1 walk.
Tanner Dodson (1.0), Nick Robertson (2.0), and Jose Adames (1.0) followed Miller.  The Rough Riders scored their only run in the 7th due to a walk and a 2 out fielding error.
At the Plate
The Drillers scored early and often.  They scored in all but two innings.  The damage was done in the first two innings.  In the first, Michael Busch and Jacob Amaya led off with singles.  Both runners scored on an Andy Pages double.  With 2 outs, Justin Yurchak singled home Pages.
In the 2nd, Kody Hoese singled, Jeren Kendall HBP, and Amaya singled to load the bases.  Pages walked to score Hoese, and Ryan Ward singled to plate both Kendall and Amaya.
Tulsa scored a single run in the 4th.  Amaya tripled and scored on Pages second double.  Another single run in the 5th on a walk, WP, and a Hunter Feduccia double.
In the 8th, Hunter Feduccia was in the middle of it again with a 2 run HR (5).
Finally in the 9th, Kendall tripled and scored on a DP.
Player of the Game
It is finally going to a pitcher…Bobby Miller.
Bobby Miller came out on top of the marquee matchup with Jack Leiter, it was his longest outing of the season, and he leaned heavily and effectively on his secondaries, though he still hit triple digits. The line:

5.0 IP
3 hits
0 runs
1 BB, 5 Ks⬇️ pic.twitter.com/XHOjP0KYju

— Josh Thomas (@jokeylocomotive) May 15, 2022
Great Lakes Loons 8 vs Lake County Captains (Cleveland) 2
On the Mound
Kendall Williams started and completed 3.0 innings, surrendering just a single run on 3 hits.  He threw 63 pitches / 34 strikes.
Williams was followed to the mound by a string of 6 pitchers throwing 1.0 inning each.  The only pitcher with a clean inning was Michael Hobbs who pitched the 9th, and was given the win.
At the Plate
This was one of those games where all 8 runs were a direct result of a HR.
In the 2nd, Ryan January led of with a solo shot, his 2nd.  Later in the inning, Joe Vranesh walked and scored of Jonny DeLuca's 11th HR.
In the 3rd, Jorbit Vivas hit his first HR of the year, a solo HR.
In the 4th with 2 outs, Hector Martinez singled and moved to 2nd on a walk to DeLuca.  Eddys Leonard then connected on a 3-run HR, his 4th of the year.
In the 7th, Leonel Valera completed the scoring with a solo HR, his 5th.
Leonel Valera had three hits, and Ryan January and Jorbit Vivas had two each.
Player of the Game
Leonel Valera and his three hits, including his 5th HR, is tonight's choice.
Stockton Ports (A's) 6 vs Rancho Cucamonga Quakes 4
The Quakes out hit the Ports 12 to 6, but they could not score enough to win this one.
On the Mound
Ben Casparius started and lasted 4.2 innings and 71 pitches / 45 strikes.  He allowed 3 runs (2 earned), on 2 hits and 2 walks.  He did have his strikeout pitch going with 7.  Roque Gutierrez followed Casparius, but he allowed 2 runs on 4 hits including a 2-run HR, and a walk in 2.0 innings.
Kelvin Bautista pitched the final 2.1 innings and did not allow a hit or walk.  However, due to a fielding error, and sac bunt, the runner was able to score the Ports final run in the 9th.
At the Plate
Damon Keith had a three-hit game, including his 3rd triple and 2 RBIs.  Yeiner Fernandez, Jose Ramos, and Kenneth Betancourt, including a double, each had a pair of hits.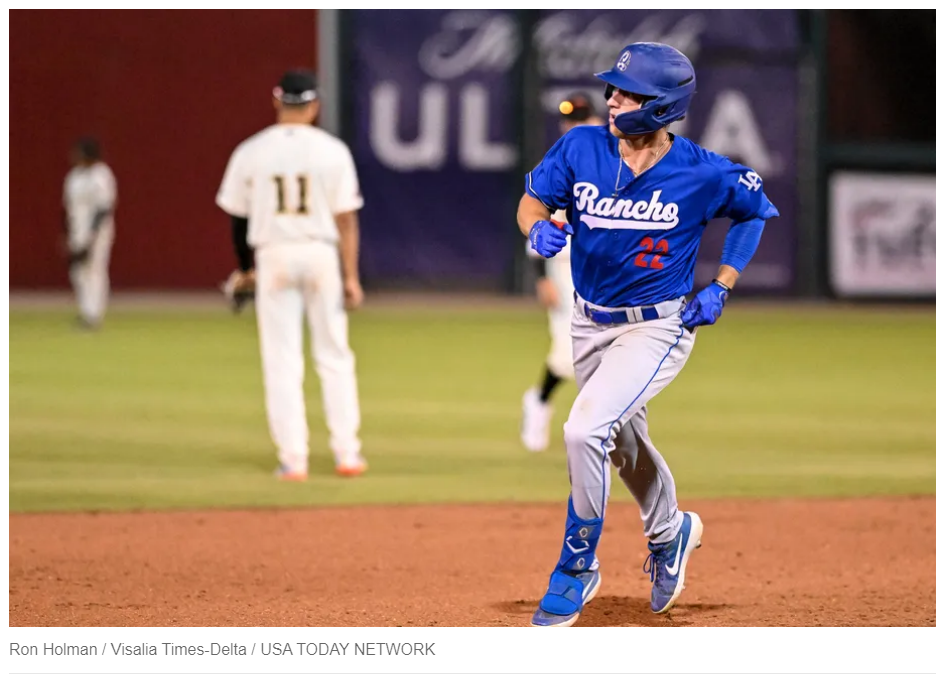 Player of the Game
It must go to Damon Keith and his 3 hit and 2 RBI game.