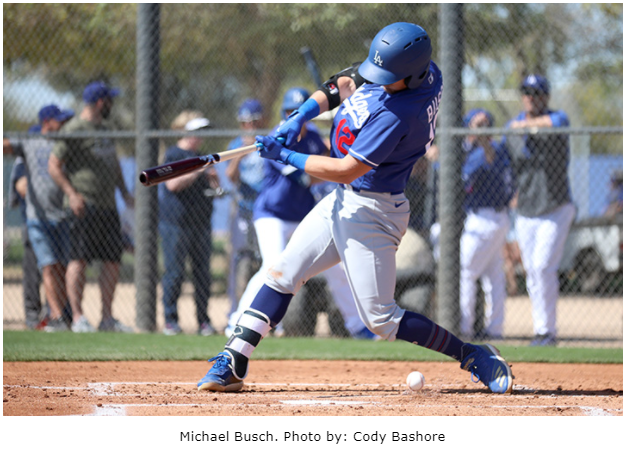 El Paso Chihuahuas (Padres) 5 vs OKC Dodgers 13
On the Mound
Mike Wright Jr. started and completed 5.0 innings, and qualified for the win.  In the 3rd, he allowed one run on a single, double, and ground out for a quick 1-0 lead.  Down 5-1 in the 4th, El Paso had 2 singles putting runners on.  With 2 outs and th4e runners running, Shogo Akiyama singled home one, and the second run scored when Shogo got caught in a run-down to end the innings.
In the 7th with Jon Duplantier on the hill, Matthew Batten hit a solo HR (6).
With Marshall Kasowski following Duplantier, he surrendered a double, threw a WP, and the runner scored on a ground ball.
Carson Fulmer pitched the final 1.1 scoreless innings in a non-save situation.
At the Plate
OKC scored 13 runs on 16 hits, including 3 doubles and 3 HRs.  Down 1-0, the Dodgers scored 5 runs in the 3rd.  With one out, Miguel Vargas hit a solo HR (5).  Jake Lamb followed with a single.  In Michael Busch's 1st AAA game and 2nd AAA at-bat, he slugged an opposite field HR (1).  OKC scored another pair of runs on two walks and a Stefen Romero double.
Miguel Vargas 💥

The No. 5 @Dodgers prospect launches his fifth homer of the year for the @okc_dodgers. pic.twitter.com/0sXEdVcgd1

— MLB Pipeline (@MLBPipeline) May 18, 2022
In the 4th after El Paso cut the lead to 5-3, Zach McKinstry singled and Jake Lamb drew a walk.  Kevin Pillar doubled home both runners.
OKC scored another two runs in the 5th.  Eddy Alvarez and Stefen Romero singled and moved up to 2nd and 3rd on a fielding error.  Tomás Telis singled home Alvarez and Romero moved to 3rd.  Zach McKinstry singled home Romero.
With the score 9-5, the Dodgers put it away for good in the 8th.  Jake Lamb led off with a solo HR (9).  Kevin Pillar and Michael Busch singled.  After one out, Eddy Alvarez continued his hot streak with a double scoring both Pillar and Busch.  On a fly out, Alvarez moved to 3rd.  Alvarez scored on a catcher's throwing error.
Michael Busch with another base knock off a lefty – this line drive was 107.9 mph, and it came in an 0-2 count pic.twitter.com/PiZaIWtmLj

— Josh Thomas (@jokeylocomotive) May 18, 2022
Player of the Game
How do I not choose Michael Busch with 2 hits including his first HR in his first AAA game?
Tulsa Drillers 15 vs Amarillo Sod Poodles (DBacks} 12
The Drillers had another one of those high scoring games but this time on the winning side.
On the Mound
It was a tough day on the hill, especially for Gus Varland, who gave up eight earned runs in four innings.
Alex Gamboa cooled off the Sod Poodles a bit in the bottom of the fifth inning and over three innings held them to three earned runs. He did strike out four.
Aaron Ochsenbein was touched for two more earned runs in his inning pitched and old reliable, Mark Washington, did pitch a scoreless ninth.
At the Plate
The Drillers punched out 17 hits so did their damage with the bats as they walked only twice. They did so with big bats as they had nine home runs. They went into the top of the ninth inning down 12-10.
The nine home runs were distributed among seven players: Brandon Lewis (2nd), Andy Pages (4th), Ryan Ward 2 (12th), Kody Hoese 2 (2nd), James Outman (9th), Carson Taylor (1st), Hunter Feduccia (6th).
Another oddity on the day was that in the top of the ninth inning Ward, Taylor and Feduccia had back-to-back-to-back home runs and were separated from a fourth by Kody Hoese  by a Devin Mann single.
Every Driller had at least one hit with James Outman, Jacob Amaya and Hunter Feduccia having two while Ryan Ward had three and Kody Hoese had four.
Player of the Game
There was definitely more than one choice but in reality only one choice. Kody Hoese with his four hits, four RBI and two home runs along with three runs scored had a career day. He also has a triple. He now has three multi-hit games in his last five games.
Have a day, Kody Hoese! This is his 2nd homer of the game, Tulsa's 4th homer of the inning! Hoese is 4/5, he also singled, tripled, and has driven in 4! pic.twitter.com/GtMqDWiBkY

— Josh Thomas (@jokeylocomotive) May 17, 2022
Lansing Lugnuts (A's) 7 vs Great Lakes Loons 4
The Loons opened a six-game set at home with the Lansing Lugnuts at Dow Diamond on Tuesday afternoon looking to inch closer to the first place Dayton Dragons in the Eastern Division of the  Midwest League. Things started out well but fell apart late in the game.
On the Mound
Lael Lockhart started for the Loons making his seventh start of the season. In the second inning he got touched for a solo home run and in the fourth he gave up two more runs although one of them came home an Edwin Mateo error. On the day Lockhart saw his ERA go from 1.23 to 1.73.
Cole Duensing followed with two perfect innings  along with three strikeouts. Braydon Fisher came on the seventh inning and took the loss when victimized by a two-run Matt Cross home run.
Antonio Knowles pitched a scoreless eighth inning and has now thrown 12 scoreless innings over 10 appearances. In that time he has stuck out 13 and walked seven.
Jacob Cantleberry took over in the top of the ninth and he too was victimized by the dreaded two-run home run.
At the Plate
The Loons had a good three innings and then the offense shut down. In the first inning Jorbit Vivas drove home Eddys Leonard with  a triple.
The Loons scored a single run again in the second inning an Imanol Vargas single drove home Edwin Mateo who had walked.
Jorbit Vivas struck again in the bottom of the third inning with his second triple of the game and scored on a Jose Ramos triple. Back-to-back triples is unusual. It was the first High-A hit for Ramos who was advanced to the Loons on Monday. I thought that Damon Keith would be the first hitter from the Quakes to move on the Great Lakes.
Player of the Game
Second baseman Jorbit Vivas is an easy choice. Two triples in a game is also rare. Vivas has eight hits in his last four games.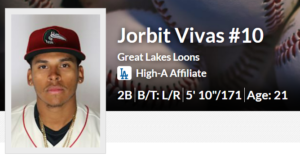 Rancho Cucamonga Quakes  7 vs Fresno Grizzles (Rockies) 8
IT has been a day of unusual events at the Dodgers MiLB level. While the Drillers were punching out nine home runs, the Quakes were having a stream of base runners all getting only to first base from the plate. The had 10 hits, nine walks and a HBP.
On the Mound
Nineteen-year-old Edgardo Henriquez has been searching for consistency, as are all young pitchers, and today had his second start of four scoreless innings.  He gave up three hits, walked three and struck out two.
Jhan Zambrano did not fare as well. In his two innings on the hill he gave up four runs, three earned, on five hits and a walk.
Joan Valdez came on in the bottom of the seventh and tossed two strong innings on one hit and four strikeouts.
Leading 7-4 going in to bottom of the ninth inning the game fell apart for the Quakes. Madison Jeffrey was able to record only one out in that inning giving up two walks, a HBP, a SF and a walk-off three-run home run.
At the Plate
At the plate the Quakes certainly went station to station without an extra base hit to score seven runs.
In the top of the second inning they strung together five singles by  Luis Rodriguez, Austin Gauthier, Jake Vogel, Yeiner Fernandez and Alex De Jesus to plate four runs.
In the top of the ninth inning a Yeiner Fernandez single, two walks, a HBP and an Austin Gauthier single plated three more runs, two of them on Gauthier's single.
Player of the Game
Baseball is a game of decisions or indecision and I often fall on the side of indecisiveness. Perhaps that is why I am not a manager. Two players stood out today.
Shortstop Austin Gauthier with two hits, two RBI and two walks gets strong consideration. In his last 19 games, not counting today, he is hitting .365.
Right-hander Edgardo Henriquez with four scoreless inning also gets a shout out.
I don't have a dart board so I am going with…….. Austin Gauthier and ……. Edgardo Henriquez.
Edgardo Henriquez has separated his breaking ball into two distinct pitches, first up the curve, then the slider⬇️ pic.twitter.com/4Fgc9p8xDz

— Josh Thomas (@jokeylocomotive) May 17, 2022