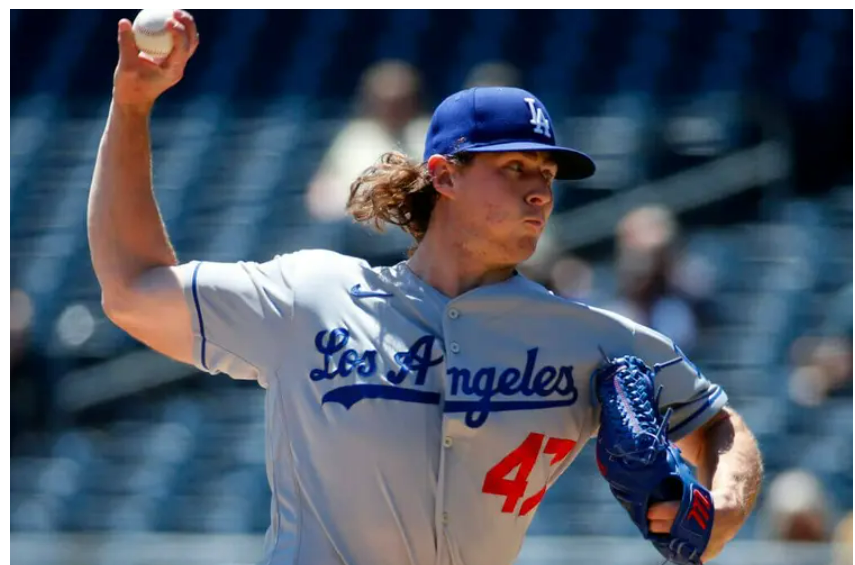 OKC Dodgers 7 vs Sugar Land Space Cowboys (Houston) 2
On the Mound
This was all Ryan Pepiot.  He was dominant for 5.0 IP.  He did not allow a run on a single, BB, and HBP in three separate innings.  No runner reached scoring position on Pepiot.  Ryan lowered his ERA to 1.72 in a hitter's league.  What was very impressive is besides the one walk, he went to a 3 ball count only one other batter through 4.0 innings.  He did go to a 3-ball count to all three batters in the 5th.  Overall he threw 76 pitches, 50 for strikes (65.7%).  Very impressive performance.  He should be back in LA before summer.
Mike Wright Jr. is an innings eating RHP.  He will allow runs, but if you need length, he will give it to you.  He allowed a Corey Julks HR (7) in the 7th to break the combined shutout.  He also surrendered a run in the 8th with a BB, double, and sac fly.
Marshall Kasowski entered the 9th to close out the game. He did so without allowing a baserunner and got 2 Ks, on 11 pitches.  Now that is the Marshall Kasowski we remember.
At the Plate
Zach McKinstry led off the game with a solo HR (2) to give OKC the early lead.  In the 3rd, it was Miguel Vargas' turn for a HR (7).  In the 4th, Stefen Romero joined the solo HR club with his third HR on the campaign.
In the 5th with 2 outs, Miguel Vargas reached base on a fielding error.  Jake Lamb followed with a BB.  Kevin Pillar and Michael Busch hit back-to-back doubles to score three to grow the lead to 6-0.
In the 9th, OKC scored an insurance run on a Zach McKinstry single, and Miguel Vargas walked.  McKinstry scored on a Jake Lamb single to cap the scoring for the Dodgers.
Eddy Alvarez went hitless for the first time since May 10 he was 18 for 34, with 5 doubles and 2 HR.
Player of the Game
It cannot be anyone other than Ryan Pepiot.
Wonderful, wonderful job Ryan Pepiot in his first start back in AAA. Completely dominant and completely in control striking out 6, walking just 1, and blanking the Space Cowboys in 5 innings. @ryanpepiot2 needed just 76 pitches to get through 5 which is right at 15 per. #dodgers pic.twitter.com/aYKu6IlxVj

— Dodgers Daily (@dodger_daily) May 22, 2022
Ryan Pepiot had a fantastic outing for OKC, and his command was dialed in – he was able to locate the fastball to both sides of the plate, as well as the slider down and away to righties, giving him that important third look. The line:

5.0 IP
1 hit
0 runs
1 BB
6 Ks⬇️ pic.twitter.com/toGgO5M6br

— Josh Thomas (@jokeylocomotive) May 22, 2022
Tulsa Drillers 10 vs Amarillo Sod Poodles (Arizona) 3
On the Mound
23 year old RHP Jose Martinez from Caracas, Venezuela started for the third time.  This was by far his best performance.  In 5.0 IP, he allowed 1 run on 3 hits, 1 BB, 1 HBP, and 1 K.  IN the 1st, Corbin Carroll singled and moved to 2nd on a fielders choice ground ball.  He scored the tying run on a single, and that was all the scoring off Martinez.
He never allowed more than one base runner per inning in the 2nd, 3rd, or 4th.  He retired the side in order in the 5th.
Aaron Ochsenbein allowed a BB and single in his 1.0 inning of work, but no runs.
Alec Gamboa followed Ochsenbein to the bump on the 7th.  He pitched in severe traffic in the 7th and 8th, but got through without allowing a run.  In the 9th, Drew Stankiewicz and Corbin Carroll walked to open the inning.  Jorge Barrosa hit a DP ball to Jacob Amaya, but he booted it committing the rare fielding error, and Stankiewicz scored.  Carroll and Barrosa execute a double steal.  On a ground ball fielder's choice Carroll scored the final run.
At the Plate
The Drillers had 14 hits including HRs from a pair of unlikely sources.
James Outman opened the scoring for the Drillers in the first.  After he singled, he scored on a pair of ground balls.  With the score tied 1-1, Carson Taylor and Devin Mann opened the second with a pair of singles.  They both scored on a Jeren Kendall triple.
The Driller scored the 4th run in the 5th.  After a Brandon Lewis BB and a HBP to Outman, Lewis scored on a Ryan Ward single.
The Drillers broke the game open in sixth. Andy Pages opened the frame with a single and he scored in front of Carson Taylor on his 2nd HR of the season.  Devin Mann followed with a double, and Brett de Geus entered.  Brandon Lewis doubled Mann home.  Jeren Kendall followed with a 2-run HR (2).
The Drillers scored an insurance run in the 7th on a pair of doubles from Carson Taylor and Devin Mann.
The Drillers had 5 players with multi hit games.  Carson Taylor and Devin Mann had three, while James Outman, Ryan Ward, and Jeren Kendall had two each.
Player of the Game
It is a bit difficult to pick one player in this game.  Jose Martinez pitched his best game of the season and Jeren Kendall with a triple, HR, and 4 RBIs will be co-players of the game.
Jeren Kendall is one of the best defensive players in the league that has shown the hit tool to match in the past and showed it today with a triple and a homer. This guy is gonna get hot and make some noise in the next couple of months, hide and watch! #dodgers #jerenkendall pic.twitter.com/PXdy7R9jGS

— Dodgers Daily (@dodger_daily) May 22, 2022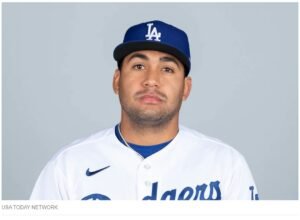 Lansing Lugnuts (A's) 3 vs Great Lakes Loons 8 
On the Mound
Lael Lockhart continued his outstanding 2022 season with 5.0 innings pitched.  He allowed a lone unearned run on 2 hits.  He did not walk a batter, and registered 5 Ks.
Lockhart did not allow a base runner until Austin Beck reached base on a 1 out fielding error.  Lockhart surrendered a double in the 5th who scored on his fielding error. He lowered his ERA to 1.45, second in Midwest League.  I would like to see the 24 year old pushed to AA.
Ryan Sublette pitched a scoreless 6th, allowing a BB with 2 Ks.
Jose Hernandez entered the 7th.  The first batter he faced laced a double.  A fielding error put runners on 1st and third.  A walk loaded the bases.  A double play scored one run, leaving a runner on 3rd.  The second run scored on a throwing error.  Antonio Knowles finished up for the hard luck Hernandez.
Knowles pitched a scoreless 8th as did Cole Duensing in the 9th.
The Loons pitchers allowed three runs, all unearned, on 5 Great Lakes errors.
At the Plate
Leonel Valera scored an unearned run in the 2nd after reaching base on an error and scoring on an Edwin Mateo single.
Down 3-1 in the bottom of the 7th, the Loons got up off the floor.  Edwin Mateo singled.  Max Hewitt was then HBP.  Jonny DeLuca singled to load the bases.  Eddys Leonard walked to score the first earned run of the game, leaving the bases loaded.  Jorbit Vivas followed with a 2-run double, and the Loons went into the 8th with a 4-3 lead.
Great Lakes put it away in the 8th.  Max Hewitt led off with a BB and scored in front of Jonny DeLuca's 12th HR of the season.  Eddys Leonard singled and moved up to 2nd on a WP.  He scored on a Jorbit Vivas single.  Vivas continued to 2nd on the throw.  He then scored on a Jose Ramos single to conclude the scoring.
Jorbit Vivas had 3 hits and 3 RBIs.  Edwin Mateo also had three hits, while Jonny DeLuca had 2 with 2 RBIs.
Player of the Game
I guess I am feeling generous, or is it indecisive.  Lael Lockhart and Jorbit Vivas are named co-players of the game.  Vivas has now hit in 10 straight games, with multi hit games in 6 straight.
Lael Lockhart had another solid outing for Great Lakes, he lowered his ERA down to 1.45, which would rank 2nd in the Midwest League (he's about an inning shy of qualifying for the leaderboard). The line:

5.0 IP
2 hits
1 run (unearned)
0 BBs
5 Ks⬇️ pic.twitter.com/702od7g24K

— Josh Thomas (@jokeylocomotive) May 22, 2022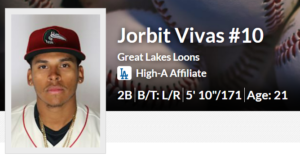 Rancho Cucamonga Quakes 1 vs Fresno Grizzlies (Colorado) 10
After being shutout in Saturday's game 9-0 by Fresno, the Quakes played their 2nd consecutive stinker in a 10-1 loss.  The Quakes did get 3 hits in this game and one run, albeit it was unearned.
Again there wasn't anything positive in this one.  It is time for RC to re-focus and look forward to Tuesday.  We will let it go at that.