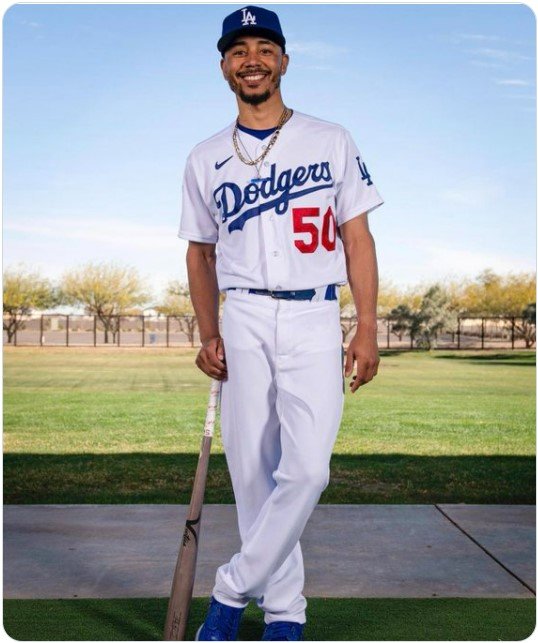 The Dodgers generated runs without the help of Freddie Freeman, while the Phillies muscled up for 4, but could not generate any runs without a HR.  The Dodgers matched the Phillies with 3 HRs, but manufactured 4 other runs.  The Dodges chased the Phillies Ace after Will Smith hit a game tying HR.  The Phils have not won a game with Aaron Nola starting since opening day.  That is eight straight losses in his starts.
The run manufacturers proved to be the winners 7-4.  Mookie Betts was the star in this one.  A solo HR (9), 2-run single, double, and a walk, and Mookie reaches base 4 times, with 3 RBIs.  Mookie did get picked off, but redeemed himself with a line out catch and throw 'em out at the plate double play to end a bases loaded one out rally. That was a perfect text book one hop throw to Will Smith in plenty of time to throw the runner out.  Don't look now, but Mookie is starting to resemble the 2020 Mookie.  Watch out MLB.
There was a scary moment when Mookie slipped on 2nd base on his double and came down holding his arm.  But as he said after the game, it appeared to be a little stinger, but he said he was okay.
Mookie Betts remained in the game and as usual, is all smiles. https://t.co/WB3rbIJv3A

— Dodgers Tailgate (@DodgersTailgate) May 22, 2022
The Dodgers threatened multiple times, but it was Gavin Lux who singled home Austin Barnes (pinch running for JT) for the go-ahead run in the 8th.  In the last 7 games, after a tip from JT, Lux is hitting .318/.375/.409/.784 with 6 RBIs.  His confidence is growing to where it was in the beginning of the season. Cody Bellinger would later score on a wild pitch for a 6-4 lead.  In the 9th, the power hitting Austin Barnes came up and on the first pitch he saw in this game, slugged his 4th HR of the season.  He was not about to let his catcher partner go ahead of him on big flys.
Cody Bellinger had two hits.  One on a line into LF and the second on a bloop into CF. JT had two singles and a double.  This is a different team when Belli and JT get involved.  The Dodgers got 7 runs on 13 hits.
There was some outstanding relief pitching from Phil Bickford, Brusdar Graterol, Daniel Hudson, Alex Vesia and Craig Kimbrel with save #9.  Justin Bruihl seemed to struggle as a reliever on this night.
The Dodgers have now won 7 in a row. They get a chance to sweep the Phillies on Sunday.  It will be the Catman vs Zach Eflin. The Dodgers have roughed up Eflin during his career (8.78 ERA in 27.2 IP). It would be extra special to see Tony Gonsolin have another marquee game to build on from his last outing.
The Dodgers are putting some distance between them and the Giants, but the Padres look to be for real.
As I was responding to Badger on a query, I started to expand on certain information, but I decided that I could make it into a post in and of itself.
As Friday's game was a better Julio Urías outing, I agree that this was a different Philly response, as many of the Phillies hitters were flailing. Are they really that impotent without Harper?
I agree with you that the Dodgers are guarding Urías. Maybe it is due to his workload from last year. Julio has always been a strikeout pitcher. This year his K rate is 6.8/9, the lowest of his career. Is this by design? I do not know, but it is a legit question? I never expect Julio to dominate like I expect Walker Buehler to, so his grinding is who he is. I was most impressed with his no walks. With only two hits, zero walks, and only 5 K's, you would think that his pitch count would be less than 16/inning. A lot of 3-ball counts or a lot of fouling off strike 3?
I honestly have no idea how those numbers compare to norms.  I would have to do a full FanGraphs analysis.  65% strikes.  63% in the zone.  5 strikeouts, 1 called and 4 chases.
Almost every measurable comp to last year shows a regression in results.
K Rate per 9 – 9.45 (2021) vs 6.80 (2022)
BB Rate per 9 – 1.84 (2021) vs 1.76 (2022)
HR Rate Per 9 – 0.92 (2021) vs 1.54 (2022)
Hits Rate Per 9 – 7.32 (2021) vs 7.68 (2022)
K/BB – 5.13 (2021) vs 3.88 (2021)
He is at 25% of games started from 2021, but less than 25% of IP. 25% of IP last year would be nearly 46.5 vs 41 this year. That is nearly a 12% decrease. Is that significant or irrelevant? If you project his IP for 2022 it would be 164 or 21.2 less innings pitched. With Walker Buehler not going to get anywhere near 200 IP, that is a lot of additional stress on the bullpen. Is that good or bad?
Before I get called out as a Julio Urías hater, nothing can be further from the truth.  There is a lot left to the season. After Sunday's game, the season will be just about 25% over. A lot can happen in the last 75%. I fully expect Urias to continue to get better as the season moves on, but as of right now, he is not the same pitcher he was last year.  Does that mean that I think he is pitching poorly?  Not at all.  He has pitched well.  He is the best Dodger pitcher thus far, just not at the elite level.
Ranking in MLB:
ERA – 19
WHIP – 20
K/9 – 51
BAA – 32
K/BB – 23
The Dodgers are going to need to count on Urías and Buehler to lead the staff, as the news we have heard is not nearly as encouraging as we were originally led to believe for Andrew Heaney and Clayton Kershaw.  Heaney threw a bullpen session, around 30 pitches.  He threw all three of his pitches: fastball, slider, and change. He came out of it feeling okay.  He is going to need to throw another bullpen session, and then face batters.  After that he will head out for his rehab assignment.  The prognosis is for Heaney to rejoin the rotation mid to late June.  Based on where he is at now, that seems plausible.
On the other hand, the news is not so great for Clayton Kershaw.  He is at home resting.  He will rejoin the team next weekend in Arizona. Hopefully he will be able to play catch by then.  Doc says that it will probably be 2 weeks before Kershaw will throw a bullpen session.  Late June?  I think we are going to need to wait until Kershaw can actually throw a bullpen session.
Dave Roberts provides an update on Tommy Kahnle and Andrew Heaney ahead of today's opener. #AlwaysLA pic.twitter.com/Ob2qoUzzov

— SportsNet LA (@SportsNetLA) May 20, 2022
The team still has 14 more consecutive days with games in this stretch.  Michael Grove was optioned May 16, and Ryan Pepiot was optioned May 18.  The earliest they can be recalled (without injury or doubleheader) will be May 31, and June 2 respectively.  On top of that, one reliever will need to be optioned or released after May 29.  The team is going to need one of Mitch White and David Price to combine to go 5-6 innings.  White pitched 2.1 innings and threw 49 pitches.  Price threw 22 pitches to 5 batters for 1.0 IP.  White/Price next game figures to be Game 1 vs Arizona next Thursday.
Michael Grove made his AAA debut on Saturday, so he is lined up with Mitch White.  However, he did not enjoy a good day.  In 4.1 IP, he allowed 9 base runners (4 hits / 5 BB) and two of them scored.  He threw 87 pitches/53 strikes.
Fantastic game.  The Dodgers beat the Phillies Ace with a bullpen game.  They are now 11-5 in the first 16 games of this 30-game stretch. It will be interesting by the time NYM come into LA for 4. What will the next 14 give us? Cannot wait to find out.
GO BLUE!!