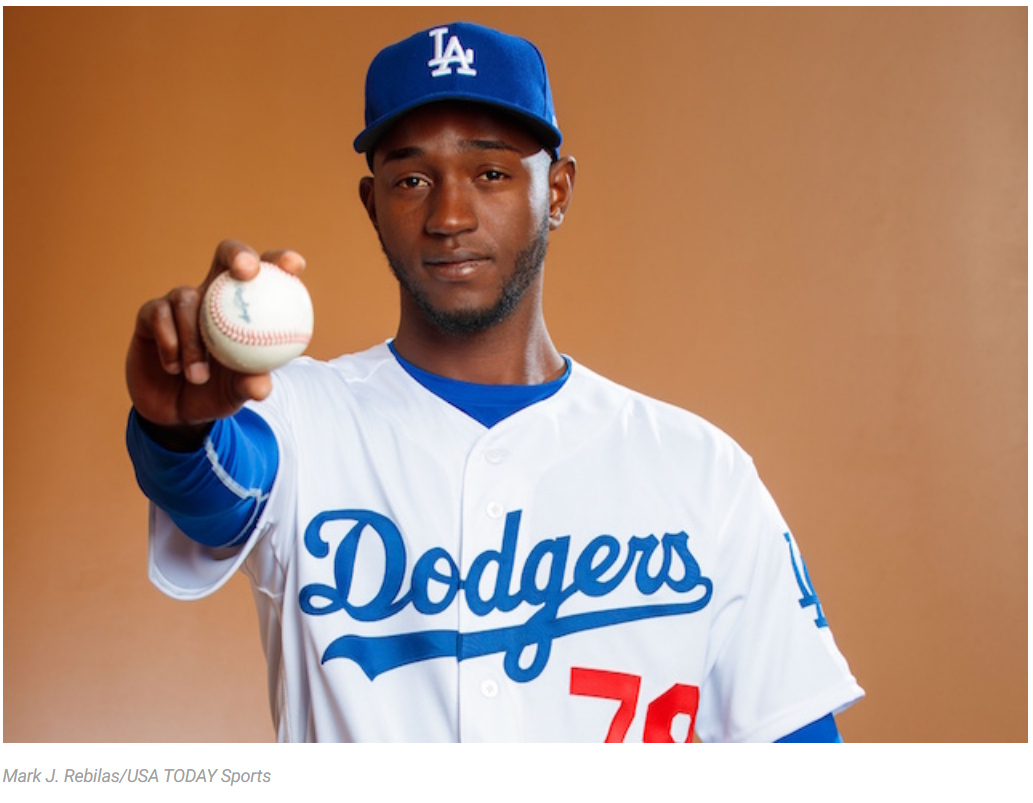 Round Rock Express (Texas) 1 vs OKC Dodgers 2
On the Mound
As per game plan, with a day off on Monday, the Dodgers used six pitchers holding the Express to six hits while walking four and striking out 12. Also indicative of their collective day was 10 ground ball outs.
Justin Hagenman pitched the first two innings and gave up the only run earned by Round Rock on Sunday. He did strike out three.
Jose Adamas and Yadier Álvarez followed Hagenman pitching 1.2 and 2.1 innings respectively each giving up a hit and striking out three. They also finished off the walks for the day with Adames walking two and Álvarez one.
Justin Bruihl pitched two innings with one hit and two strikeouts while Carson Fulmer pitched two-thirds of an inning giving up a single and a HBP while striking out one. Fulmer was replaced by Daniel Zamora who stranded both runners thanks to a fielding gem by Jacob Amaya who nailed the runner at home.
At The Plate
The Dodgers collected seven base hits and worked four walks.
They scored in the second inning off former Dodger prospect A.J. Alexy on a Ryan Noda single following a Michael Busch walk and a Jason Martin single.
They scored their second run and the winning run in the bottom of the fifth inning on a Miguel Vargas home run to left center field. It was his 12th of the season.
This Miguel Vargas guy seems pretty good pic.twitter.com/Jgim1SGQwm

— Blake Harris (@BlakeHHarris) June 26, 2022
Player of the Game
Ryan Noda did have three of the OKC seven hits which ordinarily would qualify him as the POTG. However, making a power play with the keyboard the nod goes to Yadier Álvarez who pitched 2.1 innings with three strikeouts and three ground ball outs. He stranded two inherited runners.
Tulsa Drillers 3 vs Midland RockHounds (Oakland) 5
On the Mound
Landon Knack started for the Drillers and had a good but unusual start. He pitched six innings giving up only two runs on nine hits. Part of his success was that he didn't walk a batter and he sent 10 of them walking back to bench after a K.
Nick Robertson took the loss as he gave up two home runs in his 1.2 innings pitched.  An additional run scored on a Leonel Valera error. Jordan Leasure was called up to get the last out of the game for the Dodgers.
At the Plate
The Drillers combined for only five hits although two of them were home runs.
In the top of the fourth inning Andy Pages hit his 12th home run of the season to left center field.
That'll bust a slump.

Fourth-ranked @Dodgers prospect Andy Pages kisses it goodbye for his 12th homer of the year with @TulsaDrillers. pic.twitter.com/Ps5AVhArlG

— MLB Pipeline (@MLBPipeline) June 26, 2022
James Outman went one better than Pages as his home run to right field in the sixth inning had Devin Mann on base following his single. It was Outman's 16th of the year.
Daily James Outman Update: He just hit his 16th home run and 45th and 46th RBIs of the year, both of which lead the team. This one is went way into the West Texas sky! #dodgers #jamesoutman pic.twitter.com/YTTgiM5r7Q

— Dodgers Daily (@dodger_daily) June 26, 2022
Player of the Game
Landon Knack gets the curtain call as he battled and gave his team  a chance to win.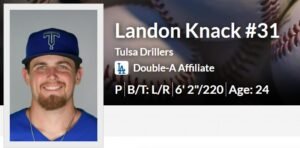 Great Lakes Loons 11 vs Fort Wayne TinCaps (SD) 3
The Loons finished off a six-game series with the TinCaps in Fort Wayne looking to take a fifth game in the series. If accomplished it would be the third series in a row where the Loons have taken five out of six games.
On the Mound
Twenty-year-old Carlos Duran made his fourth start of the season having pitched five innings in his first three starts in which he allowed no earned runs on just two hits and with 10 strikeouts. He pitched three innings on Sunday allowing one infield single and recording two strikeouts with one walk.
Carlos Duran needed just 30 pitches in 3 scoreless innings. Duran has yet to allow an earned run since he has returned off the IL and features a unique mix of a tall frame at 6'7, a big fastball w/vertical drop to it, unique timing to his motion & the big breaking ball. #dodgers pic.twitter.com/S0ynuDr8hV

— Dodgers Daily (@dodger_daily) June 26, 2022
Emmet Sheehan who has been piggybacking with Duran came on in the bottom of the fourth inning. If Duran and Sheehan had been in a piggyback race on Sunday I expect they would have won. Sheehan pitched a strong four innings giving up four hits and one walk while striking out seven. An unearned run did score on his watch. He had been struggling a bit with his control but in this game had 62 pitches, 45 of which were strikes.
Jeff Belge and Anthony Scoggins pitched the eighth and ninth innings respectively with each giving up one earned run.
At the Plate
The Loons struck first with a run in the top of the third inning on a Kekai Rios ground out following a Jonny DeLuca triple.
The extra base hit parade continued in the top of the fourth inning. Eddys Leonard led off the inning with a single. Following Leonard, Jose Ramos, Imanol Vargas, and Jonny DeLuca all produced run scoring doubles.
Leading 4-1 going into the top of the eighth inning the Loons demonstrated why an opponent must get them early as Great Lakes has become a late inning team. In the eighth inning they strung together four hits, three of them for extra bases. Diego Cartaya lead off with a single which was followed by an Alex De Jesus double, an Eddys Leonard run scoring double and a Jose Ramos two-run home run.
The top of the ninth inning spelled more trouble for the TinCaps, some of which was self-induced. The Loons did have three base hits, all singles, by Kekai Rios, Jorbit Vivas and Alex De Jesus. The Jorbit Vivas hit plated two runs. Mix in a free pass to Eddys Leonard and a HBP for Ismael Alcantara, a passed ball, and a two-run scoring error by TinCaps second baseman Wyatt Hoffman and the Loons came away with an additional two runs making it four for the inning.
Player of the Game
Jorbit Vivas had three hits and two runs batted in. Alex De Jesus, Eddys Leonard, Imanol Vargas, and Jonny DeLuca all had two hits.
José Ramos had two hits, a double and a home run, while driving in four and scoring two.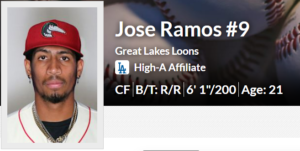 With so much offense, it is easy to forget that Emmet Sheehan had his best outing since way back on April 9 when he pitched four scoreless innings.
The arbitrator has decided that both Ramos and Sheehan deserve honorable mention.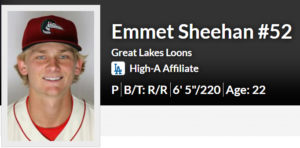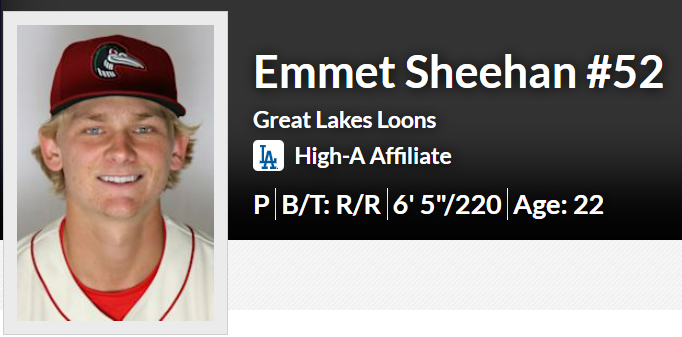 Rancho Cucamonga Quakes 7 vs Lake Elsinore Storm (SD) 8
On the Mound
Pitching has been an issue for the Quakes in 2022 resulting in a number of high scoring games. Sometimes the offense can keep up but other times it cannot. Sunday's game started out in a high scoring way once again with Lake Elsinore.
Jerming Rosario got the call for the Quakes and had a rough 2.2 innings pitched. He gave up seven earned runs on six hits and three walks.
However, things on the mound settled down over the next four innings to give the offense a chance to come back.
Carlos De Los Santos followed Rosario for 1.1 innings pitched allowing a hit and striking out two. He was followed by Kelvin Bautista for two perfect innings with two strikeouts. Reinaldo De Paula was the Quakes fourth pitcher. He did give an additional run in his inning pitched.
Madison Jeffrey pitched a clean eighth inning with one strikeout.
At the Plate
The Quakes actually started well with two runs in the first inning on a Luis Diaz Yanel home run following an Austin Gauthier walk.
They scored again in the top of the second inning on a Yunior Garcia home run to left field.
Trailing 7-3 going into the fifth inning Rancho Cucamonga then made a game of it by scoring three runs in the inning. The big blow was an Austin Gauthier triple bringing home Julio Carrion and Hector Martinez who both had singled. Gauthier then scored on a Yeiner Fernandez groundout.
The Quakes, down by one, had one last chance to tie the score or go ahead in the top of the ninth inning. With one out, Gaige Howard walked and Yeiner Fernandez singled sending the tying run into scoring position. To make things even more interesting Damon Keith drew a four-pitch walk to load the bases. However, Griffin Lockwood-Powell made the second out on three called strikes and Luis Rodriguez struck out swinging to end the threat.
Player of the Game
Austin Gauthier had a good night at the plate walking twice in the lead off position and adding a two-run triple and two runs scored.