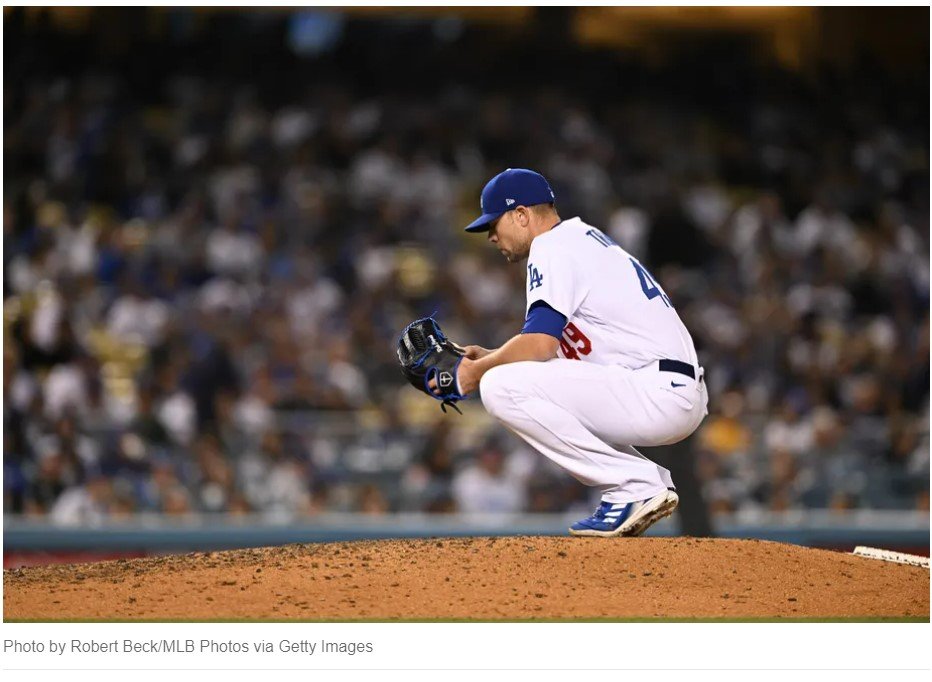 Losing Blake Treinen (Pictured) was tough…very tough.  But Tommy Kahnle and Caleb Ferguson were due back shortly, and Daniel Hudson was already on the roster.  Victor Gonzalez was also working his way back.
But now the Dodgers have lost:
Starters:
Relievers:
Blake Treinen
Tommy Kahnle
Caleb Ferguson (earliest return July 2)
Victor Gonzalez
Daniel Hudson
In all of the above, the Dodgers found a starter in Tyler Anderson, Mitch White, and Ryan Pepiot (if needed).  They also found an electric arm in the pen in the name of Yency Almonte, a former Rockies bust, now a LAD boom.
Due back shortly is Danny Duffy and Caleb Ferguson.  Duffy is available to come off the IL now and Ferguson needs to wait until July 2.  The Dodgers also have Justin Bruihl and Garrett Cleavinger waiting in OKC.  I have not heard much about Duffy's potential rehab assignment, so I really do not know how close he really is.
I was reading MLBTradeRumors comments on Daniel Hudson's injury, and there were a number of comments about the Dodgers lack of depth this year.  Give me any team that loses 3 starters and 5 relievers for extended periods of time, and then tell me if they would have 3rd best record in MLB, and only .001 behind #2 (NYM).
I think what has been proven is that the Dodgers pitching depth is exceptional.  OF depth?  I am a little less exuberant on. I am guessing so too are the Dodgers brain trust.  Why else are they putting Michael Busch and Miguel Vargas out in LF at OKC?
What the concern really is, the Dodgers are going through a 20 game stretch, with no open dates, including 3 in Colorado followed by 4 with the Padres.  They are going to need fresh arms, which probably means frequent air miles building up for pitchers back and forth to OKC up to the All Star break, when they can all catch their breath.
I know some of you want to see the Dodgers do something right now.  The Dodgers needed an OF and tried to stick Eddy Alvarez out there.  He is getting better in RF because he is an exceptional athlete.  But he is not a natural OF.  AF knew he needed someone, and instead of getting players whose names were bandied about…Robbie Grossman, Jorge Soler, Garrett Cooper, Victor Robles…they went out and traded for Trayce Thompson.  All four of those players could be moved at the deadline, but it is going to take more than cash or the proverbial PTBNL to make those deals.  Although probably not much more for Grossman.
I figure the same will be true for the loss of Daniel Hudson.  I cannot see teams moving their late inning high leverage relievers before the deadline.  All of the contenders are going to want bullpen help, and the sellers are going to want as many bidders as they can get.  The Dodgers have two MLB experienced relievers already at OKC in Bruihl and Cleavinger, and they can use Pepiot in relief if they need to.  In 3-4 weeks there will be 40-50 names being discussed.
There are a number of potential relief trade candidates that will require some level of prospect capital. There are also a number of potential starter trade candidates that will require more prospect capital.  Adding a starter allows for one of the starters to drop into relief.  I would be more than fine if Mitch White or Tyler Anderson dropped into a relief role if AF and BG could find a quality starter.
Trying to figure out what AF and BG will do will take one of the nerds' computers to run probability analytics.  It is more fun to just guess than to try to outguess the decision makers.
I know that some like to look at trades well after the fact and then criticize management for making such stupid trades.  First it was Josh Fields for Yordan Álvarez that was criticized and now it appears that Tony Watson for Oneil Cruz will fall into that scenario.  The Dodgers needed Josh Fields and Tony Watson at the time, and nobody complained about either trade when they were made.  Who the devil knew that Yordan Álvarez would be the star he is, or Oneil Cruz to be the star he is going to be?
Yordan Álvarez was 19 when traded, and did not play one game as a Dodger prospect.  After the trade, Houston sent him to the DSL in 2016.  Oneil Cruz was playing his first year in the US and had 89 games of experience at Great Lakes (low A at the time).  So if any of you truly believed that Álvarez and Cruz would be who they are today back then, you should apply for an MLB GM job.
It is entirely possible that there is another Álvarez or Cruz in the DSL or ACL.  But I doubt any of us could pick them out.  The Dodgers also have four 40 man candidates for a lesser trade in Andre Jackson, Eddys Leonard, Jorbit Vivas, or Jacob Amaya (less likely).
There is a little less than 4 weeks until the end of the All Star break, when things get a little more serious, and a little more than 5 weeks before the trade deadline.  The names of the trade candidates will change too many times to count between now and then, but it is always fun to try.
We have already gone through the potential starting pitchers that could be available.  Here are some potential relievers that some will consider.  The Dodgers?  I have no clue.
Here are just a few of the potential relievers that some will say the Dodgers will consider and that AF will ignore and find someone else none of us even thought of.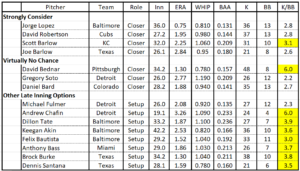 There will not be a consensus from fans on any of the names.  Even David Bednar will cause a furor, because fans will complain about the prospect capital.  I purposely left off the two Tanners; Tanner Scott (Miami) and Tanner Rainey (Washington), but those are two that will undoubtedly be on the AF and BG list because the prospect capital will be looooooow.
Of this group, I am going to get more into the Statcast numbers, but one thing that I have learned is that baseball executives like high K/BB numbers, especially for relievers.  That is why I highlighted the ratios above 3.0.
This is by no means an exhaustive list.  Jim Bowden has a list of 29 potential relievers who he thinks will be traded at the deadline.
One final point.  FWIW, Bowden thinks that Luis Castillo is more likely to be acquired by the Dodgers, with Frankie Montas a less likely option.  He did not consider any other option for LAD.
Thanks for playing!!!