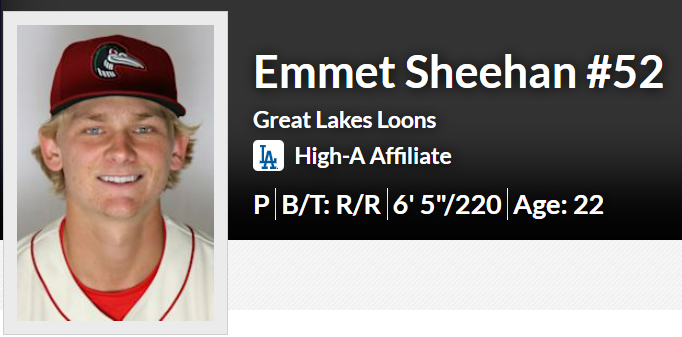 OKC Dodgers vs El Paso Chihuahuas (San Diego) 
The game was postponed due to rain after 4.5 innings.  The score is 4-4, and will be completed on Sunday, July 3, before the scheduled game. 
Arkansas Travelers (Seattle) 4 vs Tulsa Drillers 3 
On the Mound
Landon Knack was hoping to get a quality pitching performance, after missing so many before.  For two innings Landon was able to keep them off the board, but there were two runners on base in both innings.  In the 3rd, Knack issued a walk, double, sac fly, and HR for three runs.  After 3.1 IP, Knack's line was: 3.1 IP, 3 runs, 5 hits, 3 BB, 5 K.
In the 4th, with one on and one out, Austin Drury relieved Knack and kept the Dragons off the board.  Drury pitched 2 additional scoreless innings.  Guillermo Zuniga followed Drury in the 7th.  In the 8th, Zuniga walked the leadoff hitter, who then stole two bases and scored on a WP.
Kevin Malisheski pitched a scoreless 9th, but not without traffic.
At the Plate
Ryan Ward slugged his 17th HR with 2 outs in the 1st inning.  That was all of the offense until the 8th.  With 2 outs, Leonel Valera singled and Andy Pages drew a walk.  Justin Yurchak followed with a double that scored both.  But Ryan Ward was unable to bring Yurchak home.  The Drillers went meekly in the 9th with three strikeouts.
Ryan Ward homered for the second straight game. It's his 17th homer of the season #Dodgers pic.twitter.com/DcXsCZm6Y6

— Bruce Kuntz (@Bnicklaus7) July 3, 2022
Player of the Game
Have to go with Justin Yurchak and his 2-run double in the 8th.  He got the Drillers within one run, and put himself in scoring position as the tying run.
Get your rally 🧢 out, cause we got ourselves a game!

Justin Yurchak delivers the clutch 2-run double, Drillers trail 4-3 ⬇️ 8. pic.twitter.com/LkttXz68lj

— Tulsa Drillers (@TulsaDrillers) July 3, 2022
Dayton Dragons (Reds) 0 vs Great Lakes Loons 1 
On the Mound
Carlos Duran and Emmet Sheehan teamed up again, and with the help of Jeff Belge in the 9th, pitched a shutout.  Duran started and walked a batter in the first, but nothing else.  In the third, the first two batters singled.  After a K, Duran induced a DP to get out of the jam.  And his night was done.
6'7 Top Dodger's Top 20 Prospect, Carlos Duran, had a short outing but was very good. He was 94-96 on the fastball, 88 on the changeup and low 80's on the big breaking ball. Duran went 3 innings, had 3 K's, 1 walk, and no runs. #dodgers pic.twitter.com/pshbc6BYrs

— Dodgers Daily (@dodger_daily) July 2, 2022
As a starter, Emmet Sheehan started 5 games and pitched 9.0 innings and ended with an ERA of 12.00.  On June 15, Sheehan joined up with Carlos Duran as a piggyback duo.  In those 4 games, Sheehan has pitched 13.2 IP in relief and has not allowed an earned run, and has a WHIP of 0.89.  For Saturday's game, he followed Duran's 3.0 scoreless IP, Sheehan threw 4.2 scoreless innings.
In the 8th, The Dragons put two runners on with a single and walk.  After Sheehan struck out a batter for the second out, Jeff Belge was summoned to finish the inning.  Belge struck out the only batter he saw in the 8th to end the threat.  In the 9th Belge hit the leadoff batter, got a DP, and struck out the final batter on three pitches for the 1-0 shutout victory.
At the Plate 
Jonny DeLuca stroked 3 of the 4 hits that the Loons put up.  But it was his 2-out double in the fifth that drove in Kekai Rios who had tripled to open the inning, for which turned out to be the only run of the game.
Player of the Game
With his 4.2 scoreless IP with only 2 hits and 2 walks, while recording 7 K's, Emmet Sheehan is the unanimous choice.
Emmet Sheehan had a great performance tonight. He went 4.2, K'd 7, walked just 2, & gave up no runs. Sheehan hasn't allowed an earned run in his last 4 outings which spans 13.2 innings. In that stretch, he has struck out 24 & walked just 6. Well done @Emmet_Sheehan #dodgers pic.twitter.com/rb0RIkByRl

— Dodgers Daily (@dodger_daily) July 3, 2022
Visalia Rawhide (DBacks) 7 vs Rancho Cucamonga Quakes 5 
On the Mound
Jerming Rosario is the third prominent international free agent signed in 2018, with Diego Cartaya and Alex De Jesus.  The latter duo are playing well at Great Lakes, but Jerming is struggling in Rancho.  He is someone I pull for, and every time he has a good outing, I get excited for him.  But this was not one of those games.  In 4.0 IP, Jerming allowed 5 runs on 6 hits and 2 BB.  He struck out 5.
Martin Santana allowed two unearned runs in the one inning he pitched.  Gabe Emmett is a 21 year old 6' 5" 175lb RHP who was drafted in the 19th round of the 2021 draft.  He has progressively improved this season.  This was his 4th game at RC, and it was his best.  In his 2.0 IP, he allowed two base runners: one in each inning.  One reached on an error, and he hit another batter, but neither scored.
Hector Martinez and Reinaldo De Paula completed the final two innings without any further damage.
At the Plate 
Julio Carrion hit a 2-run HR in the 2nd inning to get the Quakes an early lead.  Down 7-2 in the 5th, with 2 outs, Luis Yanel Diaz, Luis Rodriguez walked, Yunior Garcia singled to score Diaz.  Kenneth Betancourt singled to score Rodriguez, and the Quakes closed to 7-4.
The really threatened in the 7th.  Luis Rodriguez opened the inning with a double.  With one out, Kenneth Betancourt singled but was thrown out at 2B.  Julio Carrion singled to plate Rodriguez.  Two more walks and the bases were loaded with 2 outs.  But a ground ball to 1B ended the inning with the score 7-5.
Every starting Quake had at least one hit, with Kenneth Betancourt and Julio Carrion had 2.  Carrion had 3 RBIs.
Player of the Game
I am tempted to name Gabe Emmett who was drafted out of Folsom Lake College, less than 5 miles from my home.  But I am going to have to go with Julio Carrion with his 2 -run HR and run scoring single.
Julio Carrion slugs a TWO-RUN HOMER to left center field❗️

This is his 8th home run of the '22 season❗️

Quakes up 2-0
Bot of 2nd pic.twitter.com/yn1l18wF3f

— Rancho Cucamonga Quakes (@RCQuakes) July 3, 2022
Julio Carrion singles to left field and drives in Luis Rodriguez!

Rancho down 7-5
Top of 8th next pic.twitter.com/fauqqz0ZcE

— Rancho Cucamonga Quakes (@RCQuakes) July 3, 2022