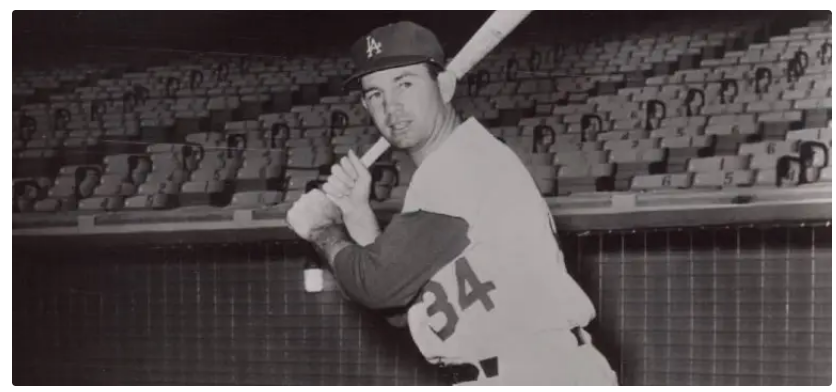 Life Before MLB
We older Dodger fans remember Larry Sherry so well. He was an unexpected hero during the 1959 World Series. We most likely thought the series MVP, if a pitcher, might have been Don Drysdale, Sandy Koufax or Johnny Podres. If a hitter, it might have been Charlie Neal who had 10 hits in the six game series and six runs batted in. At the end of game six Larry Sherry had recorded two wins and two saves while leading the team with 12.2 innings pitched in which he gave up but one earned run.
Larry Sherry is etched on our minds, and in baseball history, as are so many other Dodgers of that era, including the Boys of Summer. In the back of our minds we vaguely remember names like Jim Hughes, Rube Walker, Joe Pignatano and Larry's brother, Norm Sherry, among others.
Norm Sherry lived much of his life recognized as Larry Sherry's brother, most likely because his MLB experience did not approach that of the younger Sherry. However, Norm Sherry is part of the collective memory of many minor league and major league players with whom he came into contact. His story is a story of a hidden gem in the world of baseball that as a Dodger fan since 1952 I did not know until I started to do a bit of research on Larry Sherry's brother.
Throughout Dodger history there have been only been three other sets of brothers who have worn Dodger uniforms at the same time. Those three sets of siblings are Zack and Mack Wheat (1915-19), Steve and Dave Sax (1982-83), Ramón and Pedro Martínez (1992-93).
Norm Sherry was born On July 16, 1931 in New York, four years earlier than his brother who was also a July baby born in Los Angeles. In all there were four Sherry brothers including Stan and George.
The Sherry brothers attended Fairfax High School in Los Angeles with an interest in basketball and all four playing baseball. They lived close to the Fairfax High School Field and Gilmore Field, the home of the Pacific Coast League Hollywood Stars.
Norm Sherry was already making his mark  by 1949 when he was named to the Los Angeles' All-City Baseball Team as a catcher. A Fairfax High School teammate, Chuck Essegian, was also an All-City team member. Dodger fans from back in 1959 will remember that Essegian hit two home runs in that 1959 World Series championship run. Sherry was also named Player of the Year for the Western League, as the Fairfax High School Colonials won the city baseball title.
Following his high school graduation Norm Sherry was headed to the University of California on a full baseball scholarship. His education got sidetracked by a Brooklyn Dodger tryout at Gilmore Field and by Dodger scout Howie Haak who signed him to a contract. Other players signed by Haak include Gino Cimoli and later on Dick Stuart and John Candelaria as a Pittsburgh Pirate scout. Undoubtedly Haak's greatest find was his recommendation that the Pirates draft Roberto Clemente out of the Dodgers farm system.
Norm Sherry started his professional career in 1950 with the Dodgers Santa Barbara affiliate (Class C) as the youngest player on the roster. Some consideration, due his strong right arm, was that he convert to pitching along with his pitching brothers Larry and George. However, his path was to be as a catcher although he was briefly tried in the outfield for 34 games during his first two seasons of professional baseball.
His trek to donning a Dodger uniform then took 10 years. Following his initial season with Santa Barbara  as an 18-year-old he next made stops with Newport News and Forth Worth in 1951. With the Newport News Dodgers he was a teammate with Roger Craig and Johnny Podres while with the Forth Worth Cats he played along side of Gino Cimoli.
Like so many young ball players his baseball career was put on hold as he served two years of military service in 1952 and 1953.
His 1954 and 1955 seasons were back with the AA Forth Worth Cats and in 1956 he moved up to the AAA Buffalo Bisons of the International League. Sherry  continued to play at the AAA level until he was called up to the Dodgers, including stops with the St. Paul Saints in 1957 and the Spokane Indians in 1958 and 1959. During the 1958 season he and his brother Larry were together in Spokane for the entire season although Larry did get to pitch for 4.1 innings with the Dodgers that season in which he gave up seven runs on 10 hits.
Following Roy Campanella's career ending injury in 1958, it appeared that Norm Sherry might have an opening as a starting MLB catcher based on an assessment by the Dodgers farm director.
"Sherry had the best arm of any catcher I ever saw," said farm director Fresco Thompson. And he "can hit as well as any catcher in the majors except the top men."
MLB Career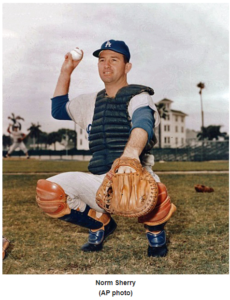 Norm Sherry's MLB career lasted only five years, four of those with the Dodgers, including  just two games in 1959.
He debuted with the Dodgers on April 12, 1959 with one hit in four at bats along with two runs batted in. The first MLB pitcher that he caught was none other than Sandy Koufax who gave up three earned runs in three innings pitched.  As the game progressed he also caught Johnny Klippstein and Clem Labine who earned a win and a save respectively.
"I've always thought I'd make it one of these days," the catcher said of his trip to the majors. "Baseball men have always told me that I have the right tools and if I get a break I could do it."
The next three seasons were short on playing time for Norm Sherry but it was all with the Dodgers. In terms of days he had as many as all roster players through 1960 to 1962 but in terms of playing time with the Dodgers he made the box score only 131 times.
His Dodger playing career included a total of 350 at bats and a triple slash of 249/.311/.414 along with 16 home runs and 58 runs batted in. Behind the plate he threw out 39% of would-be base stealers and posted a fielding percentage of .989. It  seems in present day roles for catchers and the designated hitter, Norm Sherry would earn much more time at the plate and behind the plate. His fielding percentage actually tops that of Roy Campanella and Johnny Bench although with a very small sample.
Sherry was traded to the New York Mets for the 1963 season. He played in 63 games managing only 20 hits in 147 at bats.
He played his last MLB game on September 26, 1963. You have to love the irony in this game. He caught his last game against the Dodgers in Los Angeles. He had three plate appearances and scored a run after walking.
Continuing with the irony, the Dodgers starting pitcher that game was none other than his kid brother, Larry Sherry. In his first at bat the older Sherry walked and later scored. In his second at bat in the fourth inning he flew out to center field. The greatest irony would be if his last MLB at bat came against his brother. However, he had one final at bat in that game against Ken Rowe and grounded out to shortstop.
Norm Sherry's playing time was limited at the MLB level for a couple of reasons. First, Dodger manager Walter Alston liked to play his first string catcher as much as possible as long as he was hitting. There was an opportunity for the back up catcher in 1960 as John Roseboro was limited to 103 games due to injury.  However, Joe Pignatano picked up most of the games for which Roseboro was not available. During the 1961 and 1962 seasons Roseboro played 128 games.
The primary reason that Sherry could not compete for more playing time was the string of injuries that plagued his career.
1960 – His wrist was broken by a HBP.
1961 – He was hospitalized with  a lacerated kidney resulting from a home play collision in early May.
1961-  Seven weeks later he was warming up a pitcher in the bullpen – again with irony –  when fellow catcher John Roseboro pulled a foul ball that struck Sherry, fracturing a rib.
1961 –A sore arm followed after his return in August.
1962 –  "I'm completely satisfied with [Sherry] as my second-string catcher," Alston said.  However Sherry's playing time was again limited by a bad back and then a knee injury finishing his season and his Dodger career.
Memorable MLB Moments
Norm Sherry did have some memorable moments during his playing day and perhaps more than we know.
On May 7, 1960, he hit his first major-league home run to give the Dodgers a 3-2 win over the Philadelphia Phillies and the winning decision to his younger brother Larry. It was the first time they had appeared together in a major-league game.
In that same game Norm and Larry Sherry became the first, and only, Jewish brothers to be battery mates in Major League Baseball history.
Larry and Norm Sherry are the last MLB brother pitcher-catcher battery with their final appearance together coming on June 28, 1962, against the Mets at Dodger Stadium.
He hit 8 home runs in 1960, including the first grand slam of his life on May 31. It was his first start in nearly three weeks, and it led to an 8-3 win over St. Louis. Stan Williams picked up the win, and Larry Sherry worked the final 1-2/3 innings of perfect relief.
On September 4, 1961 he became one of 11 MLB catchers to record an unassisted double play.
Life as a Coach
Norm Sherry was not defined by his MLB statistic line, either as a person or as a baseball professional. His influence started as a Dodger and continued throughout his coaching career.
After one more season with the AAA Buffalo Bisons of the International League trying for one more shot at MLB, Sherry turned to coaching in 1965.
His coaching journey took him through seven different minor league venues in 11 years, mostly managing at the minor league level. The first three years were with the Dodgers affiliate, the  Santa Barbara Dodgers. His first Santa Barbara opening day starter was Hall of Famer Don Sutton. That was his only coaching time within the Dodgers organization.
In 1976 he returned to MLB for 16 years as a manager, third base coach and pitching coach. His managerial career was a brief two years with the California Angels after one year as a third base coach.
Following that he served four years as a third base coach with the Montreal Expos under manager Dick Williams, three years as a pitching coach with the San Diego Padres,- again with Dick Williams – and finally six years as a San Francisco pitching coach under Roger Craig who was his MLB teammate for three years in Brooklyn and one in New York.
It seems that Norm Sherry's penchant for coaching started before he retired as a MLB player.  It is one thing to look after your younger brother as a brother but it is another to help foster his career which the older brother did on more than one occasion. Larry did not handle the ups and downs of baseball well but kept going with the mentoring by Norm.
Larry at times wanted to quit, but Norm encouraged him to stay with baseball. While playing winter ball in the Cuban League after the 1958 season, Norm helped Larry develop a slider, a pitch he used to  help the Dodgers  win their first championship as the LA Dodgers in 1959 against the White Sox.
Larry Sherry was traded to the Detroit Tigers for the 1964 season after having fallen out of favor with the Dodgers. Again he had quitting on his mind and again his career was resurrected by his older who helped him work out a kink in his delivery and gave him five more years of MLB.
"The Dodgers watched me for six weeks, and nobody could tell what I was doing wrong," Larry said. "My brother saw me throw three pitches and knew right away what the trouble was." Sherry turned in several more good seasons as a reliever before the end of his career.
As previously mentioned, Norm Sherry served as the pitching coach for the Montreal Expos from 1978 to 1981. He did not come to Montreal by accident.  Montreal manager Dick Williams brought Sherry on to the Expos' staff to serve as a third base coach but Williams had a special project in mind for he former Dodger catcher.
"With Montreal, manager Dick Williams and general manager Charlie Fox called me and said, 'We want you to come up here and be a coach. We've got this kid, and now he's playing the outfield and catching some, but we want to make him just a catcher: Gary Carter.'" Sherry told the Jewish Baseball Museum in a Q&A in 2016. "That was my job. In spring training I was with Gary Carter all the time. I would tell him: 'No, you don't want your glove like that; you want it this way . . . No, move your feet.' He must've gotten tired of me."
The end result with Gary Carter is that be was inducted into the Hall of Fame in 2003 and is listed among the top 10 MLB catchers of all time.
"Norm Sherry has done an outstanding job with Carter," Padres manager Roger Craig told the Montreal Gazette for their May 9, 1979 edition. "Carter just may be the best all-around catcher in the league."
Sherry's stellar work with Carter also didn't go unnoticed by his own manager.
"Gary's big success – of course he has to actually do it himself – is mainly because of Norm Sherry," Williams told the Montreal Gazette in August 1979. "That's why he's so far advanced this quickly. Sherry has done an outstanding job with him. He's one of the best catching instructors in baseball."
Carter accepted Sherry's suggestions and said, 
"Norm is showing me how to turn my glove instead of backhanding a ball, and how to get in front of the ball better. He's also working with me on how to be quicker and more accurate with my throws."
Sherry's influence was felt again in 1984 while serving as the Padres' pitching coach. He tutored the staff that helped capture the franchise's first World Series berth. Two years later he joined the San Francisco Giants' staff under the helm of another former Dodger, Roger Craig. In 1989, the club claimed its first World Series berth in 27 years.
Norm Sherry's Legacy
"Working with young players and the impression he left on people was probably his biggest legacy, I think," Norm's son, Mike, said. "Everybody liked him, and his working with Sandy Koufax was probably his shining moment."
Let's look one more time at a moment that changed baseball history.
In the spring of 1961, in Orlando, the Dodgers had a scheduled game with the Minnesota Twins. On the plane ride to Orlando Sandy Koufax and Norm Sherry talked with Koufax explaining he wanted to work on his curve ball and change-up. That day the young left-hander could not find the plate and walked the first three hitters he faced. In Norm Sherry's words that's when the moment that changed baseball history happened when Sherry had a mound visit with Koufax and offered some advice which was well received.
"Sandy, we don't have many guys here; we're going to be here a long day. Why don't you take something off the ball and just put it in there? Don't try to throw it so hard. Just put it in there and let them hit it."
Sherry settled in behind the plate and no doubt was flabbergasted by what happened next. Koufax was throwing harder than when he had been overthrowing and struck out the side
We came off the field, and I said, "Sandy, I don't know if you realize it, but you just now threw harder than when you were trying to."
" What he did was that he got his rhythm better and the ball jumped out of his hand and exploded at the plate. He struck out the side. It made sense to him that when you try to overdo something, you do less. Just like guys who swing so hard, they can't hit the ball. He got really good."
It took  a while to pick out some details about Norm Sherry but now I know that he  is not, or should not be, just remembered as Larry Sherry's brother. He is Norm Sherry who has a brother named Larry.
Norman Burt Sherry died from natural causes on March 8, 2021. He had lived a happy and productive life for 90 years. His younger brother Larry died in 2006.
Thank you Norm Sherry for a life and career well lived and for giving us the Sandy Koufax that meant so much to the Dodgers, the world of baseball, and especially to us as fans, who still relive the years when Sandy was the king of the hill.