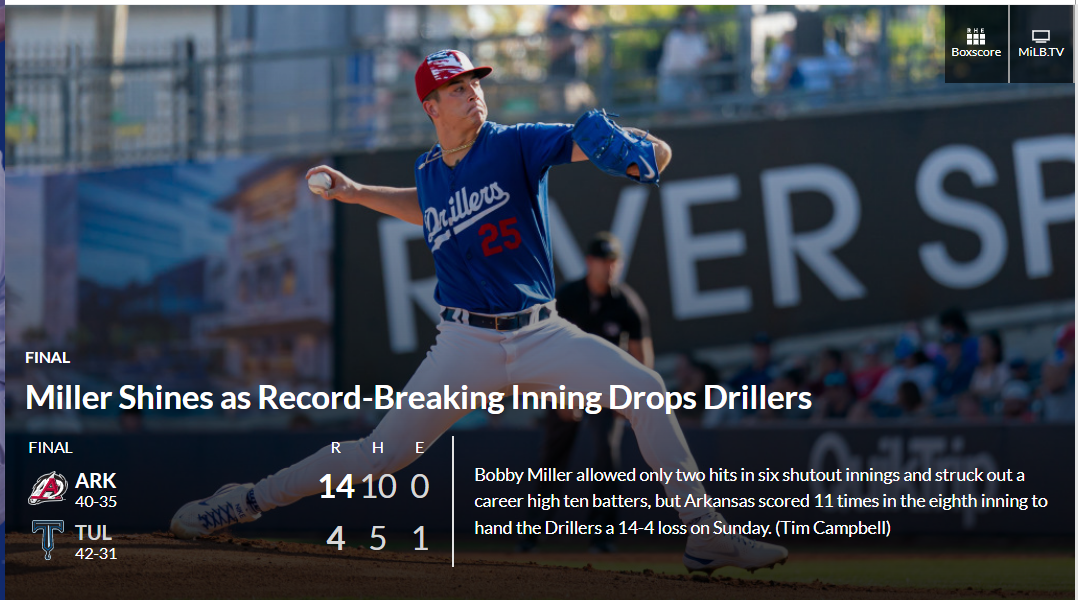 OKC Dodgers 5 vs El Paso Chihuahuas (Padres) 18
Some days are like this. Got to forget it and get ready for the next one.
On the Mound
The Dodgers sent five pitchers to the hill and all failed to be king of the mountain.
Sam Gaviglio started and pitched four innings giving up seven hits and four runs. He was replaced by Yadier Álvarez in the bottom of the fifth inning and things continued downhill from there. Álvarez pitched one inning in which he gave up five hits and five runs scored, long with a HBP and a walk.
Jose Adames went 1.1 innings and fared better than Álvarez although he still gave up three runs on two hits with two walks. Aaron Ochsenbein also had a night to forget with  a line that reads 1.1 innings pitched, four hits, two walks and five earned runs.
Bobby Wahl relieved Ochsenbein to get the last out in the bottom of the eighth inning but not before he gave up  a home run to Robinson Cano.
At the Plate
The Dodgers were held to five runs although they had 10 hits and four walks.
They scored a single run in the top of the second inning on a pair of doubles by Ryan Noda and Jacob Amaya.
In the top of the third inning the power bats came out as Miguel Vargas hit his 13th home run after a James Outman walk. Michael Busch followed Vargas with his 9th home run of the season to right center field.
#Dodgers no. 5 prospect Miguel Vargas hit his 13th homer of the season to extend his hitting streak to 14 games. With this home run, his OPS this season moved to .903. #AlwaysLA pic.twitter.com/vVwVg939zc

— Bruce Kuntz (@Bnicklaus7) July 3, 2022
And then Michael Busch did some unspeakable things to a baseball for this 20th overall home run for the lead! pic.twitter.com/x5uRB4CWgd

— Oklahoma City Dodgers (@okc_dodgers) July 3, 2022
The Dodgers final run came in the sixth inning on a Tomás Telis single and a James Outman double.
Player of the Game
Miguel Vargas again gets the call with his three hits including the two-run home run.
OKC Dodgers 2  vs El Paso Chihuahuas (Padres) 12
As mentioned during the first game of the double header, we have to look forward to the next game when things go poorly in a game. It happened again.
On the Mound
Robbie Erlin made it through three innings without giving up any walks. However, he did give up eight runs on nine hits  with three of them being home runs.
Dellin Betances followed Erlin and worked 1.1 innings allowing one hit while walking one and striking out three. He was relieved by Dakota Chalmers with a man on. Chalmers was not able to strand the runner who scored following a walk and a base hit. Another walk loaded the bases and yet three more forced home three more runs.
After a mound visit, Carson Fulmer was brought in with the bases loaded and got the third out with a ground out and stranding three runners.  Fulmer walked the first batter he faced in the bottom of the sixth inning but struck out the next hitter and retired the last two hitters on soft ground balls back to the pitcher.
At the Plate
Jason Martin hit his 16th home run of the season in the second inning and he scored again in the fourth inning when he doubled and was driven home by Jacob Amaya.
Jason Martin home run counter:

5️⃣ in 6 games

6️⃣ in 8 games

🔟 in 21 games

1️⃣6️⃣ this season pic.twitter.com/PHigJY4W73

— Oklahoma City Dodgers (@okc_dodgers) July 4, 2022
Player of the Game
The Dodgers were held to six hits, two of them extra base hits by Jason Martin so he is any easy pick.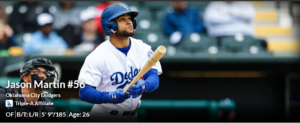 Arkansas Travelers (Seattle) 14 vs Tulsa Drillers 4
On the Mound
Bobby Miller had no chance of a win as his relief did not have a very good night and his offense scored no runs during his six innings of work. He had the kind of game that we are expecting as he pitched six scoreless innings although he threw 93 pitches, 56 of them strikes. He gave up only two hits , both of them singles, while walking three and striking out 10.
Bobby Miller brought the 🔥 to the mound.

The No. 2 @Dodgers prospect fanned a career-high 10 in six scoreless frames for the @TulsaDrillers.

Tune in LIVE: https://t.co/aKtGFgWBY3 pic.twitter.com/UBFMjim1QX

— MLB Pipeline (@MLBPipeline) July 4, 2022
Nick Robertson came on to toe the slab in the seventh inning recording only two outs while allowing three runs on three hits and three walks.
In his inning of work Keegan Curtis gave up two more runs on two hits.
Cameron Gibbens followed Curtis and had trouble finding the plate. The Travelers scored three times on one hit, a single, aided by three walks and two HBP. Kevin Maliskeski relieved Gibbens with the bases still loaded. He quickly unloaded the bases as Arkansas catcher Jake Anchia hit a grand slam home run with three more runs being charged to Gibbens.
Abiatal Avelino was called upon to mop up in the ninth inning and retired the side with no further damage.
At the Plate
The Driller bats were silent until the eighth inning when they were able to push four runs across. Leonel Valera led off with a walk followed by Jeren Kendall who was hit by a pitch. Ryan Ward drove in the first Tulsa run with a single and Andy Pages followed him with a three-run home run to left field.
Player of the Game
Andy Pages had a good game with two hits, one being his 14th home run, and three runs batted in. However, Bobby Miller gets the nod with his six shutout innings.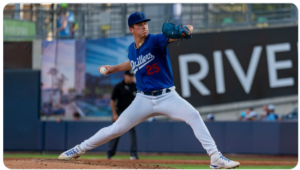 Daytona Dragons (Reds) 8 vs Great Lakes Loons 11
For the second time in three days the Loons erased a huge early deficit and defeated the Dayton Dragons 11-8. On Friday they scored five runs in the bottom of the eighth inning – after trailing 6-0-  for that 11-8 win. On Sunday they scored six runs in the bottom of the ninth inning, four with two outs, for their second 11-8 win and overcoming a seven-run deficit.
On the Mound
If a team gives up eight runs it normally means the pitching is just not good. Sunday had a mixture of  the not so good and the excellent. They did strike out 13 Dragons while walking four.
After four consecutive relatively good starts, Nick Nastrini had a difficult Sunday afternoon. He made it through only 1.2 innings pitched giving up six runs on five hits and two walks, including a three-run home run and a solo shot. He was followed by Anthony Scoggins who gave up an additional run in his 1.1 innings with it coming across on a wild pitch. Scoggins did strand two inherited runners.
Jacob Cantleberry is back in the saddle again and pitched the fourth inning with all zeros. Cole Percival did Cantleberry one better with two innings of all zeros except for three strikeouts.
Ben Harris gave up the eighth Dragons run in the eighth inning on a Jose Torres home run to left field. Other than that Harris had a good outing for 1.2 innings on two hits, no walks and two strikeouts.
Ryan Sublette shut the Dragons down for 1.1 innings, again with all zeros except for three strikeouts.
At the Plate
The Loons did have 13 hits and six walks in accounting for their 11 runs.
They were trailing 7-0 going into the bottom of the third inning and came out of the inning trailing by only four. Following an Aldrich De Jongh walk and a Diego Cartaya single, Jorbit Vivas had a RBI double and Jonny DeLuca followed with a two-run single.
They picked up another run in the fourth inning without a hit. Eddys Leonard was HBP, Diego Cartya walked, a wild pitch advanced them and a Jorbit Vivas sacrifice fly brought Leonard home.
In the bottom of the seventh inning Great Lakes scored a run on three consecutive hits including a Jorbit Vivas single, an Alex De Jesus single and the first of Jonny DeLuca's three doubles.
Trailing 8-5 going into the bottom of the ninth inning the Loons showed their mettle. Against right-hander Donovan Benoit they strung together five hits and a walk to score six runs. Kekai Rios started things off with a single, followed by an Alex De Jesus single and Jonny DeLuca's third double of the day bringing the Loons to within one run of the Dragons. Jose Ramos next walked and Imanol Vargas hit a single to load the bases. Aldrich De Jongh, looking for his first hit since coming off the IL, worked the count to 3-1 forcing Benoit to throw a strike. De Jongh timed the pitch perfectly and ended the game with his first career grand slam. The Loons last walk off on a home run came back on June 11, 2018.
Player of the Day
This one had to be taken to the Chief Justice for some assistance. He had the same conundrum I had so listed both Aldrich De Jongh and Jonny DeLuca.
De Jongh's grand slam was a game winner and just demonstrates the Loons never quit.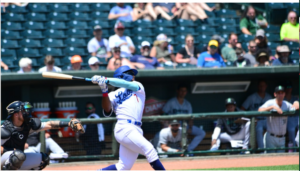 Jonny DeLuca is primed for a promotion to Tulsa. On Sunday he had four hits, three of them doubles, and five runs batted in along with a stolen base.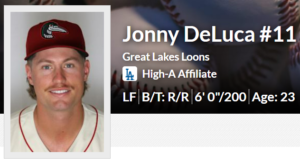 Visalia Rawhide (DBacks) 4 vs Rancho Cucamonga Quakes 16
On the Mound
Pitching has been a bit of an issue for the Quakes this season. Statistically they stand sixth in the league in ERA and WHIP. They easily lead the league with 140 wild pitches and only the Visalia Rawhide have issued more than the Quakes 420 walks. On the other side of the coin Rancho Cucamonga pitchers lead the league with 856 strikeouts and have allowed 590 hits which is the second fewest in the league.
On Sunday the Quakes did get some quality pitching starting with Orlando Ortiz-Mayr  who pitched four innings of one-run ball on four hits. He did walk three but struck out seven.
Heisell Baro next pitched two innings and did give up two runs on four hits along with two strikeouts. Baro was followed by Osvanni Guiterrez who pitched two hitless innings with three strikeouts. The lone run he conceded came without a hit as a result of a fielding error, a catcher throwing error, a wild pitch  and a sacrifice fly.
Kelvin Bautista finished up the ninth inning allowing one hit and striking out the side.
On the night the Quakes struck out 15 and walk three.
At the Plate
Offensively the Quakes are first or second in all categories except for stolen bases and the offense showed off on Sunday. Every Quake hitter had at least one hit and one run scored.
Luis Yanel Diaz, who has been hot lately, started things off with a home run to center  field. The Quakes then proceeded to send 14 more hitters to the plate during the inning scoring 10 runs on nine hits and three walks. Every Quake hitter in the line up reached base in the inning with three of them reaching base twice.
In the bottom of the fourth inning Luis Rodriguez hit his seventh home run of the season to center field, a solo home run.
Luis Rodriguez hits his 7th homer 435 feet to center field ☄️

Rancho up 11-1
Bot 4th pic.twitter.com/3kCyAIeZ9g

— Rancho Cucamonga Quakes (@RCQuakes) July 4, 2022
Leading 11-4 going into the bottom of the eighth inning the Quakes tacked on five more runs. A Hector Martinez double brought home Austin Gauthier who had walked and Gaige Howard who had singled. Luis Diaz then singled Martinez home and Yeiner Fernandez singled Martinez home. The Quakes last run was forced home by a walk.
Player of the Game
Luis Yanel Diaz feasted on Rawhide pitching. He had four hits, including his lead off home run, three runs scored and four runs batted in.