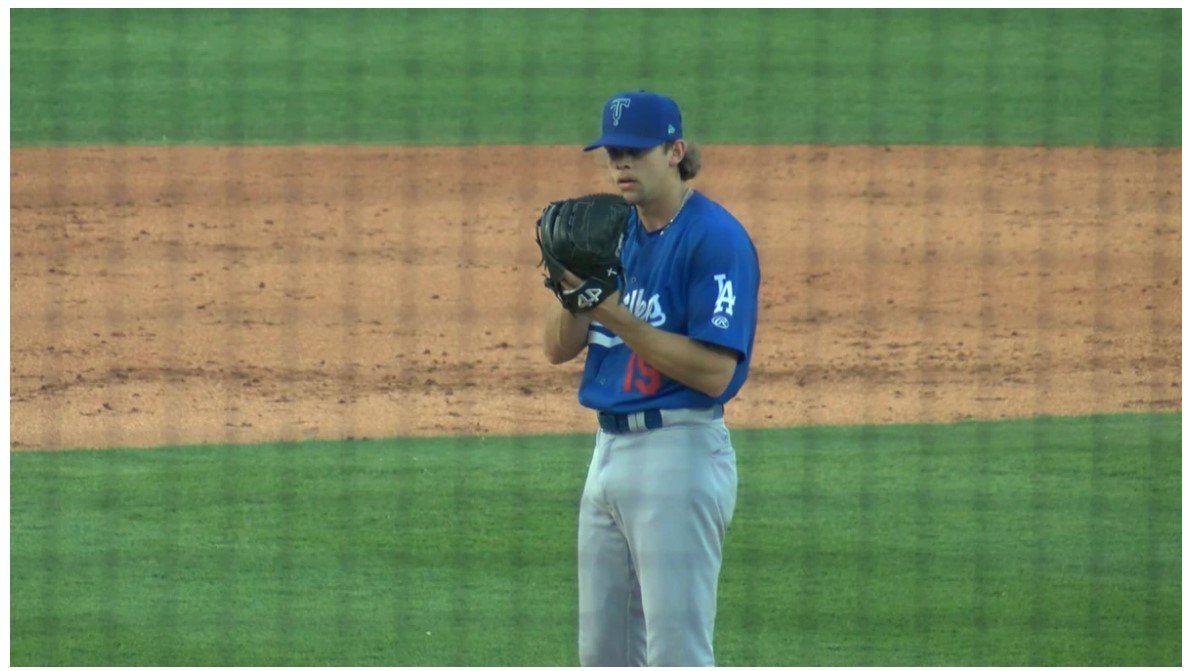 Las Vegas Aviators (A's) 2 vs OKC Dodgers 11
Sam Gaviglio started and pitched 5.0 scoreless innings.  With 5 hits and 4 walks he navigated through lots of traffic.  Dellin Betances walked two batters and 1 K, but Marshall Kasowski relieved him and gave up a 2 run double, both charged to Betances.  Justin Bruihl and Bobby Wahl, 1.0 scoreless inning each.
Eddy Alvarez was the offensive star – 4-5 with 2 HRs (7), 5 RBIs.
Michael Busch – 3-5 including a double (11)
James Outman HR (1)
Justin Martin HR (17)
Tulsa Drillers 3 – Northwest Arkansas Naturals (KC) 0
4 Loons pitchers combined for a 5 hit shutout, led by Gavin Stone.  Stone went the first 6 innings, but was uncharacteristically wild with 6 walks.  He still recorded 8 Ks.  His ERA is now at a miniscule 1.29.  Nick Robertson, Guillermo Zuniga, and Jordan Leasure each pitched a scoreless inning, with Leasure getting the save (2).
Gavin Stone might have been a little too pumped for his Arkansas homecoming – he was up 98 mph, but he issued a career high 6 BBs. The last time he even had 3 BBs was over a year ago (6/26/21). That said, he still navigated things effectively:

6.0 IP
3 hits
0 runs
6 BBs
8 Ks⬇️ pic.twitter.com/3nIT8SEjCM

— Josh Thomas (@jokeylocomotive) July 8, 2022
Kody Hoese and Leonel Valera had 2 hits.
Jonny DeLuca got another hit, and is now 5-14 with the Drillers.
Great Lakes Loons 1 vs Lansing Lugnuts (A's) 10
The first three pitchers for the Loons surrendered 10 runs on 11 hits and 5 walks.  Only Jacob Cantleberry had a productive outing, going 1.1 with no baserunners and 3 Ks.
Alex De Jesus was 2-4 and Eddys Leonard was 2-3, including his 21st double.
Imanol Vargas had a run scoring double (13)
Rancho Cucamonga Quakes 10 vs Inland Empire 66ers (LAA) 6
Benony Robles and Martin Santana spotted the 66ers with 6 runs after 4.0 innings.  Luckily the Quakes offense had 5 runs of their own.  Jonathan Edwards, Kelvin Bautista, and Madison Jeffrey pitched a shutout the rest of the way.
Yeiner Fernandez was the offensive star on this night.  He went 3-5 with a 2-run HR (4) and a 2-run single.  5 RBI's in total.
Austin Gauthier went 3-4 with a double (14) and 2 RBIs and scored 3 runs.
Luis Yanel Diaz had 2 hits.
Jake Vogel went 1-2 with a double (12) and 3 walks and scored 2 runs.