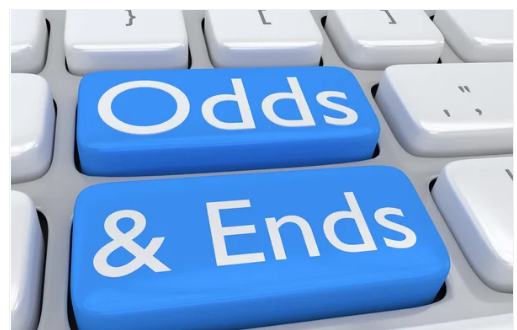 Midwest Players of the Week June 27- July 3
https://www.milb.com/fans/players-of-the-week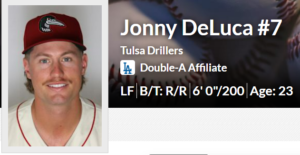 Jonny DeLuca is a repeat selection for Midwest League Player of the Week having also been selected  for the week of June 20-26. The Great Lakes Loons outfielder, now with the Tulsa Drillers, was Mr. Clutch for the Loons during their rapid rise to the top of their division in the Midwest league to capture a first half playoff spot.
DeLuca, now 23, was selected by the Dodgers in the 25th round of the 2019 First Year player Draft. Out of the University of Oregon in Eugene.
In the last seven days he has played six games posting a triple slash of .435/.519/.696 with a 1.214 OPS. He had six doubles along with seven runs batted in and two stolen bases.
In the last month his slash line is .341/.456/..671 with an OPS of 1.127. Over 24 games he had five home runs, 11 doubles, 23 RBI, 19 runs scored and five stolen bases without being caught. He struck out 17 times and walked 15.
This was Baseball America's scouting report on DeLuca prior to the draft.
"A 5-foot-11, 196-pound draft-eligible sophomore, DeLuca was drafted by the Twins in the 39th round of the 2017 draft, but instead made it to campus at Oregon where he has struggled to figure out the offensive side of his game. DeLuca is an above-average runner with above-average arm strength who was one of the best athletes in the 2017 class out of high school, where he also was a competitive long jumper and track runner, but he's hit just .224/.293/.356 over two seasons with the Ducks and he's striking out more in 2019. His offensive performance, combined with well below-average power might make him a tough draft, but if he can figure out his swing he could impact a team with his defense and running ability."
DeLuca has apparently figured something out. The 6'0"/200 lb. right-handed hitter with below average power has not been an apt descriptor in 2022. He did not impress at the plate in April and May but has been hot ever since with 35 of his 68 hits going for extra bases.
When promoted he had the following standings in the league.
HR (2nd) 18
Doubles (8th) 17
Hits (10th) 68
Runs (2nd) 51
OPS (7th) .859
Slugging (5th) .516
Perfect Game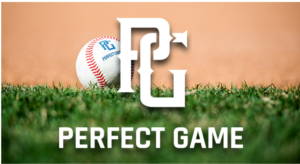 A perfect game is no easy task at any level and especially when five pitchers are involved., That is exactly what happened in the ACL Dodgers 13-0 win over the ACL White Sox on July 2nd.
Justin Wrobleski — who's on a rehab assignment after TJ surgery — started the game with a strikeout in the first inning. Christian Romero, Luis Valdez, Kelvin Ramirez, and Horacio Andujar threw two innings apiece, combining for 12 strikeouts along the way. The masterful performance by all led to the ACL Dodgers' 13-0 win over the White Sox. Wrobleski, Valdez and Andujar all have ERAs below 1.00, and the first two have yet to have a blemish on their ERAs this season.
LHP Justin Wrobleski – 11th round 2021 Oklahoma State
RHP Christian Romero – 2021 signing out of Hermosillo, Sonora, Mexico
LHP Luis Valdez – 2019 signing out Navojoa, Sonora, Mexico
RHP Kelvin Ramirez – 2021 signing out of Cumana, Venezuela
RHP Horacio Andujar – 2021 signing out of Bani, Dominican Republic
Top Loon – Last 46 Games
Who has been the Loons top hitter for the past 46 games according to Loons play-by-play announcer Brad Tunney?  There are some good guesses including the recently promoted Jonny DeLuca, Alex De Jesus, Jorbit Vivas and Eddys Leonard. Diego Cartaya would be an excellent guess but has played 23 games with the Loons so the question would be among qualified players. To qualify, a player must have 2.8 plate appearances per team game played.
Drum Roll – Imanol Vargas. In the last 46 games he is number one in the league in OBP, SLG and OPS.  On the season his OBP (.424) is second in the league while his OPS (.912) is number three and his SLG (.488) is eighth.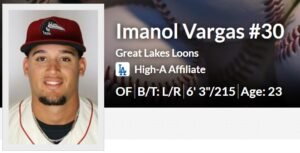 Vargas is in his fifth year of minor league ball having signed with the Dodgers on July 2, 2017, out of Bonao in the Dominican Republic. The 24-year-old 6'3"/215-lb. left-handed hitter has played the entire 2022 season with the Loons.
He started out as an outfielder but has been a first baseman for the past two seasons.
A couple of other notes re: Imanol Vargas.
He became the first player in Great Lakes Loons history to hit a grand slam in two straight games having done so on June 30th and July 1st against the Dayton Dragons.
According to Loons announcer, Brad Tunney, he has walked 24 times on a full count and has walked 48 times this year, five behind league leader Beloit shortstop Nasim Nunez.
Imanol Vargas is the best full count hitter on the Loons roster.
Meet Jeff Belge
I have been following Jeff Belge since he was drafted by the Dodgers, not because he was a high draft pick, but because he epitomizes the desire and will of these young men to pursue the impossible dream of MLB.
Jeff Belge was selected by the Dodgers in the 18th round of the 2019 First-Year Player Draft out of St. John's University in New York. He had previously been selected by the Boston Red Sox in the 32nd round of the 2016 draft out of Henniger High School in Syracuse.
Belge is currently pitching with the Great Lakes Loons of the Midwest League and had pitched with the Loons both in 2019 and 2021. During his professional debut season in 2019 he was limited to 4.2 innings pitched with the Loons after having spent time with both the Arizona League Dodgers and the Ogden Raptors.
His 2021 season with the Loons was not all he had hoped it would be primarily because of control in which he walked 34 in 43 innings. He did strike out 63.
This year with the Loons, in late inning situations, he has posted a 3.27 ERA and a 1.09 WHIP over 11 innings pitched while walking six and striking out 14. Before a slip in which he gave up two earned runs to the Dayton Dragons on July 4 and recorded no outs, he had given up but two earned runs in his previous 11 innings over nine appearances. Along the way he had two holds and three save in three opportunities.
The 6'5"/225 lb. left-hander has had to persevere to get to where he is now. If we were to meet Jeff Belge we would observe that his right eye is blue and his left eye is green. His eyes tell the story of his commitment to following his dream.
Belge's right eye — the blue one — has extremely limited vision, only capable of seeing shapes and outlines. It's been that way since he was 9 years old, when an accident involving skipping stones resulted in one of the rocks piercing into his right eye. The tear required more than a dozen stitches and two surgeries to fix, and resulted in the eye's color changing from green to blue.
As difficult as it is to believe, disaster struck Belge for the second time in 2015. He again injured the same eye in another freak accident. Goofing around with a friend ended when a finger poked into Belge's right eye, reopening his initial scar. More than a dozen stitches — again — were required to close the wound, several of which still remain in his eye.
Jeff Belge is legally blind in his right eye. He wears a protective lens for his right eye while pitching and a prescription lens for his left eye.
Hopefully he will make his way to the Tulsa Drillers before the 2022 season ends.