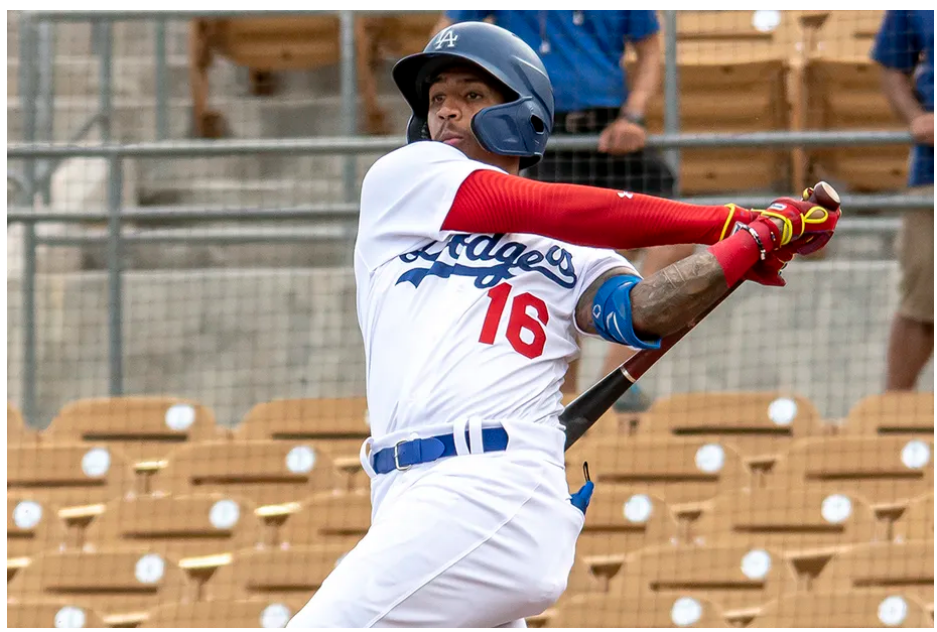 OKC Dodgers 14 vs Tacoma Rainiers (Seattle) 4 
Ryan Pepiot was the benefactor of a massive offensive uprising by OKC.  This was not one of his finest efforts.  He started a went 5.2 innings.  He gave up 4 runs, all on home runs.  Kyle Lewis on a rehab assignment hit a solo shot leading off the 4th, and Jarred Kelenic hit a 2-out, 3-run HR in the 5th.  Pepiot got the first two outs in the 6th and was removed after 99 pitches, and relieved by Justin Hagenman.  Hagenman completed 2.1 scoreless innings.
Dakota Chalmers relieved Hagenman in the 8th, and Bobby Wahl relieved Hagenman in the 9th.  Both pitched scoreless innings.
The Dodgers scored in 8 of the 9 innings.  They scored 15 runs on 20 hits.  11 of the 20 hits were XBH.  Every Dodger hitter had at least one hit, and all but Drew Avans had at least two hits.
Michael Busch was 4-6 with 2 doubles (15) and 3 RBIs
Eddy Alvarez was 3-5 with a HR (8)
Miguel Vargas was 2-3 with 3 walks and a double (20)
Jason Martin was 2-4 with a double
Ryan Noda was 2-5
James Outman was 2-6 with a HR (2)
Jacob Amaya was 2-4 with 2 doubles (3)
Hunter Feduccia was 2-6 with 2 HRs (2) and 3 RBIs
Drew Avans was 1-5 with a double (12)
Big night for OKC.  Let's see some of that action.
Eddy Alvarez ain't here to waste time!

Three pitches into the game he gives the Dodgers a 1-0 lead! pic.twitter.com/9Uovd4okNn

— Oklahoma City Dodgers (@okc_dodgers) July 13, 2022
Hunter Feduccia hit his first and 2nd home runs in AAA and they were bombs! #dodgers pic.twitter.com/1pgIn7lOSA

— Dodgers Daily (@dodger_daily) July 13, 2022
James Outman goes out, man.

His second homer with OKC extends the lead to 2-0! pic.twitter.com/YOQ1VInPys

— Oklahoma City Dodgers (@okc_dodgers) July 13, 2022
Michael Busch has 2 hits tonight including a 2 RBI double. He's hitting .270 on the year with an OPS of .911 and has hits in all but 2 games in July, but also has 2 multi-hit games this month as well. #dodgers pic.twitter.com/THD8QmVI27

— Dodgers Daily (@dodger_daily) July 13, 2022
Tulsa Drillers 6 vs Springfield Cardinals 7
It has been said that the biggest jump in MiLB is between High A and AA.  Kyle Hurt is experiencing first hand that jump differential.  After giving up 6 runs in 3.0 IP in his first AA start, he could only go 0.2 IP before reaching 30 pitches.  The two outs were Ks, but he also yielded 2 runs on 1 hit and 2 walks.
After the Drillers tied the score at 2-2, Jose Martinez gave up a run in the 3rd. The Drillers inched closer in the 8th to make it a one run game, but Kevin Malisheski gave up 3 runs on 4 hits and 2 walks in the 8th, and the Cardinals were seemingly comfortable with a 4 run lead in the 9th.
In the 9th, Justin Yurchak hit a 2 run HR (3) and Brandon Lewis slugged a solo HR (8) to get within 1 again.  After a walk, with 2 outs, Ryan Ward who earlier blasted his 20th HR of the year, flew out to end the game.
Great Lakes Loons 14 vs Quad Cities River Bandits (KC) 9
Robbie Peto had a tough outing.  He was down 3-1 in the 2nd when he was relieved by Julian Smith with 2 inherited runners.  Smith hit a batter to load the bases, and then allowed a Luca Tresh grand slam, his 10th HR of the year.
The Loons started to scratch back in the third with a Jorbit Vivas 2-run HR (6) followed by an unearned run.
Down 6-4 in the 5th, the Loons put 9.  The two biggest hits were a 2-run HR by José Ramos and a grand slam by José Ramos.  2 HRs in the same inning and 6 RBIs.
Ramos also had a run scoring double in the 9th for a great ending of a sensational game…3-5, 2 HRs and a double with 7 RBIs.
Grand slam ✅
2-run HR ✅
All in one inning 👀@Dodgers No. 14 prospect Jose Ramos was a one-man wrecking ball in the fifth for the @greatlakesloons. pic.twitter.com/9iZUM1JUY9

— MLB Pipeline (@MLBPipeline) July 13, 2022
Cole Percival had a good 2 inning scoreless game.
Fresno Grizzlies (Rockies) 8 vs Rancho Cucamonga Quakes 13
The Grizzlies outhit the Quakes 14 to 11, but were outscored 13 to 8.  The Quakes also received 13 walks.  The Quakes scored 9 runs in the last 4 innings.
Maddux Bruns started and bounced back nicely from his last start.  He pitched 2.0 scoreless 2-hit, 1 BB innings.  He is 20 and has still only thrown 24.2 innings in low A all year.  He has a lot of development needed ahead and still has a huuuuuuge risk factor.
Three relievers followed Bruns and with a combined 6.0 innings, they surrendered 8 runs on 12 hits and 3 walks.  Reinaldo De Paula did finish the game with a scoreless 9th.
Austin Gauthier was the hitting star going 4-6.  Griffin Lockwood-Powell had a 3-run scoring double (3), and Yunior Garcia had a 2-run scoring double (6).  The Quakes were 7-20 WRISP.