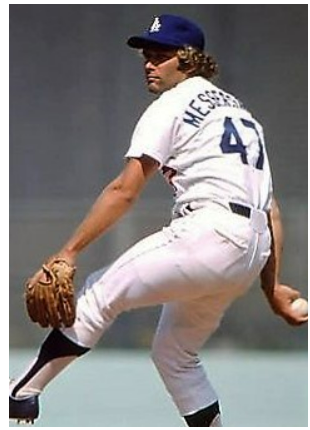 One of the better trades made by the Dodgers in their history, involved one Andy Messersmith, he of the curly long hair. On November 28, 1972, he along with Ken McMullen was traded by the California Angels for Billy Grabarkewitz, Frank Robinson, Bill Singer, Mike Strahler and Bobby Valentine.  It definitely wasn't a one-sided trade as the players going to the Angels ranged from decent to good, they, with the exception of Bill Singer's one good year just didn't produce like Messersmith did in his 3 years with the Dodgers.
Messersmith was one of the best pitchers in baseball in the first half of the 1970s.  He was an All-Star with the Angels in 1971.  Messersmith won 20 games and finished second in the National League Cy Young voting for the Dodgers in 1974, and followed that up with 19 wins, a 2.29 ERA and a league-best 19 complete games, seven shutouts and 321.2 innings in 1975.
While a very solid pitcher during his career, what Messersmith might be most remembered for is how he changed the business of the "game" of baseball forever.
Before I dive into his history and how he impacted that change, I want to give you a thumbnail sketch of the history of MLB's reserve clause and the MLB's Anti-Trust exemption and how it impacted the business of baseball.  I'm going to try and provide the following as information only and not interject my opinions (I have many and they'll be the subject of several future articles.
In 1890, the Sherman Antitrust Act, was signed into law.  It was enacted by Congress pursuant to its authority under Article I, Section 8 of the Constitution to regulate commerce among the several states.   MLB has been operating with an antitrust exemption since 1922, after the Supreme Court decided the league could suppress wages and make other business decisions impacting teams not normally allowed under anti-monopoly rules.  In the case of Federal Baseball Club of Baltimore, Inc. vs National League of Professional Baseball Players, 59 U.S. 200 (1922), the Supreme Court, held that MLB is exempt from the Sherman Antitrust Act because it was a state-centric business and not subject to federal commerce laws.
Prior to that decision, 1879 in fact, the owners of the teams in the National League agreed on what they called a "reserve clause" which was a provision to included in all player contracts.  Until then, players could, essentially, move from team to team rather freely.  This caused the owners to become concerned about their bottom line, and the fact that their star players may decide to go to a richer team.  They didn't want the uppity players to get an upper hand on their ability to turn a profit.
In essence, the reserve clause perpetually tied a player to a specific team unless the owner of that team traded the player or sold the player's contract to another team.  On top of that, no player was permitted to participate in professional baseball unless the player had signed a Uniform Player Contract.  There have been several legal challenges to the reserve clause, which I will address in a later article.  The most famous, might be the action brought by Curt Flood.   In 1969, Curt Flood was traded from the Cardinals to the Philadelphia Phillies.  Mr. Flood didn't take too kindly to that trade, as the Phillies had a reputation of not treating their players(particularly black players) well.  He took the matter to court, arguing that the reserve clause was a collusive measure that reduced competition and thus an antitrust violation.  Unfortunately, the Supreme Court, in a much bashed decision, upheld the reserve clause under the principle of stare decisis (the doctrine that courts will adhere to precedent in making their decisions) and the precedent set by Federal Baseball case.
That brings me back to Messersmith.  He was born on August 6, 1945 in Toms River, New Jersey, but his family moved to Orange County, California when he was 5.  He attended Western High School in Anaheim, California (which was also Tiger Woods alma mater).  At Western, Messersmith was the quarterback on the football team and a pitcher in baseball.  And, as most Orange County kids from that era, he surfed.
In his junior year of high school, Messersmith was taught how to throw a slider.  After mastering that the slider his baseball career started to sky-rocket.  As a junior, he was a rather benign 4-1.  However, in his senior year Messersmith was 16-2, helping lead Western to the CIF Southern Section championship game, where they lost.  His stellar performance led to him getting a full-ride scholarship to Cal-Berkley.  In his sophomore year (8-2, 1.63 ERA) Messersmith was named second team college All-America among several other awards.  In 1965 he was drafted by the Detroit Tigers, but he opted to return to College.  In 1966, Messersmith was drafted with the 12th pick in the first round (secondary phase) by the California Angels. The Angels' scouting report read, "He's got three pitches – two of 'em you can't hit and the other one you can't even catch."
Messersmith signed with the Angels and spent 2 ½ years in the minors, before he was called up to the Angels in 1968.  His minor league stats were rather ordinary, but then Angel manager Bill Rigney said of him, "This fellow has the potential to be the very best pitcher in the league."
In his half -season with the Angels in 1968, Messersmith pitched in 28 games, 23 in relief, which Rigney explained was a necessity. "He deserves a chance to start," said Rigney, "but he's been of such value in our bullpen that taking him away from it would be a handicap.
Andy's future will be as a starter, though."  He made his first start on September 6, 1968, beating the Boston Red Sox 4-0, throwing a two-hit shutout. He finished the season with a 4-2 record and a 2.21 ERA in 81 innings of work, 74 strikeouts, and a WHIP of 0.97.  Not a bad start to his career.
Messersmith pitched five seasons with the Angels, highlighted by his 20–13 record in 1971.  In 1972, Messersmith had an 8-11 record, which could have resulted from an injured finger that required surgery.  After the season the Angels made the afore mentioned trade.  In his 5 years with the Angels, Messersmith was 59-47, with a 2.78 ERA.  He was an All-star in 1971 and finished 5th in the Cy Young voting that year.
After he was traded to the Dodgers, Messersmith was nothing but a quality starter.  In his 3 years with them, he was 55-34, with a 2.67 ERA, a 1.105 WHIP and in 143 starts, he pitched 43 complete games, including 13 shutouts.  He was an All-star in 1974 and 1975, and he finished 2nd (behind Mike Marshall)  and 5th, respectively in Cy Young voting for those years.  The Dodgers won the pennant in 1974, losing 4 games to 1 to Oakland in the World Series.  Messersmith lost both of his starts in the Series, but he pitched very respectively, the Dodgers then, as today, just couldn't hit good pitching.  Dodgers' manager Walter Alston (who has been around some exceptional pitchers in his time) sang high praise for Messersmith:
"He's one of the best competitors I've ever managed, he can do it all. He can pitch, field his position, has a good move to first, and isn't the worst hitter in this league by any means. Andy is the kind of guy who wants the baseball. He wants to pitch and that's why I put him up there with the other great pitchers I've had the good fortune to manage."
For the 1975 the Dodgers offered to increase Messersmith's salary from $100,000 to $115,000.  This was in line with the what the top players were making at the time. Major League Baseball Players Association executive director Marvin Miller had wanted to test baseball's reserve clause for many years.  He had been looking for his test case, someone willing to play out his contract option in 1975 and try to become a free agent.  He e found it in Messersmith, who wanted $175,000 for 1975 and a no-trade clause; the club wouldn't budge off $115,000 turned down Messersmith's no-trade demand.  The Dodgers unilaterally renewed Messersmith's contract, but Messersmith never signed it, deciding instead to hold out, hoping that the Dodgers would agree to his terms.  As a Southern California kid, he insisted that he wanted to remain with the Dodgers.
Despite pitching as a holdout, Messersmith had another fine year.  Messersmith finished the season with a 19-14 record in a league-high 40 starts, 19 complete games (tops in the league) with a 2.29 ERA in 321 2/3 innings of work. He struck out 213 and led the league with an average of 6.8 hits per nine innings pitched. He was selected for the All-Star team, was fifth in the Cy Young Award voting, and was a Gold Glove recipient.  Messersmith thought it was his best year.
"I'm very proud of the season," he said in summing up his season. "This has been my best year. Both from a physical and performance standpoint. The hardest part was pitching with the unsigned contract hanging over my head. Believe me, it's difficult thing playing out one's option. I felt a lot of mental pressure."
Negotiations didn't get any better after the season, so on October 15, 1975, Messersmith filed a grievance through the MLBPA, asking to be made a free agent. The Dodgers didn't seem to concerned about the grievance, with Walter O'Malley telling the L.A. Times "we trust this matter will be disposed of by further negotiation."  By the end of October, The Dodgers and Messersmith had not made any progress in their negotiations on a contract extension.  As a result, a hearing was set with arbitrator Peter Seitz for November  21, 1975.  By this time, Messersmith had been joined in the grievance by Dave McNally, even though McNally had not pitched after June 1975 and was planning to retire.
On December 23, 1975, Seitz ruled in favor of Messersmith and McNally, declaring them (and any future players willing to follow a similar path) free agents.  The owners were irate, as this ruling tipped baseball's labor war towards the players.  For his efforts, MLB fired Seitz, and also filed an immediate appeal.  Unfortunately for them, a federal judge upheld the ruling.  Not to be deterred, MLB owners continued to fight the rules, and locked players out of spring training in late February 1976.  Commissioner Bowie Kuhn intervened and spring training camps were opened on March 18, 1976, three days after Messersmith was officially declared a free agent.
The Dodgers continued on their same course, offering Messersmith $540,000.00 for three years, without a no trade clause.  That was rejected.   What Messersmith hadn't anticipated, however, was the owners hesitancy in backing up the money truck to sign him.  They had just observed how well Catfish Hunter had done after he was declared a free agent (nothing to do with the reserve clause) and they didn't want this to get out of hand.  A few teams did make offers and, fortunately for Messersmith, the Atlanta Braves had a new owner, Ted Turner who was ready to make a big splash with his team.  During that summer, the Braves and Dodgers had made the trade that brought Dusty Baker to the Dodgers and sent 4 Dodgers to the Braves, all of whom, particularly Lee Lacy, spoke very highly of Messersmith.  After some failed and stalled negotiations with other teams, and under the threat that the Braves were going to pull their offer, On April 9th the parties compromised and Messersmith agreed to a three year contract for $1 million, including a $400,000 signing bonus, plus a no-trade and no-cut clause.   Free agency was born!
It would be nice if the story ended there.  But it doesn't.   Messersmith, pitched 2 years with the Braves, but not nearly at the levels he pitched pre-free agency.  He was 16-15 over those two years, after which the Braves sold his contract to the Yankees.  He would only pitch 22 inning for the Yankees in 1978, going 0-3, a season beset by injuries.   Besides the injuries, many in baseball also believed that Messersmith's dropoff was caused by trying too hard to justify his deal with the Braves. He also admitted to being worried that no team would sign him.  On top of that there were many hostile fans, some furious at the man they saw as the foremost of "greedy ballplayers," and Dodgers supporters who felt abandoned by a favorite player for money. He got hate mail, was subjected to obscene insults, was hit by a thrown bottle, and was punched in his pitching arm by a spectator. In addition, some players ripped him in the press.
"I'm emotionally drained," Messersmith conceded. "It goes back to playing without a contract, back to arbitration, to the bidding, to the farce with New York and the Angels, to the demands on my time since (joining the Braves). The whole thing has taken a lot out of me."
After the 1978 season, Messersmith called Peter O'Malley, to ask about rejoining the club. O'Malley assured Messersmith there were no hard feelings about what had happened three years before. Messersmith impressed the Dodgers in a pitching session, and the Dodgers signed him to a two-year contract that included a no-trade clause, the same term that set into motion the whole reserve-clause episode.  Unfortunately, things didn't go well. Two months into the season Messersmith again had arm trouble (inflammation of a nerve in his pitching arm), which put him on the disabled list for several weeks and eventually the surgery table. His season ended with a 2-4 record in 11 starts in 62 1/3 innings and a 4.91 ERA. In August the Dodgers released him and with that, Andy Messersmith called it a career.
It was certainly difficult for Messersmith to challenge the baseball establishment, however, he does not regret doing it. "It needed to be done," he said after his career ended.
"I had gone through a couple of negotiations that were very one-sided and it (free agency) became a principle thing to me. The owners kind of had us in a corner. The players need to get some respect."
After retiring, Messersmith moved to Soquel, California.  For the first ten years of his retirement, Messersmith had virtually no contact with the baseball community.  Then in 1986, he applied for and became the head coach for Cabrillo College.  He coached at Cabrillo from 1986 through 1991 and from 2001 through 2009.
Summing up his baseball life, Messersmith said, "I loved playing the game, if we could have played it in the backyard I think I would have played every day." As for the business of baseball, he added,
"In professional baseball there wasn't any fun. There were too many egos. It was too serious. Guys didn't have a good time. I believe you can have fun and play … you can have fun and win."
Messersmith said he hoped to be remembered as a good pitcher, although one who didn't last too long, and as "a guy who believed in standing up for what he thought was right."
He will certainly be remembered as one who was very instrumental in changing the business of baseball forever.