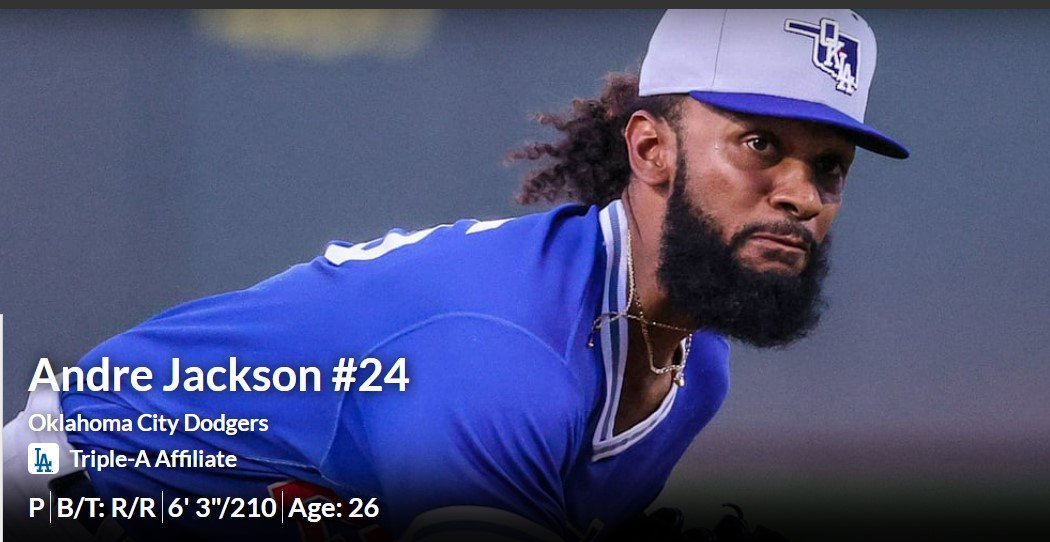 Sugar Land Space Cowboys (Houston) 3 vs OKC Dodgers 6
Andre Jackson finally put it all together.  He pitched 5.0 innings allowing one run on one hit (HR), 3 BB, and 6 K.  Pedro Baez had a rough 0.2 IP.  He allowed 2 runs on 3 hits.  Robbie Erlin finished the final 3.1 innings allowing 1 hit, 1 BB, and recorded 7 K.
James Outman was the offensive star on this night.  He hit a solo HR (5) and a double (3).  Miguel Vargas also clubbed his 14th HR.  Michael Busch had 2 hits including a double (17).  Jason Martin also had 2 hits.
Arkansas Travelers (Seattle) 6 vs Tulsa Drillers 2
John Rooney threw a brilliant 7.1 IP.  He allowed 2 runs on 2 hits, 1 BB, and 6 K.  Unfortunately the two relievers that followed were not nearly as effective.  Rooney left the game with a 2-0 lead but two runners on base.  Gus Varland allowed both runners to score.  The Travelers scored four runs in the 9th off Varland and Austin Drury for the final 6-2 score.
The big offensive star for the Drillers was Ryan Ward with 3 hits.  The Drillers had 7 hits, all singles.
Lansing Lugnuts (A's) 6 vs Great Lakes Loons 8
The Loons jumped out to a 7-4 lead after 2.0 innings.  Kendall Williams could not get out of the 1st inning before allowing 3 runs (2 earned) on 3 hits and 1 walk.  Six relievers followed.  After Cole Duensing allowed a 4th run, Robbie Peto, Jeff Belge, and Ryan Sublette pitched 6 shutout innings.  Julian Smith gave up a 2-run HR in the 9th for the final runs before Ben Harris finished the final inning to record his first save.
Eddys Leonard (9) and Edwin Mateo (2) each slugged solo HRs.  José Ramos and Imanol Vargas both had a pair of hits and 2 RBIs.
Rancho Cucamonga Quakes 0 vs San Jose Giants 6
The Quakes were shutout on three hits.
Maddux Bruns had a very good outing.  He pitched 2.0 innings allowing a pair of BBs and recorded a pair of Ks.  Bruns threw 31 pitches.
Gabe Emmett pitched 0.2 innings but was not very productive.  He allowed 4 runs on 1 hit, 2 BB, 2 HBP, and 3 wild pitches.  Adolfo Ramirez did complete 4.0 innings, but also allowed 2 runs on 3 hits 1 BB.  He also recorded 7 K.  Joan Valdez finished the final 1.1 scoreless innings.
Of the three Quakes hits, Yunior Garcia did get his 23rd double.