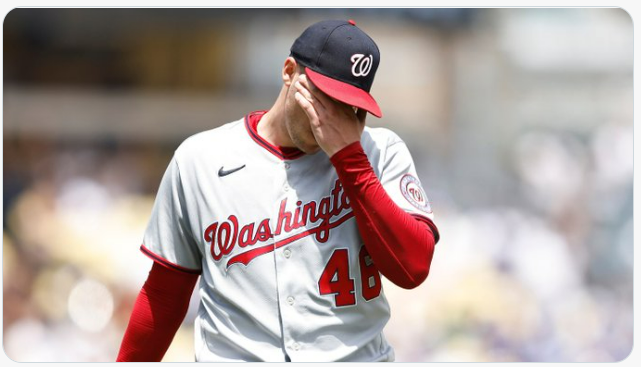 The Dodgers finally beat a bottom feeder.  They jumped on Patrick Corbin and the Washington Nationals for six 2-out runs in the first inning.  With 2 outs and Mookie Betts on third:
Will Smith walks with 2 strikes on a questionable call.
Justin Turner singles on a 1-2 pitch. One run scored.  Nice barrel to the bat swing, not trying to hit it 600 feet.
Trayce Thompson singles on a 3-2. One run scored.
Hanser Alberto doubles on a 2-0 pitch. Two runs scored.
Austin Barnes singles on a 1-2 pitch. One run scored.
Gavin Lux doubles (misplayed) on a 1-2 pitch. One run scored.
Mookie Betts infield single on a 2-1 pitch.
That is 6 runs with 2 outs on 6 consecutive hits and 7 consecutive batters reaching safely, 5 with 2 strikes.  Patrick Corbin's day is over.  His line – 0.2 IP, 6 runs, 7 hits, 1 BB, 45 pitches (26 strikes).  The day could have been different if Corbin got the called 3rd strike on Will Smith.  But he didn't.
Rough day for Patrick Corbin 😅

Allowed 7 hits and 6 ER on 45 pitches and didn't make it out of the 1st pic.twitter.com/RgHSBNEnyV

— B/R Walk-Off (@BRWalkoff) July 27, 2022
I know that this is a game played mostly by millionaires, and those who are not millionaires still get paid handsomely to play a game.  But it is hard not to feel for a player who just feels lost.  I will never forget my son's first start, June 9, 2004.  He was at 1B.  It was a 0-0 game in the top of the 5th.  It was Nomar's first game of the year, and he made a good play on a ball but Andy could not handle the throw.  If he did not catch it, it probably was not catchable.  He VERY RARELY ever made a fielding error.  A throwing error?  Yeah!  He did not make the play (it was called a single), but a runner was rounding third, and the ball slipped out of Andy's hand as he was throwing home.  The throw was wild, and two runs scored.  Andy was booed relentlessly in Fenway for that play.  One for not picking up Nomar, and 2 for the bad throw.
To make matters worse, he had a chance to tie up the game in the bottom of the 5th and he hit a 420 foot bomb to CF in Fenway.  If anyone knows Fenway, there is a section of the stands that jets out at 420 feet and Andy but it into those seats only for Jay Payton to reach in and make the catch (See below). The wind held it up or it was 440+.  In 29 other ball parks that is a HR.  Instead it was an out.  As he got to 1st, Phil Nevin told him that there is no way that is not a HR.  The weather conditions played badly for Andy in the 5th inning.  But he never made an excuse.  He owned it all.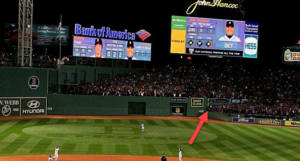 Luckily he had his teammates pick him up…especially Nomar. Papi and Manny had fun with him after.
That is how I felt seeing Reyes Moronta by himself in the dugout after getting pulled in his game against SF.  After getting two quick outs, he walked the next two batters who both came home to score on singles given up by David Price.  The runs were charged to Moronta, but Price gave up the hits.
And that was also the look on Patrick Corbin's face that reminds us all that game strategy may be dictated by computers, but it is still played by humans.  Professional sports are results driven and my son, Reyes Moronta, and Patrick Corbin did not get the results, and 2 of those guys paid the price by being optioned.  The third?  He'll survive on his 6 year $140MM contract.
Patrick Corbin has been to the zenith with a WS championship and Game 7 winner, and is now firmly entrenched in the depths of Hell.  Orel Hershiser has never been in that quagmire, but I am sure he has played with players who have been.  One look at Corbin's face and Hershiser commented, "and there is the human side of this game".  You know he felt for him.
But enough of that.  This was a great getaway game.  Andrew Heaney freshly back form the IL pitched an effective 4.0 innings, allowing only an infield single.  But he did surrender 3 BBs, two coming in the 4th.  His velo was dropping, and you know he was hitting a wall.  But he soldiered on and got out of the inning and his first game back was a good one.  Now, hopefully he can build on that.  His next scheduled start is TBD, but it will be in SF.
On Wednesday the bullpen was mostly good.  Phil Bickford walked one but struck out two in his 1.0 IP.  Alex Vesia pitched a perfect inning with 2 Ks.  Just called up RHRP Jake Reed had an eventful 1.1 IP.  He got Nelson Cruz on a K to start his day, but then gave up back to back doubles to Lane Thomas and Luis Garcia.  But he got Maikel Franco to ground out to Mookie Betts at 2B, and struck out Tres Barrera.
With one out in the 8th, Reed gave up a double to Cesar Hernandez.  Enter David Price.  He got Juan Soto to hit a F-7 and then got Josh Bell on a line drive to RF where Zach McKinstry made a tremendous diving catch to end the inning.
In the 9th, Price walked Nelson Cruz and gave up a single to Lane Thomas.  2 on and nobody out.  Here is where many LAD fans were going…here we go again. But Price got Luis Garcia on a F-7, and then induced Franco to hit into a 4-6-3 DP.  What made that play a little more special were the players…it went Mookie to Hanser Alberto to Jake Lamb. How many more times will we see that DP?
It was a positive home stand…5-2.  The Dodgers are 11.5 games ahead of SD and 17.5 games ahead of SF, with 64 games to play. The team now hits the road for 8; 4 in Colorado and 4 in SF.  Two venues where they are a combined 2-7 so far in 2022.  The Giants will be especially engaged due to the embarrassment of losing four in LA and then 3 more in AZ.  They catch a break with 4 at home against Chicago Cubs before the Dodgers come to Oracle Park.  The team rosters may look a bit different from when the series starts to when it ends.  The trade deadline comes before the second game between the two rivals.
The Giants are now 3.5 games behind the Cardinals for the final WC berth, and are 3 games behind Philadelphia who is only 0.5 games behind St. Louis.  While Miami has a 2.5% chance at the playoffs (per FanGraphs), the Giants have a whopping 25% chance.  The chances of them being in a buying mode are slipping.
For the Dodgers, they did get Andrew Heaney back.  Mitch White and Ryan Pepiot are both a plane ride away in OKC, unless one or both are traded for a pitcher.  Walker Buehler and Dustin May are supposed to be back in September.  But the overtures are that while he is scheduled for a build up for starting, Buehler is sounding like the bullpen is a real possibility.  I still think that is where May will end up this year.  I believe May is due to make his 2nd rehab start for OKC on Thursday.
Blake Treinen is pushed back again.  He is now not scheduled to face batters until mid-August.  Look for him late August or early September.  He is only a 1.0 inning pitcher, so it should not take long to get him ready.  Doc says that it is not a setback, but with a big lead, they want to be cautious with him.
I still do not see a time table for Edwin Rios.
Series matchups with Colorado:
Go Blue!!