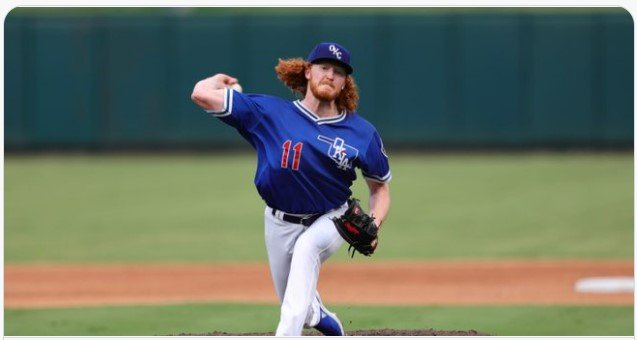 Sugar Land Space Cowboys (Houston) 12 vs OKC Dodgers 7
The Dodgers jumped out to a 6-0 lead, but the Space Cowboys scored the next 12 runs.
But the story of the night was Dustin May making his 2nd OKC rehab start.  All eyes were on him.  For the night his line was 3.0 IP, 0 runs, 2 hits, 0 BB, 6 K, 46 pitches (32 strikes).  Unfortunately two pitchers gave up 12 runs.  In a combined 3.0 innings, Jon Duplantier and Hansel Robles surrendered 12 runs (10 earned) on 9 hits and 3 BB.  They also allowed 3 HRs.
Dustin May's second rehab outing with OKC was a dominant affair, the fastball got up to 99.9 mph, his curve got whiffs on 4/5 swings, and some of those hacks were pretty ugly. The line:

3.0 IP
2 hits
0 runs
0 BBs
6 Ks⬇️ pic.twitter.com/qgvtRzaxKk

— Josh Thomas (@jokeylocomotive) July 29, 2022
Edwin Rios also made a rehab start.  In 3 PA, he got to first on a BB and an HBP.  Officially 0-1, but a .667 OBP.
Michael Busch was the big bat for the Dodgers.  He was 3-4 with a late HR (12).  He scored 2 runs and had 2 RBIs.  Ryan Noda had a 2-out, 3-run HR in the 6 run 3rd.
Arkansas Travelers (Seattle) 2 Tulsa Drillers 4
Bobby Miller continued with his good month of July.  Three out of four were good starts, and two were official quality starts.  Last night was one of those.  He pitched 6.0 innings allowing only 4 hits, and ZERO walks. He retired the first thirteen batters in order, but allowed a single and a one out 2-run HR for the Travelers only 2 runs.  He also had 11 Ks.  11 strikeouts and 0 walks.  That's a good night even if you do give up a 2-run HR.
It's Miller time!@Dodgers top pitching prospect Bobby Miller carries a perfecto into the 5th, finishes with a career-high 11 K's for the @TulsaDrillers. pic.twitter.com/xx6nZV5z0R

— MLB Pipeline (@MLBPipeline) July 29, 2022
Three pitchers, Nick Robertson, Jose Hernandez, and Guillermo Zuniga each pitched a hitless and scoreless inning.  Zuniga picked up his 11th save.
The Drillers only had 6 hits of their own.  Three of the runs came in the 1st on a Ryan Ward single and Brandon Lewis 2-run HR (13).  Devin Mann drew a walk and scored on a Leonel Valera double.  In the 8th, Jonny DeLuca hit his 5th HR in the 8th.
Lansing Lugnuts (A's) 2 vs Great Lakes Loons 7
Emmett Sheehan started and competed 4.0 IP.  His issue on this night was his 5 BB.  He only allowed 2 hits and 2 runs, so he did pitch out of a lot of traffic in those 4.0 innings.  He threw 77 pitches.  He may have been effective, but 19 pitches per inning is not efficient.
Jacob Cantleberry, Braydon Fisher, and Cole Percival completed the final 5.0 innings in style.  No runs, 1 hit, 1 BB, and 9 Ks.
In a somewhat surprising set of events, the Loons had 10 hits, but none by the OFers and DH.  Diego Cartaya was the hitting star with two 2-run HRs.  He now has 8 HRs at Great Lakes and 17 for the season, with 56 RBIs in 68 games, 264 AB.  Watch his 2nd HR below.  It was an absolute bomb.
If the Dodgers are going to make a big move this deadline, one would have to imagine 20-year-old catcher Diego Cartaya, who has an OBP over .400 and SLG over .500, will be a part of it. And what he did to this baseball … my goodness. https://t.co/eqSI50gH00

— Jeff Passan (@JeffPassan) July 29, 2022
Diego Cartaya just hit his second homer of the night

This one actually left the stadium pic.twitter.com/LkcWVAGy7a

— Blake Harris (@BlakeHHarris) July 29, 2022
Eddys Leonard had 3 hits including his 26th double.  Luis Yanel Diaz hit a 2-run triple in the 3rd, his first triple this year.  Edwin Mateo also had a run scoring double (10) in the 8th.
Rancho Cucamonga Quakes 3 vs San Jose Giants 2
Five Quakes pitchers were summoned to the mound.  Every one of the pitchers pitched with traffic.  Edgardo Henriquez was out for his 3rd outing in July. His 2.2 IP (46 pitches) were his longest since May 28.  He was out for the entire month of June.  He did not allow a run.  He gave up 2 hits, 1 walk, and recorded 2 Ks.
Orlando Ortiz-Mayr followed with a rough outing.  He completed 3.2 innings.  He gave up 2 runs on 6 hits and 1 walk.
Kelvin Bautista got the win after he blew his 4th save.  He pitched 0.2 innings and gave up 3 BBs.  Martin Santana and Madison Jeffrey finished the game in scoreless fashion.
The Quakes made the most out of their limited opportunities.  They scored a run in the 5th on a Kyle Froemke single, WP, and scored on a 2-base throwing error by the pitcher.
In the 7th, 2 walks and a fielding error scored a second run.  In the 8th, a Yunior Garcia walk, a WP, and a Hector Martinez single to score the go ahead and winning run.