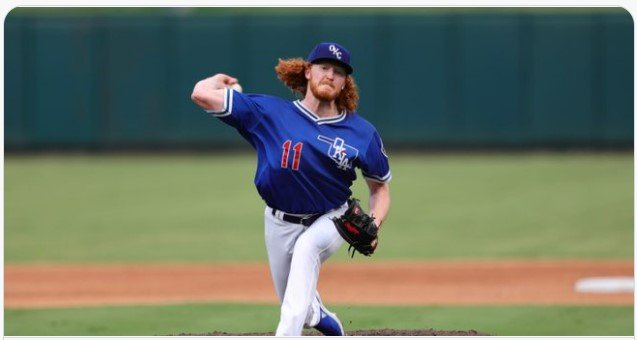 Round Rock Express (Houston) 8 vs OKC Dodgers 5
Dustin May pitched a very efficient and productive 5.0 innings.  He allowed a 3rd inning HR to Nick Solak.  Over the 5.0 IP, he threw 68 pitches (45 strikes).  8 strikeouts vs 1 walk.  We will find out if his rehab assignment is up or if he gets one more start.  The Dodgers do not need him yet, but he will be needed soon enough.
Former Red Sox reliever Heath Hembree pitched a scoreless 6th.  Dellin Betances relieved Hembree and issued 3 walks, a run scoring ground out, and a 3-run HR in 0.2 IP.  Daniel Zamora followed and allowed a walk, double, and 2-run single before closing out the 7th.  In the 8th, Hansel Robles issued a walk, a SB, a balk, and a sac fly for a run.
Marshall Kasowski pitched a perfect 9th with 2 Ks.
OKC had 13 hits but only one was an XBH; a double by Ryan Noda (19).
Three Dodgers had 3 hits, Edwin Rios, Michael Busch, and Ryan Noda. Miguel Vargas had a pair of hits in his first game back at OKC.
Midland RockHounds (A's) 7 vs Tulsa Drillers 3
Bobby Miller was breezing through 5.0 innings.  He retired the first 10 batters he faced.  Allowed a pair of singles in the 4th, but no runs.  He struck out the side in the 5th.  But then the roof caved in the 6th.  He gave up a double, single, and HR to the first three batters he faced in the 6th for 3 runs.  He did register 11 Ks.
Nick Robertson got hit hard for 3 more runs in the 7th on 4 hits.  Jose Martinez pitched a perfect 8th.  Cole Percival hit the first batter he faced, WP moved him to 2nd, a balk moved him to 3rd, and a sac fly scored a run.
Brandon Lewis had a 2-run single in the 3rd, and Andy Pages hit his 20th HR of the season for the offensive highlights.
Peoria Chiefs (St. Louis) 7 vs Great Lakes Loons 1
Emmett Sheehan pitched another gem for Great Lakes.  He went 5.0 innings allowing only an unearned run on 2 hits, 3 walks, and 9 strikeouts.  Jacob Cantleberry pitched a scoreless 8th.  Jeff Belge and Julian Smith gave up 6 runs (3 each) in 1.2 IP.  He allowed 6 hits and 4 walks.  Aldry Acosta pitched a scoreless 1.1 innings to finish the game.
The Loons had 5 singles and a triple by Jorbit Vivas, his 5th.  Vivas had two hits for the only multi hit game for the Loons.
Rancho Cucamonga Quakes 4 vs Lake Elsinore Storm (San Diego) 5
Edgardo Henriquez started and went 1.2 innings.  He gave up 2 runs on 2 hits with 2 walks, and 2 strikeouts.  Gabe Emmet, who is pitching better of late, followed with 2.1 IP and surrendered 1 run.  Orlando Ortiz-Mayr pitched the final 4 innings and allowed the tying and winning run (one unearned).  He gave up 4 hits and no walks, and struck out 3.
Offensively, Yunior Garcia had 2 hits.  The newest Dodgers, CF Chris Alleyne (run scoring triple), C Dalton Rushing (double), and SS Sean McLain each had a hit.  Yeiner Fernandez hit his 7th HR.