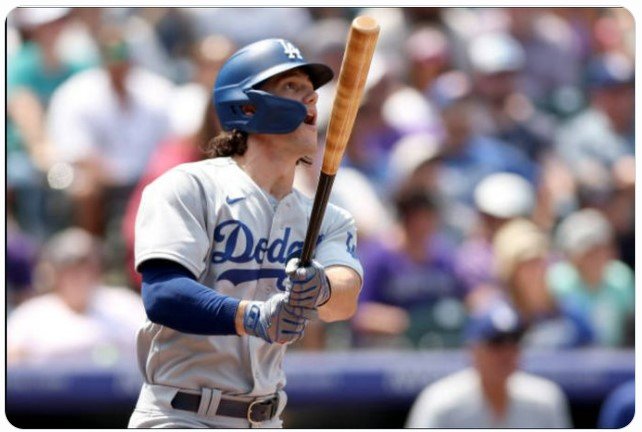 El Paso Chihuahuas (San Diego) 8 vs OKC Dodgers 13
Justin Hagenman was the OKC opener in this one.  After two quick outs in the 2nd, Justin was pulled after reaching 32 pitches.  He was relieved by Andre Jackson who got the final out in the second.  In the third, Jackson surrendered a leadoff HR for the only run he would allow in his 4.1 IP.
Tommy Kahnle was recently assigned to OKC in a rehab role.  In his first game this go-round, he allowed 2 hits, with one being a 2-run HR.
Daniel Zamora pitched a scoreless 8th.  Marshall Kasowski relieved Zamora in the 9th, bur ran into a buzz saw.  The first three batters he faced reached on single, walk, single with a run scored.  After two K's , Kasowski gave up a 3-run HR to Luis Campusano, and a solo HR to the next batter, Kyle Martin.  Aaron Ochsenbein relieved Kasowski and after a BB, he got the final out of the game.
OKC put up 7 in the 3rd.  Hunter Feduccia led off with a BB.  That was followed by a single by Jacob Amaya and walk to Devin Mann to load the bases.  Michael Busch singled to score Feduccia.  Edwin Rios was HBP to plate Amaya. After the first out, James Outman (pictured) tripled to score all three on base.  Ryan Noda singled to score Outman, and Tomás Telis doubled Noda to 3rd.  Feduccia singled to score Noda, but Telis was thrown out at the plate.
They put up another 5 in the 5th, and after the first out, it started out similar to the 3rd.  Feduccia drew a BB and Amaya singled.  Devin Mann singled to load the bases.  Busch hit an infield single to score Feduccia.  Edwin Rios hit a ground rule double to score 2, and James Outman hit a double to score both Busch and Rios.
James Outman hit a sac fly for the final OKC run in the 7th.
OKC scored 13 runs on 16 hits, none of them were a HR.  Michael Busch had a 4-4 night with a double (22).  Jacob Amaya was 2-4.  But the big hitter of the night was James Outman.  He was 2-4 with a triple, double, and  sac fly for 6 RBIs.
Tulsa Drillers 1 vs Arkansas Travelers (Seattle)  3
Tulsa wasted a brilliantly pitched game by RHSP Nick Nastrini.  For 6.2 innings Nastrini had allowed 2 hits and a walk without a run.  But Zach DeLoach hit his 12th HR, a 2-run jack and a 2-1 lead.  Jordan Leasure followed Nastrini to get out of the inning.    Leasure gave up an unearned run in the 8th before being relieved by Jose Hernandez who finished the 8th.
The Drillers scored their sole run in the 4th on a walk to Justin Yurchak, a ground out to move him to 2nd, and a single by Brandon Lewis to plate Yurchak.
The Drillers had 4 hits: 2 by Yurchak and 2 by Lewis.
Fort Wayne TinCaps (San Diego) vs Great Lakes Loons – Rained out – Doubleheader Thursday 08/25/2022
Rancho Cucamonga Quakes 2  vs Visalia Rawhide (Arizona) 4
Peter Heubeck battled through the first two innings without allowing a hit or run.  In the 3rd, he walked the first two batters he faced, and after 51 pitches, Heisell Baro was summoned to relieve Heubeck.  He gave up a single and sac fly to allow both inherited runners to score. Baro got through his 2.0 IP without further damage.
Martin Santana allowed a run in the 5th on a walk, stolen base, wild pitch, and single.
Madison Jeffrey relieved Santana in the 6th and got the two outs he needed and retired .  3 walks and a single scores one/  With the bases loaded, Kelvin Bautista was brought in to keep the score at 4-2.  He got the third out without any further runs.
The Quakes scored solo runs in the 3rd and 4th.  In the 3rd Chris Alleyne singled and then forced out at 2B on a Jake Vogel ground ball. Vogel was moved to second on a walk to Yeiner Fernandez and scored on a Dalton Rushing double.
In the 4th, 2 walks and a Chris Alleyne single scored the second and final run for the Quakes.
Like almost every night, Dalton Rushing was the hitting star.  He went 3-4 with 3 doubles (7).  In 15 games with RC and 54 AB, Rushing is now hitting .463 with a 1.485 OPS.  He has 7 doubles, 6 HRs, and 19 RBIs.  He has walked 9 times against only 11 walks.
Chris Alleyne had a 2-4 night.