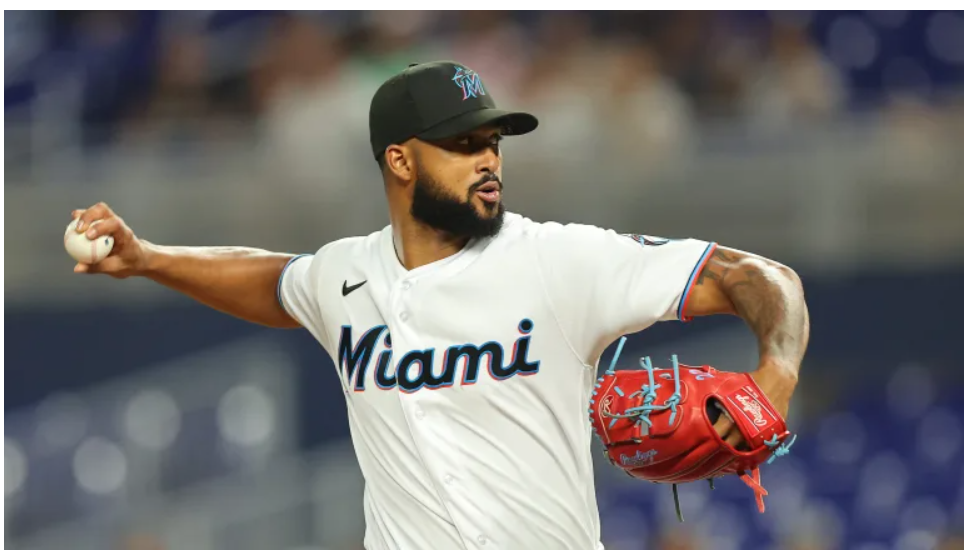 Yesterday was the vote for the CY winners.  It was almost a foregone conclusion that Sandy Alcantara (NL) and Justin Verlander (AL) would be the winners in a runaway fashion.  As it turned out both Alcantara and Verlander were unanimous vote getters.
Without further ado.

Your 2022 NL CY Young, @sandyalcantar22. pic.twitter.com/G3emzBvcyt

— Miami Marlins (@Marlins) November 16, 2022
He was the first Marlins pitcher to win the award, and the third player from the Dominican Republic to win it.  Pedro Martinez (3 time winner – 1997, 1999, 2000) and Bartolo Colon (2005) were the other two pitchers from the DR to win it.
Has to be even more special for Sandy Alcantara to join his fellow countrymen pic.twitter.com/XNjiM9u38i

— Talkin' Baseball (@TalkinBaseball_) November 16, 2022
Alcantara had six complete games in 2022.  That was more than the other 29 ML teams combined.  The Marlins acquired Alcantara in 2017 along with RHP Zac Gallen, LHP Daniel Castano, and RF Magneuris Sierra from St. Louis for Marcell Ozuna.  The Marlins later traded Zac Gallen to Arizona for Jazz Chisholm.  That indicates that St. Louis traded pitchers that were #1 and #5 in the 2022 CY vote for two years of Ozuna.
What caught me by surprise was that Max Fried was the runner-up.  Max was named on 23 ballots, Julio Urías was named on 22 ballots, Aaron Nola on 17 ballots, and Gallon on 20 ballots.  So according to 8 voters, Julio Urías was no better than 6th best pitcher in the NL.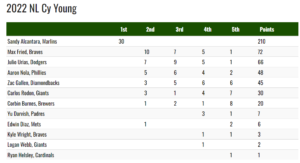 There were 4 voters from The Athletic, and three of them did not vote for Julio Urías:
Maria Torres
Sahadev Sharma
Andrew Baggarly
Jayson Stark was the only The Athletic writer who voted for Urías (3rd place).
The other voters who did not include Urías on the ballot were:
David Brandt – AP
Meghan Montemurro – Chicago Tribune
Thomas Harding – MLB.com
Jack Etkin – At Large
Ryan Fagan – The Sporting News
I do not pretend to understand what goes on in the minds of voters.  But Urías was the NL ERA leader and #3 in WHIP, behind Zac Gallen.  How does someone with those numbers not deserve at least a #5 vote.
He had the least number of IP of any of the top vote getters.  Six teams had two pitchers with more IP than Urías, who led LAD in IP: Miami, Arizona, St. Louis, San Diego, San Francisco, and Atlanta.  Individual awards are not even remotely as important as team awards/championships.  But since they are voted on, they can be commented on and discussed.
I certainly would like to ask any of the 8 voters who did not vote for Urías the reason why.  Not to change their mind, but to try and understand their reasoning.
On the AL side, Justin Verlander won his 3rd  CY Award.
Verlander dominated the AL.  He led MLB in ERA (1.75) and WHIP (0.83).
He is the 11th pitcher to win the award 3 or more times.  Only 4 pitchers have more CY Awards:
Roger Clemens – 7
Randy Johnson – 5
Greg Maddux – 4
Steve Carlton – 4
Other pitchers winning 3 CY Awards:
Max Scherzer
Clayton Kershaw
Pedro Martinez
Jim Palmer
Tom Seaver
Sandy Koufax
That is three current MLB pitchers with 3 CY Awards.
Verlander was joined by a couple of newcomers atop the vote totals.  ChiSox RHSP Dylan Cease and Toronto RHSP Alek Manoah. , who were 2nd and 3rd respectively.  These were the first CY votes received by either pitcher.
Verlander will try to bankroll his dominating season into a record breaking contract.  This downside of his quest is that he will entering his 40 year old season.  He talks about wanting to pitch to 45, but talking about it, and believing he can accomplish that at a championship level is something else.
Congratulations to both Sandy Alcantara and Justin Verlander.