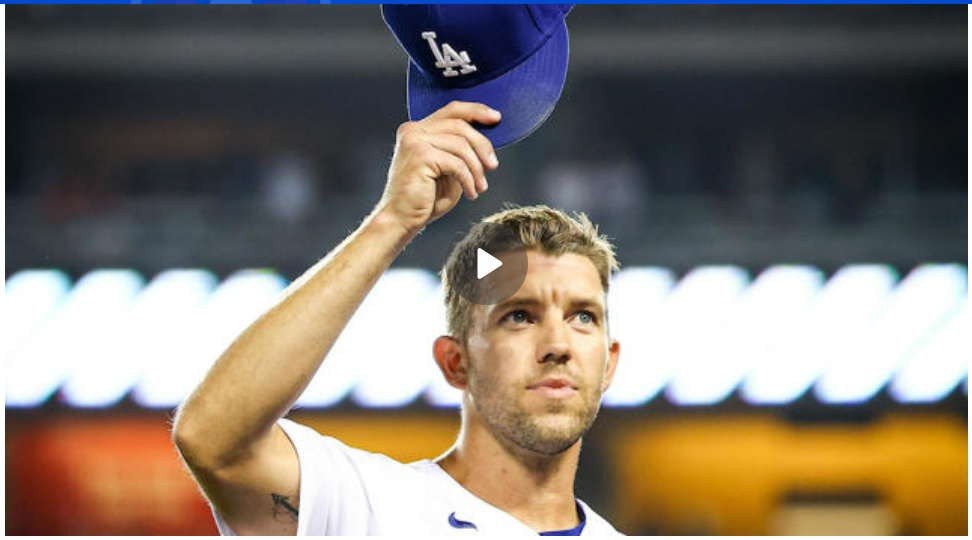 I am mildly surprised at the list of MiLB players added to the Dodgers 40 man.  Or more accurately, I am mildly surprised by some that were not protected. Diego Cartaya, Michael Busch, and Andy Pages were no-brainers.  I thought DeLuca could be added if the Dodgers selected 5 or 6 to the roster.  Those were the only four that were protected.
I do not understand how the team can protect Eddys Leonard and Jorbit Vivas in 2021 because of what they did in A Ball, but not José Ramos this year when they had room.  Ramos is rated higher than either Leonard or Vivas on the LAD Top 30 prospects.  I would not have considered Ramos had it not been for the addition of Leonard and Vivas last year.
I concur with those who believe he was not protected because it is relatively inconceivable that he could stay with a ML club for a full year.  But I said that last year with both Leonard and Vivas.  That being said, I can see Pittsburgh or Oakland or Cincinnati possibly giving it a try.  But I think there is a better chance that Ramos will be the Tulsa RF next year.
Where I am totally surprised is the non inclusion of Carlos Duran.  His slider is so special that he can stick on a ML roster in a relief role for all of 2023.  It is not like they were up against the limit.  Their 40 man sits at 37.  The announcement of Kershaw's signing could coincide with the non-tender of Cody Bellinger, or they could be at 38 when Kershaw's signing is official.
To the other news of the day.  Tyler Anderson chooses not to accept the LAD QO and instead signed a 3 year $39MM deal with LAA.  Apparently the Dodgers were not going to go 3 years for TA.
There is nothing to read into the Dodgers not signing TA.  They chose not to for whatever reason.  I do not think that it portends for an austerity program on the horizon.  I also do believe that they thought he could replicate what he accomplished in 2022, or they would not have committed to nearly $20MM for a one year deal.
But where do the Dodgers go from here with their rotation?  Right now it is a big question mark.  The rotation is Julio Urías, Clayton Kershaw, Tony Gonsolin, and Dustin May.  Kershaw and Gonsolin spent considerable time on the IL last year.  Kershaw visits the IL every year now (since 2015).  Gonsolin has lost a lot of time to the IL the last two years.  Are these pitchers going to now become 180 innings pitcher for 2023?  Or should AF/BG consider them probably for the IL in 2023.  Dustin May will be pitching in his first full season since TJ surgery in 2020.  What kind of pitch or inning limitations will be put on Dustin?  Ryan Pepiot will probably be given the first shot at being #5.
Bobby Miller and Gavin Stone should start out the year in AAA.  I can hear it now.  All of the Dodger fans who believe that every LAD prospect is headed for the HOF will remind us that Clayton Kershaw did not pitch in AAA.  The Dodgers DO NOT HAVE a Clayton Kershaw anywhere in their system.  Of course they have good pitchers, and maybe 1 or 2 can reach #2, but the bulk will be #3 – #5  rotation types.  I think Bobby Miller and Emmet Sheehan could surprise and vault to a #2 pitcher.  Their "stuff" is that good.  Their consistent command?  After that????  I am not predicting they will rise to a #2, but it is conceivable.  And when I say #2, I am talking about a LAD #2, not Pittsburgh.
For me Gavin Stone is an enigma.  He had an unbelievable year in 2022.  He will be 24 for 2023 and will start in AAA.  That is all good.  He has three pitches, all above average, and two are considered plus pitches: fastball and change.  But there are too many talent evaluators who believe he is a reliever. Why?  IMO there is more reliever risk in Ryan Pepiot and Michael Grove than in Gavin Stone.
Stone has continued to excel at every level he has been at.  He pitched 121.2 innings in 2022. He blitzed through three levels, and ended up with a 1.48 ERA.  In his 121.2 IP he had 168 strikeouts and only 44 walks (3.81 ratio).  His K/9 was 12.43, his BB/9 was 3.25.  He allowed a total of 3 HRs all year (0.22 per 9 IP).  That is not against rookie level competition, and they are too good to ignore.
Stone and Miller will get their shot in ST. Let the competition begin.
But the Dodgers are not a low cost team.  If they have a need they will find a way.  Last year the Dodgers, with the addition of both TA and Andrew Heaney, had 6 starting pitchers to start the season.  It was not enough.
I do not believe the Dodgers will be in the discussion for Carlos Rodón.  They did not want to go 3 for $39MM for a pitcher they knew, they are not going to pay the projected $140MM and 5 years for Rodón, with loss of draft pick and international bonus money attached.
Jacob deGrom and Justin Verlander are more likely to be signed by LAD than Rodón.  But if deGrom wants 4 years, the Dodgers are walking away.  If Verlander wants 3 years guaranteed, I do not think the Dodgers will be in the discussion very long.  Will Verlander get a good LAD 2-year offer and then go back to Houston owner Jim Crane and get 3?  MLBTR has Verlander at 3 years and $120MM.  I do not think AF/BG would do that, but Houston will.
That leaves the next tier of FA and MLBTRs projections..
Kodai Senga – 5 years $75MM
Chris Bassitt – 3 years $60MM – Has a QO attached. – Nope
Jameson Taillon – 4 years $56MM
Taijuan Walker – 4 years $52MM
Sean Manaea – 4 years $52MM
Andrew Heaney – 3 years $42MM
Noah Syndergaard – 3 years $36MM
Nathan Eovaldi – 2 years $34MM – Has QO attached and Boston is working on a multi year deal
If AF/BG were not willing to go 3 years with TA, how are they going to agree to 3 or 4 years for pitchers that TA was better than last year.  The one exception is an unknown: Kodai Senga.  I cannot see AF/BG going 5 years for a pitcher when they have their homegrown pitchers waiting at ML minimum.  But I do see San Diego checking in for Senga.  Preller does not have the same concern with longer term deals for pitchers or position players.
IMO, the biggest hole LAD has is in their SP.  They still have holes in CF and SS that need to be addressed, but they can both be addressed internally or with a stop gap ML veteran.  José Iglesias fits this hole.  Not ideal, but adequately enough to put together a playoff team.  If the internal players do not pan out, there is always the trade deadline where it should be easier to find a position player than a playoff caliber starting pitcher.  And I do make that distinction of playoff caliber.
To build for a championship team, you better have the starting pitching.  I still fervently believe the Dodgers will trade for that game changing Ace, or at the very least a dependable #2.
It has been reported that Milwaukee is more likely to trade Corbin Burnes than Willy Adames.  Will it happen?  We were led to believe by many that Josh Hader would never be traded by Milwaukee, and yet he was.  It is more than probable that Burnes will be the SP on opening day for Milwaukee.
What about Brandon Woodruff?  His arbitration projection is $11MM.  He would slide in nicely at #2 or #3 if Kersh is healthy.  The prospect capital would be less than for Burnes but it will be steep.
I know it is HIGHLY UNLIKELY, but I am not getting off the Shane Bieber train.
If the Dodgers were so inclined, they could absolutely put together a package for any of the three.  Will they?  Probably not.
Maybe Cristian Javier with Houston.  Houston would say no and try to push them to José Urquidy.  If they are looking for a #3 or #4 AF/BG would listen.
I purposely did not include Pablo López here because he is not at that level.  He is someone you look at, at the deadline if you need a mid-rotation starter.  Although I would take a flyer on Trevor Rogers.  He is a wild card, and Miami may ask too much in return.  But he may be worth a gamble in the Andrew Heaney and Tyler Anderson mold, but at a much less cost.
They will probably be looking for a repeat of last Winter.  Look more at the lightning in a bottle types[ one year with low cost.
Michael Wacha
Mike Clevinger
Seth Lugo
Drew Smyly
Corey Kluber
Johnny Cueto
Or maybe a slightly perceived upgrade:
My first choice would be a trade for an Ace.  Followed by Justin Verlander. Followed by…Let the Kids Play…Pepiot, Grove, Miller, Stone, Jackson.  But then again what do I know?